Eating in Cadiz is a joy-- cold sherry, cheap tapas, hearty breakfasts, and fried fish are only some of the delights in store for people lucky enough to visit the region. But finding a favorite restaurant in the city of Cadiz had proved difficult for Alejandro and I. Each trip we'd sample something new, but there was never that moment where I couldn't wait to return-- until now.
We recently visited Cadiz for a quick walk around the fish market followed by lunch. I decided to take a glimpse at Tripadvisor to see if anything new popped out. Listed as the number one restaurant in Cadiz was a place called La Candela Tapas Bar. I don't have blind faith in any of Tripadvisor's restaurant recommendations, but as I scanned through the reviews there was something that caught my eye. A reviewer mentioned "the chef's apron said cook or die...". There was something so passionate about that little detail that I immediately stopped looking and we headed over to La Candela.
As it is so popular reservations are highly recommended, but since we popped in early (at 1:30) we were able to get a table and had the restaurant to ourselves. Although I am much more interested in the food served at any restaurant than the decor, I have to say that La Candela Tapas Bar is one of the most attractive small restaurants I've dined in all year. I loved the creative details such as sewing machine table bases, ceramic tile placemats, and pinwheel "flowers". If I can make one recommendation for people looking for a tapas bar in Cadiz-- try La Candela!
What we tried
We started with a fresh and delicious take on salmorejo-- one of my all time favorite things to eat in Spain. It was a bit more chunky than usual, but was brightened up with ripe strawberries and poured table side over a dollop of  creme fraiche. The classic version with hardboiled eggs and Iberian ham may remain my favorite (or the delicious version with pickled quail and sugared pine nuts we tried here) but it was a very nice start to what was a memorable meal.
We followed with a gorgeous salad consisting of lettuce hearts topped with perfectly grilled prawns, diced mango and avocado vinaigrette.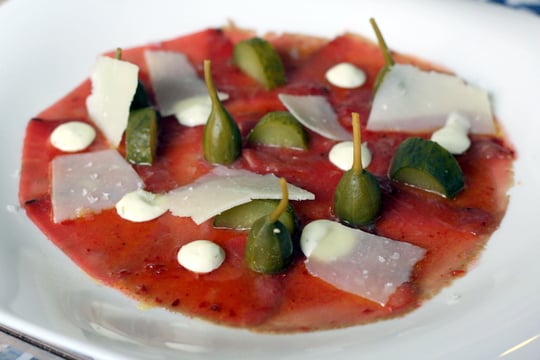 I'd been waiting all day to dive into some of the seasonal tuna from Cadiz, and there was no resisting this carpaccio, topped with parmesan cheese, caper berries, and parmesan cheese. I think the toppings overpowered the tuna, but it was tasty nonetheless.
My favorite dish was this perfectly cooked piece of cod, garnished with avocado puree, tabasco gel, and fried yucca chips. The elements balanced one another perfectly and the fish melted in our mouths.
The bill for two was about 35€ with one glass of wine each. An amazing deal for the quality of food we tried-- if only something similar existed in Madrid!
The Highs: Beautiful decor, delicious fresh food, amazing value-- definitely among the best in Cadiz.
The Lows: Reservations generally necessary as the space is small. Other reviewers mention slow service during prime times.
The Verdict: Reserve and go. Reserve and go again. Repeat...
La Candela Tapas Bar
Calle Feduchy, 3 Cadiz
[mappress mapid="49"]