This blog post was originally posted on April 29th, 2016 and was updated on November 21st, 2017.
Tapas in Spain have evolved into individual servings of gastronomic goodness using flavors and ingredients from around the world, but we still love our traditional cuisine. While we have a soft spot for elaborate, beautiful creations involving everything from Spanish cooking methods and ingredients to international influences, sometimes it's good to go back to basics. Traditional dishes tell stories about the land, the people, and the city through recipes passed down for generations, using products that are still cultivated in and around Malaga today. Sound good? Head to one of these fascinating traditional tapas bars in Malaga, where you can find all the best-loved local dishes.
Malaga's Best Traditional Tapas Bars
1. Bar Orellana
This place is a true hole-in-the-wall joint, found on a small side street smack bang in the middle of Malaga's historic center. Since 1938, locals have been flocking to this popular little spot, and today it's still well known for serving up a long list of freshly made local favorites. Don't miss try the delicious roast lamb, which is carved on the bar top right in front of you!
Address: Calle Moreno Monroy, 5
2. Marisquería Casa Vicente
If seafood is your thing, head straight to Marisquería Casa Vicente, a no-frills seafood joint dating back to 1960 and not too far from the Mercado de Atarazanas. Malagueño favorites such as fried boquerones (white anchovies) are on the menu, but the house speciality here are their gambas (shrimp), so order up a plate (or several). When you're done devouring one, toss the head and skin in the plastic buckets on the tables!
Address: Calle del Comisario, 2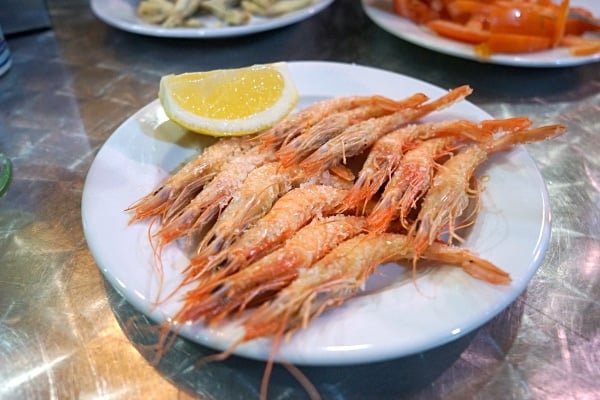 3. Mesón Mariano
This is one of locals' favorite spots in Malaga, and potentially the most authentic tapas bar left in the city. Mesón Mariano has it all—it's entirely family-run, the delicious tapas are made fresh, there's a great selection of Malaga wines to choose from, and besides tapas at the bar you can sit down in the restaurant area and turn the experience into a grand affair. Don't miss the specialities, which include a whole range of artichoke dishes, as well as fried green tomato and goat's cheese.
Address: Calle Granados, 2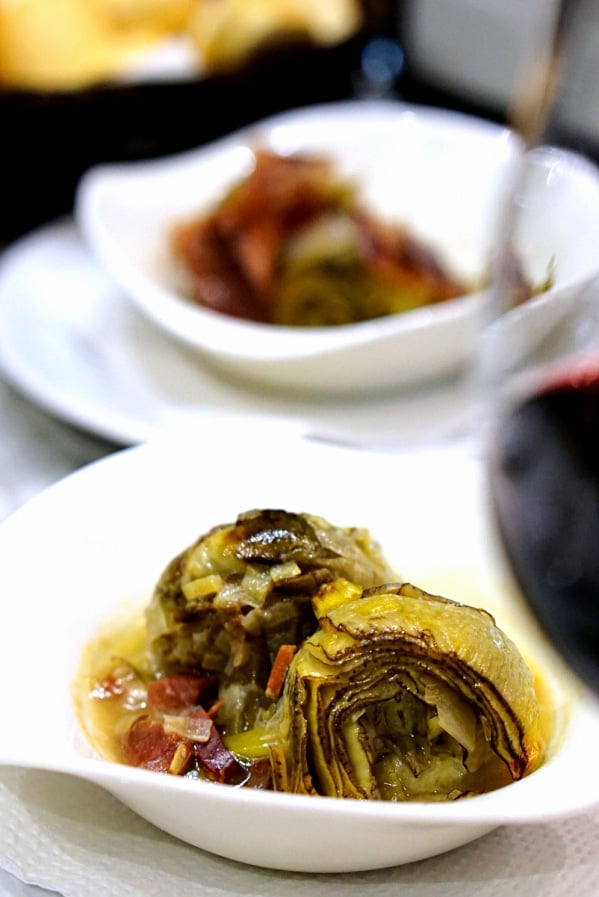 4. Taberna Las Merchanas
One of the most beloved celebrations in Malaga is Semana Santa (Holy Week), and Taberna Las Merchanas bursts with the atmosphere of this weekly celebration all year long. Once you manage to find this bar tucked away in a backstreet on the edge of the historic center, you'll find yourself surrounded by pictures of Jesus and the Virgin Mary, Holy Week icons such as pointy-capped penitents, and typical Semana Santa music. Don't miss favorites such as grandmother Mari's famous croquetas (croquettes) and the montadito de pringá (pork stew sandwich).
Address: Calle Mosquera, 5
5. Cortijo de Pepe
Cortijo de Pepe is located just on the edge of Plaza de Merced (where Picasso's birth home and iconic statue are found) but has been operating since 1971—long before Picasso's legacy brought a new wave of fame to the city. Stepping down into the tapas bar that makes up half of the establishment really take you back in time, with dark wood fittings and a barbecue grill behind the bar to cook up the specialities. The local favorite here is the pinchos morunos, and you'll see groups of malagueños crowding around the bar with their skewer in one hand and pincho in the other.
Address: Plaza de la Merced, 2
6. El Pimpi
We won't go out on a limb and claim that El Pimpi has the best tapas in Malaga. But while this place is no great secret (it's mentioned in virtually every guidebook or article related to Malaga food and wine) it is a malagueño institution, and one that's not to be missed on your trip to Malaga.
For a more authentic look at the place, enter from Calle Granada, where the front corridor leads into a long bar with walls adorned with age-old photos of visiting celebrities. This then opens out into a large room with tables and old wine barrels, bearing autographs of many of the same people who appear in the photos. For the best ambience, remain inside rather than sitting on the outdoor terrace, and don't miss ordering a glass of Malaga Virgin, Malaga's own sweet wine which goes great with a plate of local cheese.
Address: Calle Granada, 62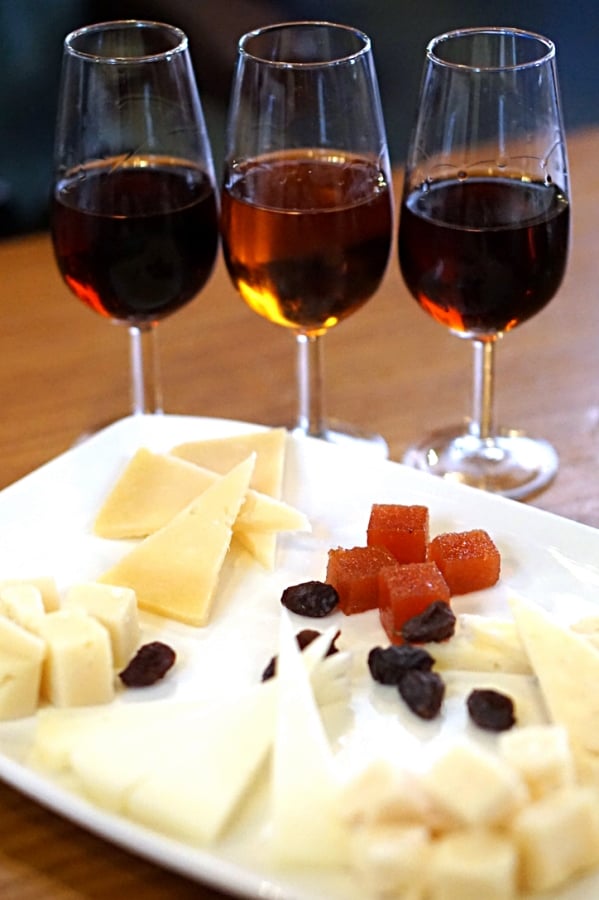 See Also: The Malaga wine bars you can't miss
Pin me!