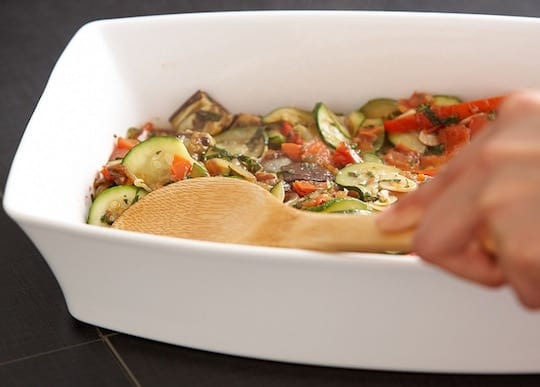 The first time I stumbled upon the recipe for Tumbet Mallorquin I knew I had to make it. I am a big believer that vegetables, when cooked the right way, can transform into some of the most delicious and elegant dishes one can eat-- and Mallorcan tumbet is a perfect example. A simple dish of vegetables, gently fried in extra virgin olive oil and then baked together in the oven, Mallorcan tumbet is similar to French ratatouille or Spanish pisto-- it's unclear which version came first! As we roll into mid-September here in Madrid, this Mallorcan tumbet recipe is one of those home cooked meals that warms you right up on a crisp fall day.
The dish is straightforward and simple to prepare, and like many Mediterranean dishes depends completely upon the quality of the ingredients. Buy fresh and seasonal vegetables when possible, fry in extra virgin olive oil, and top off with flaky sea salt for best results!
If I ever make it to Mallorca I know I'll be searching for this dish everywhere from my poolside resort to the tiny beachside restaurants! Even the relaxing Club Mac Alcudia Resort would be bound to have it in the buffet!
Mallorcan Tumbet Recipe
Mallorcan tumbet is a traditional recipe from Mallorca, Spain. Similar to ratatouille, fresh vegetables are the key ingredients!
Print (images optional)
Pin
Rate
Ingredients
8

small potatoes or 4 large ones

sliced thin

5

large garlic cloves

skins on

1

large onion

cut into thick strips

1

small zucchini

sliced

1

long green pepper

Italian, cut into strips

1

small eggplant

sliced

1

small red pepper

cut into strips

Homemade tomato sauce

or good quality store bought

Flour

Extra Virgin Olive Oil

Sea salt
Instructions
Wash and cut the vegetables as described above.

Heat an inch of extra virgin olive oil in a frying pan.

Fry the garlic cloves (skins on) to flavor the oil.

Remove the garlic after a couple of minutes and reserve.

You are going to fry the rest of the vegetables, one by one, then drain excess oil on paper towels (so have them ready)

Start with the zucchini slices, which will fry for about 3 minutes. Remove onto paper towels and sprinkle with a bit of salt.

Next fry the potatoes. These will take 5-10 minutes to fully cook. Remove when golden brown and cooked through.

The peppers can fry together, for about 5 minutes.

Fry the onions for about 2 minutes. Make sure you are resting everything on paper towels after frying!

Finally, dredge the eggplant slices in flour and fry for about 4 minutes, until browned and crispy.

Now assemble the tumbet, which is similar to making a lasagna.

Start with a layer of tomato sauce, then eggplant, zucchini, onion, pepper, and potato.

Top with another layer of sauce, and a sprinkle of sea salt. You could also add in the garlic cloves (peel first) if you'd like.

Bake for 25 minutes at 350°

It isn't traditional, but after baking you can add cheese and put it under the broiler. You could also crack a few eggs on top and broil until just cooked. Both would be delicious options!
Nutrition
Calories:
445.73
kcal
|
Carbohydrates:
93.51
g
|
Protein:
12.04
g
|
Fat:
4.5
g
|
Saturated Fat:
0.72
g
|
Sodium:
204.69
mg
|
Potassium:
2414.4
mg
|
Fiber:
15.35
g
|
Sugar:
12.55
g
|
Vitamin A:
1245.45
IU
|
Vitamin C:
161.61
mg
|
Calcium:
85.35
mg
|
Iron:
4.48
mg
When you take it out of the oven let it rest for a few minutes and then serve. It makes the perfect side dish at dinner, or a vegetarian entree as well. If you opted to add eggs or cheese, it's even more filling and delicious.
I can't wait to visit the Balearic Islands and discover the flavors of Mallorca one day soon, but until then you can find me making the Mallorcan tumbet and pretending I'm there...
Have you ever tried any Mallorcan foods?
Feature photo by: Breville USA (I usually eat this too quickly to photograph it!)
Pin me!