Today I share my top 30 Spanish recipes to cook at home. I hope this brings a taste of Spain to your kitchen!
I'm still surprised when I visit a "Spanish" restaurant in the US and see so few authentic Spanish dishes on the menu. I'm a huge fan of fusion and adaptations– but I often doubt the chef knows what the original version is supposed to taste like!
The beauty of traditional Spanish recipes (from Spain!) is their simplicity. The best quality local ingredients meet their perfect cooking technique with minimal intervention– THAT is Spanish cooking.
Like any simple recipe, it's all about the quality of the ingredients and cooking technique.
Traditional Spanish recipes aren't at all difficult– but they do have their tricks. I encourage anyone who loves (or even likes) to cook, to learn some of these traditional Spanish recipes.
These are the Spanish classics you'll be able to make time and time again, and once you're comfortable with them, you can even start to adapt!
You'll notice a common theme with traditional Spanish recipes– lots of potatoes, eggs, and tomatoes. And rice — this is the land of paella after all!
My top 30 essential Spanish recipes (all simple and delicious!)
Tortilla de patatas is one of the most typical Spanish foods. It's one of those dishes you'll find people eating at all hours of the day (and night!) and something that people make at home and also order out.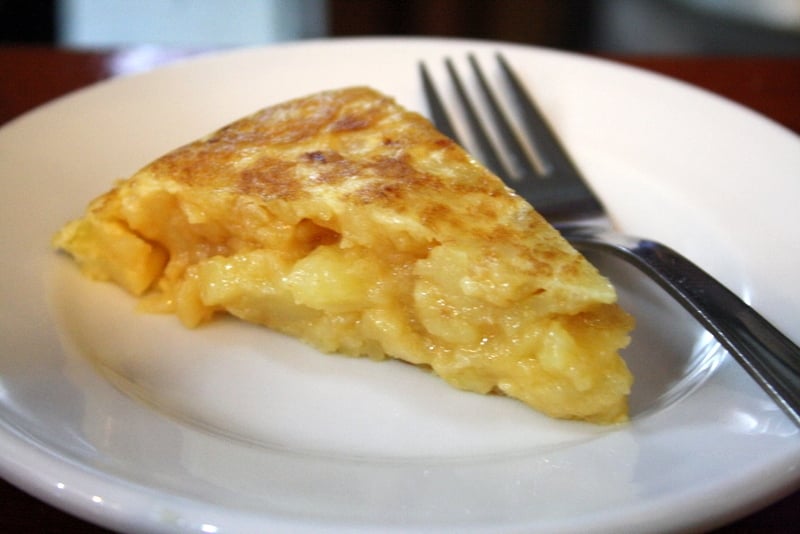 But for what is arguably Spain's national dish, it's still not too well known outside of Spain. Here in Spain, the most common way to make a tortilla is with potatoes, and here we call it tortilla de patatas.
Some people choose to add onions (my favorite) and then the recipe varies greatly based on how much you cook the eggs (runny, dry, or somewhere in between?) and how you cook and cut the onions and potatoes. Some even add other ingredients like ham and peas– but surprisingly, modifications are less common than you might think!
While making an incredible tortilla is truly an art, luckily there are plenty of tips to make a delicious tortilla at home.
My top tips are room temperature eggs (good ones please!), and caramelizing the onions you put inside. I like my tortilla cooked medium– not at all runny, but still nice and gooey inside. To make it perfectly every time, I use a small frying pan (the size of one fried egg). So instead of one large tortilla, I make three or four small ones. Works perfectly every time!
Make it: Here is my go-to recipe for Spain's delicious tortilla de patatas.
In Barcelona (and all of Catalonia) you will always be asked if you want pan con tomate (tomato rubbed bread) with your meal. Note– if you say yes you'll be charged accordingly!
At its very simplest, this is fresh bread rubbed with half of a tomato. But, like most traditional Spanish recipes, it's a bit more complicated… I personally prefer when the bread is toasted, and then I like to rub it with just a bit of raw garlic. Skip this step if you have big plans later– but it's delicious. After that, you'll need special "rubbing tomatoes" (here in Barcelona you can ask for tomates de untar).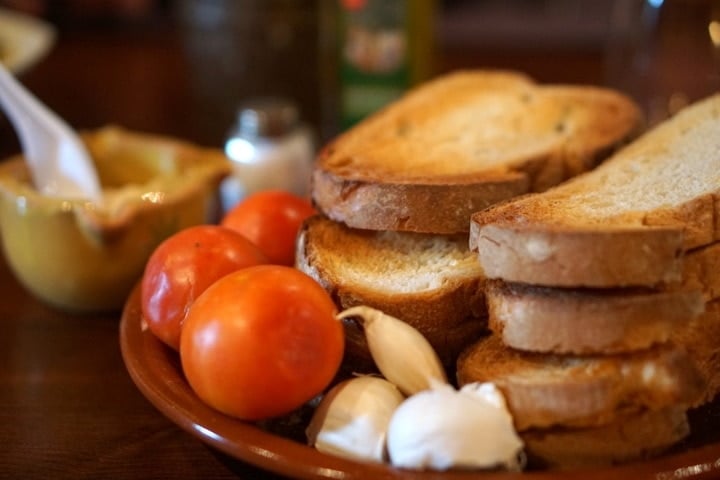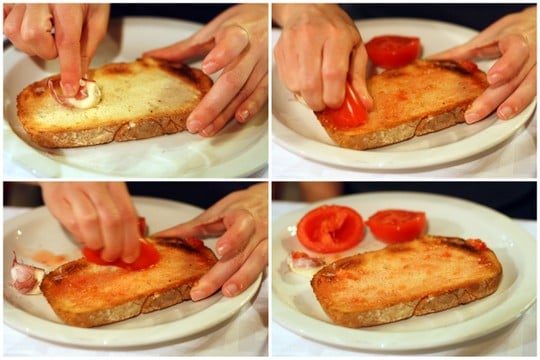 While these won't likely be available where you live, do experiment with different tomatoes to see which rubs onto the bread best. The idea is that the tomato almost melts onto the bread (not like some varieties where you'll just get a bit of juice and seeds).
Next, add some of the best quality extra virgin olive oil you can find– the variety will make all the difference. For bold and spicy go for an Andalusian picual, for mild and fruity try a Catalan arbequina.
Finally– high-quality sea salt. Now THAT is pan con tomate!
Make it: Spanish pan con tomate recipe
3. Tostada con tomate, aceite y jamón
In Andalusia, you do things a bit differently when it comes to bread and tomato. Here, breakfast is all about the tostada — a piece of toasted bread covered with your choice of topping (popular choices include butter and homemade jam, local olive oil, tomato, paté, and ham– here I'll focus on the perfect trio: crushed tomato, olive oil, and ham!).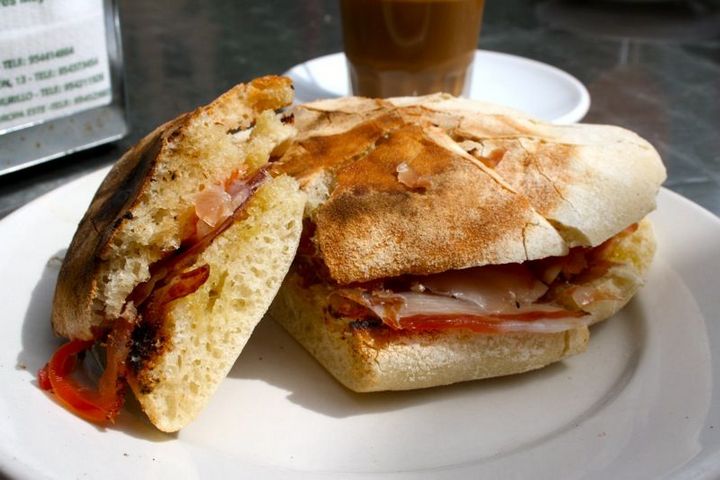 This tempting trio of toppings makes one of the most delicious and balanced breakfasts you'll find in Spain. I recommend using a high-quality sourdough bread or if you can find it, something similar to a Spanish mollete (an unleavened flat bread).
First, top the toasted bread with high-quality extra virgin olive oil. Next, spread on tomato puree (generally made in the blender with a dash of olive oil and sea salt). Finally, top with high-quality ham– Serrano or Ibérico (I prefer ibérico, but it's up to you!) and enjoy with a café con leche and freshly squeezed orange juice.
Creamy on the inside and crunchy on the outside– that's the sign of a perfect Spanish croquette.
There are countless varieties of croquetas here in Spain, but the most traditional variety are creamy Iberian ham croquettes (croquetas de jamón ibérico). The rich flavor of the Iberian ham combines perfectly with the creamy bechamel sauce.
But the technique for any good croquette is similar- it all starts with a creamy, slow-made bechamel sauce. Then the supporting ingredient comes along, whether it's ham, cod, veggies, or otherwise. I make great croquettes and think the secret is in taking your time and stirring constantly!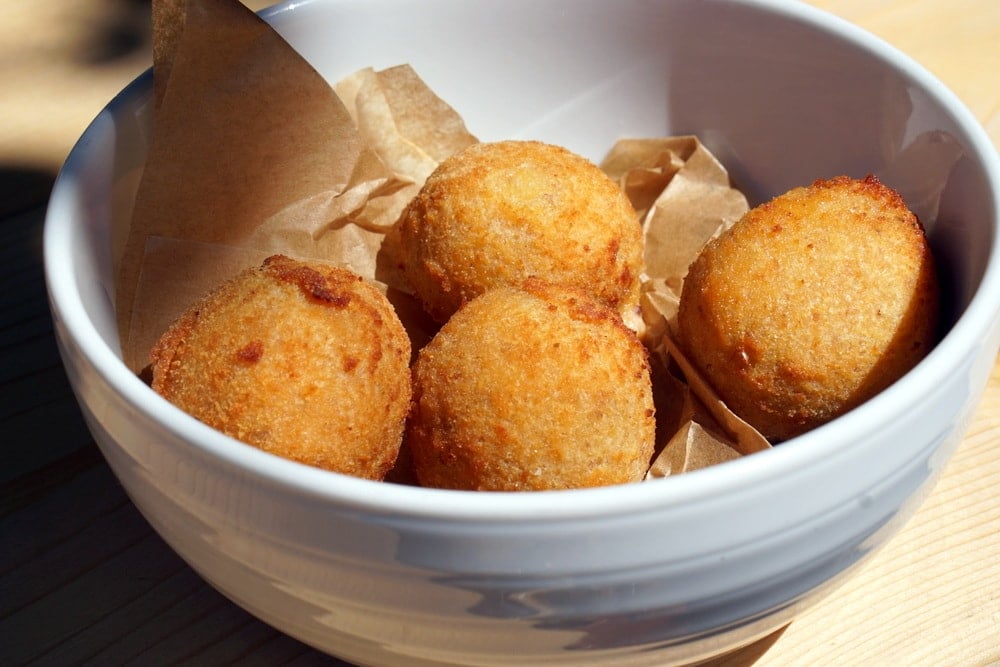 Make it: Try my favorite ham croquettes recipe or salt cod croquettes recipe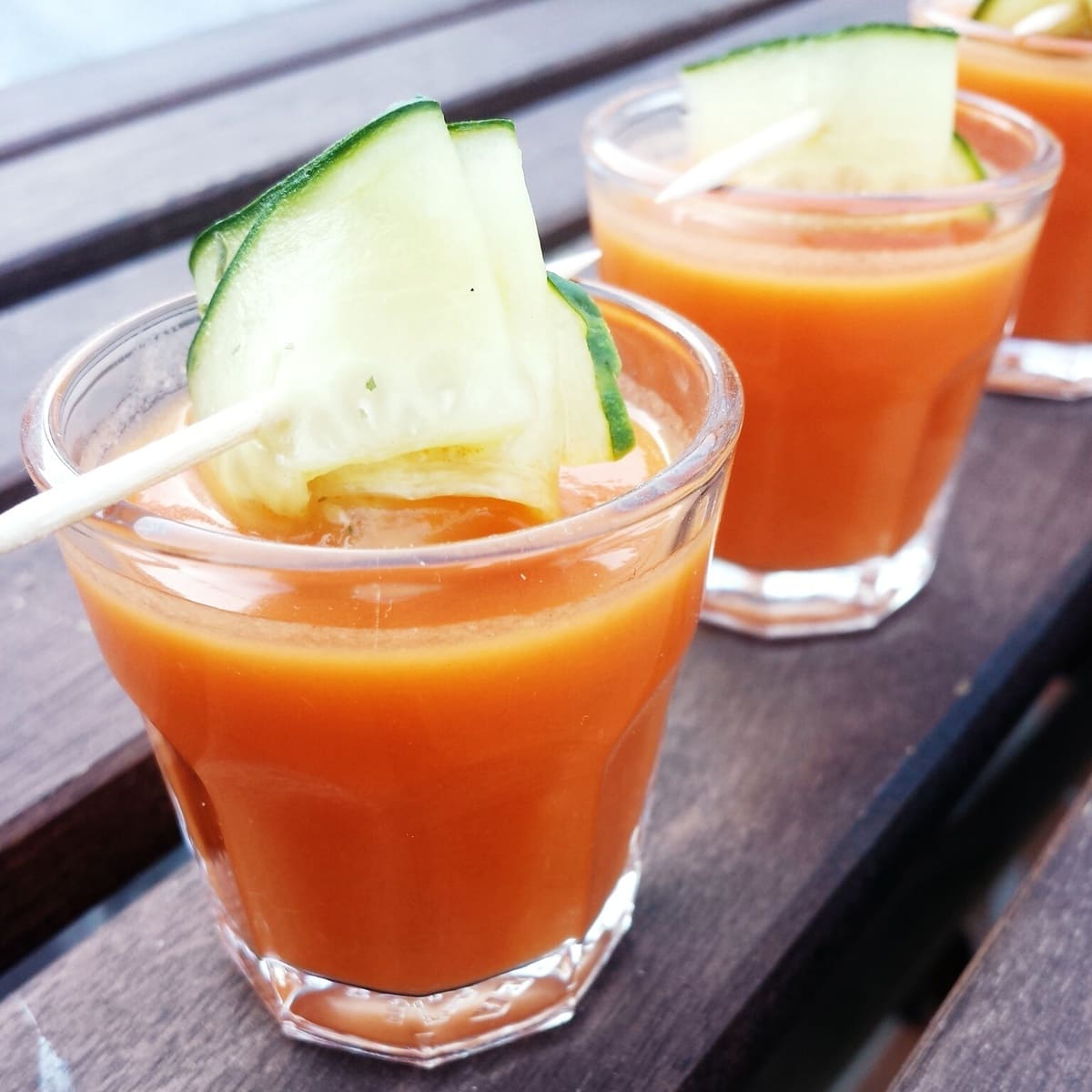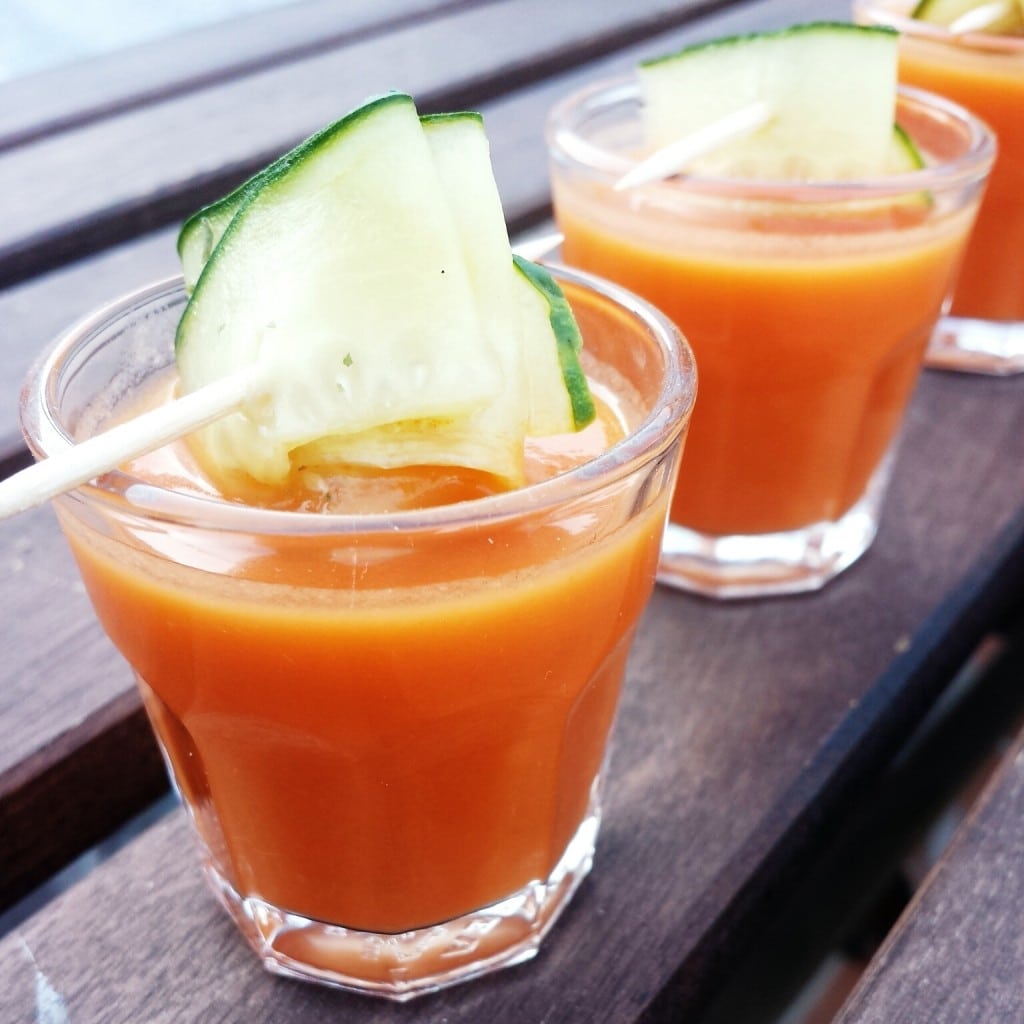 The Spanish cure for just about anything (cold, flu, hangover…) is gazpacho. And with good reason. This veggie-packed cold soup (more like a thin smoothie or juice) packs in vitamins– and has existed long before the current health trends.
I prefer my gazpacho served ice cold and in a glass. I love the traditional version (pepper, tomato, garlic, onion, extra virgin olive oil, and sherry vinegar) but also like versions with cucumber and even fruit — my watermelon gazpacho is delicious!
Make it: Refreshing traditional Spanish gazpacho recipe or watermelon mint gazpacho recipe— both are great!
I often tell the story about my first taste of salmorejo. I almost committed the mortal sin of heating up this delicious cold soup! Luckily I tasted it first, and since then have been obsessed with this healthy and delicious Andalusian delicacy. My favorite way to eat salmorejo is topped with hard-boiled egg and cured jamón — it's the perfect combination!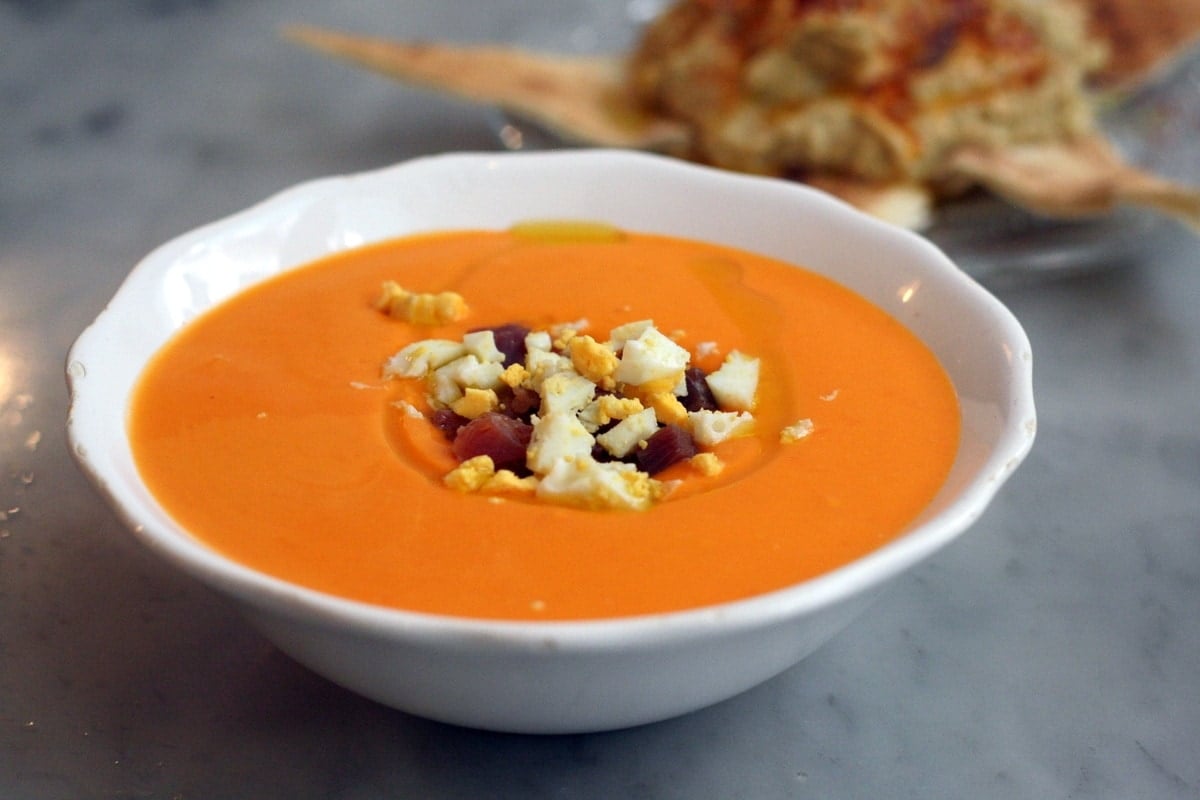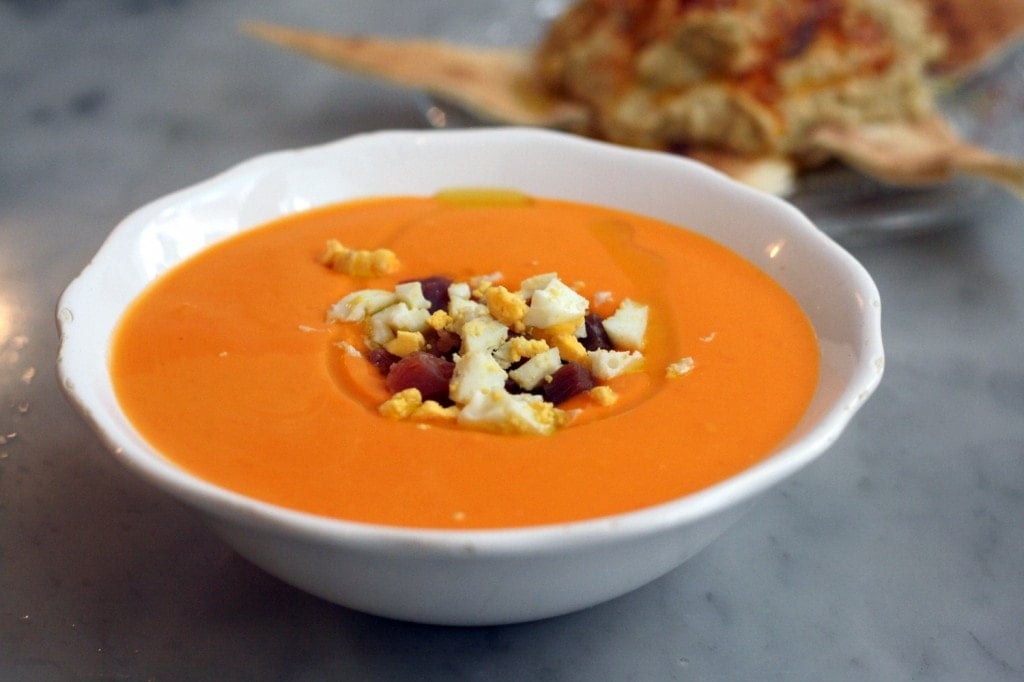 Make it: Try my mother-in-law's incredible salmorejo recipe to see what all the fuss is about!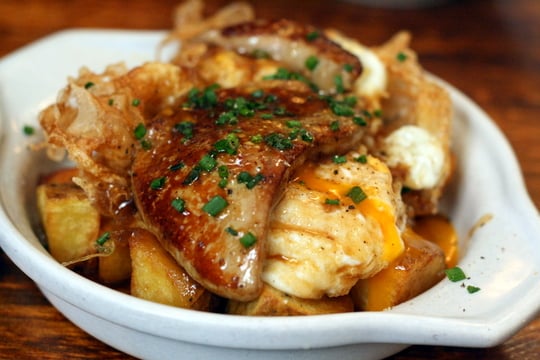 This traditional Spanish dish is simplicity at its best. Perfectly fried potatoes are topped with Spanish fried eggs, which are then broken apart (rotos) and mixed with the potatoes.
Here in Spain we practically deep fry our eggs, by cooking them quickly in a pan filled with olive oil. When done correctly, the yolk is left runny and the whites are nice and crispy.
There are all sorts of variations on huevos rotos — with ham, chorizo, blood sausage, vegetables… the list goes on! Just remember, you won't find these for breakfast here in Spain– this is lunch or dinner food.
Make it: This huevos rotos recipe is easy to make, and always satisfying!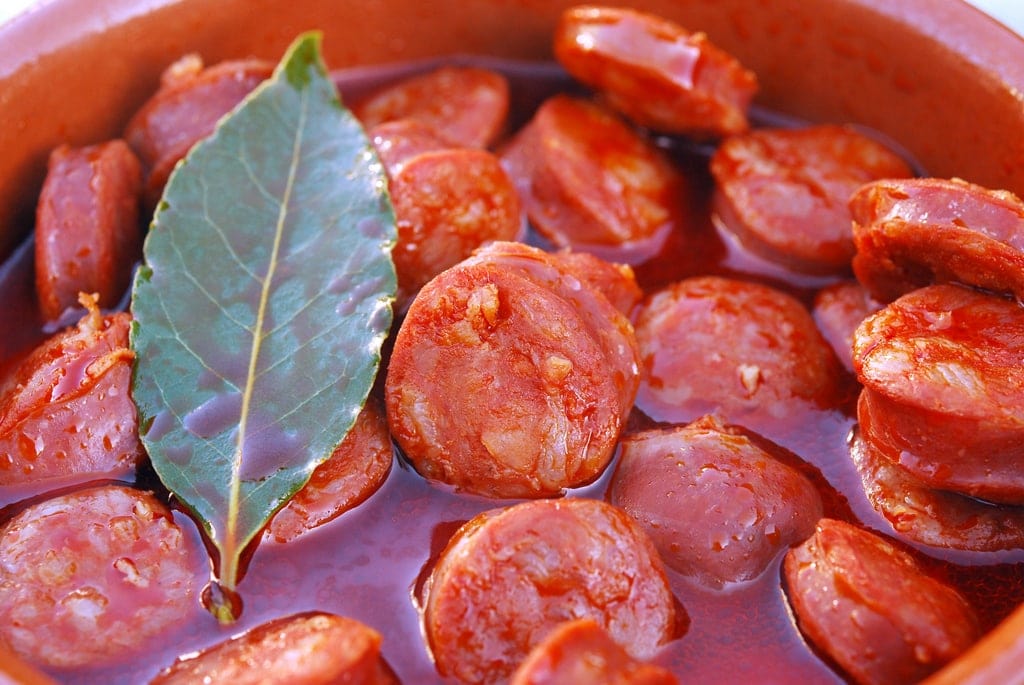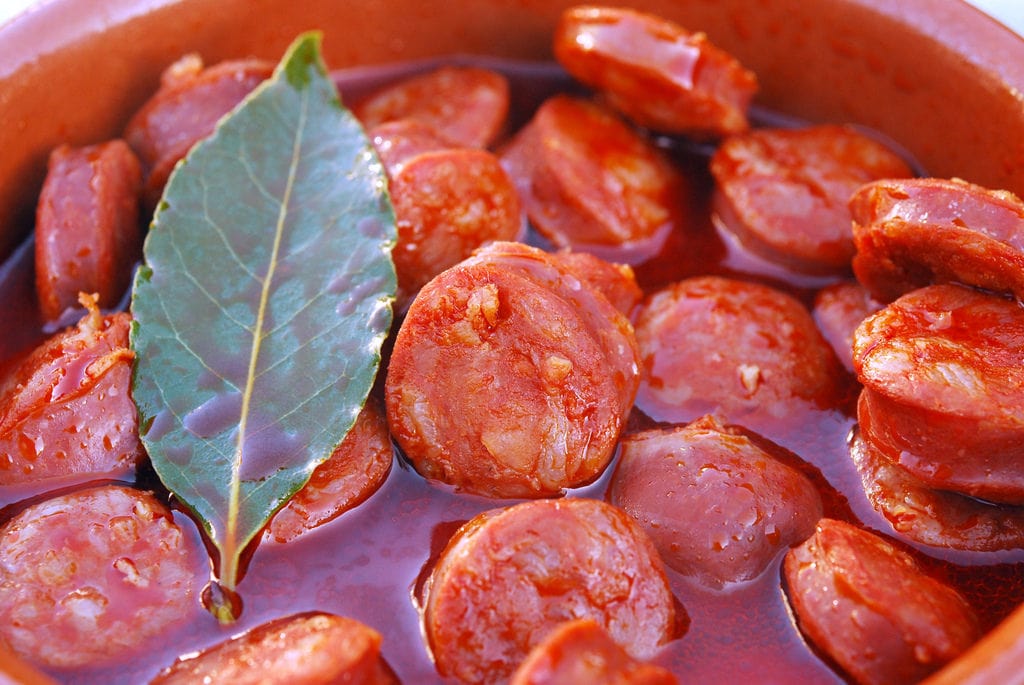 Possibly one of the easiest dishes on the list, chorizo a la sidra is simply delicious Spanish chorizo (paprika-spiced pork sausage) cooked in dry Spanish cider. Ideally, you buy fresh or semi-cured sausage for this dish and use Asturian or Basque dry cider.
Make it: Chorizo a la sidra recipe
One of my favorite desserts in Spain is crema Catalana — the supposed predecessor to France's Creme Brulee (though there are conflicting stories here!). That said, not all crema Catalanas are created equally– some are creamy and homemade, and others watery and definitely not from scratch!
Crema Catalana is often a bit more rustic than a Creme Brulee– not quite as creamy and in traditional restaurants, the homemade versions can be almost scrambled. The burnt sugar on the top is also often more burnt than its French cousin's — but I love it anyway!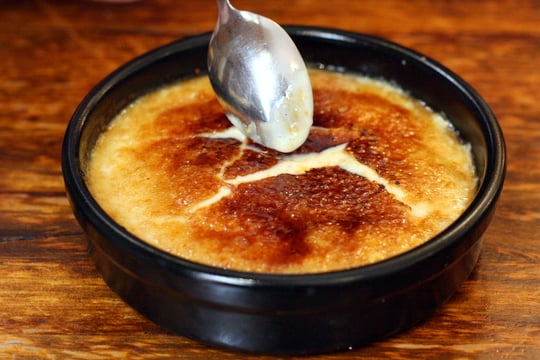 Make it: Try my trusty crema Catalana recipe here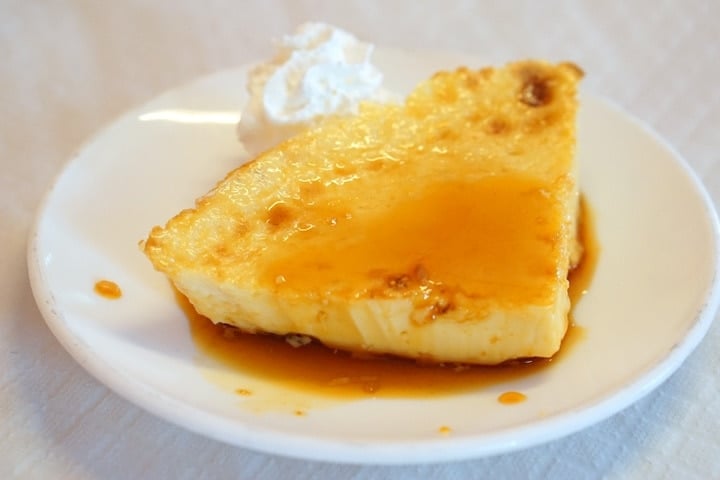 Flan is one of the most typical Spanish desserts, but like Crema Catalana, it can be really delicious or really terrible. They even sell pre-made flan at the supermarket (in the yogurt section) and instant packets that you mix with milk or water and somehow flan appears… I haven't tried it!
But good, homemade flan is well worth the calories. Creamy, eggy, and with just a touch of caramelized sugar syrup on top, there are countless variations of Spanish flan recipes you can find. Here is one of my favorites below!
Make it: Canary Island flan recipe or go for the Traditional Spanish flan recipe
One typical Spanish food that almost always disappoints in my experience is the humble empanada.
I often find Spanish empanadas to be dry and bready– and since they're often served at room temperature, they lack the perfectly cooked exterior piping hot filling that empanadas from other countries (Argentina, for example!) can boast. Nonetheless, delicious Spanish empanadas do exist– especially when homemade.
I make the best empanada I've had in Spain (I'll just say it). I add a couple of unconventional ingredients, but they're worth it!
Make it: Try my Spanish empanada recipe here!
Whenever I'm in Andalusia, I order this local specialty. These are thick chunks of eggplant, dusted in seasoned flour and deep fried in olive oil. They're then drizzled with sweet honey– either bee's honey or sugar cane "honey" — local molasses.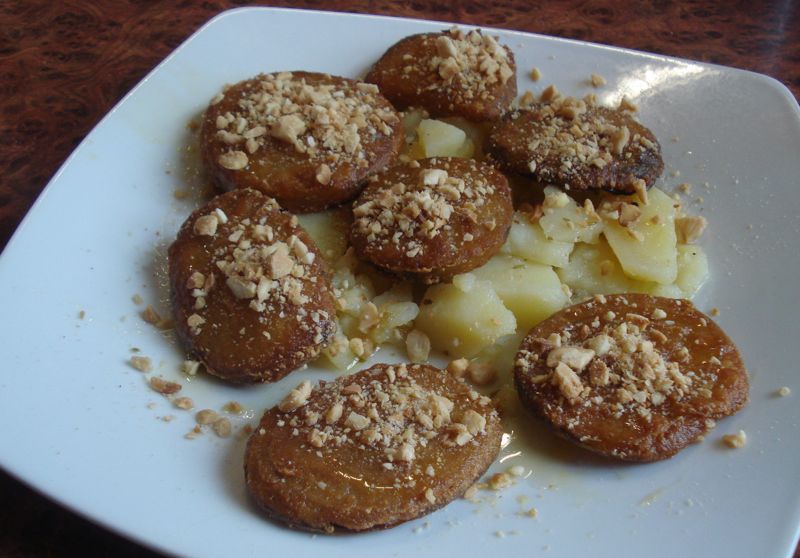 Make it: I share my berenjenas con miel recipe here!
The Spanish version of ratatouille is one of the country's most comforting dishes. Farm fresh vegetables are slowly stewed, until they're perfectly cooked and full of flavor. Often a fried egg is served on top for a more hearty meal. I could eat pisto every night!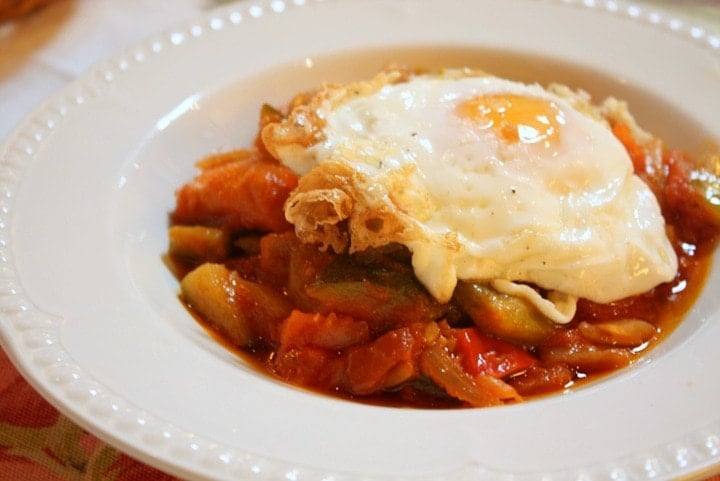 Make it: Try my version of traditional Spanish pisto con huevo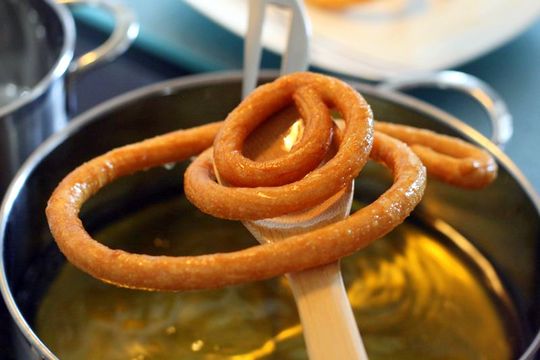 I've tried churros all throughout Spain, and have to say that my all-time favorites come from the region of Cadiz. Thin, crispy and slightly salty– these are churros I can eat a whole order of by myself!
When making churros at home, I always try to recreate these ones. Homemade churros are delicious, but a messy affair. I wouldn't usually make them here in Spain (opting instead to head over to a local churrería) but elsewhere you won't find the real stuff unless you make it yourself!
Just remember, in Spain churros are breakfast or an afternoon/late night snack– never dessert. Also, you won't find cinnamon here– just some sugar packets and perhaps a thick mug of hot chocolate if you dare.
Make it: Here's my recipe for making Spanish churros at home
How could I mention churros without hot chocolate? This easy Spanish hot chocolate recipe is almost too good to be true! This is a warm-you-up drink any time of year, but I especially love making this in fall while curled up with a good book.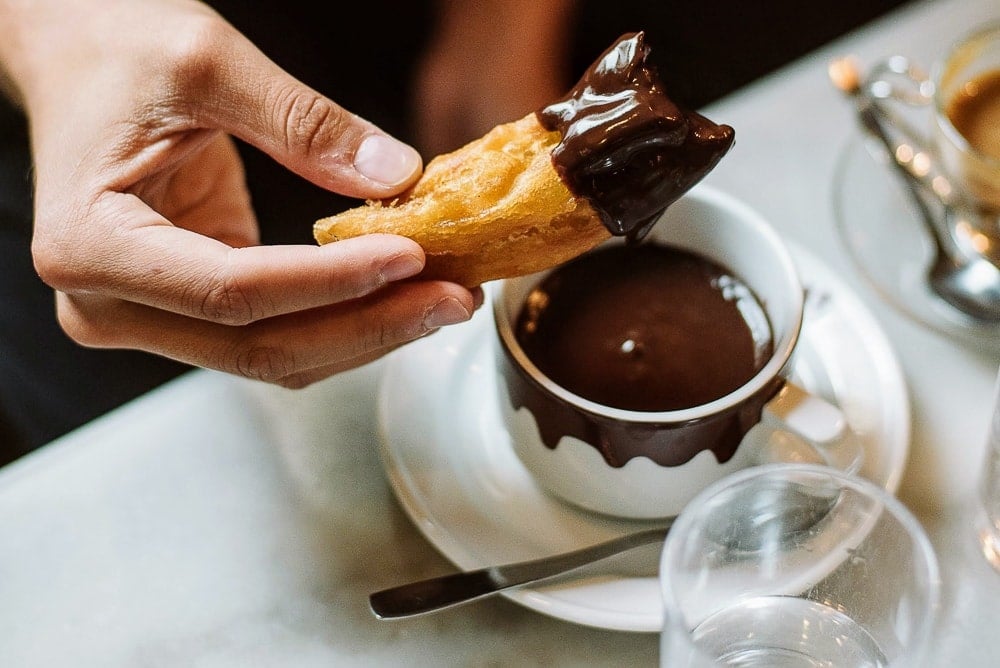 Make it: This is my easy Spanish hot chocolate recipe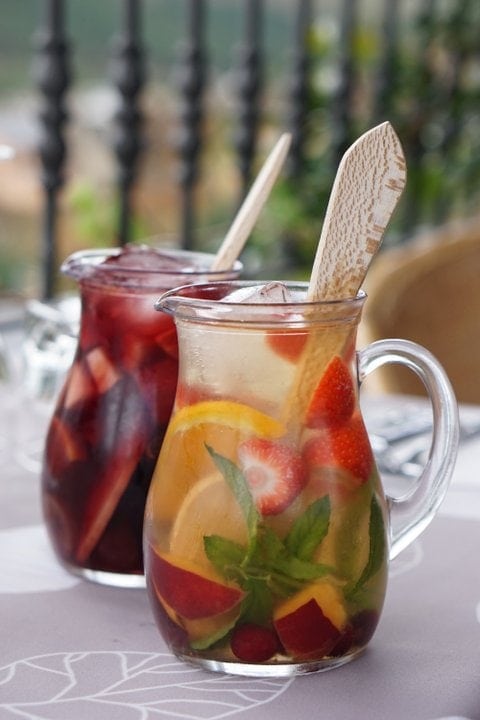 While you might not find great sangria while in Spain (a lot of what's served here is terrible quality– definitely made for tourists)– good sangria does exist. I love making homemade sangria with good ingredients and good quality Spanish wine. I try to buy the sweetest fruit available to avoid adding much sugar. I also love variations on sangria made using cava or white wine!
Make it: My classic Spanish sangria recipe is great, or try my cava sangria
See also: Where Sangria came from and why it's a symbol in Spain
One of the star dishes on our tapas tours in Madrid is the delicious gambas al ajillo at La Casa del Abuelo. The dish is simple– raw shrimp, garlic, parsley, olive oil– but the quality of the ingredients is key. At La Casa del Abuelo they cook in individual clay dishes atop a roaring flame– recommend if possible!
Make it: Here is my version of gambas al ajillo recipe
Watch here!

Sign up for Devour Tours YouTube channel for more delicious Spain videos 🙂
Most of the people I know look forward to Semana Santa (Holy Week) for more than Spain's famous processions. It's officially torrija time! Torrijas come in many formats but always start with a big piece of bread. The bread is covered in egg and fried in olive oil- and soaked in either honey, simple syrup with brandy or wine, or milk. I love the honey soaked variety.
In recent years the torrija is often caramelized on the outside and then served with ice cream on dessert menus. Truly decadent!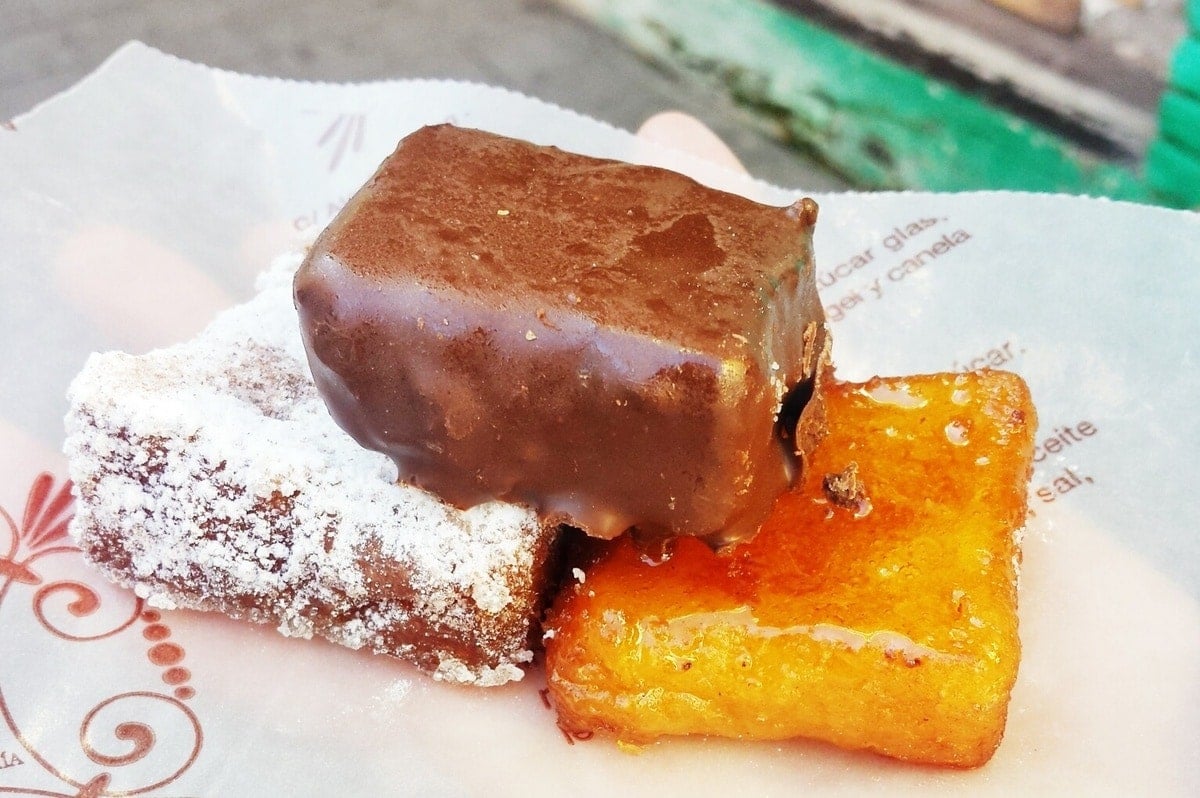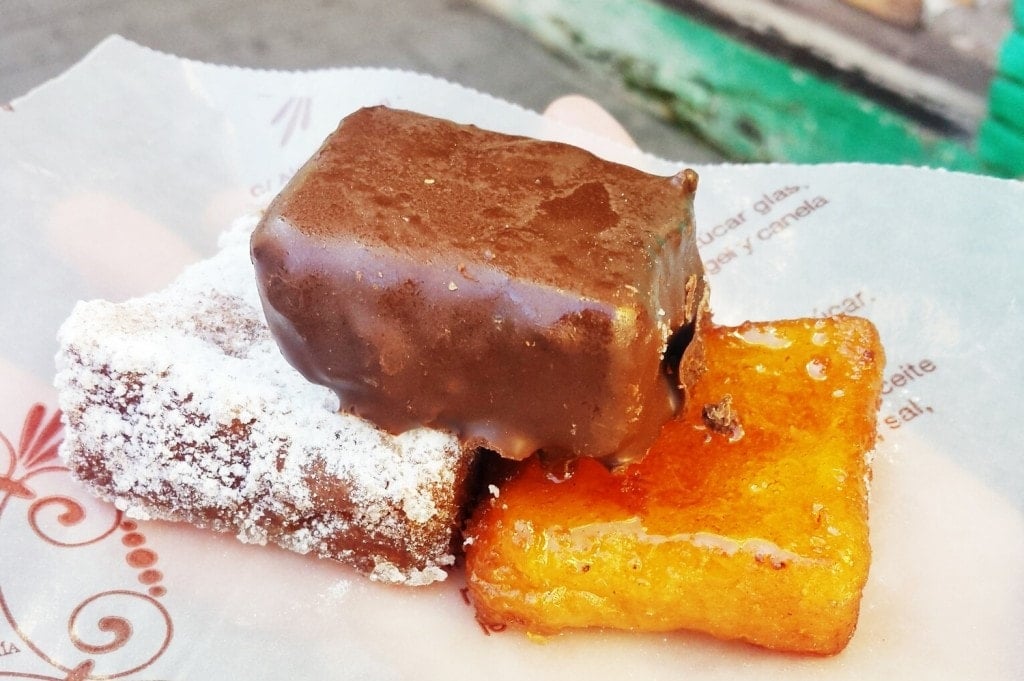 Make it: My milk torrija recipe here!
My mother-in-law makes delicious espinacas con garbanzos (spiced chickpeas with spinach), which makes sense given it's a recipe from Andalusia. But my version, which is a touch untraditional, is my all-time favorite (please don't tell her!). My secret? Adding almonds and tomato.
Make it: My Spinach and Chickpeas recipe
There were so many traditional Spanish recipes to choose from and it was hard to choose number 20– I could have gone for creamy arroz con leche, or traditional lentejas or fabada…
But I chose papas con mojo because true Canarian mojo sauces are easy to make and absolutely delicious! In the Canary Islands papas (potatoes) are cooked in super salty water so that when they're served they have a perfect salt crust. But then you dip them in delicious mojo sauces — spicy, green, red… each with different ingredients.
I think everyone who loves Spanish cooking and recipes has to master their mojos– so give it a try!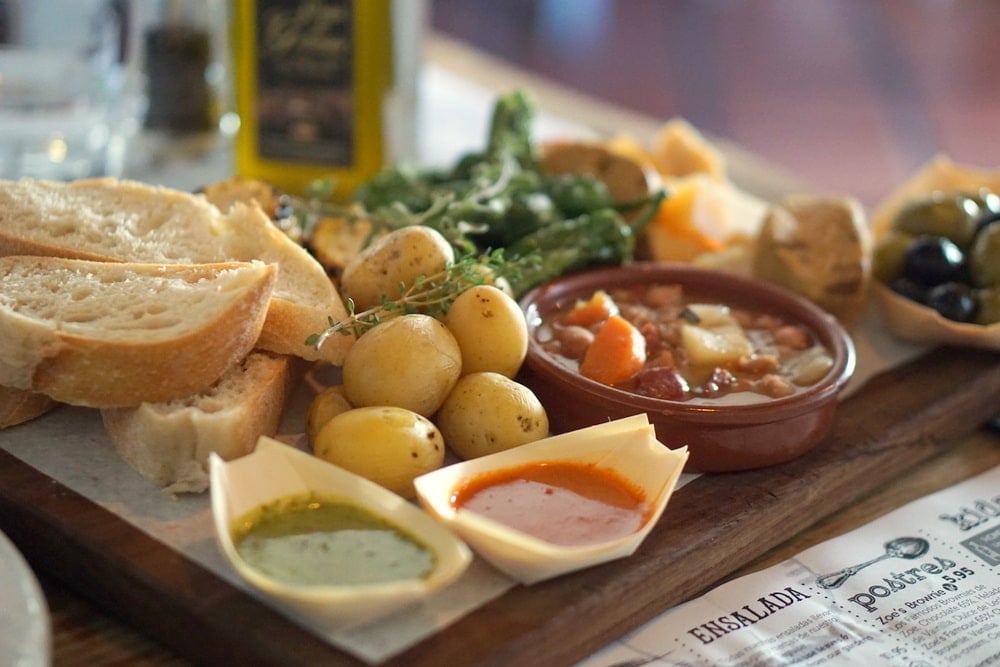 Make it: Try my recipe for Papas arrugadas, green mojo and mojo picón
How could we list our essential Spanish recipes without mentioning paella? At first, I wasn't sure, as there are so many ways to make this famous Spanish rice dish, and many people take the recipe very seriously! But this delicious paella recipe is meant to be shared. It is a traditional Valencia style with meat and veggies — absolutely delicious if you ask me!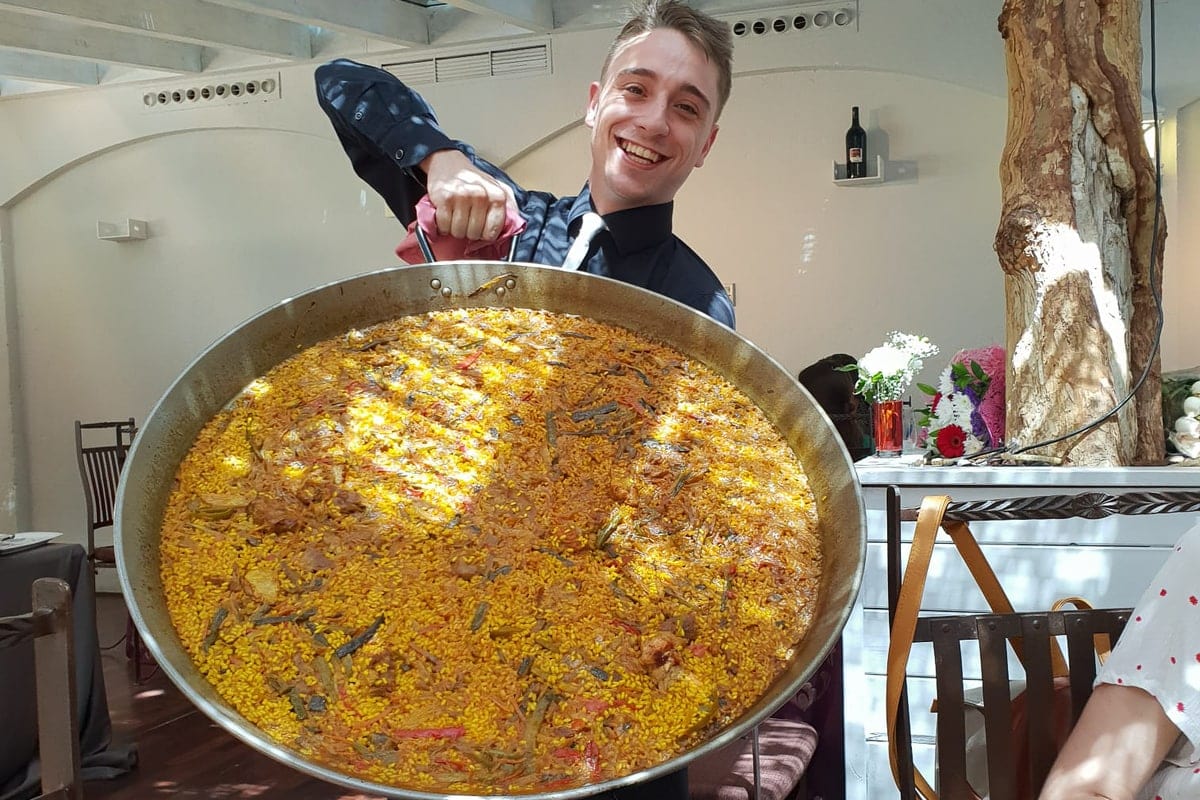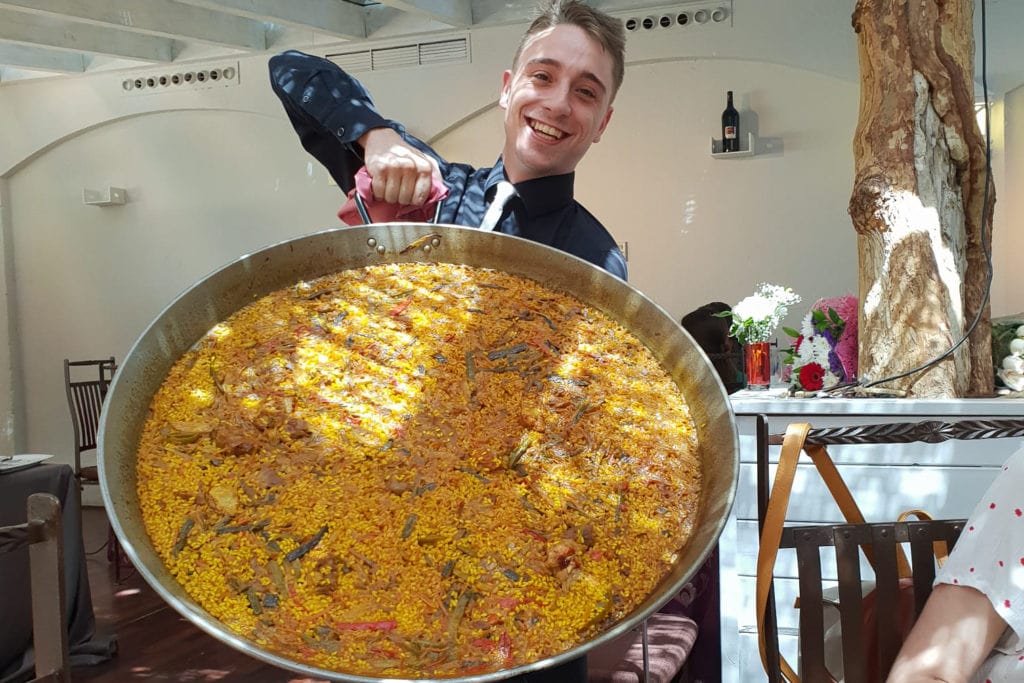 Make it: This traditional Spanish paella recipe never fails
Since most people searching for paella are looking for a seafood version, I had to share this recipe as well. While the traditional Spanish paella from Valencia (above) does not include seafood, some of the country's best rice dishes today most definitely do! I love seafood paella with shrimp and squid, but you'll often find clams, mussels, and even fish.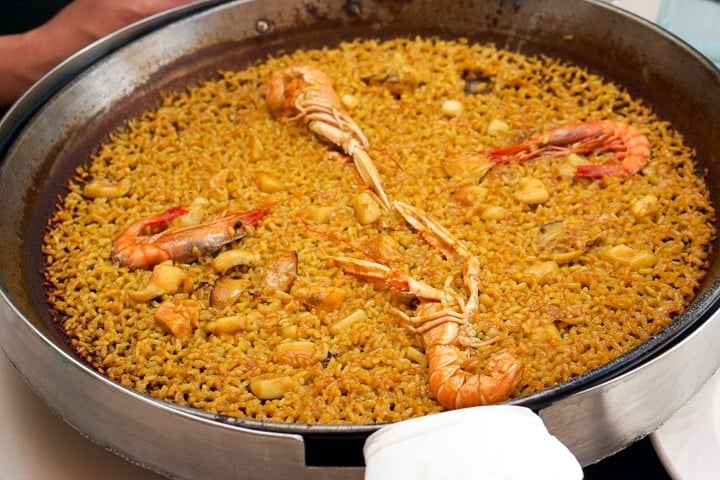 Make it: Here is a classic seafood paella recipe
A favorite tapa in the bars of both Barcelona and Madrid, this is a classic Spanish tapa that pleases everyone!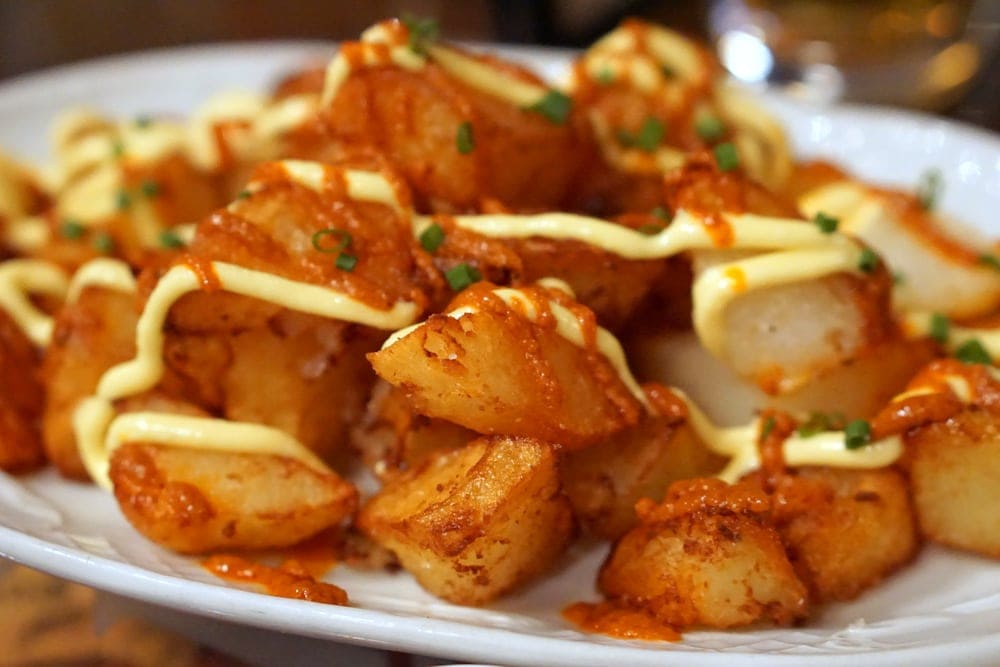 Patatas bravas are an easy choice when out for tapas in Spain, and they are pretty easy to make at home too. You can serve them Madrid style (with only bravas sauce) or Barcelona sauce, with both bravas sauce and alioli (pictured).
Make it: Try this patatas bravas recipe and don't forget the bravas sauce and alioli
These little fried peppers are addictive — I call them Spanish popcorn! Luckily, they're also super simple to make (and to grow, depending on where you live).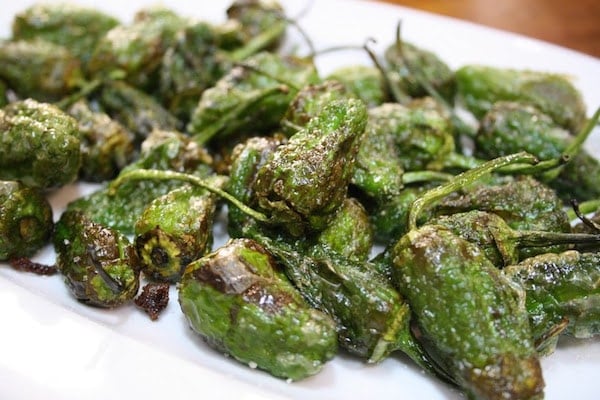 There is a saying about padrón peppers, "some are hot and some are not" — as every now and then you bite into a spicy one!
Make it: Pimientos de padrón step by step
This was one of the first recipes my mother-in-law shared with me and it's possibly the most popular Spanish arroz con leche recipe on the web! Antonia is so proud when people leave her rave reviews.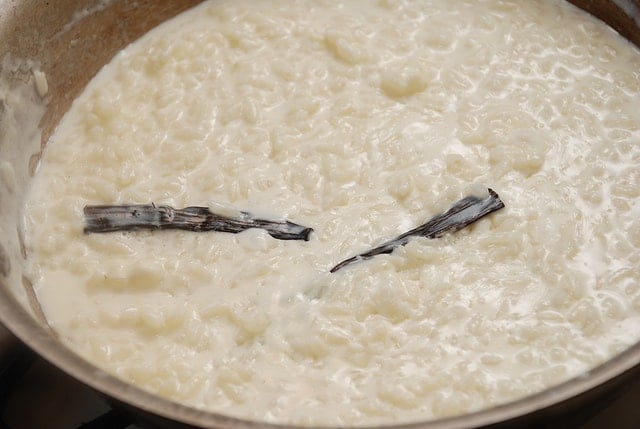 The secret to her fantastic recipe is to slowly add the milk over a 15-30 minute period — stirring constantly. This allows the rice to break down andd get nice and creamy.
Make it: Antonia's world famous arroz con leche recipe
There is nothing more soul-warming than a hot bowl of Spanish lentils. This delicious stew combines hearty lentils with smokey chorizo and veggies.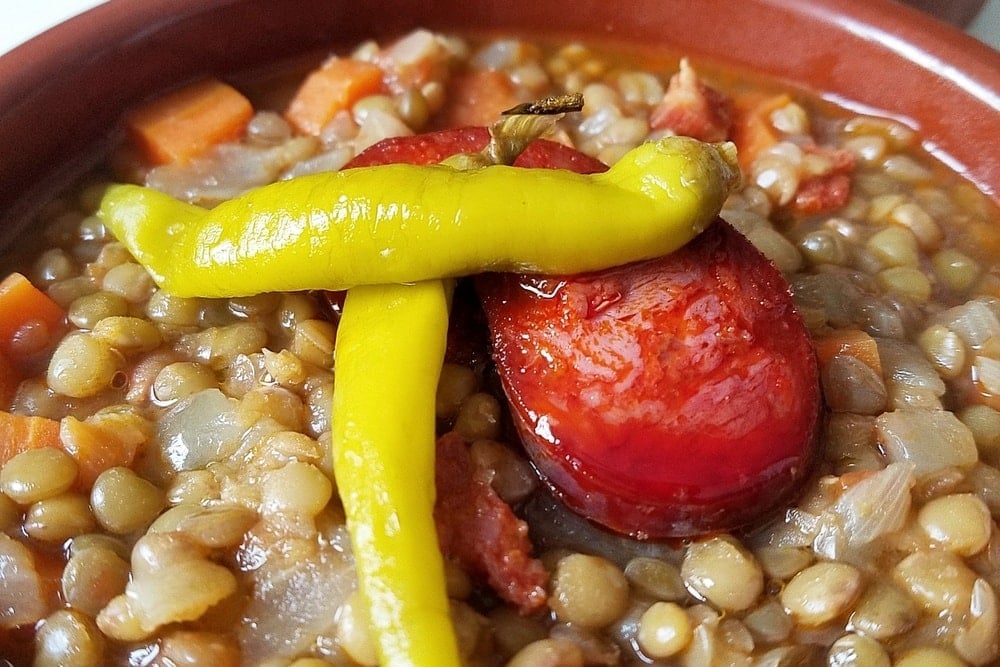 I perfected my Spanish lentils recipe while at culinary school in Barcelona. My favorite garnish? Spicy pickled peppers!
Make it: Spanish lentil stew recipe
I love bean stews and soups and grew up eating many different Italian-American versions. Luckily, Spain reigns supreme when it comes to the best bean stews andd fabada is the king. A hearty white bean stew from Asturias, fabada combines chorizo, pork fat (tocino) and morcilla for a stick to your ribs cold-weather meal.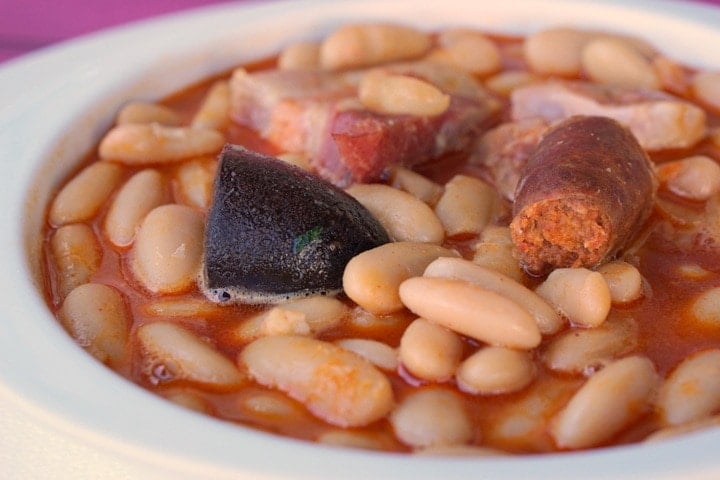 You might think this dish takes hours to make – but that's not the case! Especially if you use high quality jarred beans, this is a 30 minute meal!
Make it: Classic Spanish fabada – a must make in winter!
While we're on the subject of stick to your ribs winter meals — I couldn't leave rabo de toro (braised oxtail or bull tail) off the list. This is a classic Spanish dish, and while this one does take a few hours to make (the tough tails need time to become melt-in-your-mouth tender), the actual prep and work involved is minimal.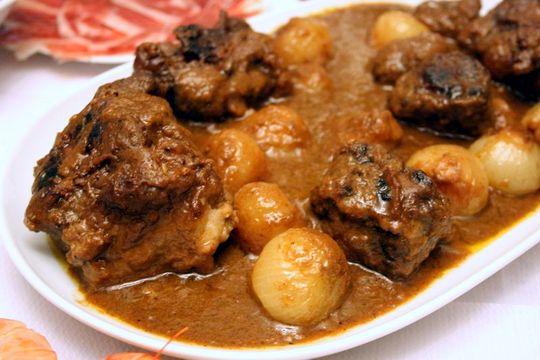 Make it: My mother-in-law's braised bull tail
Last but not least, a recipe near and dear to my heart, as it is the appetizer at every special meal at my mother-in-law's house. In the south of Spain boiledd shrimp are a delicacy, and a popular tapa. They're also delicious and super easy to make — a five minute dish!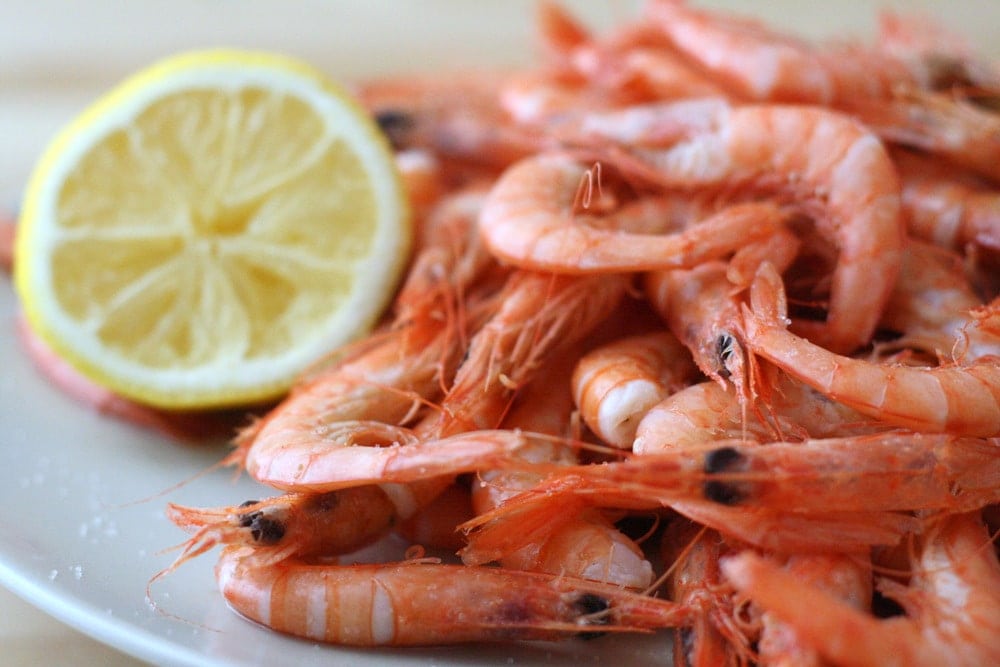 Make it: Perfect boiled shrimp recipe
What are your favorite traditional Spanish recipes? Anything I've missed?
See these recipes as a slideshow here.
Pin me!