Whether you're shopping for yourself or someone special - Lindsey's gourmet guide to Madrid tells you what to seek out and where to get the very best!
Spanish cuisine may be simple, but that doesn't mean it can't be classy, too. Quite the opposite, in fact—many simple staples of Spanish cuisine are also highly sought-after gourmet items of the finest quality, often with the prices to match.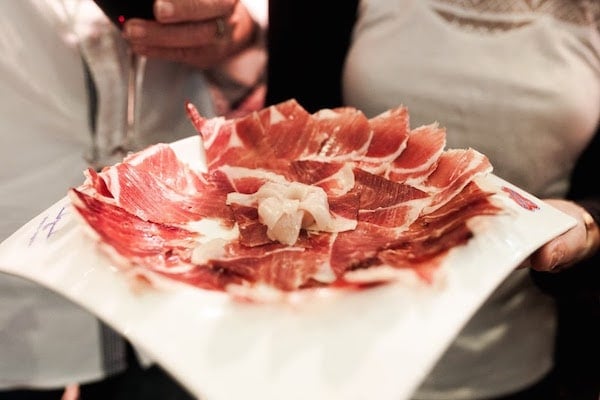 If the best of the best is what you're after, this gourmet guide to Madrid will help you curate the ideal foodie experience. Here are the items that need to be on your to-eat and to-buy lists, as well as where to find each one.
Gourmet Madrid: What to Eat & Where
1. Cured meats
If you only eat one thing in Spain, let it be jamón ibérico de bellota. This isn't your ordinary ham—this is the good stuff, made from free-range, acorn-fed Iberian pigs and cured for at least 36 months. The result: a richly flavored ham that, when cut properly in paper-thin pieces, practically melts in your mouth.
Read more: Spanish Ham 101
But although it can be tempting to devour all the jamón ibérico you see (trust me, I understand), it's not the end-all-be-all of Spanish cured meats. From slightly spicy chorizo to flavorful salchichón and beyond, Spain is a true carnivore's heaven.
Unfortunately, some countries (such as the USA) have strict restrictions on meat brought from abroad. If that applies to wherever you're headed after Spain, it's best to just enjoy the cured goodies here.
Where to Eat Cured Meats in Madrid: Despite its name, Mercado Jamón Ibérico (Calle Mayor, 80) offers much more than just Spain's most iconic product. They sell a whole range of delicious cured meats in their cozy shop just steps away from some of Madrid's most iconic sights.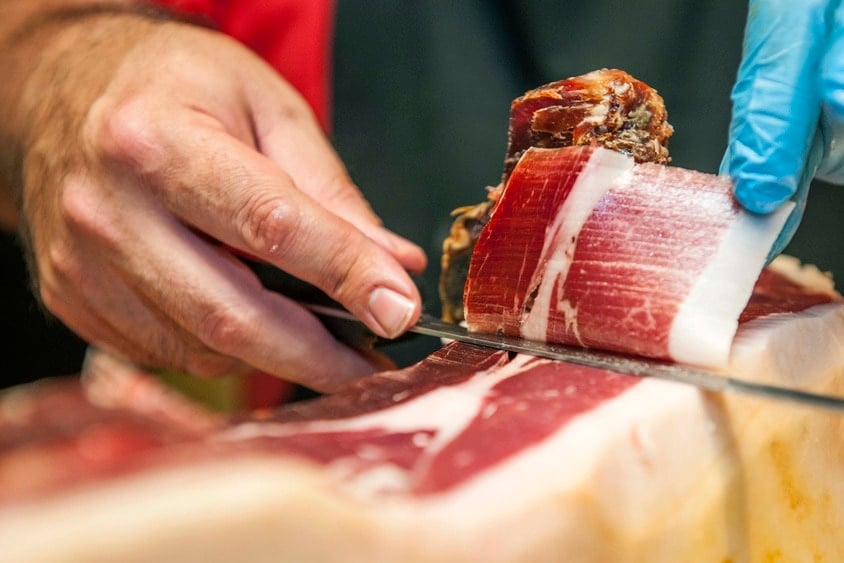 2. Spanish cheese
While often overshadowed by neighbors France and Italy in the cheese-making department, Spain makes some pretty fabulous queso itself. Anglophones have likely heard of manchego, which is produced just outside of Madrid in the Castilla-La Mancha region and which is a good starting point for discovering the wonderful world of Spanish cheese. But if you're looking for something new, there's so much more—from nutty idiazabal to buttery mahón to sharp cabrales, there's a Spanish cheese for everyone.
See also: 7 Spanish Cheeses You Really Must Discover
Where to Eat Spanish Cheese in Madrid: Quesería Cultivo (Calle del Conde Duque, 15) is the local reference for artisanal cheeses, boasting a collection from throughout the country.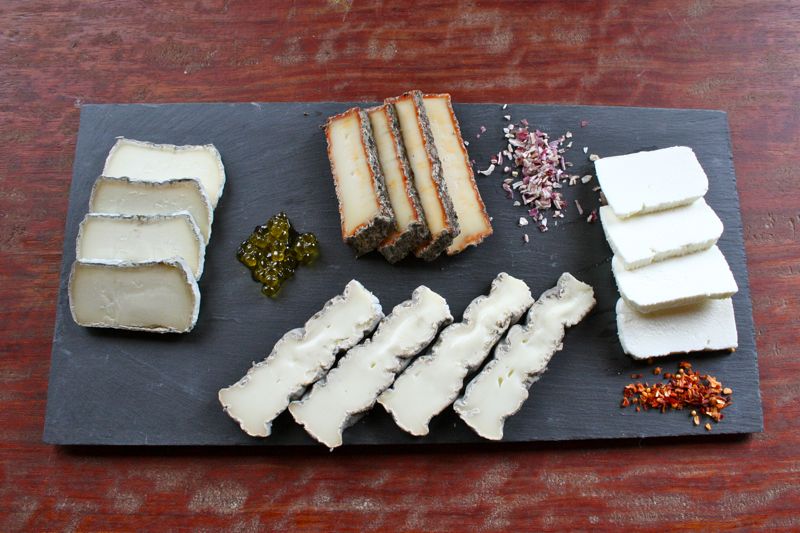 3. Wine
Spain has been gaining international recognition for its wines in recent years, and for good reason. With more than 70 classified denominaciones de origen, it's safe to say that some of the most fascinating wines in Europe are produced here.
Start with a classic, like Rioja or Ribera, but don't be afraid to expand your horizons. Some of the best white wines in the country come from Galicia, in the form of D.O. Rias Baixas, and Basque txakoli is another unique variety worth trying (and, in fact, a txakoli was recently named the best white wine in the world). Down south, sherry and its close cousin Montilla-Moriles have an undeniably Andalusian flair, but don't sleep on Malaga's signature sweet wine, either. And of course, even Madrid is home to its very own D.O., which produces some of the best value for money wines in the country.
Where to Drink Wine in Madrid: For an intimate wine tasting in Madrid try Devour Madrid's Spanish Wine Tasting experience, where you'll discover the secrets of Spanish wine in a casual tasting space downtown. If a walking wine and tapas tour is more your style, the gourmet experience offered by Devour Madrid's Tapas & Wine Tasting Tour can't be beat. You'll visit three of the city's top wine bars to learn everything wine related while pairing with the most delicious Spanish tapas.
See also: For a DIY experience, try any of these fantastic Madrid wine bars!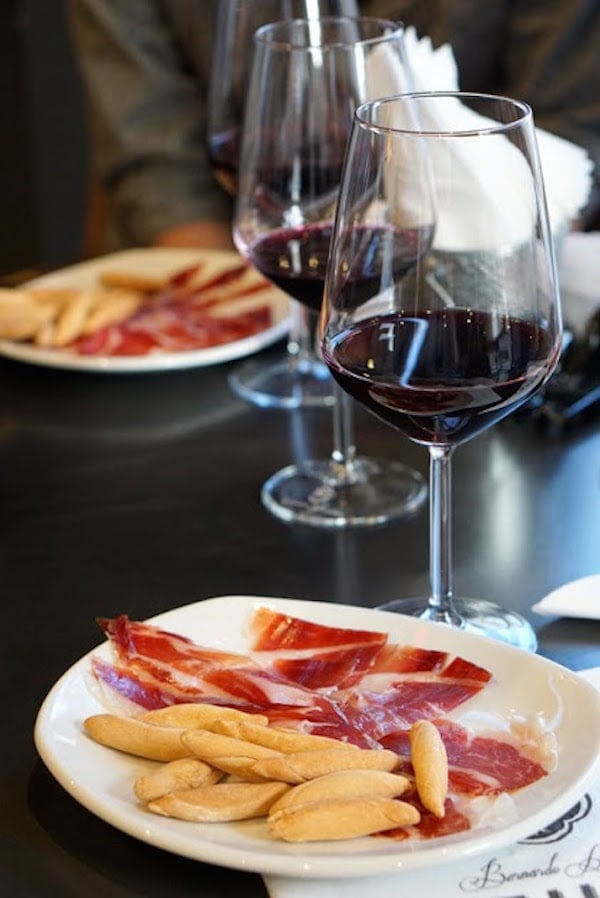 4. Spanish Extra Virgin Olive Oil
You'll see bottles upon bottles of Spain's liquid gold lining supermarket shelves anywhere in the world, but not all olive oils are created equal. For top quality, you'll want to go with extra virgin, which has to meet and surpass a rigorous set of standards in order to earn its prestigious status. And considering the fact that nearly half of the world's olive oil comes from Spain in any given year, it's safe to say that Spain knows what it's doing.
Spanish EVOO is the crème de la crème, and perhaps the most important kitchen staple. Throughout the country, you'll find Spaniards drizzling it on everything from toast to salad to salmorejo, so if you want to give your dishes a Spanish touch long after you leave, this is the one gourmet item you'll want to make room for in your suitcase.
Where to Buy Olive Oil in Madrid: Patrimonial Comunal Olivarero (Calle de Prim, 12) is more than just a shop—it's also home to a fascinating museum, and has been named the official olive oil vendor of the Spanish Department of Agriculture.
Learn More: Amy's complete guide to Spanish olive oil takes a deep dive into Spain's liquid gold.
5. Spanish spices
If you've tried many Spanish dishes, you might have realized one thing: they tend to be pretty mild. However, that doesn't mean cooks here can't give a recipe a little bit of a kick when they want to. While not the spiciest you'll come across, Spanish spices can do wonders to take any recipe from "good" to "great."
One of the most commonly used spices here in Spain is paprika. If you think you can just go to the grocery store in your home country and pick some up there, think again—Spanish smoked paprika is on another level. Pimentón de la Vera, which is produced in a small town in Extremadura, is held in particularly high regard. Another standout is saffron, the most expensive spice in the world—but it's well worth picking up the real thing here in Spain.
Where to Buy Spanish Spices in Madrid: Spicy Yuli (Calle de Valverde, 42) is a spice lover's paradise. They also sell fabulous artisanal chocolates, teas, and more.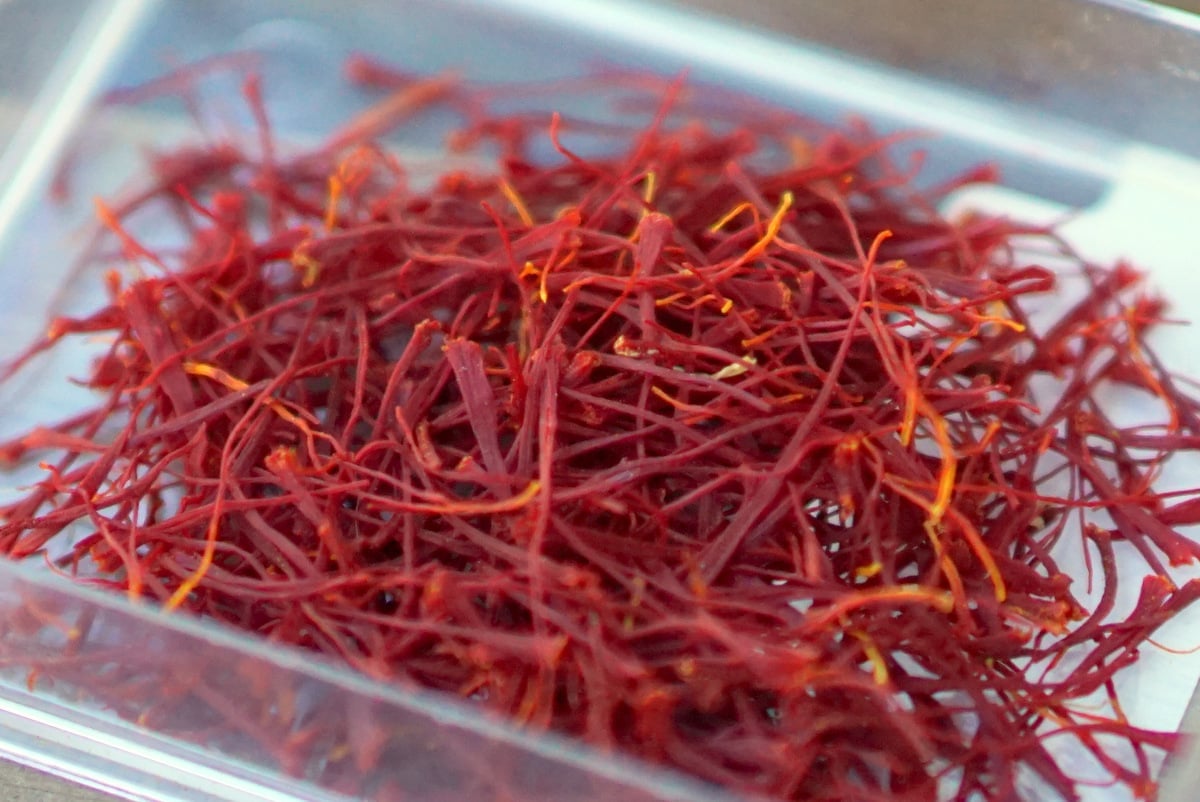 Want more gourmet goodness?
If you live for fabulous artisanal products and excellent Spanish wines, you won't want to miss Devour Madrid's Evening Tapas & Wine Tasting Tour. This bespoke evening out in the glamorous Spanish capital will give you an exclusive look at the local tapas and wine culture as you eat and drink your way through three bars madrileños love.
Pin me!