You've eaten your way around Malaga, now share the love by bringing home a one-of-a-kind, delicious gift. Skip the kitschy, touristy souvenirs and bring home a memento that evokes the unique flavors of southern Spain instead. Whether it's for a foodie friend or a travel lover who couldn't come along, your loved ones will adore these wonderful gourmet food gifts from Malaga. Start making room in your suitcase—chances are you'll want some for yourself, too!
Delicious Gourmet Food Gifts from Malaga
1. Extra virgin olive oil
Nothing says Andalusia quite like the region's liquid gold itself, and with 100,000 hectares of olive groves, Malaga is home to some of the best of the best. The province's unique geography makes it possible to cultivate a diverse variety of olives. One of the most highly regarded is the Antequera Denomination of Origin (D.O.) oil, from the picturesque village of the same name.
Where to buy it: Any one of the shops in this guide to where to buy olive oil in Malaga.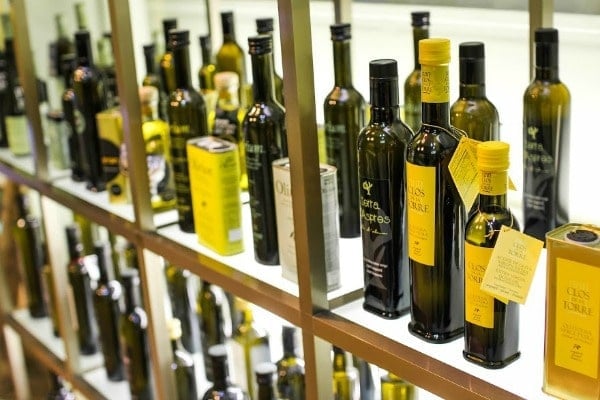 2. Jamón ibérico de bellota
Who knew acorns could make Spain's famous cured ham taste even better? Jamón ibérico de bellota comes from acorn-fed Iberian pigs. One taste and you'll immediately see why this iconic local product makes one of the best gourmet food gifts from Malaga.
Where to buy it: Mercado Atarazanas (Calle Atarazanas, 10)
3. Sweet Malaga wine
Did you really visit Spain if you didn't try any locally produced wine? Bring some home and share the love! Malaga's wine tradition is one of the oldest in Europe, and winemakers in the region have perfected their craft over centuries. Bring a bottle of Malaga's eponymous sweet wine to your next dinner party back home. Your hosts will thank you (and surely start planning their own trip to Malaga!).
Where to buy it: Antigua Casa de Guardia (Alameda Principal, 18)
4. Fried almonds
Almonds have been an integral part of Spanish cuisine for centuries. Originally brought to the Iberian peninsula by the Moors, they remain a favorite ingredient to this day (ajo blanco, anyone?). One of the greatest pleasures when visiting Malaga is nibbling on a cone of fried almonds, sold by vendors from carts throughout the city.
Where to buy them: These salty treats are best enjoyed piping hot, so unfortunately bringing home a fresh cone for a friend or family member to try might prove difficult. Luckily, you can easily make them yourself—just pack some local almonds in your suitcase and get to work once you're home!
5. Fresh olives
Did you know that more than half of Spain's olives are grown in Andalusia? Considering the sunny Mediterranean climate and terrain, it's not surprising. However, the aloreña olive from Malaga is special in that it's the only olive variety in Spain with a protected denomination of origin! These special olives also make one of the most classic gourmet food gifts from Spain.
Where to buy them: Any supermarket should have them, but consider supporting a small local business such as a gourmet shop or a stand at a local market instead.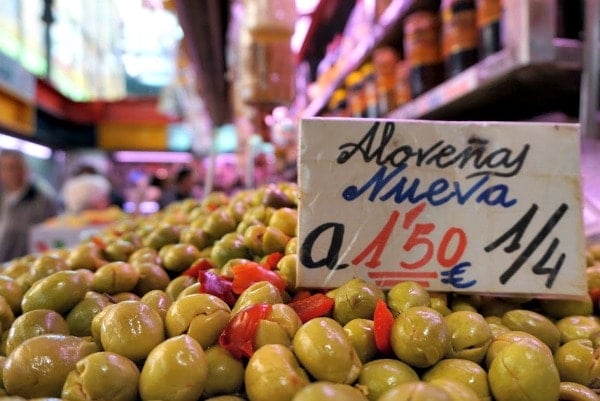 6. Local cheeses
Cheese making has a long and celebrated history in Malaga. Many of the region's famous cheeses—among them some of the best in Andalusia—come from Malaga goat's milk. In fact, six of them won prizes at the 2015 World Cheese Awards (which sounds like the most delicious competition ever!). Bring some home as unique gourmet food gifts from Malaga.
7. Moscatel raisins
The fertile hills of the Axarquia region in Malaga province provide the perfect setting to produce these wonderful raisins. Grown and harvested using traditional practices, these natural treats are easy to pack and transport. You won't settle for supermarket raisins ever again!
Where to buy them: Straight from the source—take a day trip to Axarquia!
See Also: Typical foods from Malaga you have to try while here
Pin me!