Tucked away on the northeastern coast of Spain, Hostal Empuries is yet another oasis on the Costa Brava. This unique hotel has a lot to offer, especially during the months bordering the summer season (May and June or September and October) when the area is quiet and peaceful, and prices are lower.
We visited last October and were not quite sure what to expect. The word hostal lead me to believe it was a casual beachside place, similar to the concept of a motel in the US. Oh how wrong I was!
Green
Hostal Empuries was first built in the early 1900's as lodging for nearby archaeologists, who were working right next door excavating and restoring Greek and Roman ruins. The ruins have long since been restored, and guests can now visit them for a small fee, or take morning and afternoon walks right beside them.
Hostal Empuries is also quite proud to be the first European Hotel to receive the LEEDS Gold Certificate for its sustainable building materials. The hotel currently uses much less water than other hotels of similar size, and has its own organic garden where the chef takes fresh fruits, vegetables, and herbs.
Gorgeous
We stayed in one of the new Spa rooms, which was a beautiful and comfortable space with a big balcony and jacuzzi. It was too dark to take many pictures, but I guarantee you it was lovely.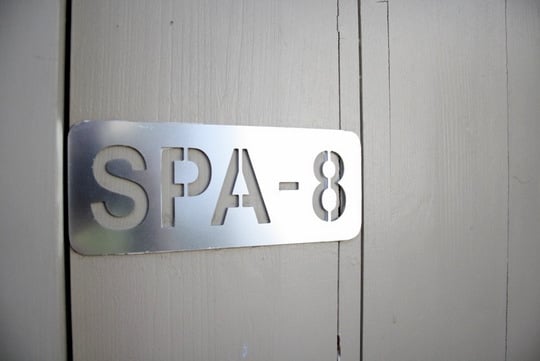 But even better than the rooms are the grounds of Hostal Empuries. I would have loved to have stayed for a whole week, relaxing on the beach, taking morning and evening walks, and renting a bicycle for long bike rides.
Gourmet
I didn't have any expectations as far as the food in Costa Brava, but everything we tried was delicious. In the evening we had a dinner reservation in their more formal restaurant, Villa Teresita Restaurant. The chef focuses on eco-Mediterranean cuisine, and his tasting menu was delicious.
Breakfast the next morning was to die for. It was honestly one of the best hotel breakfasts I have ever had in Spain, and is honestly more like a brunch (I was stuffed for hours after).
Costa Brava is a gorgeous part of Catalonia, and staying in a beautiful hotel like Hostal Empuries only made the experience more unique. I highly recommend a trip to this incredible (and delicious) part of Spain.
Would you like to stay in an eco-friendly hotel? Would you actively seek them out when booking?