Spanish desserts are a huge part of Spain's culture, and each town and city has its specialties. From decadent Spanish cheesecake to creamy hot chocolate, there's a sweet for every time of day and every month of the year! Read on to discover the most famous desserts in Spain.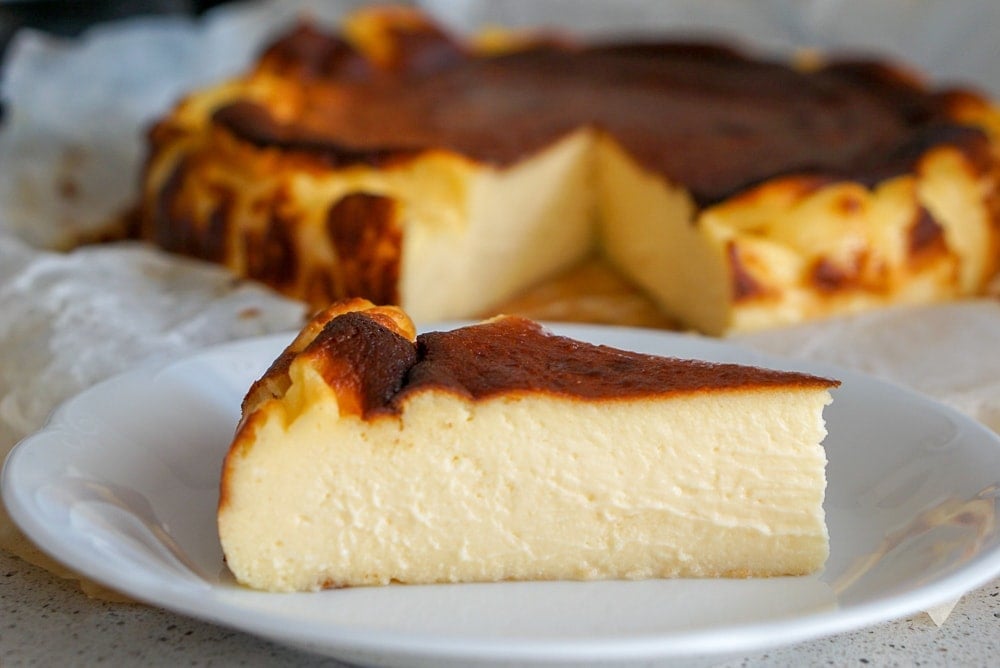 Don't let all the talk about Spain's Mediterranean diet fool you into thinking the country is too health-obsessed. Spaniards have a serious sweet tooth! From sugary custards to chocolate-filled pastries, Spanish dessert menus are bursting with sweet, sweet joy.
Most people in Spain have something sweet every day of the week—at least once a day, but sometimes more. Their trick to staying healthy? Moderation and lots of walking!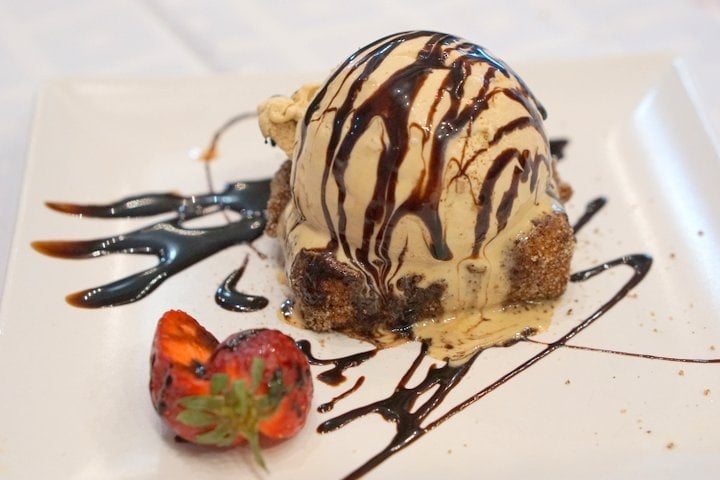 All About Spanish Desserts
Like so many foods in Spain, many of the country's desserts are regional. For example, the Moorish influence in southern Spain means several of the desserts there are almond-based. In Catalonia, just south of the French border, lots of traditional sweets have a decidedly French flair.
But no matter where in Spain you are, your sweet tooth won't be disappointed. Here are 27 treats that will make your mouth water—plus some easy Spanish dessert recipes so that you can try them at home!
1. Tarta de Santiago (Spanish Almond Cake)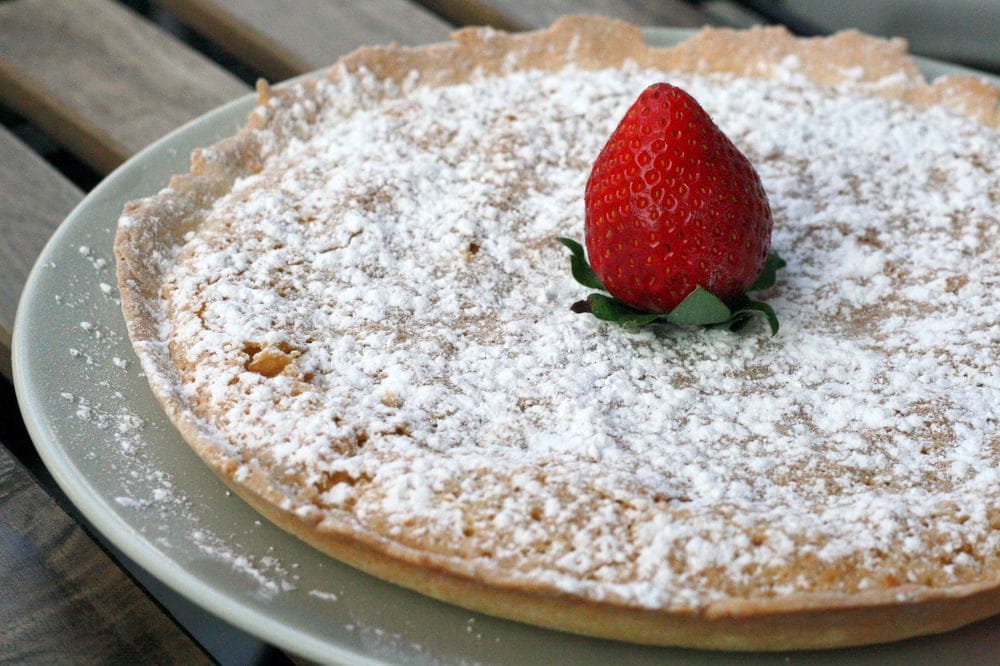 Tarta de Santiago may just be the most deceiving dessert in all of Spain. It breaks all my usual dessert rules; there's no chocolate, it's served at room temperature, and it often comes pre-made from a box.
But with just one bite of this thin, super moist Spanish cake, those rules seem to melt away. This almond-based sweet is a typical dessert from Galicia, and more specifically Santiago de Compostela, where the Camino de Santiago ends. It's usually adorned with a powdered-sugar cross of St. James.
Recipe: No need to go all the way to Galicia—try our tarta de Santiago recipe at home!
2. Tarta de Queso (Spanish Cheesecake)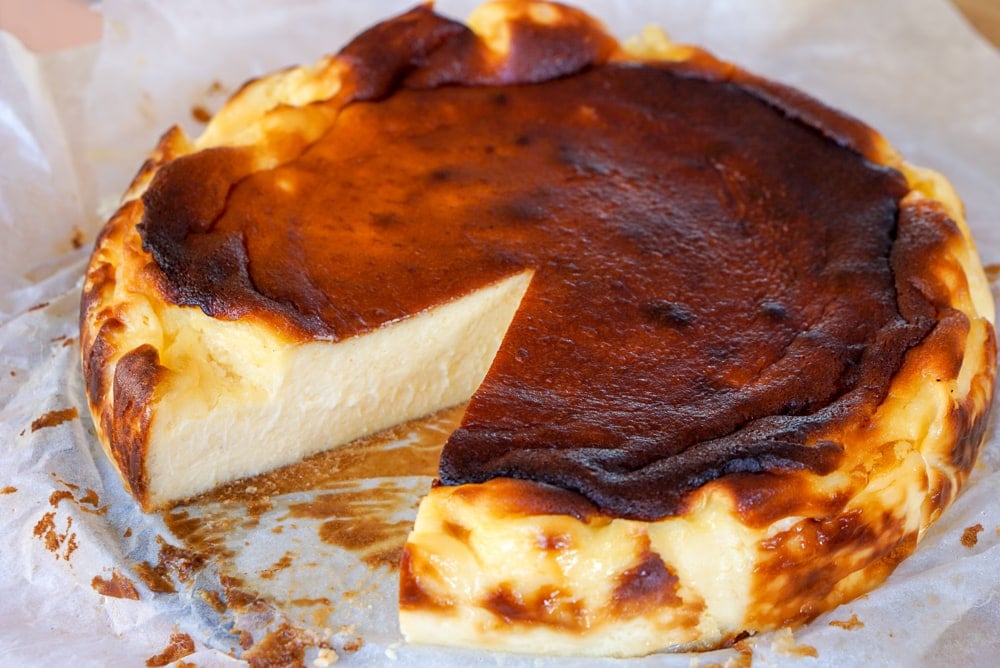 Spanish cheesecake is about as different from New York-style cheesecake as possible. It's often light and fluffy with a strong cheese flavor. The crust is usually drier, crunchier, and more like a cookie. And I've only ever seen one (rare) cheesecake topping in Spain: berries.
Then there's the legendary Basque cheesecake, which is its own thing entirely. Made famous by La Viña in San Sebastian, this iconic Spanish sweet is creamy, crustless, and perfectly burnt on top.
Whatever the style, cheesecake is a staple of the Spanish dessert menu. Consequently, it's also a staple of my weekend dinners!
Recipes: Make the famous Basque cheesecake recipe at home, or try the Cantabrian take on cheesecake, called quesada pasiega.
3. Torrijas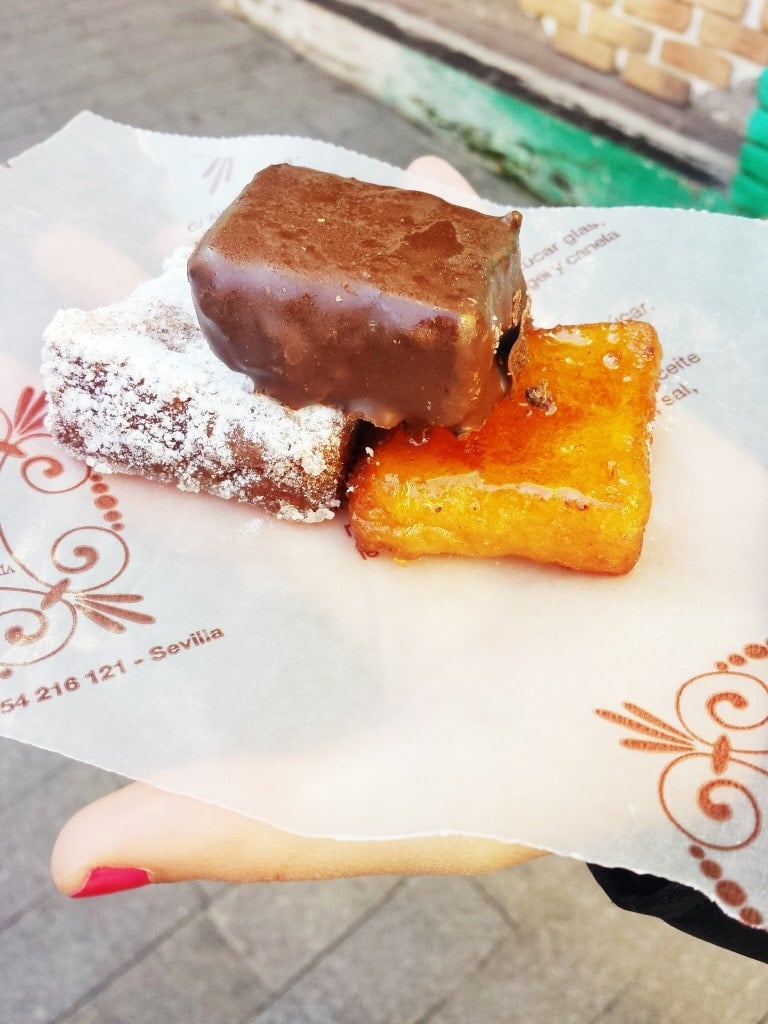 If it were up to me, torrijas would be on every dessert menu, every day of the year. These drunken, cinnamon-spiced slices of fried bread take the familiar concept of French toast to a whole new level.
Tragically, it's almost impossible to find torrijas outside of the Easter season. Only in March and April are the window displays and dessert menus of Spanish pastry shops, cafés, and restaurants loaded with torrijas, Spain's traditional Easter dessert.
Torrijas come in three traditional flavors: milk and cinnamon, wine and simple syrup, or soaked in honey. All of them are positively delicious. And yes—the photo above also shows a very non-traditional (but equally yummy) chocolate-covered torrija from Seville.
Recipe: Luckily, these marvelous Spanish desserts aren't difficult to make at home. Try our authentic torrijas recipe!
4. Crema Catalana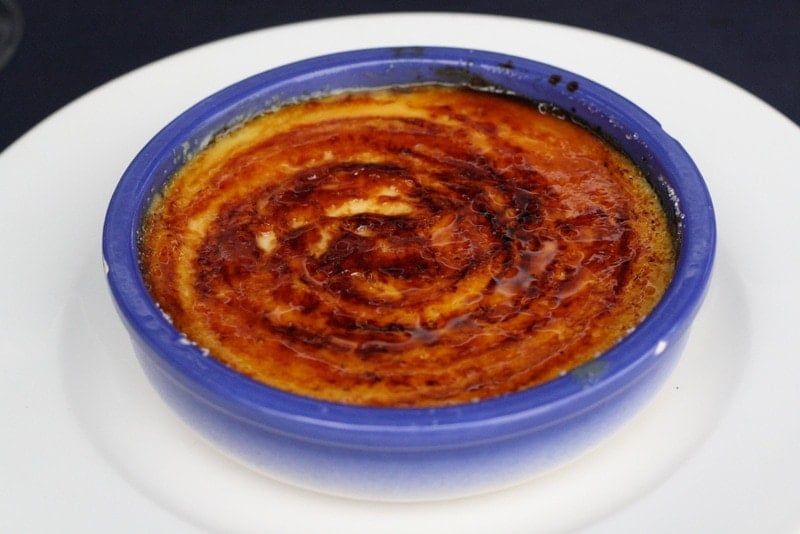 Crema catalana is sometimes called the poor man's crème brûlée. But in this match-up, I'd put my money with the poor man! Served in a humble, shallow clay dish, this custard dessert from Catalonia is hugely popular throughout the country.
Creamy egg-yolk custard is topped with sugar, which is then torched to a crisp. This distinctive sweet is so popular, in fact, that you'll find crema catalana-flavored ice creams and liqueurs all over Spain.
Recipe: Get the best homemade crema catalana recipe!
5. Chocolate & Churros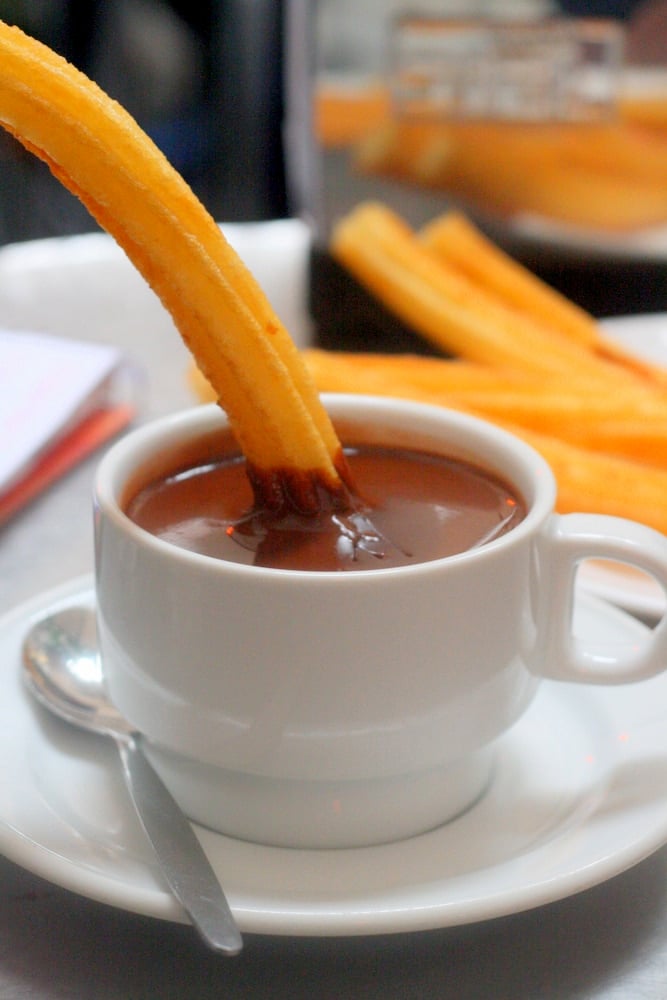 Although you won't usually find chocolate and churros on a Spanish dessert menu—and if you do, run away!—it would be blasphemous to talk about Spanish sweets without including them.
Chocolate and churros is like a dessert that's broken free from after-meal status and taken on eat-it-whenever-you-want status. Breakfast? Churros. Mid-morning snack? Churros. Late-night craving? Lots of churros.
In fact, Spaniards usually eat churros either first thing in the morning or after a night out! These cylinders of fried dough are as versatile as they are delicious. And the steaming cup of thick hot chocolate that comes with them ain't too bad either (it's more like a dip than a drink).
Recipe: If you're not in Spain, no pasa nada! Here's an easy churros recipe, plus one for the obligatory cup of homemade Spanish hot chocolate to pair it with.
6. Flan
Vanilla flan, egg flan, cheese flan, coconut flan, chestnut flan, Christmas chocolate flan... Spain is all about flan. This rich, gelatinous dessert is made from milk, sugar, and eggs, which are mixed into a metal mold that's then placed in a water bath (known in Spain as a baño María).
Once cooked and cooled, the mold is turned upside down onto a plate, allowing that heavenly bottom layer of caramel to cascade down the sides of the wobbly mountain of flan. Yum!
Recipes: Try this classic Spanish flan recipe or our Canarian flan recipe (which uses condensed milk). And if you're looking for something different, how about pumpkin flan?
7. Miguelitos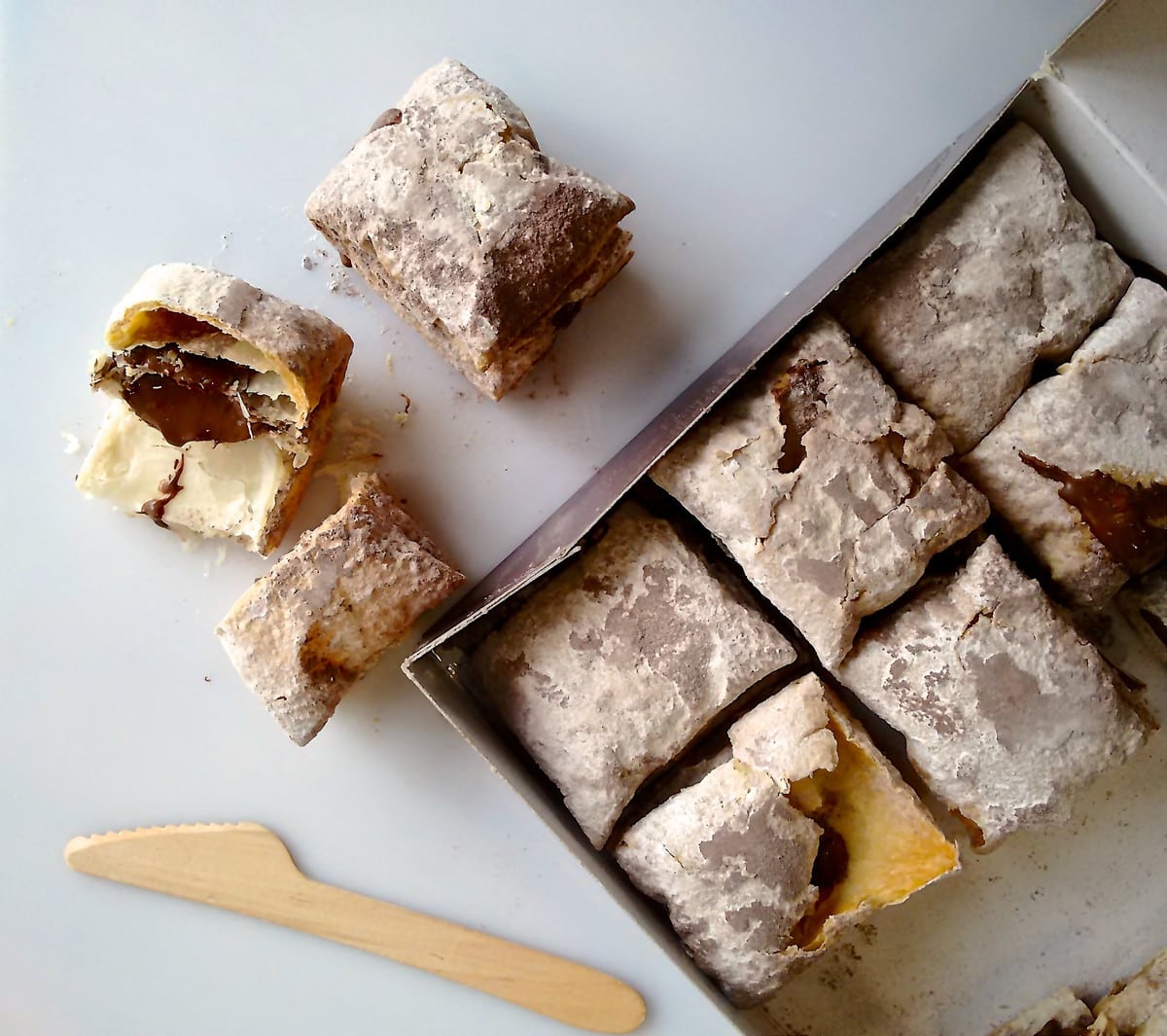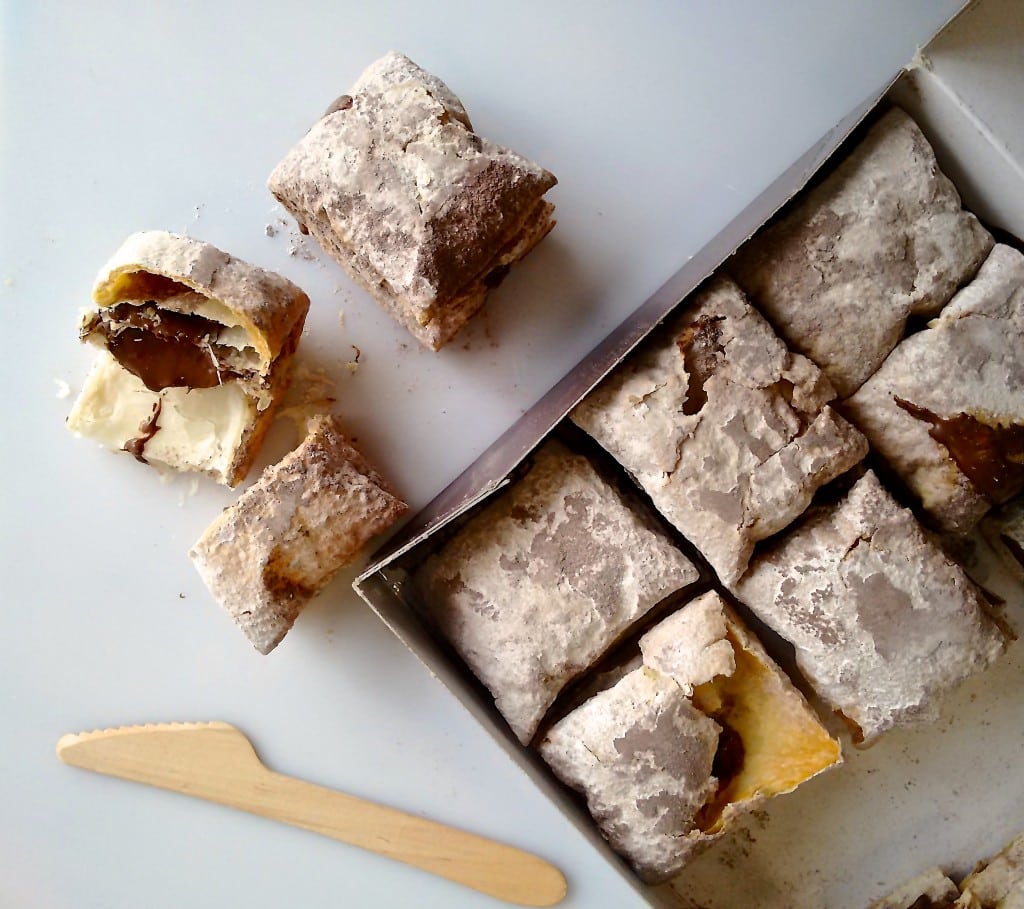 There are few things more dangerous for me to have in the house than a box full of Miguelitos. Each tall square of fluffy phyllo-like dough—in my case, filled with chocolate—is slightly bigger than a matchbox. One is never enough... but the whole box is a bit too much (oops!).
Made from seemingly infinite layers of thin pastry, they disintegrate into a million flaky pieces with each bite. But somehow, the genius pastry chef who invented them managed to make these airy Spanish pastries marvelously moist and packed with a punch of chocolate ganache (or cream).
See Also: A Chocoholic's Guide to Chocolate in Spain
8. Tarta de Aceite (Olive Oil Cake)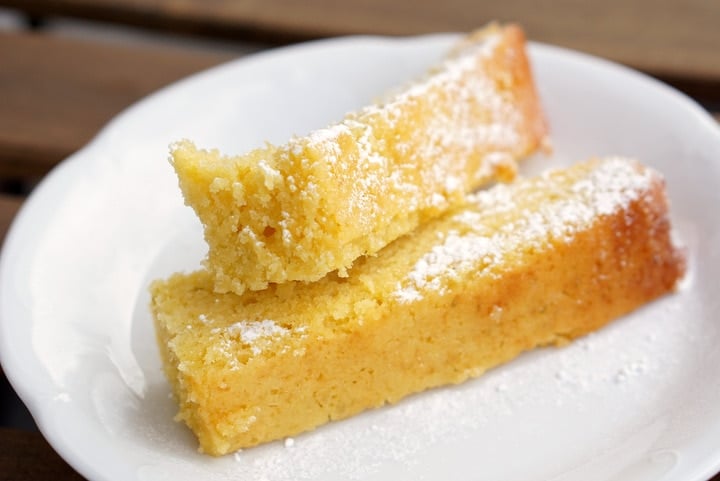 I'm a huge cake lover, especially in the afternoon alongside a piping hot café con leche. My favorite Spanish cakes are simple ones that can be made in about an hour. They're olive-oil based, so they're super moist and delicious—and arguably healthier than their butter-based cousins.
Recipe: There are endless varieties of olive oil cake! Try our lemon olive oil cake recipe, apple olive oil cake recipe, or chocolate olive oil cake recipe. Or try this lemon yogurt cake, which is also made with olive oil.
9. Mantecados & Polvorones (Spanish Christmas Cookies)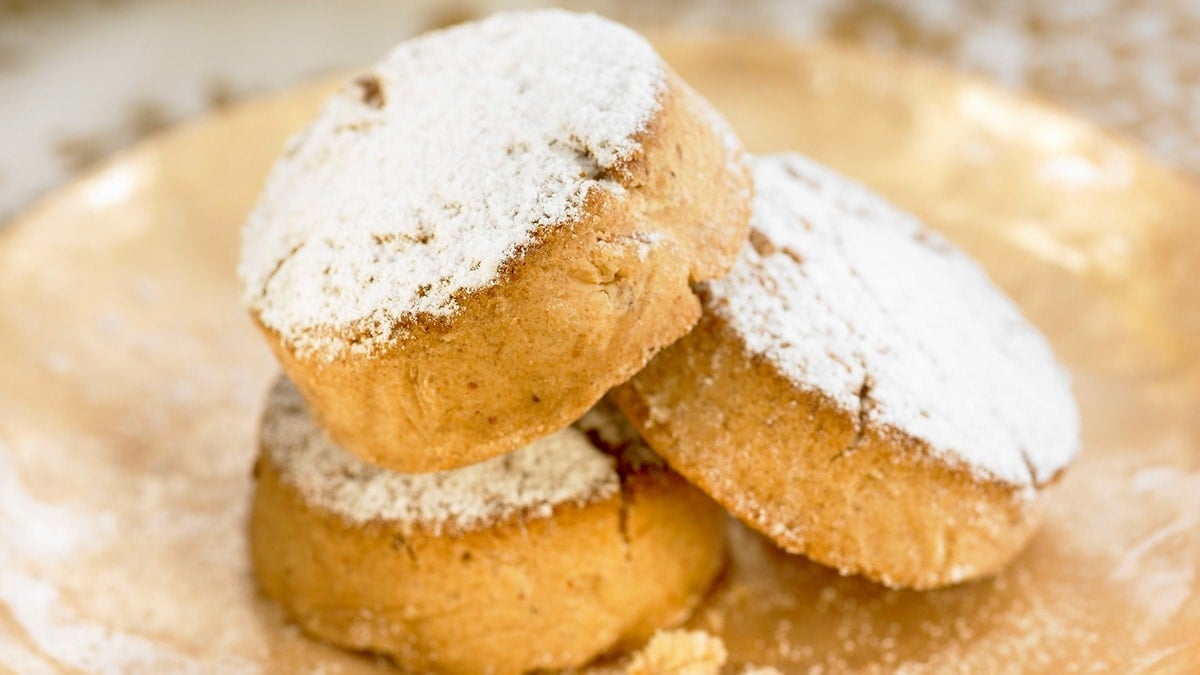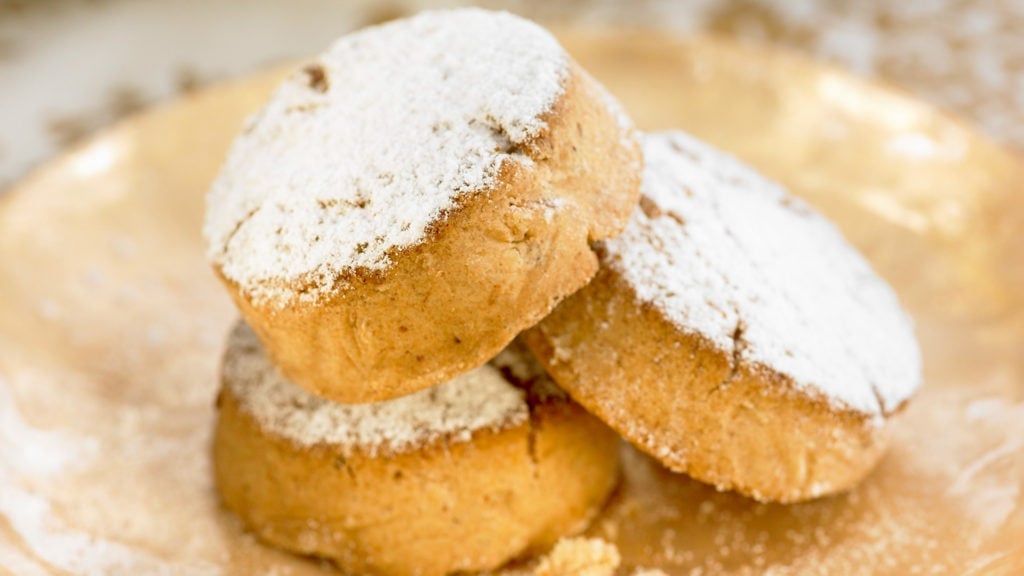 Spanish Christmas cookies aren't usually made at home; instead, people stock up on their favorite brand of shortbread cookies at the local shops. They're wrapped in pretty paper and come in a variety of flavors.
So what's the difference? Mantecados are usually made with lard, flour, and sugar, and may be flavored with chocolate, lemon, cinnamon, etc. Polvorones are a type of mantecado made with almonds, and are so popular they get their own name! Both can be made with butter instead of lard if preferred.
These dry and crumbly cookies are a far cry from my mom's chocolate chip cookies growing up, but I've come around to them over the years. They're super sweet and soft enough to melt in your mouth—be careful when unwrapping them!
Recipes: Looking for easy Spanish desserts to make for Christmas? Try our mantecados recipe and polvorones recipe.
10. Leche Frita (Fried Milk)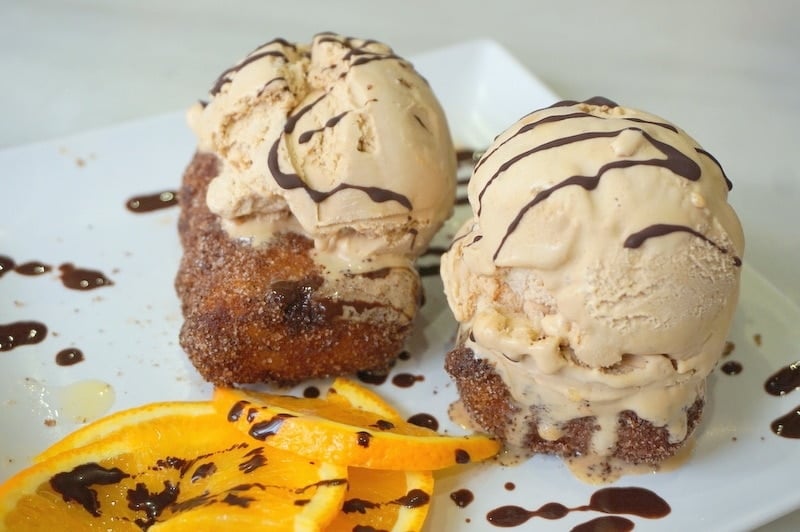 Fried milk may sound a bit odd at first, but I guarantee it's absolutely delicious and worth a try. Basically, you make a very milky custard and then deep-fry it in a crispy crust of sugar and cinnamon. Pictured with nougat ice cream here, it's one of my favorite Spanish desserts!
Recipe: Check out our leche frita recipe to make this traditional treat at home!
11. Arroz con Leche (Spanish Rice Pudding)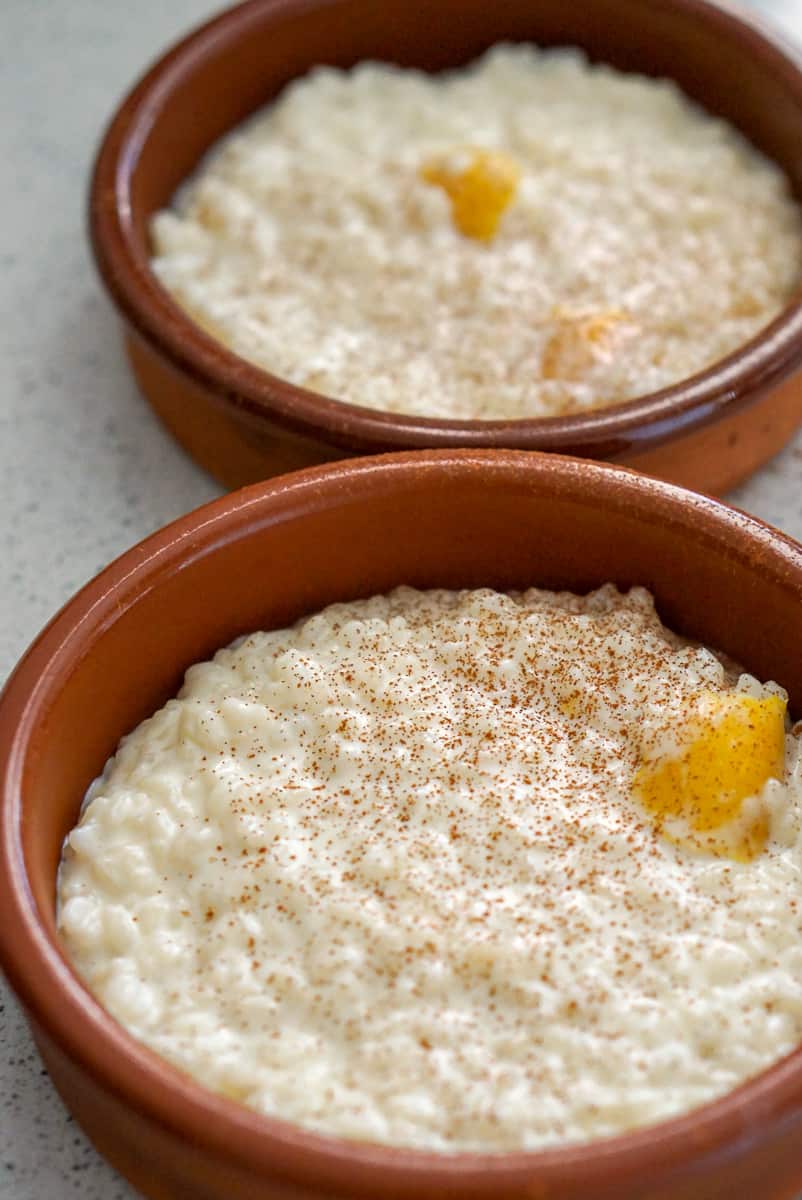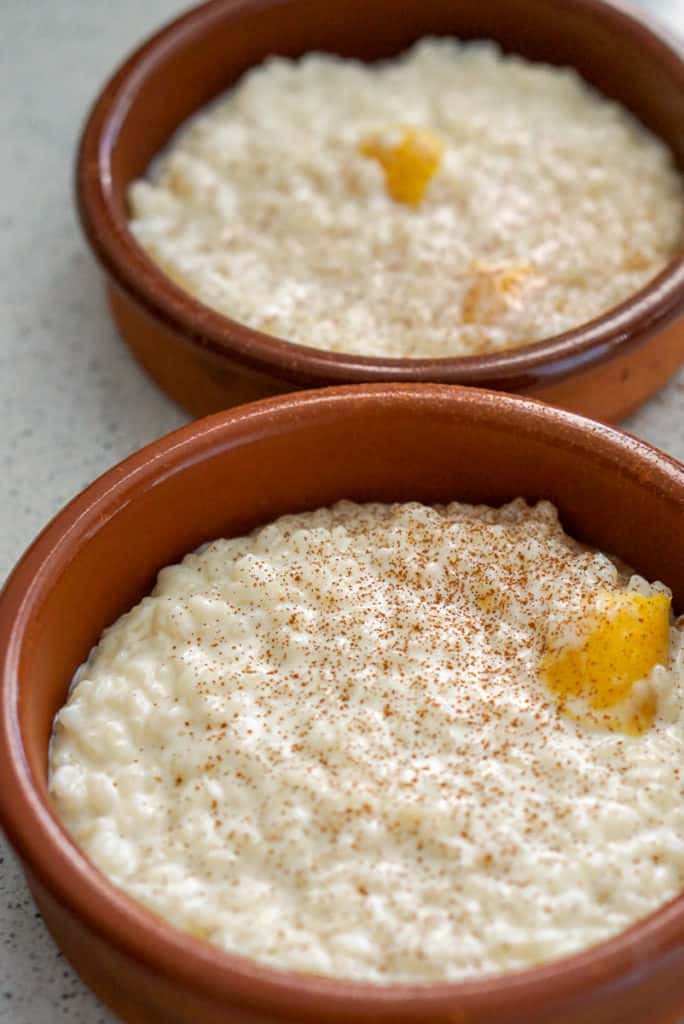 While we're on the topic of milky Spanish desserts, have you tried Spanish rice pudding (arroz con leche)? This delicious and creamy treat is a total classic, and undeniably comforting.
Depending on where you are in Spain, you might find this dessert served warm or cold, with or without cinnamon, and with or without a caramelized sugar crust (similar to crema catalana).
Recipe: Try this arroz con leche recipe from Lauren's Spanish mother-in-law!
12. Frisuelos (Spanish Crepes)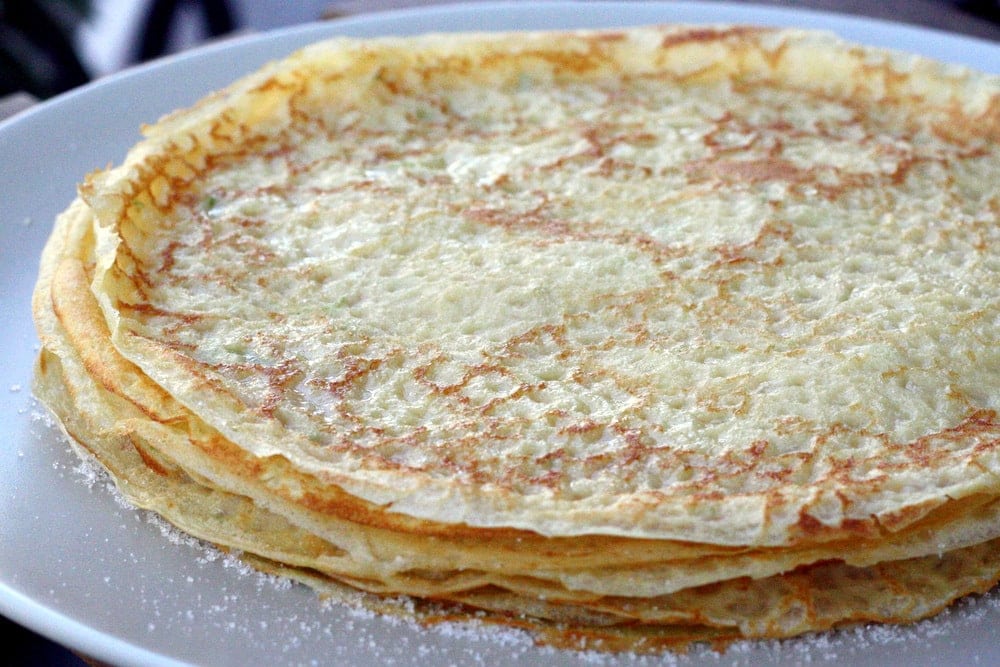 These thin and simple Spanish crepes are typical in northern Spain, and are often filled with pastry cream or fruit compote. The beauty of frisuelos is that you can make them your own with whatever filling you prefer.
Some people break with tradition by adding Nutella or dulce de leche to their frisuelos. Others opt for a purer version, with just a sprinkle of sugar on top. Either way, you really can't go wrong!
Recipe: Try our simple frisuelos recipe at home, and feel free to add your favorite fillings!
13. Roscos & Rosquillas (Spanish Donuts)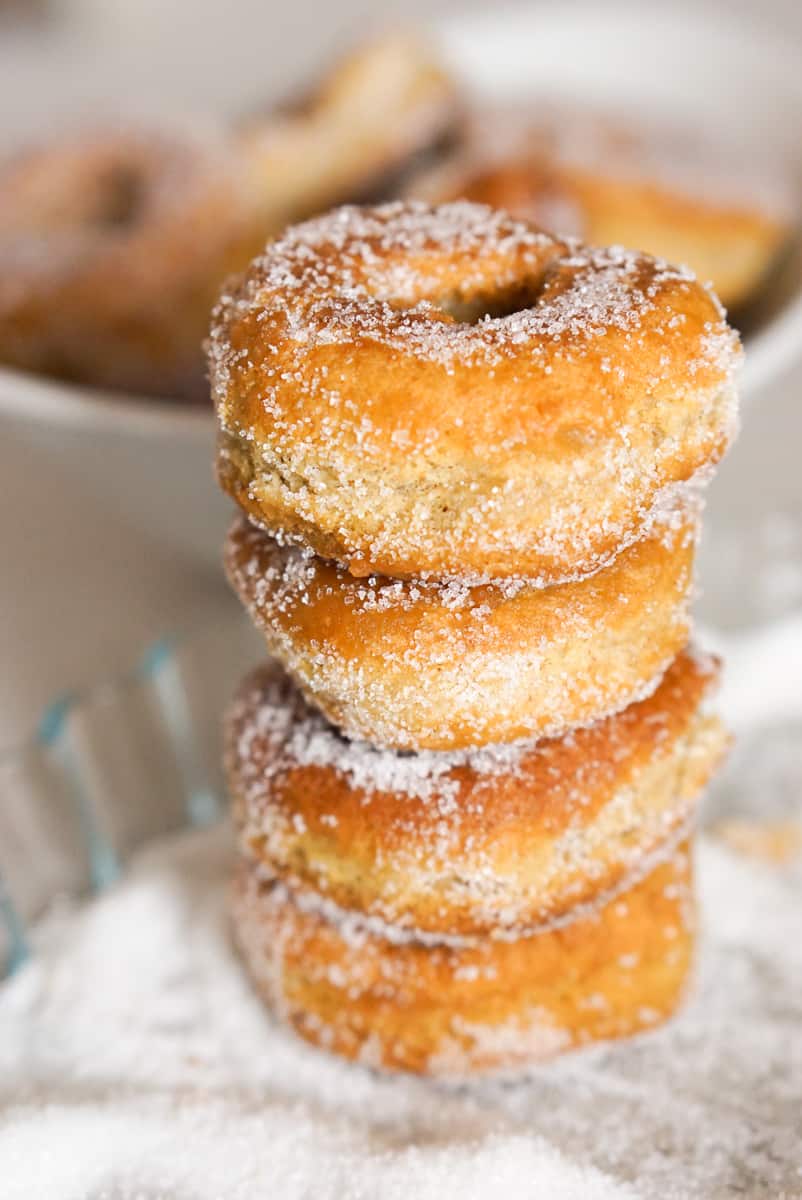 Like many European countries, Spain has its own unique take on the universally beloved donut. Here they're called roscos or rosquillas, and they're especially popular around the Christmas and Easter holidays.
The most traditional roscos are cake donuts (no yeast) flavored with aniseed and lemon zest, fried in olive oil, and rolled in granulated sugar. They're also usually smaller than the donuts you might be used to!
Recipe: Try roscos at home with this easy Spanish donut recipe.
14. Tortas de la Abuela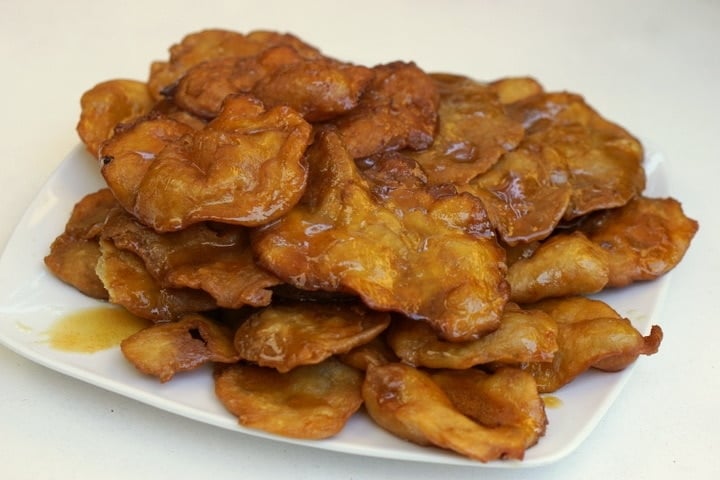 Tortas de la abuela are one of the many forms that fried dough can take in Spain. Their name makes me imagine a Spanish grandmother carefully forming the sheets of dough, then transforming them into crispy, decadent fritters by immersing them in olive oil infused with aniseed liqueur and lemon.
If you're not convinced yet, consider the fact that they're then covered in a hot glaze of honey and sugar. This is the kind of indulgent treat that's hard to eat only one of!
Recipe: Make this tortas de la abuela recipe at home—no Spanish grandma required!
15. Turrón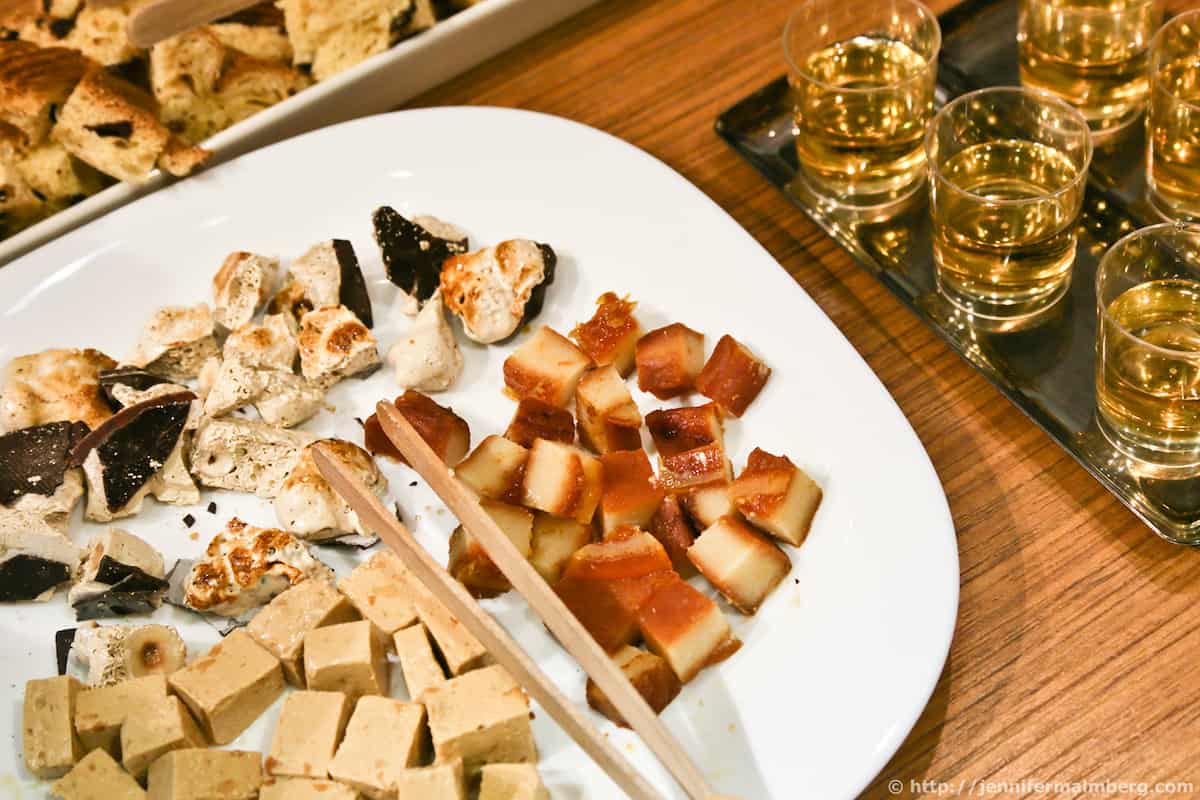 This is another classic Spanish Christmas dessert, although you can find it year-round in some specialty food shops. Turrón is a kind of almond nougat that Spain has truly perfected.
It comes in various forms, from crunchy chunks speckled with almonds to the soft and smooth turrón blando and turrón de yema (made with egg yolks). Then there's the kind that's essentially just a giant chocolate bar! Some turrón shops will even let you try different kinds before you buy.
Read More: Discover the fascinating history of turrón!
16. Buñuelos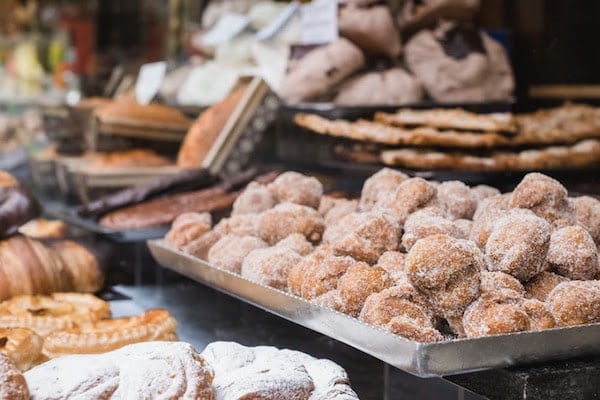 Spain really does love its fried dough—and buñuelos are yet another variation on this basic concept. Rather than being shaped into cylinders or discs, buñuelos come in the form of bite-sized balls of dough.
This is a traditional treat during the holiday season, best enjoyed steaming hot from a street vendor to warm you up on a cold day. There are endless variations, but I love the simple pleasure of a buñuelo dusted liberally with powdered sugar and dunked into a cup of hot chocolate.
Recipe: Try our basic buñuelos recipe for a bit of Spanish Christmas cheer at home!
17. Pestiños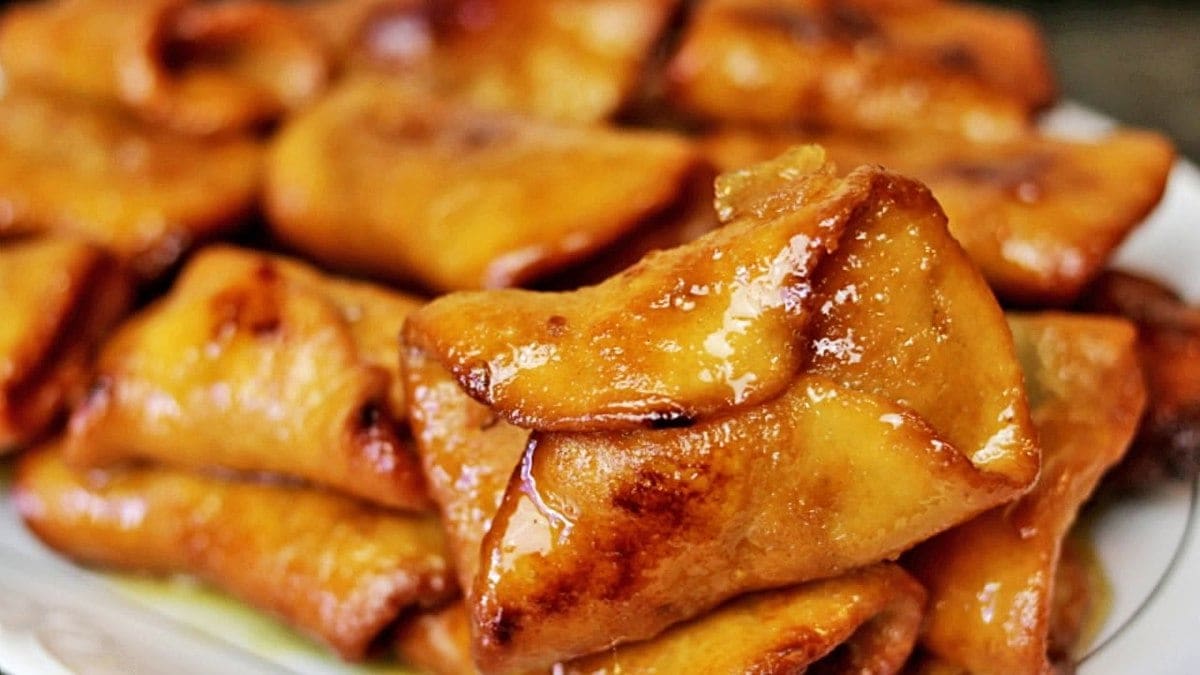 Okay, I promise this is the last variation of fried dough on this list! You can't talk about Spanish Easter desserts without mentioning pestiños. These small pieces of folded dough are sold at the convents of Andalusia during Semana Santa, making them a truly seasonal treat.
Flavors can vary, but the classic combination is orange zest and aniseed—and of course, plenty of sugar! If you try them at home, beware: their incredibly crispy texture makes these sweets hard to put down.
Recipe: Make this honey-glazed pestiños recipe to bring Semana Santa straight to your kitchen!
18. Ensaimada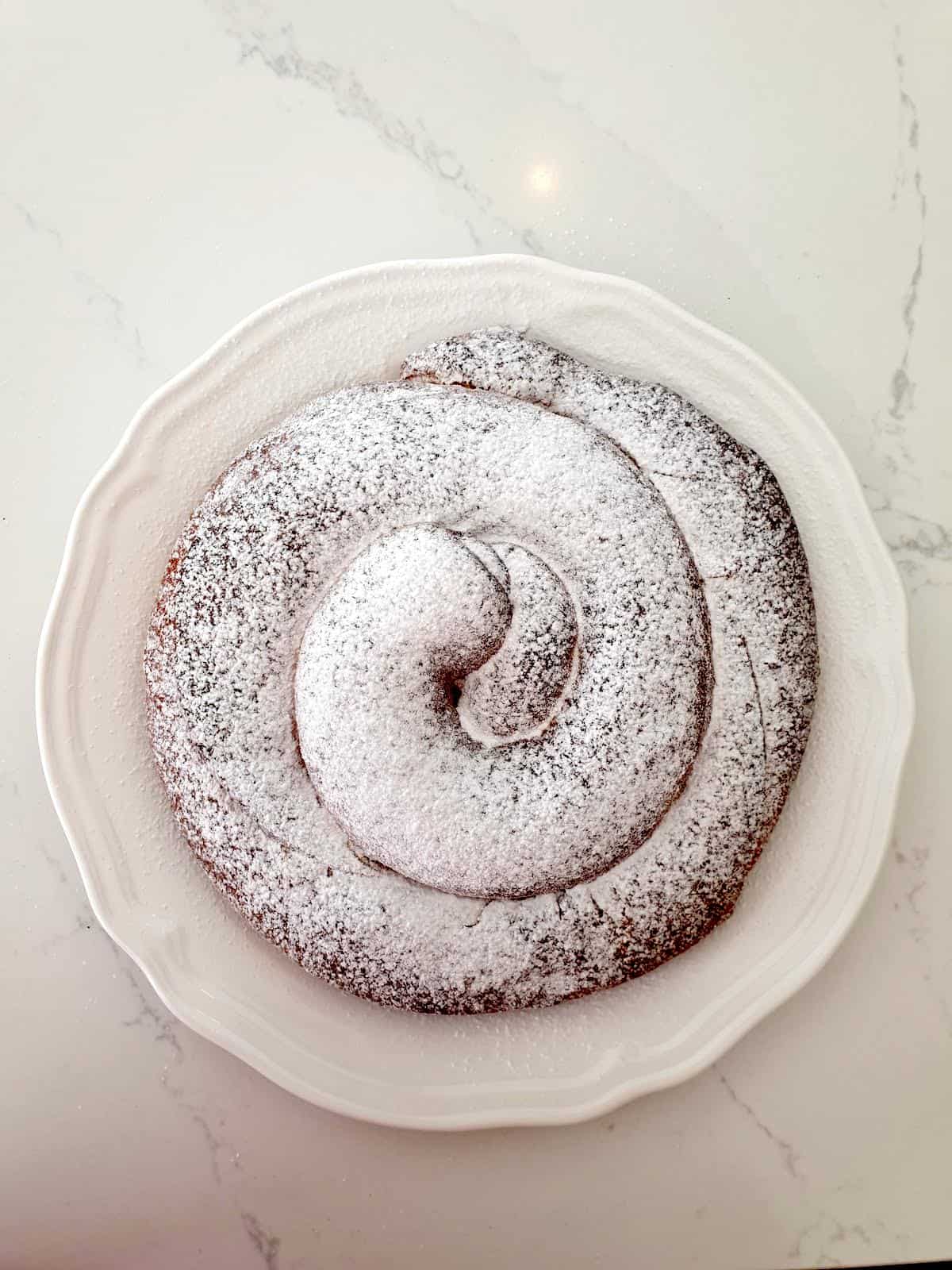 There's a lot to love about Mallorcan food, but the ensaimada might just be this Balearic island's greatest achievement. This sweet and flaky pastry comes in the form of a giant spiral, which is then sliced up and served for breakfast or a snack (although it's also a great dessert).
The classic version is generously dusted with powdered sugar, which complements the not-too-sweet dough perfectly. It's also traditionally made with lard, but you can easily substitute butter or vegetable shortening if you're making it at home.
Recipe: Check out this easy ensaimada recipe to dip your toes into the world of Mallorcan pastries. Just keep in mind that according to locals, it won't taste quite the same unless it's made on the island!
19. Roscón de Reyes (Spanish Kings' Cake)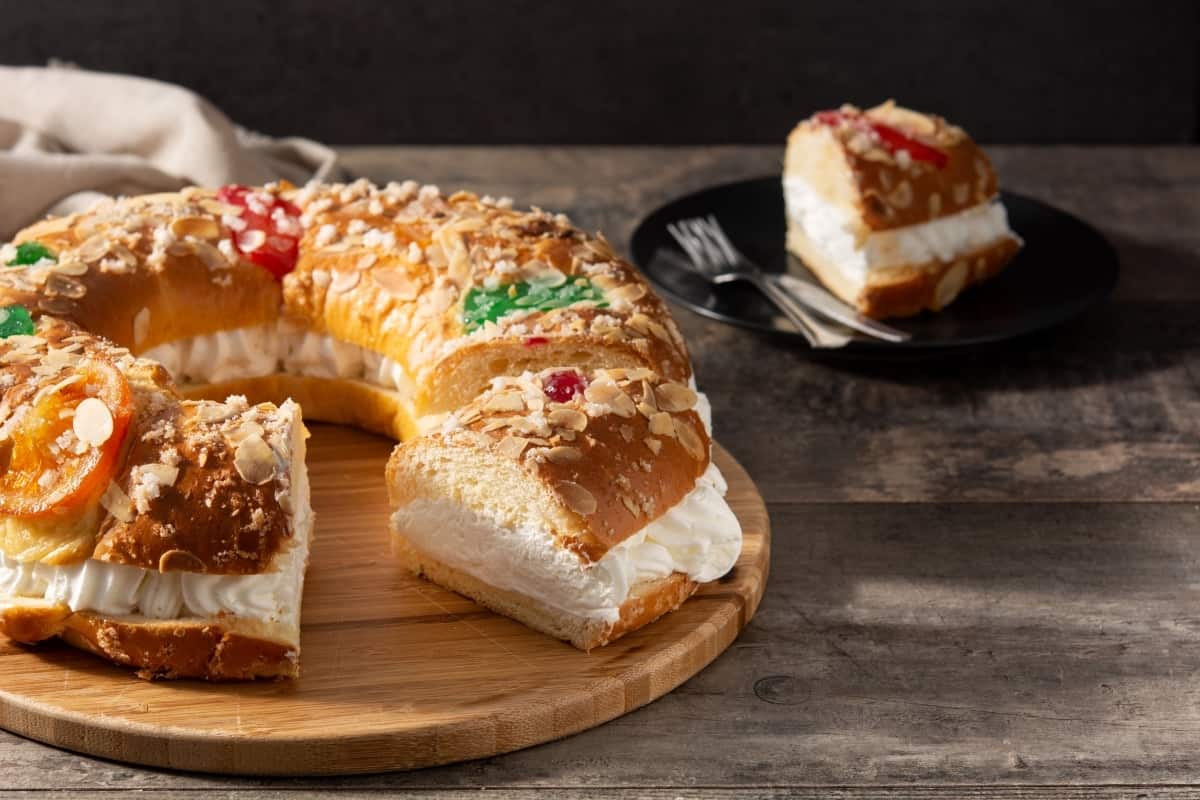 You haven't truly experienced Christmas in Spain until you've tried roscón de reyes. This is the quintessential dessert associated with Three Kings Day, an important Spanish holiday celebrated on January 6th.
Roscón de Reyes is basically a big crown-shaped cake with a layer of whipped cream in the middle, often topped with candied fruits. Some people love it, and some think it's overrated—but either way, it's an incredibly fun and festive way to celebrate the end of the holiday season.
The tradition is to hide both a small figurine and a dry bean somewhere inside the cake. Whoever gets the piece with the figurine can expect good luck for the coming year; but whoever gets the bean has to pay for next year's roscón!
Recipe: Celebrate Three Kings Day with our roscón de reyes recipe!
20. Poached Pears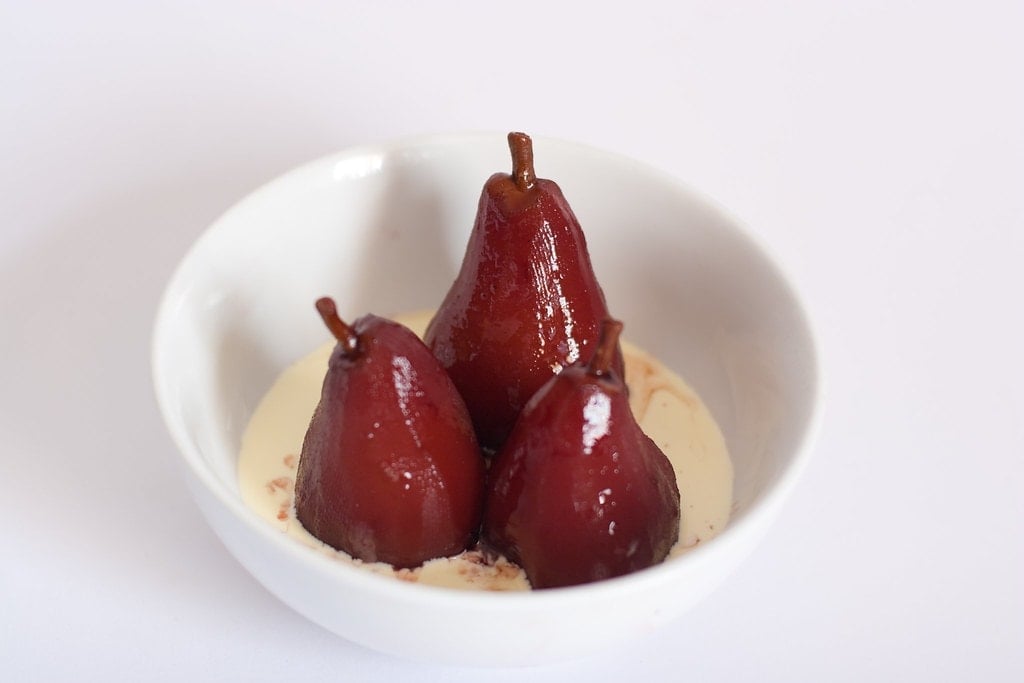 Some people have strong opinions on fruit for dessert—but even if you're the type that would usually turn up your nose, I challenge you to try Spanish poached pears and not absolutely love them.
This is a common Spanish dessert that makes good use of Spanish red wine and aromatic spices to really bring out the flavor of the pears. It's also completely irresistible when paired with vanilla ice cream!
Recipe: Try this recipe for easy poached pears in red wine at home.
21. Natillas (Spanish Custard)
Natillas is the kind of classic that will never let you down. This simple Spanish dessert is essentially a sweet custard made with milk, eggs, and sugar and often flavored with vanilla, lemon zest, and cinnamon.
You could say that natillas is similar to crema catalana without the caramelized sugar crust, or flan without the syrupy caramel sauce. It's a basic, crowd-pleasing dessert that's hard not to love!
See Also: If you like natillas, you'll love Portuguese custard tarts!
22. Panellets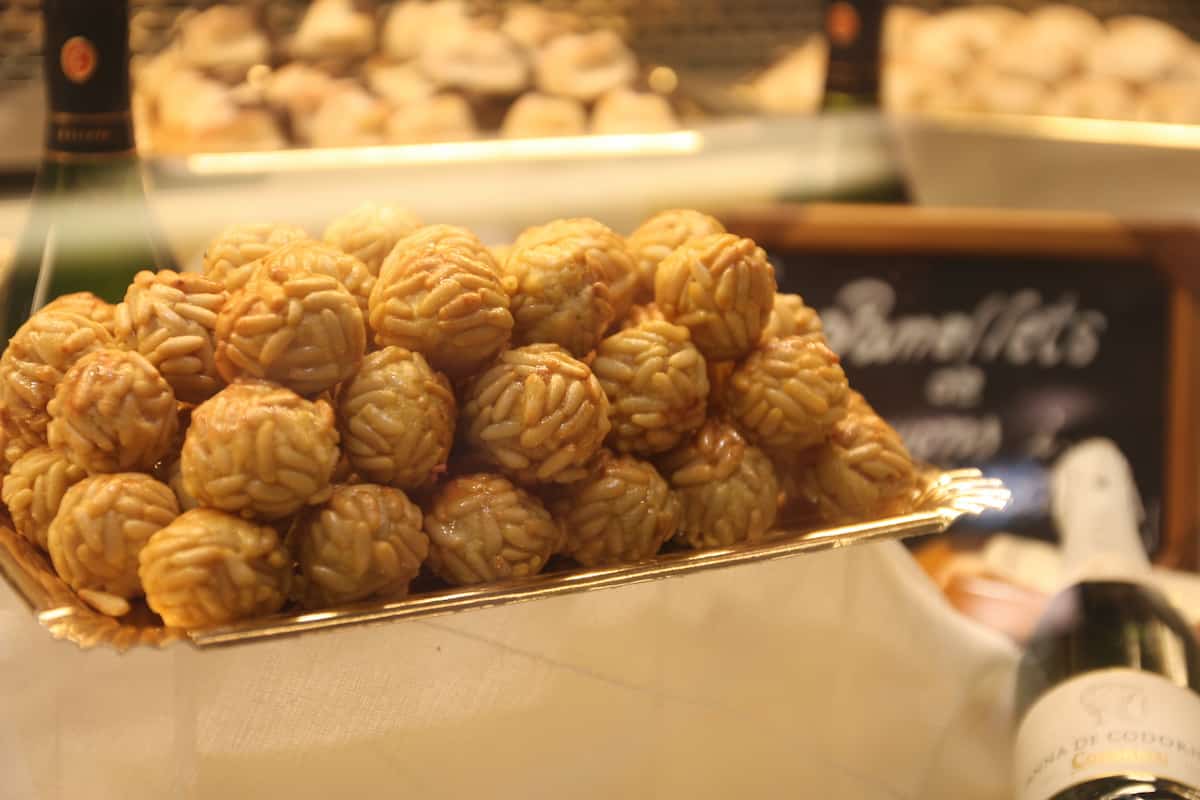 It wouldn't be a feriado without a typical Spanish holiday treat, and All Saints' Day is no different. On November 1st, the people of Catalonia, Valencia, and the Balearic Islands celebrate by snacking on panellets: small sweets traditionally made with marzipan and coated in pine nuts.
It's not totally clear why panellets are associated with All Saints' Day, but their name may hold a hint. It means "little breads," which could reflect the tradition of making an offering of bread to departed loved ones.
Recipe: Check out this authentic panellets recipe from Devour Tours.
23. Fartons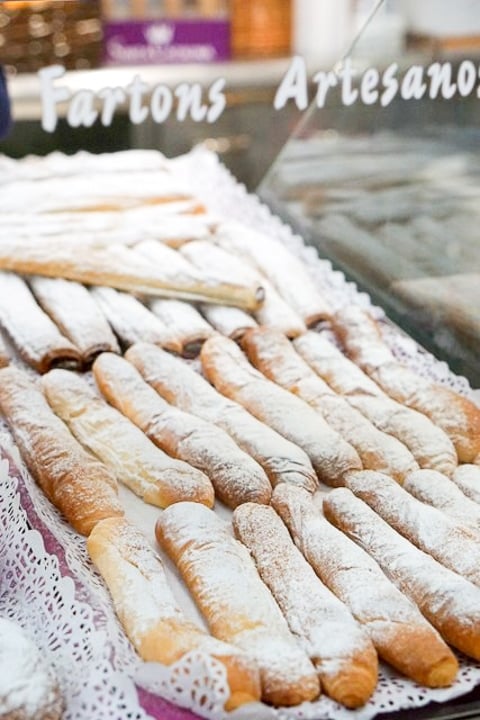 The name may sound a bit silly, but this typical dessert from Valencia is seriously good. Fartons are actually more commonly eaten for breakfast or as a snack (similar to churros), but they're sweet enough to deserve a spot on this list!
Fartons look kind of like long, soft breadsticks. They're light, sugary, and perfect for dipping into a cold glass of horchata—a sweet, milky drink made from chufa (tiger nut) that's naturally dairy-free.
Read More: Try authentic fartons at the best pastry shops in Valencia.
24. Tocino de Cielo
The first time I saw tocino de cielo on a Spanish restaurant menu, I assumed it must be some kind of pork dish. After all, it literally means "heaven's bacon"! But as it turns out, the name is purely symbolic.
This traditional Spanish dessert is just a heavenly combination of eggs, sugar, and water. It looks similar to flan or crème caramel, but it has its own distinctive flavor; the main difference is that it doesn't contain milk.
Apparently it was invented by Andalusian nuns as a way to use up leftover egg yolks, after using the egg whites to clarify sherry wines. (Sound familiar? There's a similar origin story for Portugal's pastéis de nata!)
See Also: Learn where to find the best desserts in Seville, including tocino de cielo.
25. Huesos de Santo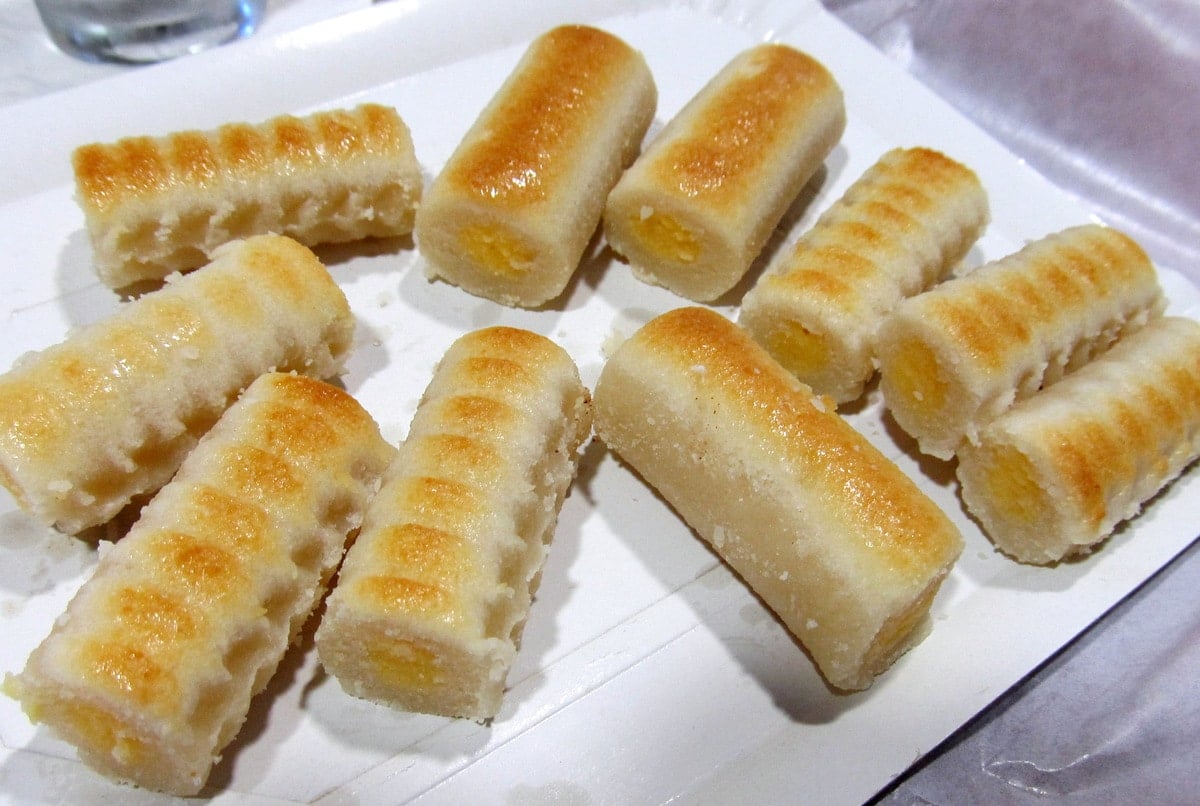 Another traditional Spanish holiday food, huesos de santo are typically consumed on All Saints' Day. These small cylinders are made of marzipan and stuffed with various fillings, although the most common version features egg yolks and sugar.
Huesos de santo are common in both Madrid and Granada. Their name literally translates to "saint's bones," lending a slightly creepy (or holy, depending on how you look at it) touch to an otherwise simple sweet.
Read More: Traveling in the fall? Here's what to eat in Spain in November.
26. Piononos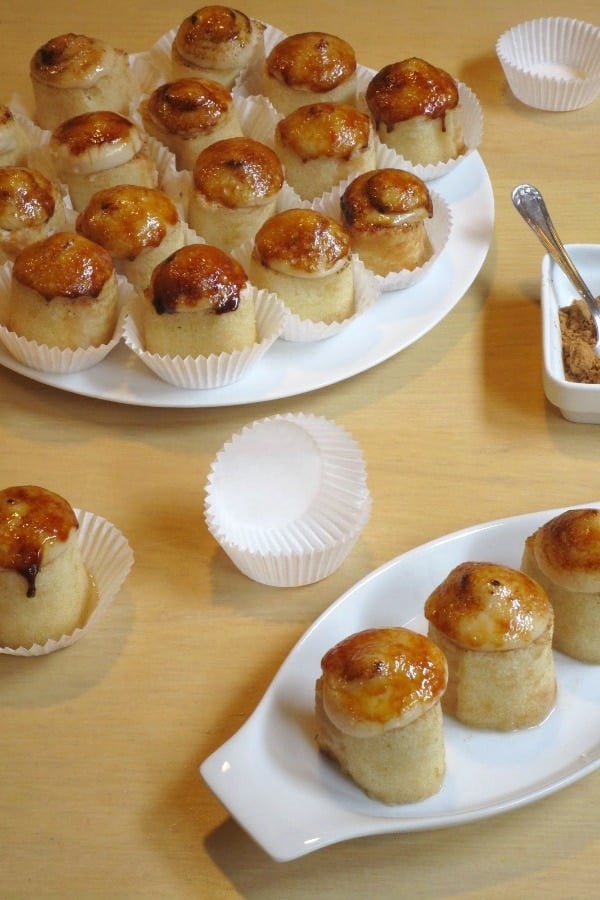 Piononos are another typical dessert from Granada, and more specifically the town of Santa Fé. These little sweets consist of rolled-up sponge cake topped with sugary syrup and toasted cream.
When I first heard the word pionono, I guessed it might contain pine nuts (piñones). But this delicious dessert is actually named after Pope Pius IX, who's known as "Pio Nono" in Italian! (And there are no pine nuts in sight.)
Read More: Try traditional piononos at the top pastry shops in Granada.
27. Mel i Mató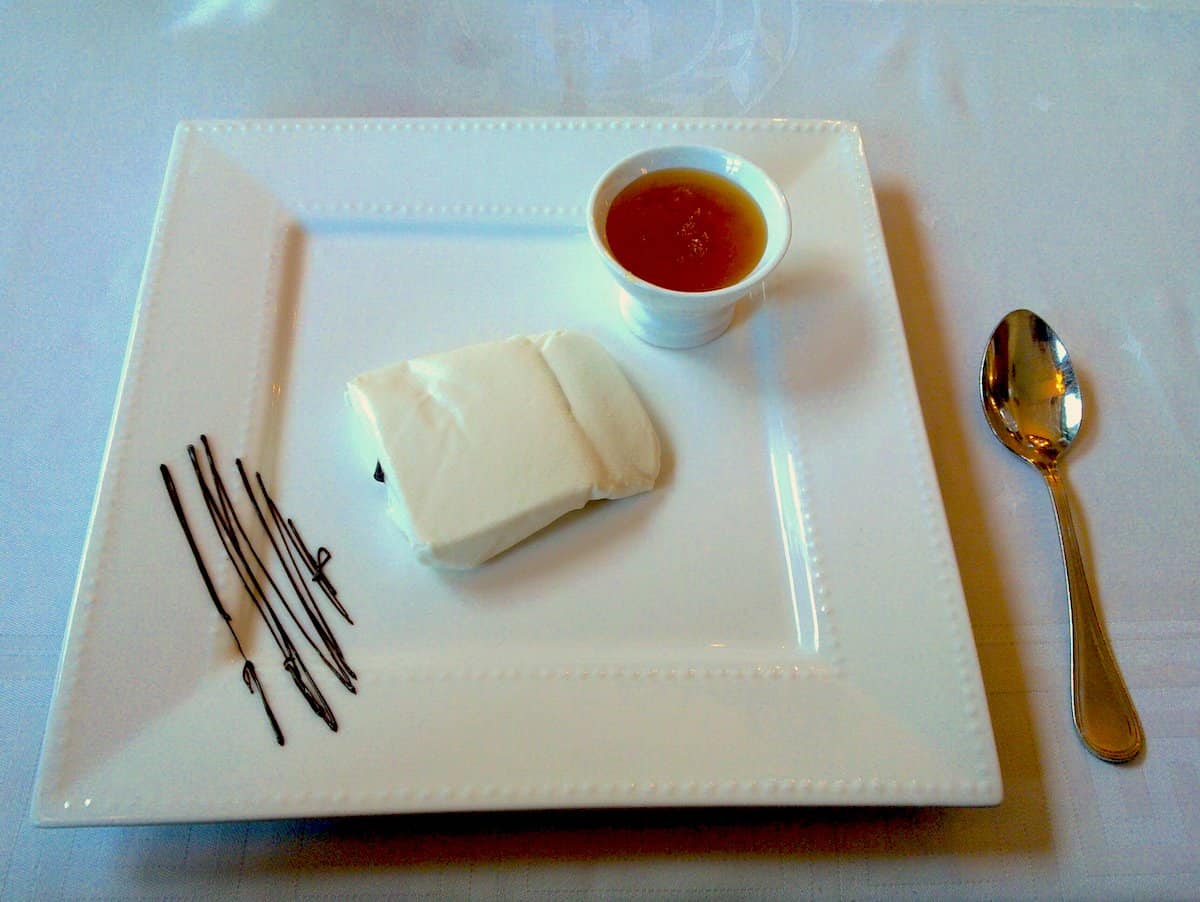 Last but not least, there's the iconic Catalan dessert known as mel i mató. The name says it all: this is a simple combination of mel (honey) and mató (fresh cheese). It's one of my favorite easy desserts from Spain—no recipe needed!
Mel i mató is a light and healthy alternative to richer Catalonian sweets like crema catalana. It's a decidedly regional take on a concept that's common throughout Spain: pairing cheese with something sweet for a super simple dessert!
See Also: Find out more about mató and other typical Spanish cheeses.
Spanish Desserts FAQ
What are the most popular Spanish desserts?
There are plenty of popular Spanish sweets, from custard and cakes to cookies and crepes! When eating out in Spain you're most likely to find favorites like arroz con leche, flan, and cheesecake on the menu. Some other desserts are more popular at certain times of year, like Christmas and Easter.
What desserts do they eat in Spain at Christmas?
The holiday season is prime time for Spanish sweets! This is when you're most likely to find the crumbly cookies called mantecados and polvorones, as well as turrón (nougat), roscos (donuts), and roscón de reyes (kings' cake).
What's the best dessert in Spain?
Many people would point to crema catalana (similar to crème brûlée), burnt Basque cheesecake, or even churros with chocolate (although they aren't usually eaten after a meal). The best Spanish dessert totally depends on your taste—so the only way to find out is to try as many as possible!
Is it common to eat dessert in Spain?
Yes! Spain's desserts may not be as well known as its savory dishes like tapas or paella, but this country has a serious sweet tooth. There are endless Spanish sweets to discover (and try making at home!), from the simplest cakes and cookies to more elaborate recipes.
Hungry for more? Sign up for my free weekly newsletter and receive a new Spanish recipe once a week! Join today and get my FREE Spanish ingredient essentials guide!