What is Empadronamiento?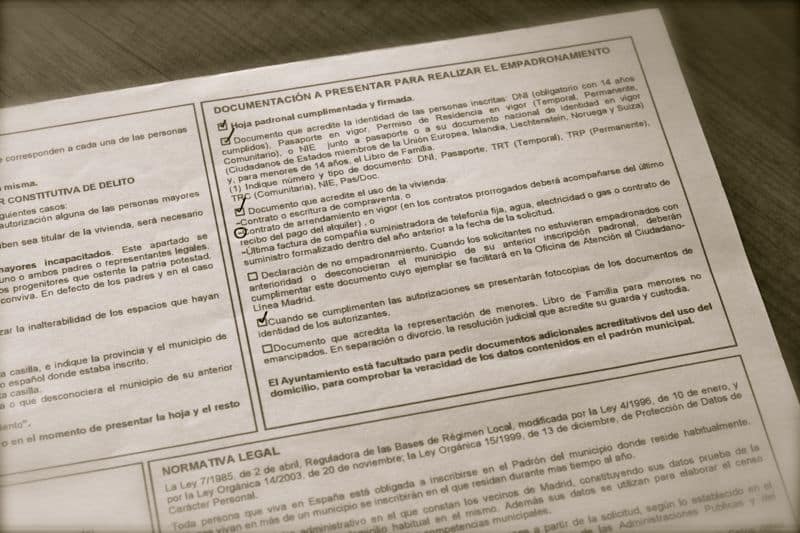 It sounds like a long, scary word but empadronamiento is actually a really easy process that you can do quickly and efficiently (believe it or not!). Basically, here in Spain the ayuntamiento (town hall) uses the system of empadronamiento as a way of registering the number of inhabitants that live in a specific geographic area. People are expected to register their new address each time they move. The point of this registration system is to be able to better distribute tax money and government funds based on population. But there are also many benefits to being registered and many legal processes require proof of registration (el certificado de empadronamiento).
It is important to point out that everyone can and should register regardless of their legal status in Spain. It's confidential information only used to keep an accurate register—don't be afraid!
Why Should You Empadronarse?
Some good reasons:
It proves you've been living in Spain which can help you get your residency or immigration papers faster and easier.
You will need it to get a card for the healthcare system.
It is necessary to get married.
You'll need it to get your driver's license.
It is required to sign your children up for school.
How to Empadronarse in Madrid
Each region has a slightly different process, but in general they are quite similar. In Madrid the process is particularly easy.
Madrid is divided in 21 districts and each one has its own Junta (administrative office) but it is actually the OAC (oficina de Atención al Ciudadano) that deals with this process. You can go to any OAC office to register (it doesn't have to be the one in your district).
To make matters easier, the OAC offers the possibility to do many of the processes directly online. On the townhall's website, Ayuntamiento de Madrid, you can make your appointment, download the form you will need to fill out, and later you can even download proof of registration (el volante de empadronamiento).
To register in Madrid you need to complete this form from this website, which you can either download or ask for at any OAC office*. (If downloading you just need to enter the postal code for your district). It will ask for your basic information (full name, ID document number, birth date, level of studies, and signature). Up to four family members can register on the same form.
*Make sure that if you plan to fill it out at the OAC office, everyone who needs to sign it is there (or take the form home and come back with it signed by each person). You will also need to bring the ID card for anyone not physically there (their physical ID, not a photocopy) and written permission allowing you to register for them.
In addition to the form you must present your original ID (which can be a passport, NIE, or DNI). For small children you should present the libro de familia. You will also need the original copy of your renter's contract. You should bring photocopies of everything although they don't always require them.
You Need:
ID (original and photocopy)
Renter's contract (original and photocopy)
To make an appointment you can:
Request one at the website Munimadrid (Just click Pedir Cita Previa)
Go in person to any OAC office
Call 010 (or 915298210 if you are calling from outside of Madrid)
The best option is the website because you can see the locations of the different offices and choose a time slot that works for you. Depending on the neighborhood it may be more difficult to get a quick appointment.
Usually the time slots are scheduled at 10 minute intervals within their hours of operation (Monday to Thursday 9-5 and Fridays 9-2). Of course the best times to go are during Spanish lunch hours (between 3 and 5).
I found it very easy to register in my own district (Retiro)*. I made an appointment a few days prior, went ten minutes early and was helped right away. The woman took my documents, and before I knew it I had my Volante de Empadronamiento. It was my first (and hopefully not my last) experience with efficiency in Spain!
*Many years later I've re-registered each time I've moved apartments, and since I live in the city center it's a lot harder to get a quick appointment. I've usually waited about a month for a slot to open up -- but had I been in a rush I would have gone to a different district's office.
If you have any questions please leave them in the comments and I'll do my best to answer them.
Sources: