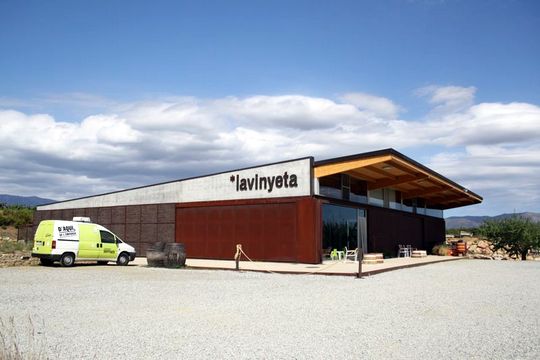 It's been nearly four months since we visited Costa Brava and I am still thinking about our day at La Vinyeta Winery...
Nestled in the lovely Empordà region of Catalonia, La Vinyeta is a young winery with a big message. Not only do they produce fantastic wines, olive oil, and even fresh eggs, they are able to tell a story while doing so.
It was a beautiful day when we pulled up to La Vinyeta Winery, a striking building surrounded by the gorgeous mountains and valleys of the Empordà countryside. We were starving, and we'd been promised a home cooked lunch and wine tasting-- perfect. The vineyard's owner, Josep Serra, was quick to welcome us with a big smile. The young 30-something's enthusiasm was contagious, and even those of the group who weren't wine drinkers were ready for a glass. Josep brought us inside where his mother had been busy cooking. That's right, when they promised us home-cooked, it was coming straight from Josep's mamá. We sat down to a table full of Catalan charcuterie and salads, as he began to explain his vision and how he ended up making wine.
It all started in 2002, when Josep, studying enology at the time, bought two hectares of land in Mollet de Perelada. The land had belonged to local cultivist who had grown tired of producing grapes for other labels. Josep relied on his studies and the former wine maker's help to begin to cultivate the vines. In 2006 La Vinyeta Winery was born, and the focus was shifted to the business.
From the very beginning, Josep and his brother Lluís, a talented graphic designer, wanted to do something different. Starting with the name La Vinyeta (a play on words between grape vine and vignette, both "vinyeta" in Catalan) they decided to tell a story using wine.
In 2007 they released their first wines, starting with young white and rosé wines that they called Heus a word that begins all stories in Catalan, similar to "once upon a time". They followed those with aged reds Llavors, translated to "And Then" and, finally, Punt i Apart, "New Chapter".
By 2008 their wines were already winning awards, and the design work of Lluís was quickly becoming recognized as some of the most innovative in the industry. They currently export their wines throughout Europe and the two hectares they started with have multiplied to thirty.
We began our tasting with the Heus to accompany the charcuterie. As we sipped away, I realized that Josep's mother was preparing traditional Catalan fideuá and I suddenly got really excited.
Fideuá is a dish made of tiny short noodles and usually embellished with meat or shellfish. It is made in a big paella pan, so the edges get nice and crispy and the noodles should be al dente by the end. In Catalonia it is typically served with homemade alioli sauce. I'd never tried authentic fideuá before, and was thrilled to be getting a truly homemade version.
When it was time for the fideuá, we switched over to the Llavors wine, just as delicious, though certainly more complex. The fideuá was everything I'd imagined and more, and when Ale's plate was empty I urged him to go over to Josep's mom and ask for seconds. Knowing most moms, I'm sure she was thrilled by the compliment.
We finished the meal with a taste of their Pont i Apart, also wonderful, and a simple dessert of a local goat's milk yogurt and some jam. This was definitely strange for some of the other bloggers on the trip, but I was already used to the yogurt for dessert phenomenon, and rather enjoyed the end of the meal.
We would have all been happy relaxing at the bodega for a couple of hours, sipping wine, chatting, and playing with the vineyard dog, Cuca. But we had to leave, as our next appointment was waiting for us. We took a quick peek into the production area, and said goodbye to Josep and his mother.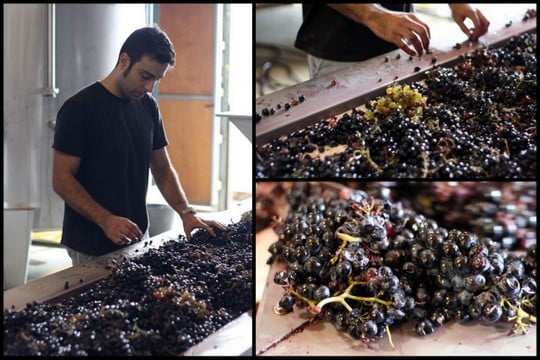 Visiting La Vinyeta Winery reminded me a lot of my visit with Rubén from Quesería Cantagrullas. Both men are young entrepreneurs who have turned a passion into a small family business. They've had no shortcuts or easy roads, but their hard work, passion, and resolve to make something special has made for rewarding work.
I only wish I lived closer to La Vinyeta to be able to visit more often. In the meantime I've been looking for their wines in Madrid!
This wonderful day was made possible by TBEX and Visit Costa Brava. Reflections, as always, are my own.