Vacationing in Galicia is a fantastic opportunity to find out more about its history and culture. After all, there's so much more to the region than beaches and bagpipes!
Galician culture is steeped in Celtic legends and superstitions, but its people live according to a blend of modern and traditional Spanish ways of life. The best way to see and understand all of that is to visit these must-see museums in Santiago de Compostela.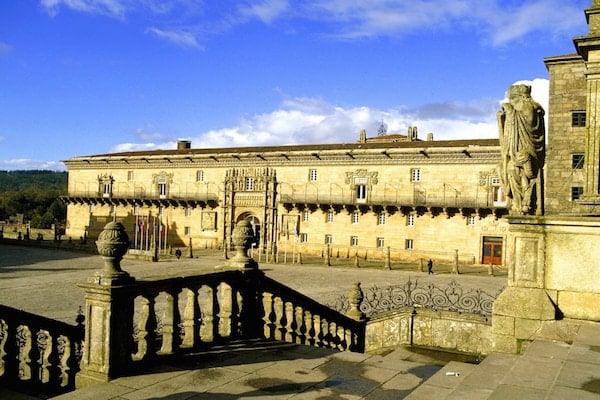 The Top Must-See Museums in Santiago de Compostela
1. Museum of the Galician People
This fascinating museum is located in a former 13th century convent. It serves as a proud homage to the history of the Galician people and their culture, with paintings, sculptures and other art forms telling their story. The museum dives deep into Galicia's past, highlighting its architecture, commerce, costumes, society and even musical instruments! Bookworms can find an extensive library of books by Galician authors, too.
Address: San Domingos de Bonaval
Admission: General public: €3, seniors over 65 and students over 18: €1. Free on Sundays.
Opening Hours: Tuesday-Saturday: 10:30 a.m.–2 p.m. and 4 p.m.–7:30 p.m., Sundays 11 a.m.–2 p.m. 
2. Museum of Contemporary Art
A modern, artistic-looking building (as you would expect!) is the location of the Museum of Contemporary Art, which is considered one of the must-see museums in Santiago de Compostela for good reason. Designed by Portuguese architect Álvaro Siza, the building alone is an award winner!
The museum opened its doors in 1993, with the goal of introducing Galicia into the international art scene. It features everything from exhibitions by renowned international artists to work by up-and-coming Galician creators. As if that wasn't enough, there's also a library where you can read up on contemporary art and culture, as well as a café for that all-important cup of coffee after a morning at the museum!
Address: Rúa Valle Inclán, 2
Admission: Free!
Opening Hours: Tuesday-Sunday 11 a.m.–8 p.m.
3. Museum of the Pilgrimage and Santiago
A fitting homage to the path that draws thousands of visitors to Santiago de Compostela each year, this museum boasts a prime location next to the cathedral and a stone's throw from the Pilgrim office. As a result, it's the perfect spot for a museum focused on the famous pilgrimage and the city of Santiago de Compostela as its final stop.
Founded in the 1950s, the museum started off without any real material to showcase and relied heavily on donations. Nowadays, it's home to a fascinating collection of art, artifacts and all things pilgrim! It's certainly one of our must-see museums in Santiago de Compostela if you want to know more about the history of this fascinating and integral part of Galician heritage.
Address: Praza das Praterías, 2
Admission: General admission: €2.40; pilgrims (with pilgrim certificate), youth card holders, and students (with student card) over 18: €1.20. Free for children under 18, seniors over 65 and retirees, and the unemployed. Free Saturday afternoons after 2:30 p.m. and all day Sunday.
Opening Hours: Tuesday-Friday 9:30 a.m.–8:30 p.m., Saturday 11 a.m.–7:30 p.m., Sundays & holidays 10:15 a.m.–2:45 p.m. Closed Mondays.
4. Casa de La Troya Museum
Santiago de Compostela's university opened its doors more than 500 years ago, making it one of the oldest in the world! Over the centuries, it gained notoriety for the quality of its academic courses, earning recognition as one of the top universities in Spain. Perhaps this is what inspired the writer Alejandro Pérez Lugín to write La Casa de La Troya, a novel about a boarding house for students in Santiago de Compostela in the late 1800s. The eponymous museum offers an intriguing look at what it was like for the students who lived and studied there all those centuries ago. It's one of the must-see museums in Santiago de Compostela, especially if you've read the book!
Address: Rúa da Troia, 5
Admission: General admission: €2; pensioners, students and pilgrims: €1.50; groups: €1/person.
Opening hours: Times vary by season, check the website for more details.
5. Cathedral Museum
Santiago de Compostela's cathedral is a magnificent place to visit, so the museum attached to it should not be missed! It will really help you understand the cathedral's history and artistry, and should be high on any history fan's list of must-see museums in Santiago de Compostela. Anyone looking to gain a deeper understanding of Santiago de Compostela's most iconic attraction won't want to miss this.
Address: Praza do Obradoiro
Admission: Price varies depending on what you want to see, from €6 to €15
Opening hours: Daily 9 a.m.–8 p.m. (April to October), 10 a.m.–8 p.m. (November to March)

See Also: Don't miss the complete guide to Santiago de Compostela's top attractions that are worth the hype!
Pin me!