We wind our way down the mountain on the way to our first stop on our tour of Northern Portugal. Although I'm the girl who usually spends the car ride reading, oblivious to twists and turns, I am nearly about to lose my breakfast. Luckily, there is plenty to distract us from the building nausea, as we are surrounded by some of the most beautiful views in Portugal. Nestled in the heart of wine country along the Douro River, we arrive in the picturesque town of Pinhão, famous for its incredible views and beautiful, historic Pinhão train station.
Pinhão is a small, sleepy town that just happens to be in the heart of Port wine country. You only have to look around to see that you are literally surrounded by vines, as the climate is ideal for the grapes that make Port wine. While the small town is quiet and calm for most of the year, the autumn harvest always brings a lively bunch of workers and tourists to town, and people can participate in harvest activities such as grape stomping, wine tasting, and river cruises.
We began our visit with a Pinhão River Cruise, and made our way out on the Douro River in a small boat. We sailed along slowly down the river, admiring the views that surrounded us on all sides. Gorgeous green hills, covered with vines and a rustic country house here and there we all you could see for miles. We also saw Pinhão's famous bridge, designed by renowned architect Gustave Eiffel. This was my second river cruise in only a few days, and I have to say that they are a wonderfully relaxing way to enjoy a great view and take some beautiful pictures.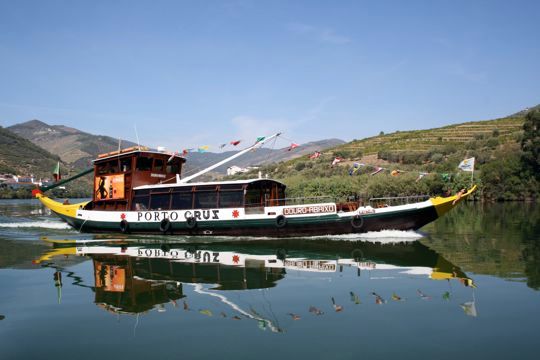 After the cruise we had lunch and a tour of the beautiful and historic Vintage House Hotel. It was such a fantastic lunch and stunning hotel that I'll be writing about it extensively in another post. For now, I will leave you with a tempting look at what is to come...
Full from our lunch, we headed to the Pinhão Train Station, created in 1937 and famous for its gorgeous Azulejo tiles, gorgeous blue and white tiles that depict a variety of Portuguese scenes. Azulejos generally adorn churches all around Portugal, so seeing them on the train station was really interesting because they didn't depict religion, but instead scenes from the northern region and from daily life.
Finally, we made our way back to the bus, but all I could think about was how peaceful it would have been to stay a few days in Pinhão. I'm sure we'll be back!
Have you ever had to leave a place you would have liked to have stayed at for awhile?
Visiting Lisbon too?
Don't miss these top posts all about the Portuguese capital!
Pin me!