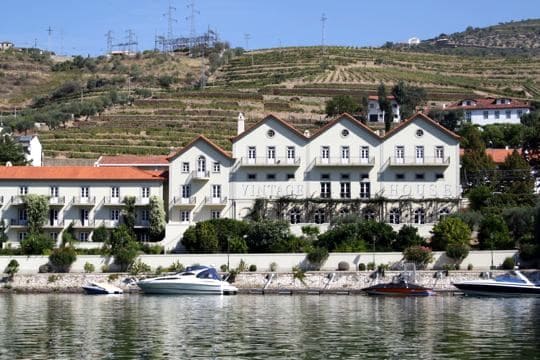 There are few times that I would go through the trouble of writing an entire post about a hotel that I didn't even sleep at, but, sometimes, a place is so perfect that it deserves a mention of its own. I'm talking about the gorgeous CS Vintage House Hotel, in the picture perfect town of Pinhão, Portugal. I had the opportunity to enjoy a multi course meal here, followed by a tour of the property, as a part of the TBU Porto blogtrips.
We had worked up an appetite while taking picture after picture on our Pinhão River Cruise, and were delighted to realize that the CS Vintage House Hotel was only a few steps away from the dock. Located right along the river, this gorgeous property was once an 18th century wine estate, and today every guest can enjoy views of wine country and of the beautiful Douro River, as each room has a private balcony that looks out at this wine lover's paradise.
Upon entering the hotel's property, I was immediately tortured by the lovely outdoor pool, overlooking the river. I could have spent all day there, reading and taking a swim every now and then. But, it wasn't meant to be, and we were whisked away to our late summer lunch on the terrace.
We sat down to an epic meal (the best of the trip) and, as someone who has worked in the service industry for ages, I noticed that all of the little details were taken care of. It had been a long time since I'd received the level of service we enjoyed at the CS Vintage House Hotel.
Our meal started with the perfect summer appetizer, sweet green melon with cured ham. While I'm spoiled with copious amounts of Spanish jamón ibérico on a weekly basis, the smoked style ham they served was delicious and, as always, the ideal complement to the juicy melon.
After savoring every bite of the starter, we moved on to our main course, a veal medallion with roasted chestnuts and potato au gratin. It was absolutely delicious. I love roasted chestnuts and this dish made me excited for the fall to come, when roasted chestnuts are sold on street corners all around Spain.
Finally, we were offered dessert, a berry soup with vanilla ice cream. It was the perfect ending to a delicious meal, not too heavy, and the right mix of tart summer berries and sweet vanilla ice cream. I'm pretty sure that we all took a coffee to keep us going, and then thanked our waiters and headed inside for the grand tour.
This small boutique hotel has only 43 rooms and plenty of common spaces where guests can relax and read or sip a glass of Port. As we walked around, I felt almost like we'd been transported back in time, to a place where people would arrive by horse and carriage and spend a couple of weeks doing little more than relaxing and dining each night in the hotel restaurant.
I would absolutely love to return to the CS Vintage House Hotel and spend a few days in the region. The hotel is perfect for romance, or for a relaxing stay with friends and family. The restaurant also offers some incredibly tempting gourmet tastings; I am especially interested in "The Aroma Game" where guests taste six excellent Ports and try to recognize them solely by their aromas (they are served in opaque black glasses).
The CS Vintage House Hotel is located in Pinhão, Portugal, about 120 kilometers east of Porto and is accessible by car, the panoramic "Douro Line" railroad, or by riverboat. Rooms start at around 140€ per night with breakfast included!
How would you like to arrive to the CS Vintage House Hotel?
Visiting Lisbon too?
Don't miss these top posts all about the Portuguese capital!