As winter gets closer and closer I find myself fantasizing about the months of September and October. This year I had the incredible opportunity to take advantage of the late summer weather and travel. I visited Porto and the Douro Valley in Portugal, Girona and the Costa Brava in Spain, Bologna and Emilia Romagna in Italy, and Jaén in Andalusia, Spain. And this was all before spending half of November in the US! If I have been ignoring your emails lately, I apologize, it has just been a busy season!
Today I'd like to share one of my very special memories of Costa Brava, the Santa Clotilde Gardens. Our visit is the perfect example of how travel can always surprise you-- even if you think think you've seen it all.
Visiting a Garden Built on Love
Did you ever read the book The Secret Garden when you were a child? I did (many times) and ever since I have loved visiting gardens when traveling. But when we realized that our Costa Brava blogtrip had two garden visits scheduled in the same day trip, even I was hesitant-- would this be too much greenery even for me?
Luckily, It wasn't. Despite craving a siesta by the pool after our leisurely lunch in Lloret de Mar, we battled on through travel blogger fatigue and into our second gardens of the day. But we quickly realized that the Marimurta Gardens and the Santa Clotilde Gardens were actually quite different (as far as gardens go!). While Marimurta was full of beautiful plants from all around the world, Santa Clotilde felt more natural, and had more of an emphasis on landscaping and architecture than botany.
Set on a towering cliff looking out upon the Mediterranean Sea, the location of Santa Clotilde couldn't be more beautiful. The gardens were designed by Nicolau Rubió i Tuduri, who took inspiration in the gardens of the Italian Renaissance, curiously ignoring his training in Spanish, Arabic, and French gardens. They were built for the Marquis of Roviralta, the former owner of the property, as a special place for his beloved wife. Sadly, by the time Nicolau finished his work in 1919, the Masquis' wife had already passed away.
As we walked around, we saw gorgeous statues, staircases that looked like they belonged in a fairytale, and the prettiest "love lock" I've ever seen. It is truly a small piece of paradise, and is probable where I would try my best to build a little house if I ever won the lottery. By the end of the walk we were exhausted, but I was really happy we'd been able to visit. Trust me when I tell you that the Santa Clotilde Gardens are not to be missed when passing through Lloret de Mar.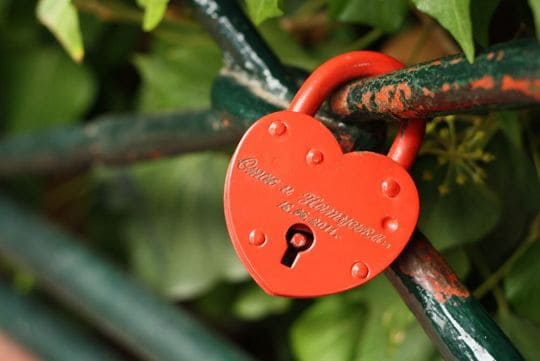 The Santa Clotilde Gardens open every day at 10:00 a.m. Entry costs 5€, with discounts for students and seniors.
You can visit the gardens on a trip through Costa Brava when you reserve low deposit holidays with Directline-holidays. I would recommend renting a car if possible, to be able to get to many places in the same day (there is so much to see!). The Costa Brava Tourism Board is also very helpful if you need any advice for planning your trip.
Do you visit gardens when traveling? What are your favorites?