Catalonia is one of the most captivating regions of Spain, with a history, language, and cuisine all its own. If you've ever traveled here, you've likely experienced the magic of Catalan food culture firsthand—and if not, you're in for a treat.
In this post, I'll explain the origins, ingredients, and significance of authentic Catalan cuisine, from simple snacks to luxurious desserts. I'll also provide some easy recipes so you can recreate it at home.
Ready to explore all the flavors of Catalonia?
Nestled into the northeastern corner of the Iberian Peninsula, Catalonia is a highly complex and unique part of the world. It is part of Spain—but culturally speaking, it has its own distinct identity.
Its most famous destination is Barcelona, but Catalonia extends far beyond its capital city. The other three provinces of Girona, Lleida, and Tarragona hide hidden gems and one-of-a-kind dishes that can't be found anywhere else in the world.
Below I'll share some of the secrets of Catalan food, plus my favorite recipes to bring Catalonia into your kitchen.
History of Catalan Food
Catalonia has a complicated history (and present, for that matter). But throughout the centuries, the region has managed to maintain the singular qualities that set it apart. Some of the clearest reflections of Catalan identity can be found on the plate, in dishes that highlight local ingredients and traditions.
Modern scholars know quite a bit about Catalan food history, thanks to documents dating all the way back to the fifteenth century. Medieval cookbooks like the Llibre de Coch and the Llibre de Sent Soví include recipes for sauces, poultry, spiced wine, and much more.
Local Catalan Food Products
Without a doubt, quality ingredients are what define Catalan cuisine. The region has tons of local products that figure prominently in its most famous dishes. Tomatoes, garlic, eggplant, peppers, artichokes, mushrooms, beans, chickpeas, and calçots are just a few examples.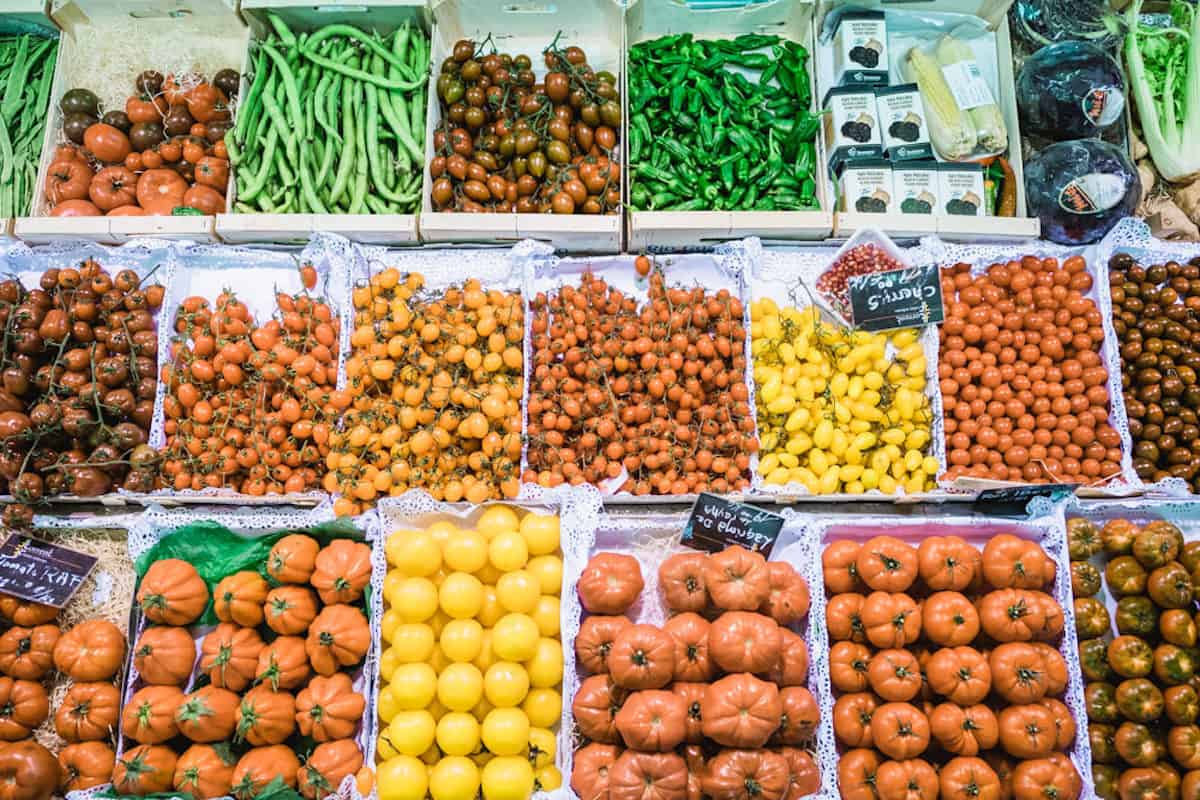 This region is also known for pork and cured meats—especially pork sausages like botifarra and fuet, which are some of the best bites in Catalonia.
Seafood plays an equally important role, with tuna, anchovies, sardines, and salted cod appearing on most menus. This is no coincidence; Catalonia is wedged between the Pyrenees and the Mediterranean, lending it a balance of products from the mountains and the sea.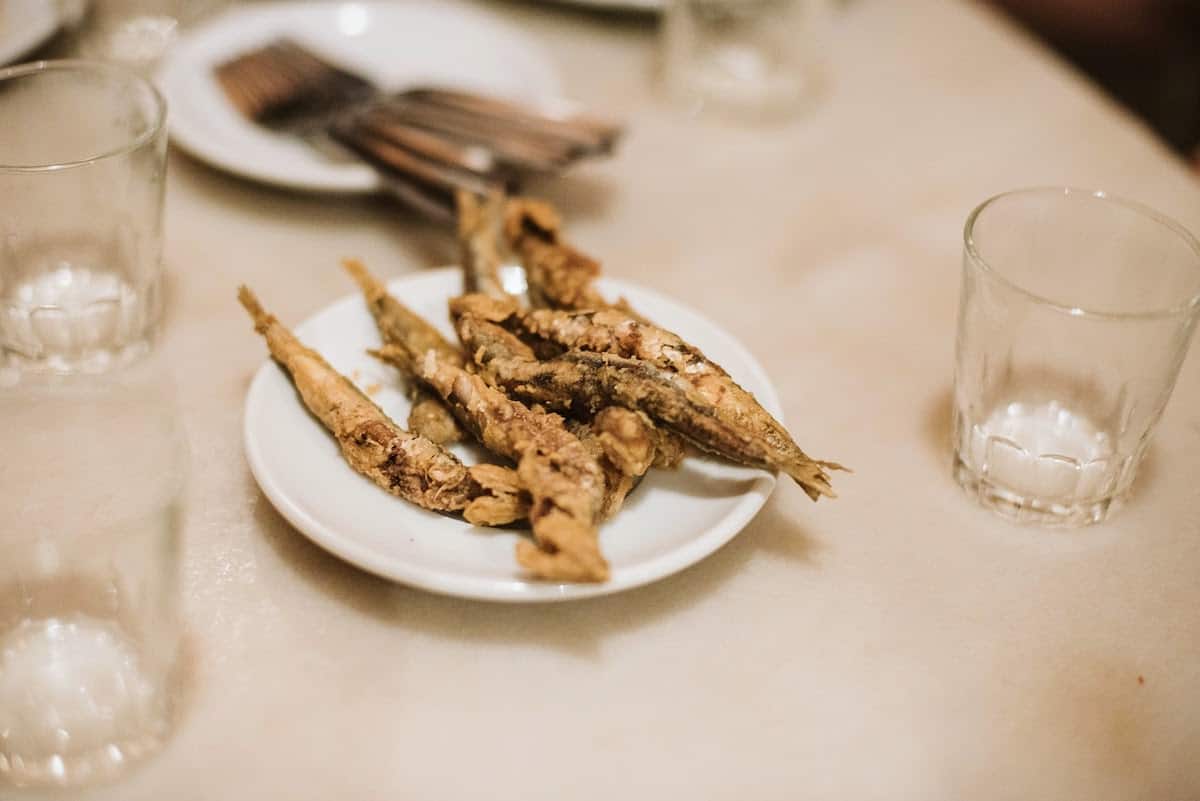 Finally, you have to try Catalan olive oil. Local olive varieties include arbequina, empeltre, morruda, and more. In fact, Catalonia is home to some of the world's oldest olive trees.
Read our guide to Spanish olive oil for more info and tips!
Catalan Wines
Catalonia produces some of the best wines in Spain, thanks to its ideal climate and centuries-old winemaking tradition. Look out for Catalan wines from the Priorat, Empordà, and Penedès regions. The latter of these produces much of the country's renowned cava (Spanish sparkling wine).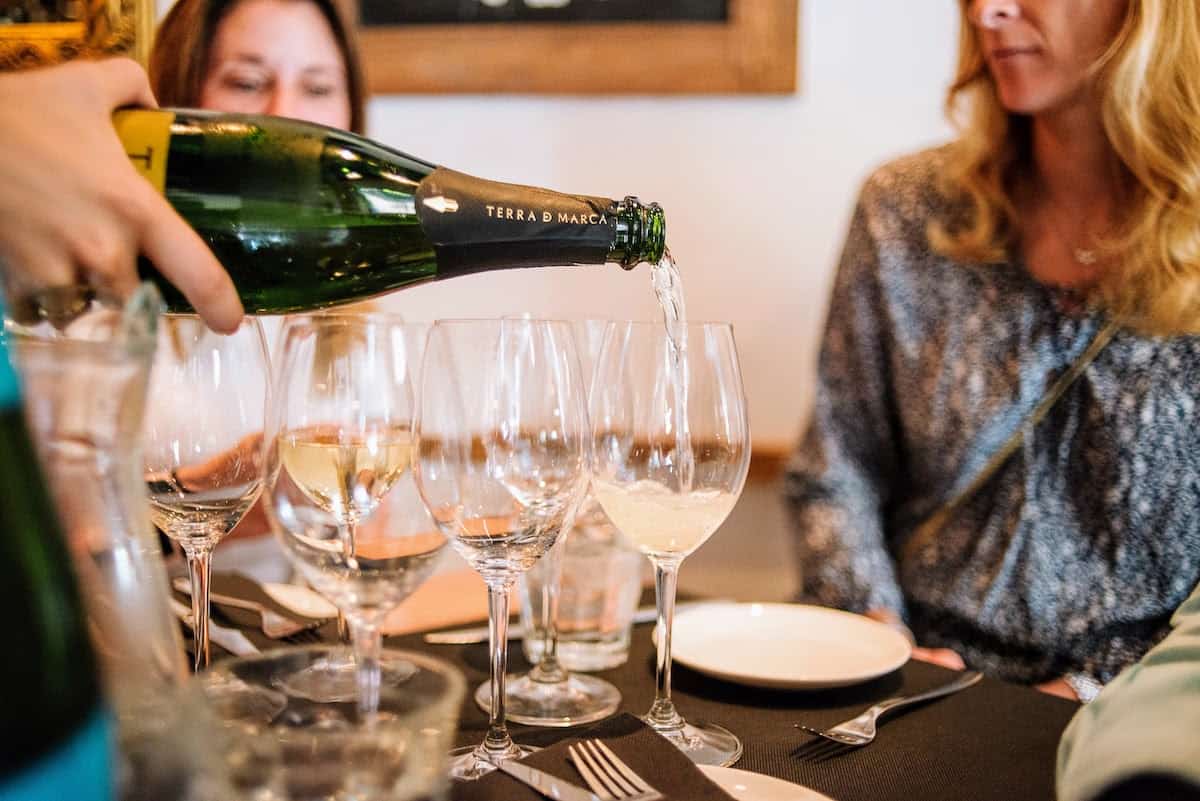 If you're looking for a unique day trip from Barcelona, consider visiting a Catalan winery.
Traditional Catalan Dishes
Several of the most typical Catalan dishes are known as mar i muntanya, which essentially means "surf and turf." This includes pollastre amb llagosta (chicken with lobster), mandonguilles amb sípia (meatballs with cuttlefish), and many other combinations.
Some regional specialties lean heavily on meat, such as fricandó (beef stew with mushrooms) and canelons (tubes of pasta filled with meat and covered in béchamel sauce—one of the ultimate Catalan comfort foods).
Escudella i carn d'olla is a typical Catalan Christmas food that features a first course of broth with noodles, followed by an assortment of pork, sausages, and other types of meat that have been cooked in the broth.
Catalan Seafood Specialties
Closer to the coast, seafood dishes reign supreme. There's esqueixada de bacallà, a salad of shredded salt cod, tomatoes, onions, and olives. Another popular way to eat cod is with samfaina, a combination of cooked eggplant, red peppers, zucchini, tomatoes, and onions (similar to Spanish pisto or French ratatouille).
If you're craving a rice and seafood dish, steer clear of places advertising bright yellow paella. What you really want is authentic arròs, the Catalan version of this classic, which could feature anything from crayfish to squid ink (arròs negre). Another must-try is fideuà, which replaces the rice with vermicelli noodles cooked in a seafood broth.
Yet another delicious seafood dish is suquet de peix, a stew made with various types of fish and potatoes. And make sure you sample any Catalan dish featuring anxoves (cured anchovies) or seitons (fresh anchovies). If you're apprehensive about these little fish, I'm willing to bet Catalonia will change your mind.
Popular Catalan Recipes
Can't make it to Catalonia at the moment? The next best thing is to recreate some of its best dishes in your own kitchen. Many Catalan recipes are incredibly simple and easy to make—and some of my personal favorites also happen to be vegetarian.
For example, try this recipe for spinach with pine nuts and raisins. It's a super common Catalan dish that reflects both the region's Jewish history and its tendency to combine savory and sweet elements.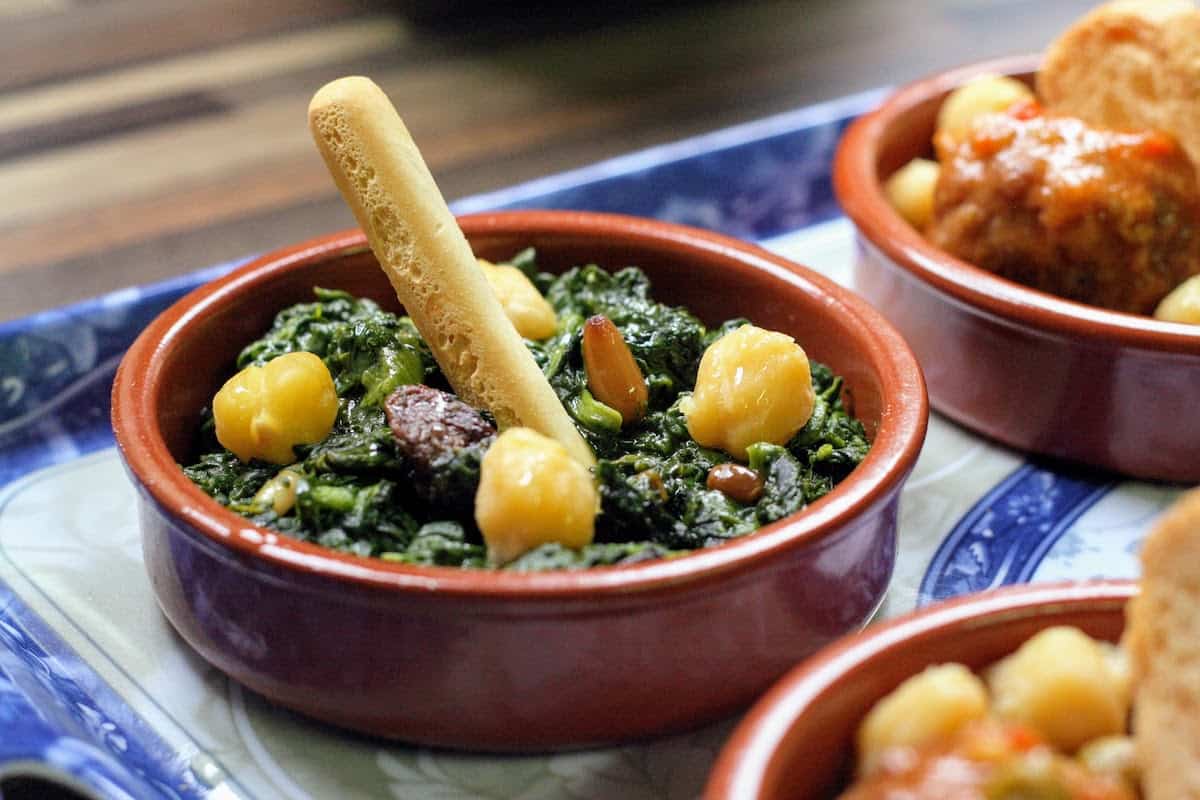 Another easy-to-make side dish is escalivada, which consists of mixed vegetables that are grilled, peeled, seeded, and seasoned.
Catalan Sauce Recipes
Prepare to fall in love with Catalan condiments. You've probably heard of romesco, a blended combination of dried peppers, tomatoes, garlic, and nuts. Make it at home with this romesco sauce recipe.
And I'll bet you've tried aioli—but what about alioli? This creamy, garlicky sauce is kind of like mayonnaise, but way better. My advice: Put it on everything.
Bread, Tomatoes, and More
Possibly the simplest Catalan recipe of all is pa amb tomàquet (pan con tomate in Spanish). This is nothing more than light, crispy bread rubbed with garlic and tomato and drizzled with olive oil. It's deceptively delicious; try it for yourself with this pan con tomate recipe.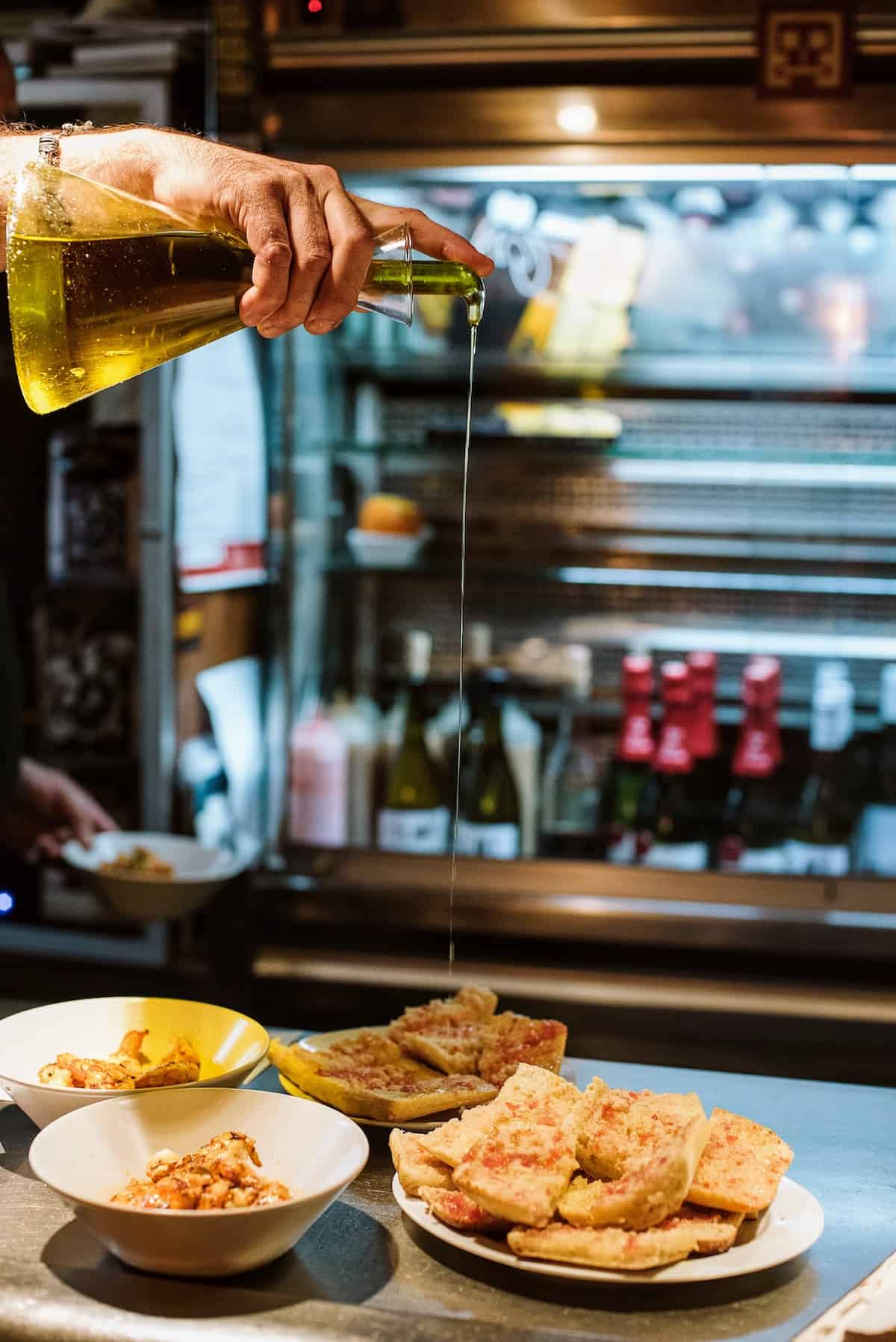 If you're feeling extra creative, I recommend making coca: a simple flatbread base that you can top with whatever you want. Some of the most common varieties include roasted vegetables, tomato sauce, and anchovies. Check out this Catalan coca recipe for inspiration.
Catalan Dessert Recipes
Catalonia has a wide array of delectable desserts. Some of them are seasonal specialties, but most are available year round. And of course, you can always whip them up at home to finish off your Catalan feast.
Start with this recipe for crema catalana, a rich milk and egg custard with a burnt sugar crust (similar to crème brûlée).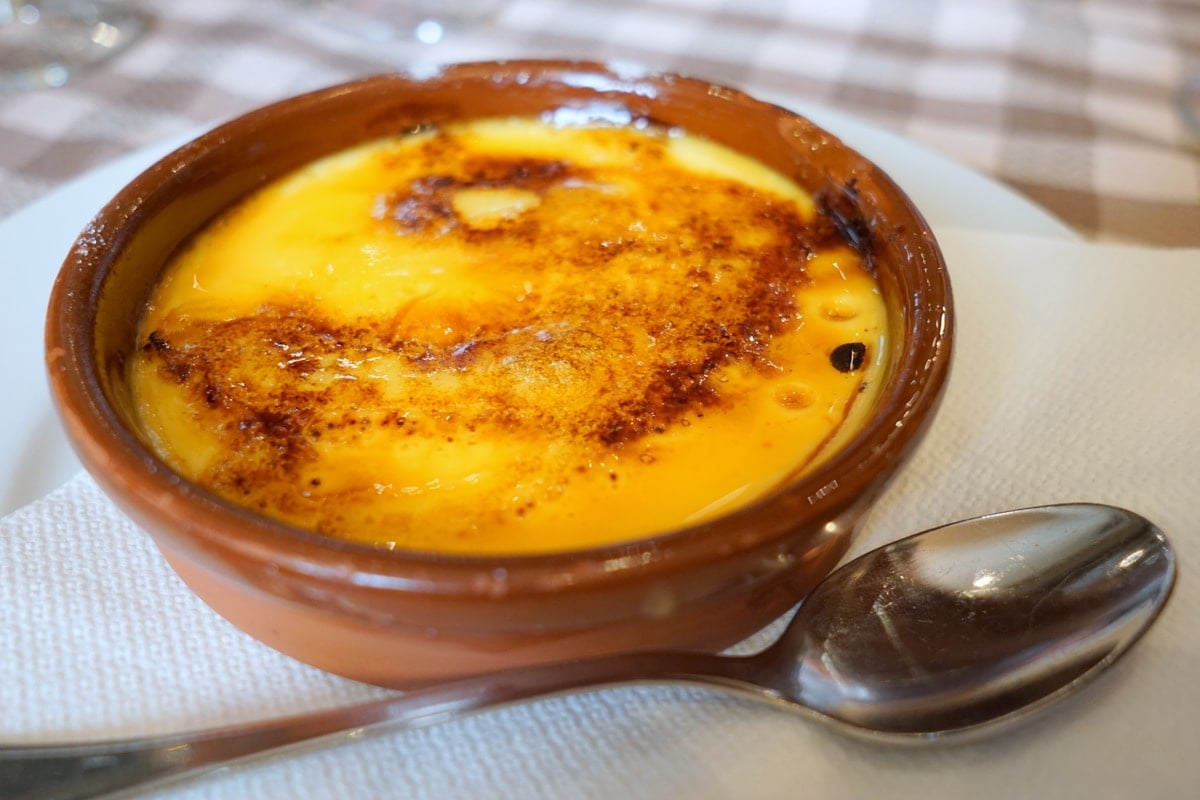 Brush up on your pastry skills with this ensaimada recipe (which pulls double duty as a dessert and breakfast food). While technically a Balearic food (from the island of Mallorca) you'll find excellent ensaimadas in Catalonia.
Another easy-to-make dessert is mel i mató: a simple combination of honey, walnuts, and a local fresh cheese made from cows' or goat's milk.
But it doesn't get simpler than pa amb xocolata, oil, i sal (bread with chocolate, olive oil, and salt) which has become one of my personal favorite late-night snacks since a colleague shared it in the Devour Tours Cookbook.
Modern Catalan Cuisine
While Catalan cuisine may not be as internationally famous as Basque food, it has gained considerable fame in the world of fine dining. In fact, three of The World's 50 Best Restaurants are located in this region, and there are four restaurants in Catalonia with three Michelin stars apiece. Barcelona alone has 24 Michelin-starred restaurants!
Modern Catalan cuisine is creative and cutting-edge, while paying tribute to tradition and highlighting local ingredients. The region's culinary superstars have elevated its gastronomic scene to new heights with innovative takes on classic concepts.
Famous Catalan Chefs
The most well-known Catalan chef is probably Ferran Adrià, one of the forefathers of contemporary Spanish cuisine. He was the head chef at elBulli, a groundbreaking restaurant that redefined what was possible for chefs all over the world.
Ferran's brother, Albert Adrià, has also gained global acclaim for both his role as head pastry chef at elBulli and his subsequent projects, such as Tickets in Barcelona.
But the Adriàs aren't the only famous family in Catalonia's culinary world. The Roca brothers—Joan, Josep, and Jordi—founded El Celler de Can Roca in Girona in 1986. It's since earned a shining reputation for its innovative twists on traditional Catalan dishes.
Jordi Roca has also gained a loyal following thanks to his whimsical ice cream shop, Rocambolesc. From wacky popsicles to gourmet toppings, it shows off his wild imagination in the sweetest way possible.
Catalan Tapas Culture
First things first: tapas aren't really a Catalan tradition. These days it's easy to find incredible tapas all over the region, but this is largely a reflection of outside influences. Catalan culinary culture is more about sitting down for a meal than hopping between tapas bars.
That said, Catalonia is full of modern restaurants that fuse local flavors with the tapas concept. Check out this list of the best tapas bars in Barcelona for tips on where to try authentic Catalan tapas.
If you want to venture beyond the tapas scene, we've got you covered with a comprehensive guide on where to eat in Barcelona.
Catalan Vermouth Culture
There's nothing more Catalan than vermouth. This iconic fortified wine is popular all over Spain, but the most famous variety is made right here in Reus, a small town in Tarragona.
Catalan vermouth culture is alive and well in Barcelona. It's most common to enjoy it on Sunday afternoon, before sitting down for a big lunch. Traditional vermut tends to be sweeter than modern varieties. It's best paired with salty snacks like olives, potato chips, and anchovies.
For a true taste of this unique Catalan specialty, head to Bar Bodega Quimet or Cal Pep in Barcelona's Gràcia neighborhood. And to become a true vermut expert, read our guide to Spanish vermouth.
Catalan Calçotadas
The calçot might be Catalonia's most revered vegetable—and for good reason. This spring onion is similar to a scallion and is harvested in the late winter or early spring. During this time of year, the region comes alive with calçotadas: festive barbecues centered around calçots.
The most authentic Catalan calçotadas take place in small towns in the countryside, where the vegetables are grown. The fresh calçots are steamed over an open fire and wrapped in newspaper before serving.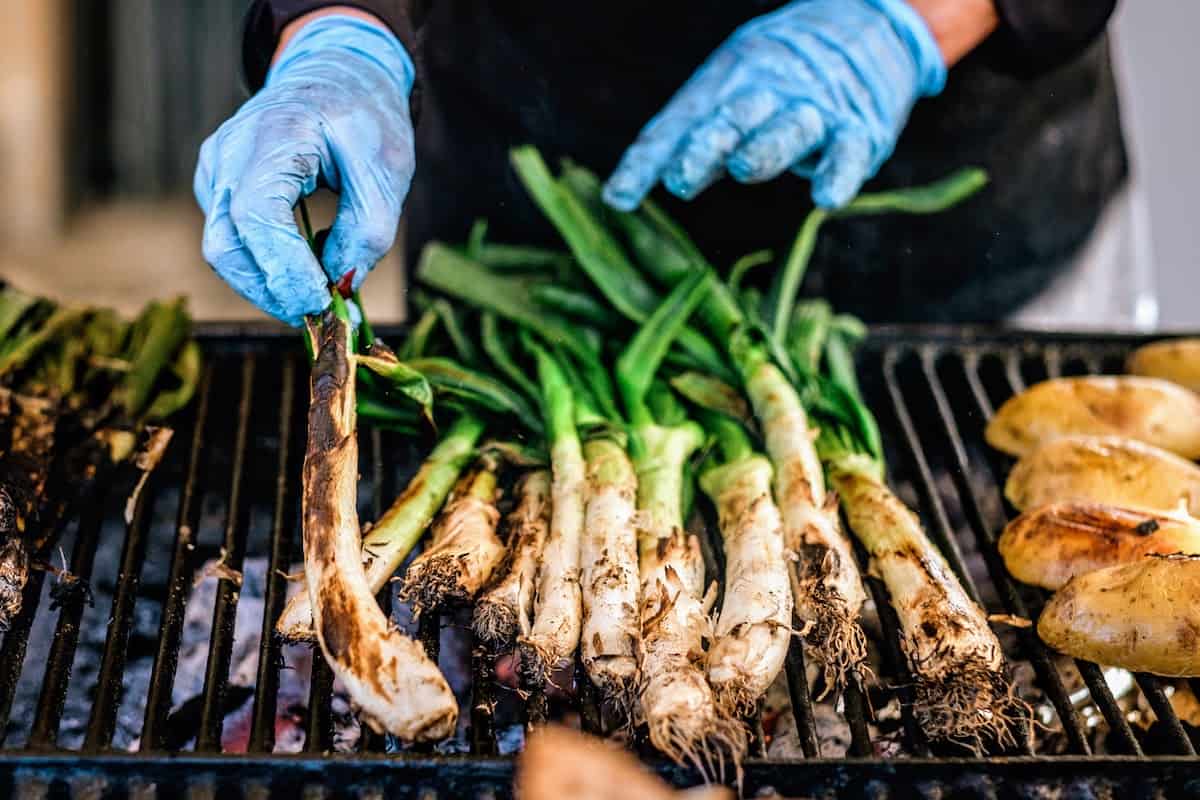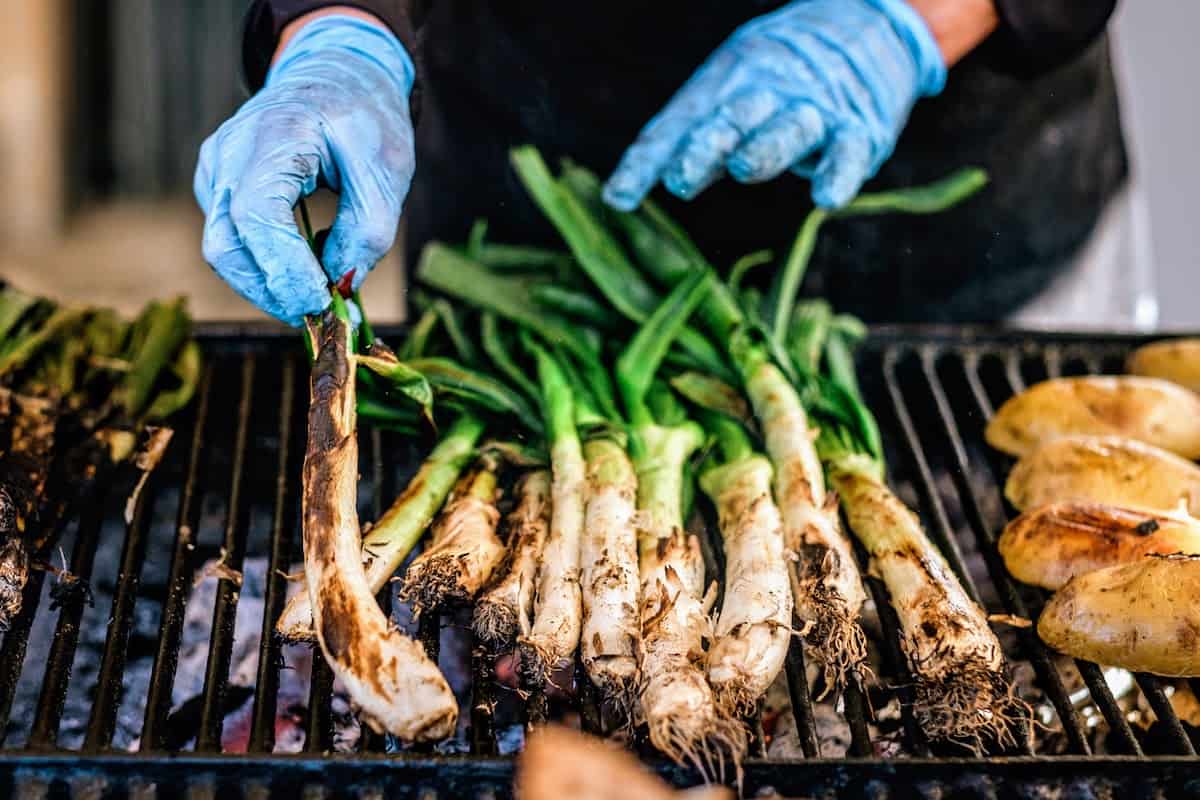 To eat them, you peel off the charred outer layers and then dip the onions into calçots sauce (very similar to romesco). The all-you-can-eat first course of calçots is usually followed by a feast of grilled meats, wine, and dessert.
To experience the amazing tradition of calçotadas, plan a trip to Catalonia's countryside in January or February. Or recreate it at home with some chargrilled alliums and homemade romesco sauce!
Catalan Food Vocabulary
If you're dreaming of a trip to Catalonia, start brushing up on your Catalan food vocabulary now. While pretty much everyone here speaks Spanish, the more Catalan you know, the better your experience will be.
Before ordering your cafe amb llet, greet the bartender with a friendly bon dia. Consider practicing "On puc fer el vermut?" (an essential phrase). And remember: even a simple moltes gràcies will get you far.
Learn everything you need to know about Catalan before traveling, and check out this guide to navigating a Catalan menu.
Catalan Food FAQs
Have you tried Catalan food? What's your favorite dish?
Hungry for more? Sign up for my free weekly newsletter and receive a new Spanish recipe once a week! Join today and get my FREE Spanish ingredient essentials guide!