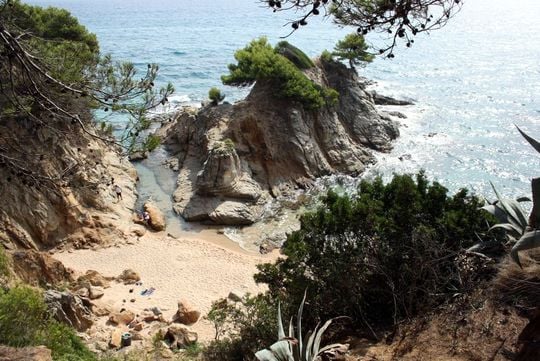 I love going somewhere without having too many previous expectations. This was my expereince with Girona and Costa Brava. Before visiting, I knew only two things-- the Costa Brava tourism board was making a large effort to promote the area, and that many bloggers had already visited this part of Spain and everyone seemed to have loved it. I was ready to either be really impressed, or really disappointed, but (as you likely can see) it was definitely the former.
When we boarded our ferry from Blanes to Lloret de Mar, I had no idea that we were going to a popular resort town. Had I known this, I would have possibly been predisposed not to like it, as tourist towns full of loud vacationers are not really my thing. But (possibly because it was September) I really loved what we saw in Lloret de Mar.
It's Gorgeous
Touristy or not, the beach at Lloret de Mar is absolutely lovely. It was utter torture to walk along the warm sand without being able to go for a swim. But taking a break would have meant we missed our walk up the hilly beach for some of Costa Brava's best views, and even the alluring Mediterranean couldn't convince us to miss these sights!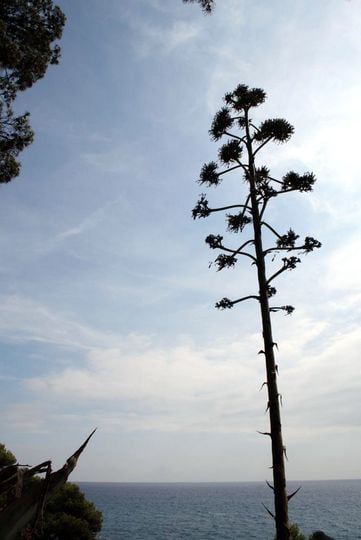 Rigat Park and Spa Hotel
We were treated to lunch at the beachside Rigat Park and Spa Hotel. If you do visit Lloret de Mar, you need to check them out. Offering views of the ocean while swimming in the pool, it's no wonder the hotel was still quite busy in mid September. We sat down to enjoy their lunch buffet, which offered a huge variety of regional classics, such as rice with seafood, cured meats and cheeses, and fresh fruit for dessert. Honestly, I think that September is the perfect time to visit Costa Brava, and I'd definitely do a comparison of prices across all hotel types while planning your trip to Lloret de Mar-- there are some great deals out there!
By the end of lunch no one really wanted to leave-- the beach was beckoning. Unfortunately, we had to be at our next destination so Lloret del Mar was left behind with everyone craving a future visit. I began to see the tourism board's genious plan-- they were giving us just a taste and leaving us wanting more. It was working, and I know that Ale and I will be back to Costa Brava (and Lloret de Mar) many times!
Have you ever liked a supposedly "too touristy" town?
See Also: Santa Clotilde Gardens: A Labor of Love in Lloret de Mar