From the tapas traditions of Granada to the sunny terraces of Seville, the south of Spain is filled to the brim with essential experiences for food lovers. In this post, we'll reveal the secrets of Andalusian food, beginning with Andalusia's culinary history and can't-miss dishes—plus simple recipes to recreate them at home.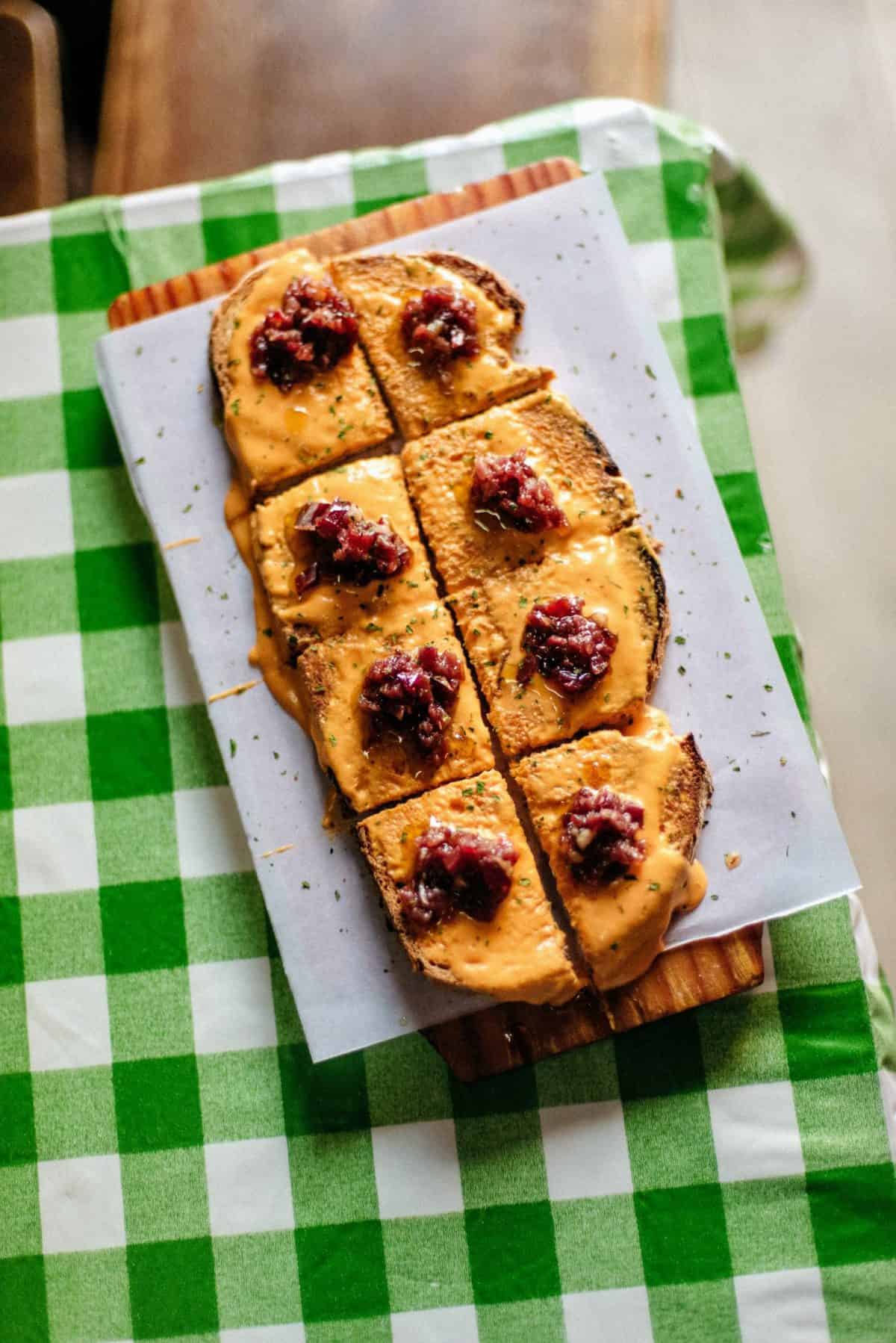 Southern Spain is known the world over for its rich cultural legacy, fascinating history, natural beauty, and incredible climate. But there's something else that makes this region special: its unique and delicious cuisine.
Andalusia is Spain's second-largest autonomous community, encompassing its southern coastline (also known as the Costa del Sol). Its cuisine features plenty of fresh fish and seafood, as well as typical Andalusian dishes from farther inland. It also reflects influences from Muslim, Christian, and Jewish culture, creating a combination that's truly one of a kind.
For all of these reasons and more, it's hard not to fall in love with Andalusian food. Ready to see for yourself?
Andalusian Food History
The Gastronomy of Moorish Andalusia
The Moors (a term used to describe Muslim inhabitants of the Iberian Peninsula) ruled much of what is now Spain for several centuries, leaving an indelible mark on its culture, architecture, and cuisine. In fact, they introduced many of the most iconic Spanish ingredients and dishes. But nowhere is this influence more apparent than in Andalusia.
Note: You might see the name of this region written different ways; "Andalusia" is the English spelling, and "Andalucía" is the Spanish spelling.
Andalusian food culture leans heavily on almonds, dates, saffron, cinnamon, and many fruits and vegetables that the Moors brought to the region during the Al-Andalus period (from the year 711 to 1492).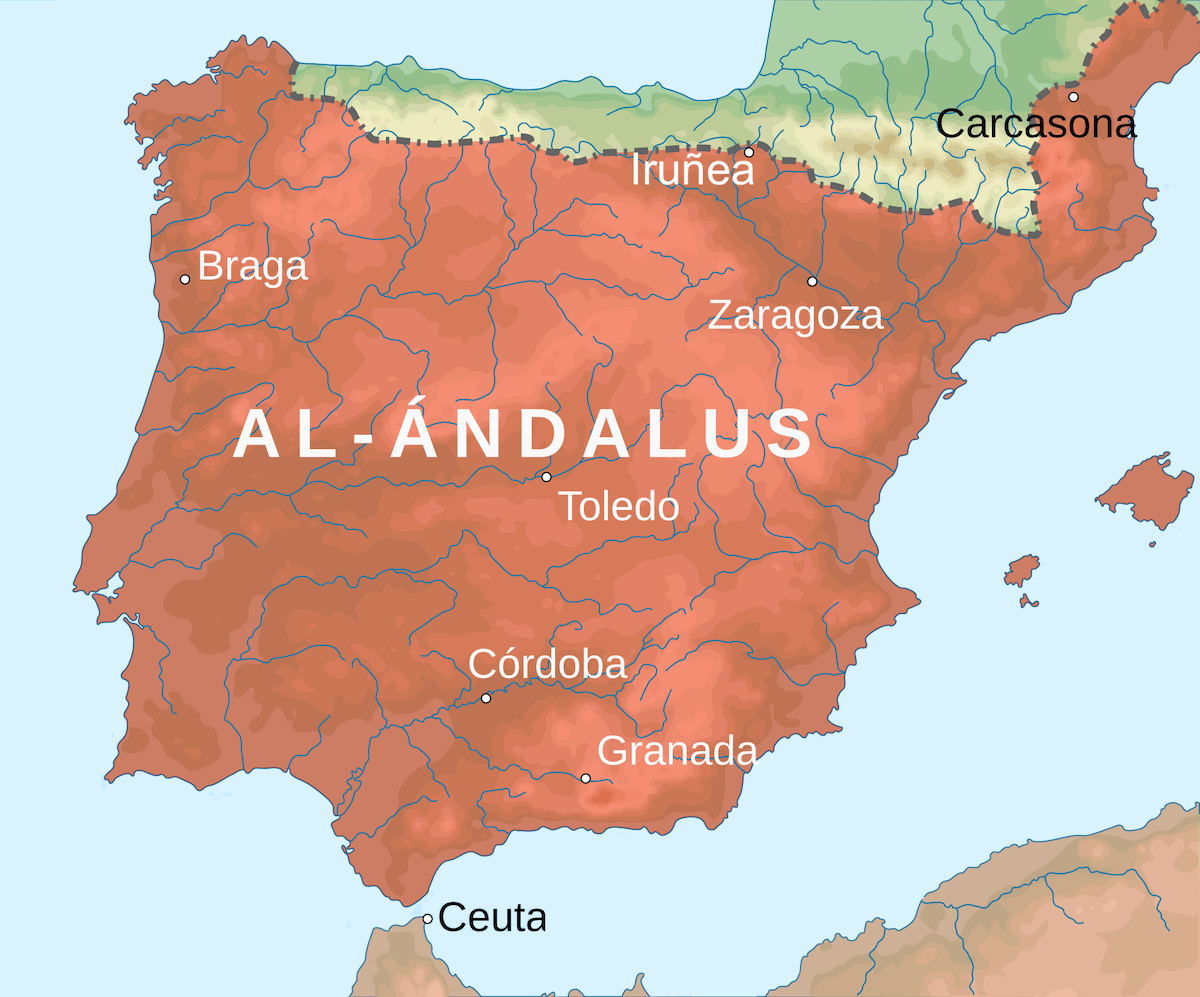 In addition to ingredients, they contributed recipes and cooking techniques—many of them documented in cookbooks—that are an integral part of modern Andalusian cuisine. If you've ever enjoyed breaded and fried fish, vinegar-soaked anchovies, or sugary torrijas, you have Al-Andalus to thank.
The Golden Age in Andalusia
The Golden Age, or Edad de Oro, refers to the period between the late 15th and 17th centuries in Spain. During this time, the Inquisition expelled Jews and Muslims from the Iberian Peninsula.
This was a dark time in Spanish history, but it also coincided with the "discovery" of the Americas—and therefore abundant trade. Andalusia was the gateway to the New World, and Seville became the most important transatlantic trading center of its time.
The constant exchange of products introduced a whole new world (pun intended) of ingredients to southern Spain. Things like potatoes, tomatoes, peppers, corn, avocado, cocoa, and vanilla, which were previously unknown to Europeans, soon became staples of Andalusian cuisine.
Fun fact: Of all the regional dialects in Spain, Andalusian Spanish is the most similar to Latin American Spanish. This is yet another reflection of Andalusia's link with the Americas, as many of the first Spanish settlers hailed from this region.
Local Andalusian Products
We've already established that many iconic Andalusian products came from the Moors or expeditions to the Americas. But in the centuries since, Andalusia has embraced these ingredients and combined them with native crops to create regional specialties that you won't find anywhere else.
The best Andalusian products have the distinction "D.O.": denominación de origen, or designation of origin. There are 12 varieties of olive oil alone with their own D.O., in addition to dozens of types of wine, sherry, brandy, and even vinegar. One particularly unique product is the honey from Granada (D.O. miel de Granada).
Andalusia also has several D.O.s for meat and fish: jamón de Jabugo (cured ham from Jabugo), caballa de Andalucía (Andalusian mackerel), mojama de Barbate/Isla Cristina (salt-cured tuna from Cádiz/Huelva) and many more.
Finally, there's locally grown produce like tomatoes, asparagus, olives, chickpeas, and even chirimoya (custard apple) cultivated in Malaga. Make sure you also try Malaga's famous raisins, which are made from Muscat grapes.
Traditional Andalusian Dishes
Traditional Andalusian food culture includes a wide variety of dishes, from refreshing summer soups and hearty winter stews to crispy fried seafood and indulgent pastries. Here are some of the best regional specialties.
Cold Soups
This might sound like an oxymoron. But if you've ever experienced a scorching Andalusian summer, you know there's nothing better than a light and refreshing bowl of one of the region's signature cold soups.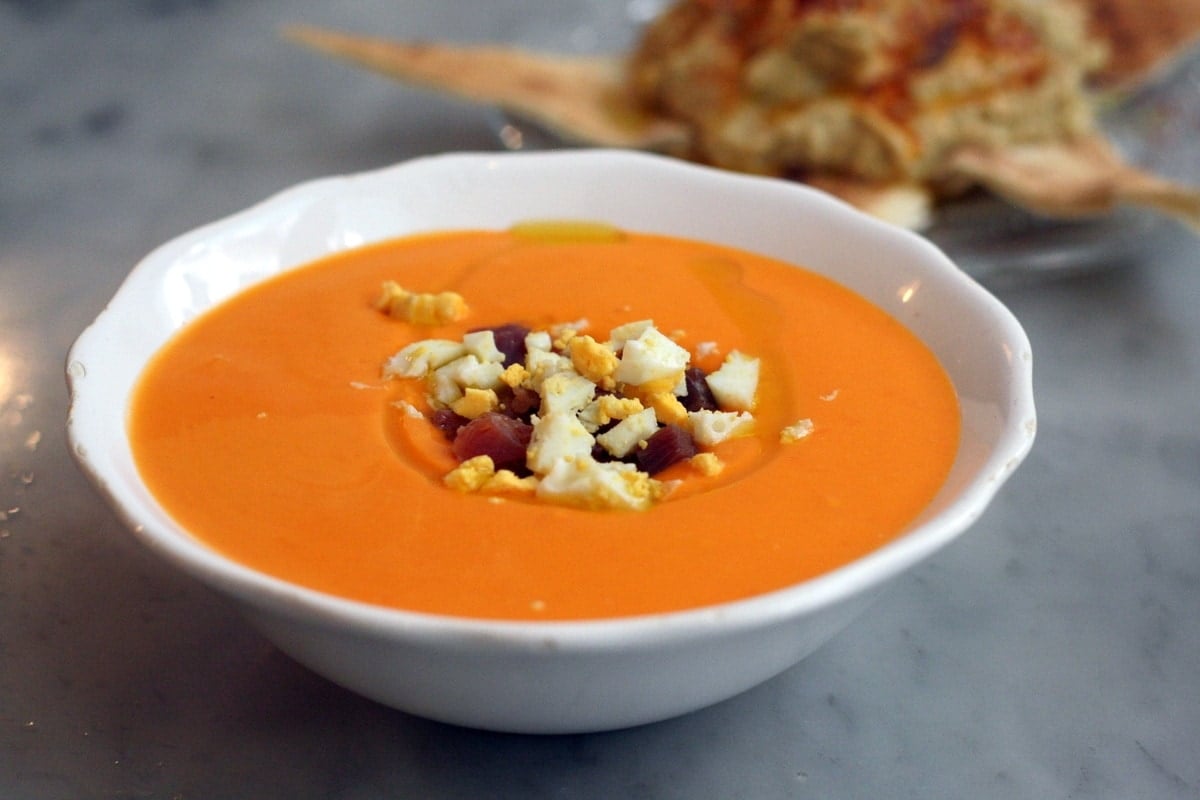 Tapas
The definition of tapas can vary greatly depending on where you are and who you ask. But Andalusia is commonly accepted as the birthplace of this iconic aspect of Spanish cuisine—and there are plenty of traditional Andalusian tapas that you have to try.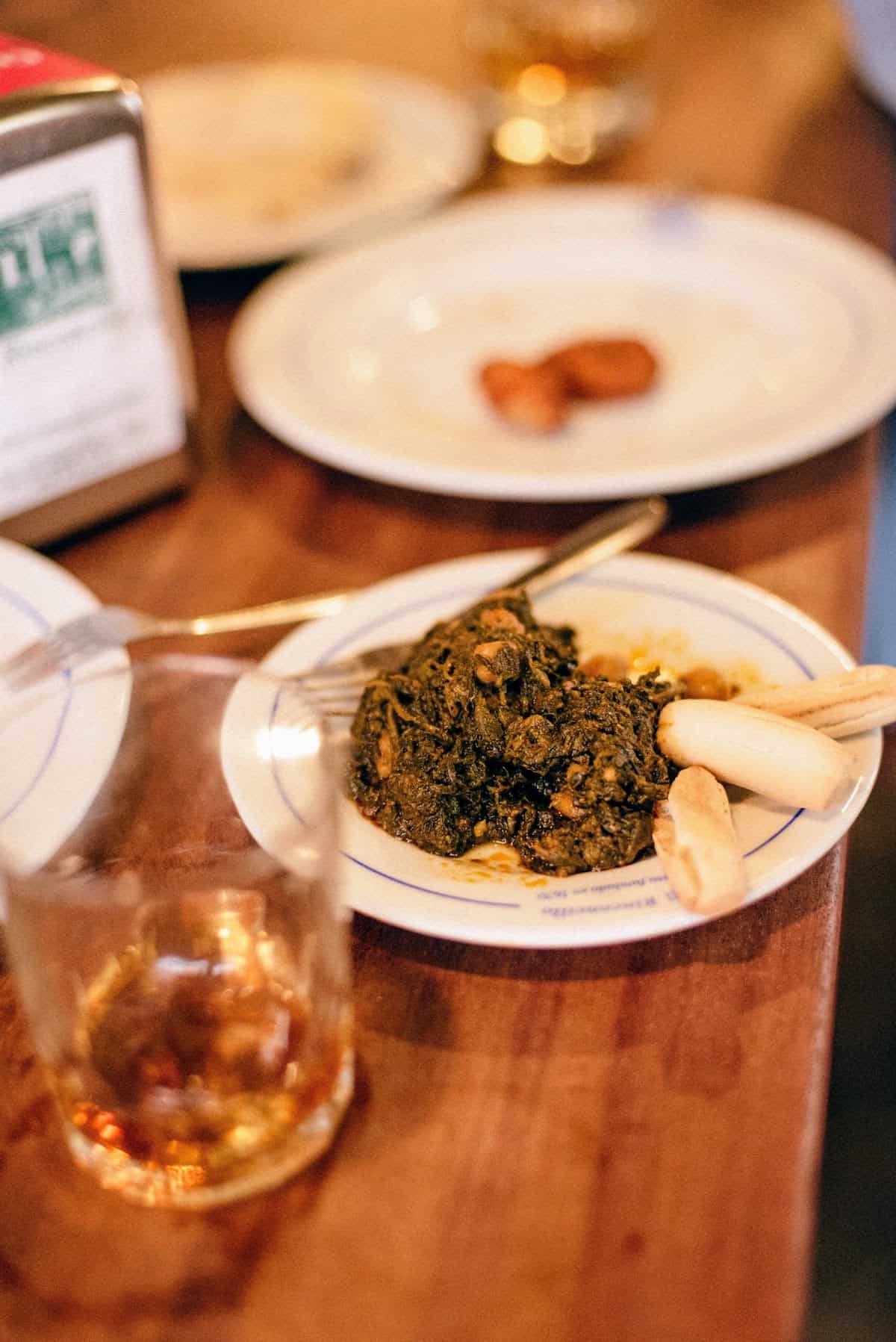 Jamón de Jabugo – This is a variety of jamón ibérico (Iberian cured ham) that's produced in the area near Huelva and Seville. It's one of only four protected designations of origin for Spanish ham.
Mojama – Mojama, or salt-cured tuna, is one of Andalusia's most unique tapas. Its strong flavor might take some getting used to; try pairing a thin slice of it with some regañás (crunchy crackers typical of the region).
Caracoles – Snails are popular all over the country. But they're especially delicious in southern Spain, where they're boiled in seasoned broth and served in their shells. You have to try snails in Seville at least once!
Migas – Migas means "crumbs" in Spanish, which perfectly describes the texture of this tapa. It's made from crumbled bread cooked in oil and spices, and often includes chunks of chorizo or bacon.
Berenjenas con miel de caña – If you're looking for vegan tapas, this is the jackpot. It consists of thin strips of breaded and fried eggplant, drizzled with molasses (though some versions use honey instead). A sprinkle of sea salt adds the perfect contrast between sweet and savory.
Huevos a la Flamenca – "Flamenco-style eggs" is a common Andalusian treat that can be a tapa or a main course. It's cooked and served in a clay dish, with a layer of potatoes, peas, and other vegetables topped by eggs and baked in the oven. Many recipes also add chorizo or ham.
Flamenquín – This deep-fried masterpiece is a roll of pork loin, cured ham, and cheese coated in crunchy breadcrumbs. It can either come in the form of a bite-sized ball, or an enormous cylinder served in slices.
Hot Soups & Stews
You might associate stews with the cuisine of northern climates. But southern Spain can get pretty chilly and has its own take on hearty winter dishes. Here are some of the best Andalusian soups and stews.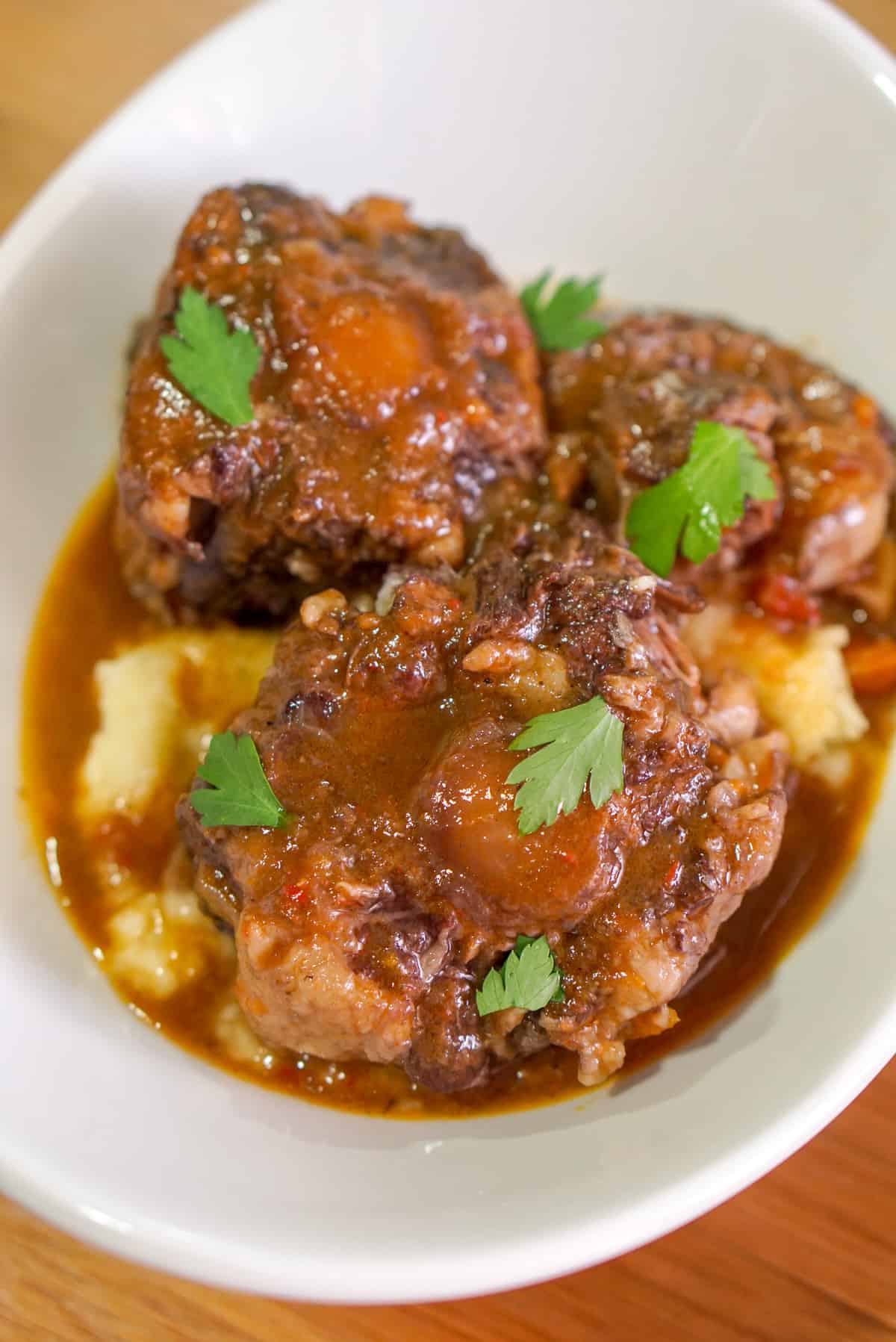 Puchero – This a a traditional stew made with various types of meat (pork, beef, chicken, bacon, etc.) and vegetables. In some places, chickpeas, rice, or noodles are added to the broth. The meats (pringá) are served separately—often in a sandwich, or montadito de pringá.
Gazpachuelo – This classic Andalusian soup was originally a staple of the local fishermen's diet. It features fish and potatoes in a flavorful broth made of egg yolks, olive oil, and garlic.
Rabo de toro – Also called cola de toro, this is a traditional stew made of oxtail, bull tail, or cow tail. The meat is braised for several hours until it's impossibly tender—definitely the ultimate Andalusian comfort food!
Guisaillo de patatas – This hearty stew puts potatoes front and center, but often also includes vegetables and beef or veal.
Fried Foods
Andalusian cuisine is famous for its incredible array of fried foods—especially the kind that come from the sea. When done properly, they're a far cry from the bland, oil-soaked fried seafood that you'll find elsewhere.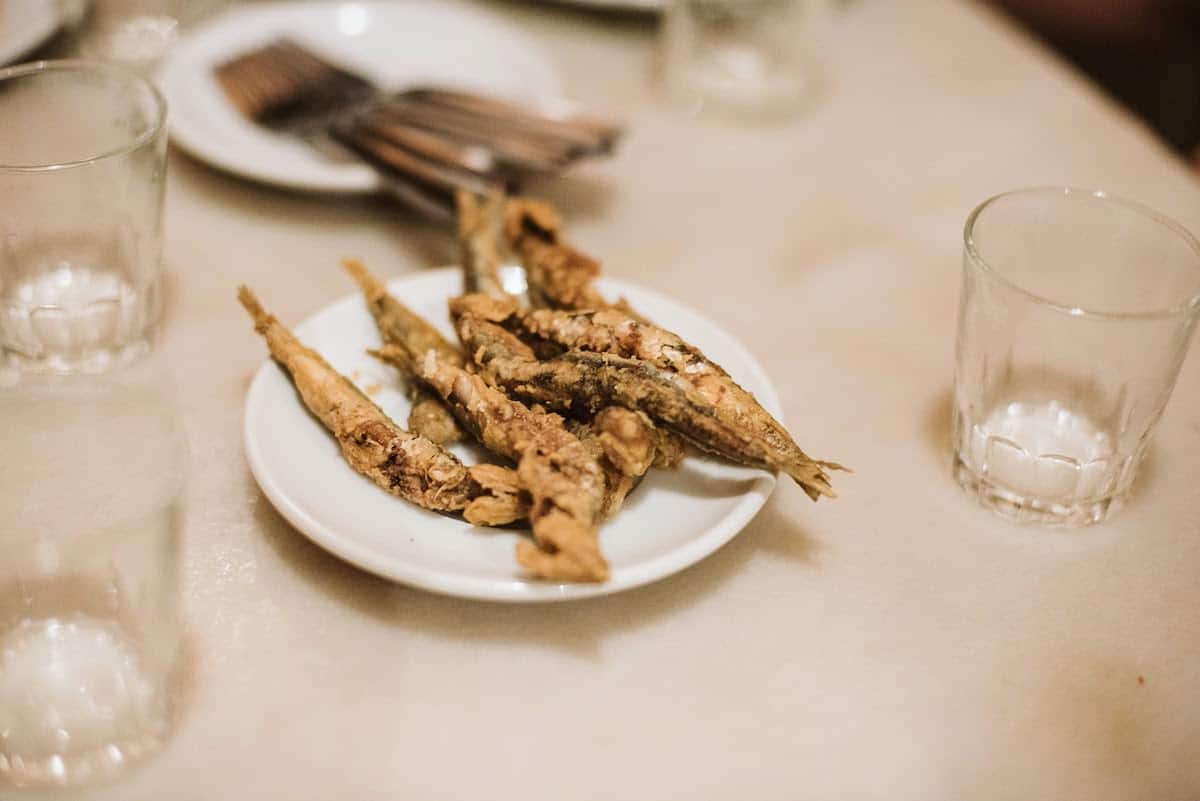 Fritura Malagueña – This is the ultimate dish of Malaga: an assortment of various types of fried seafood served up on an enormous platter. It often includes choco (cuttlefish), chipirones (baby squid), and boquerones (anchovies), and is best enjoyed on the beach!
Pescaíto frito – This literally means "fried fish" (spelled and pronounced in Andalusian dialect), but it's so much more than that. Andalusia has perfected this simple dish; the key is to use high quality olive oil, flour, and fish, and to fry it for just the right amount of time.
Cazón en adobo – This might be translated as dogfish or sand shark, but whatever you call it, it's delicious. Think chunks of tender, mild white fish coated in breadcrumbs, cumin, and other spices.
Tortillitas de camarones – These Andalusian shrimp fritters are light, crispy, and totally addictive. They're a local specialty of Cadiz.
Ortiguillas – If you've never tried fried sea anemones, you're missing out. They're a bit like fried oysters, but with their own particular flavor.
Andalusian Desserts
Sweets in southern Spain reflect a heavy influence from Moorish culture, often featuring almonds, honey, and puff pastry. There are dozens of regional and seasonal specialties, but here are a few of my favorites.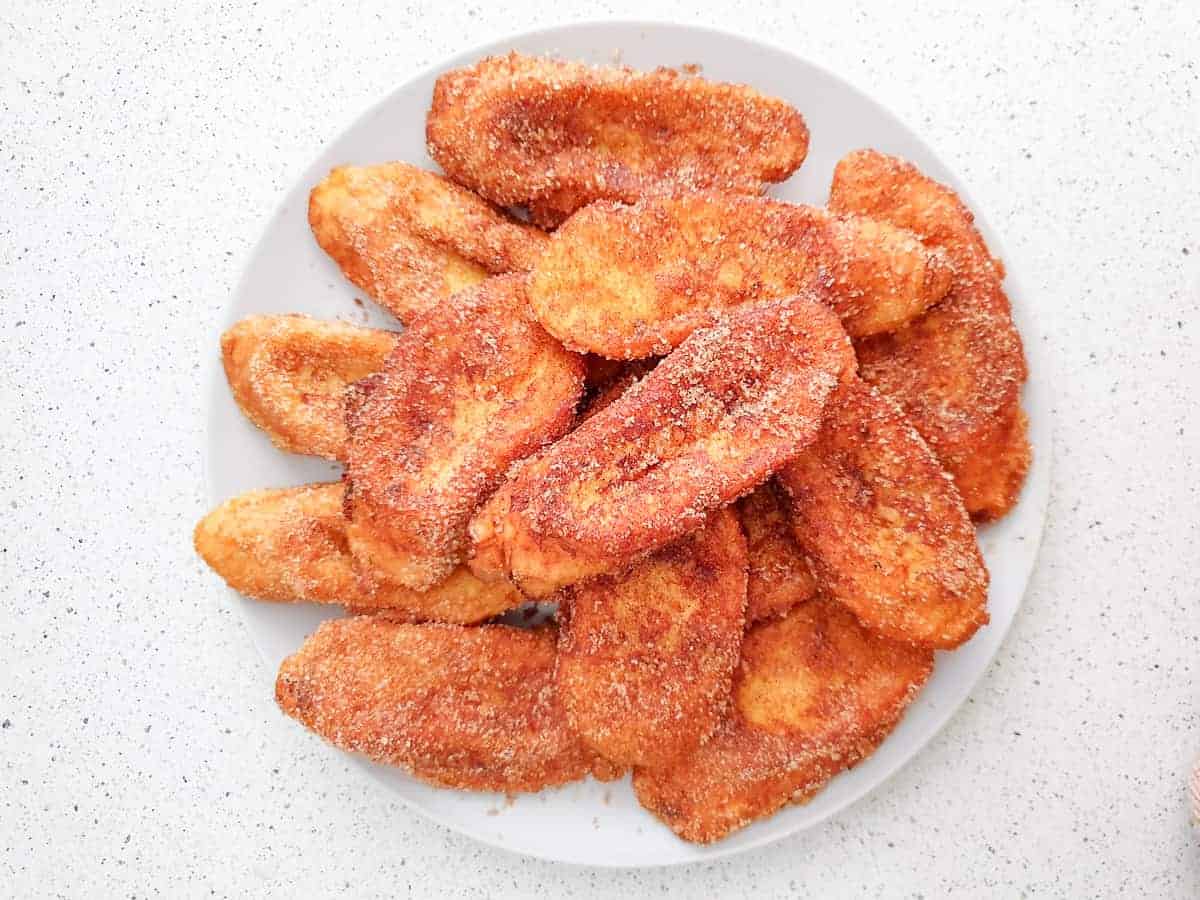 Torrijas – This dish is the unofficial symbol of Semana Santa, or Holy Week, in Spain. It's a kind of cross between French toast and bread pudding; slices of bread are soaked in either milk or wine before being fried and drizzled with honey or coated in cinnamon sugar.
Piononos – These are Granada's most famous sweet: little sponge cakes filled with custard and cinnamon and topped with toasted cream.
Pestiños – This typical holiday sweet consists of thins strips of dough folded up and fried in olive oil, then drenched in honey.
Poleá – For an old-fashioned treat, try this porridge made with milk, sugar, flour, and anise. It dates all the way back to medieval times!
Popular Andalusian Recipes
Andalusian Tapas Culture
Seville
Seville, the capital of Andalusia, is arguably also the tapas capital of the world. Here, tapas have their own category on most menus (in addition to media raciones and raciones: larger portions of the same dish).
Keep in mind that you'll almost always pay for your tapas in Seville, rather than receiving a free one with each drink order. But this can actually be preferable, as it gives you more control over what you order and often means higher-quality tapas.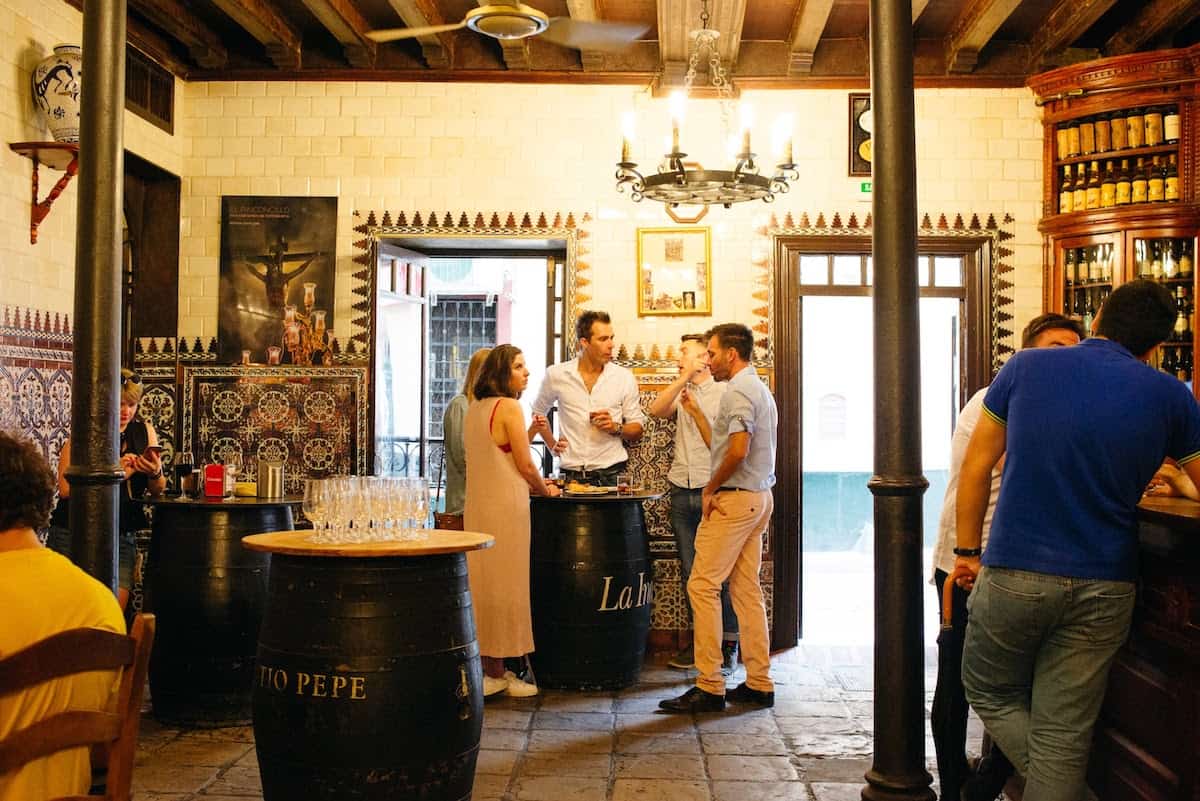 If you're wondering where to eat in Seville, your first stop should be one of its traditional tapas bars. But don't miss out on the modern gastrobars that have proliferated since the early 2000s. They fuse traditional recipes with innovative ideas, putting an exciting twist on Andalusian tapas culture.
Granada
If you want to experience tapas culture as it was originally intended, go to Granada. There are dozens of reasons to fall in love with this city, from the awe-inspiring Alhambra to the caves of Sacromonte. But hungry travelers are especially happy to discover the phenomenon of free tapas.
At many bars in Granada, you'll receive a free plate of food when you order each round of drinks. It tends to improve with each round; the first might be a bowl of potato chips or olives; the second a plate of patatas bravas or croquetas; the third a heaping dish of migas, and so on. Just make sure you show up with an open mind and an empty stomach.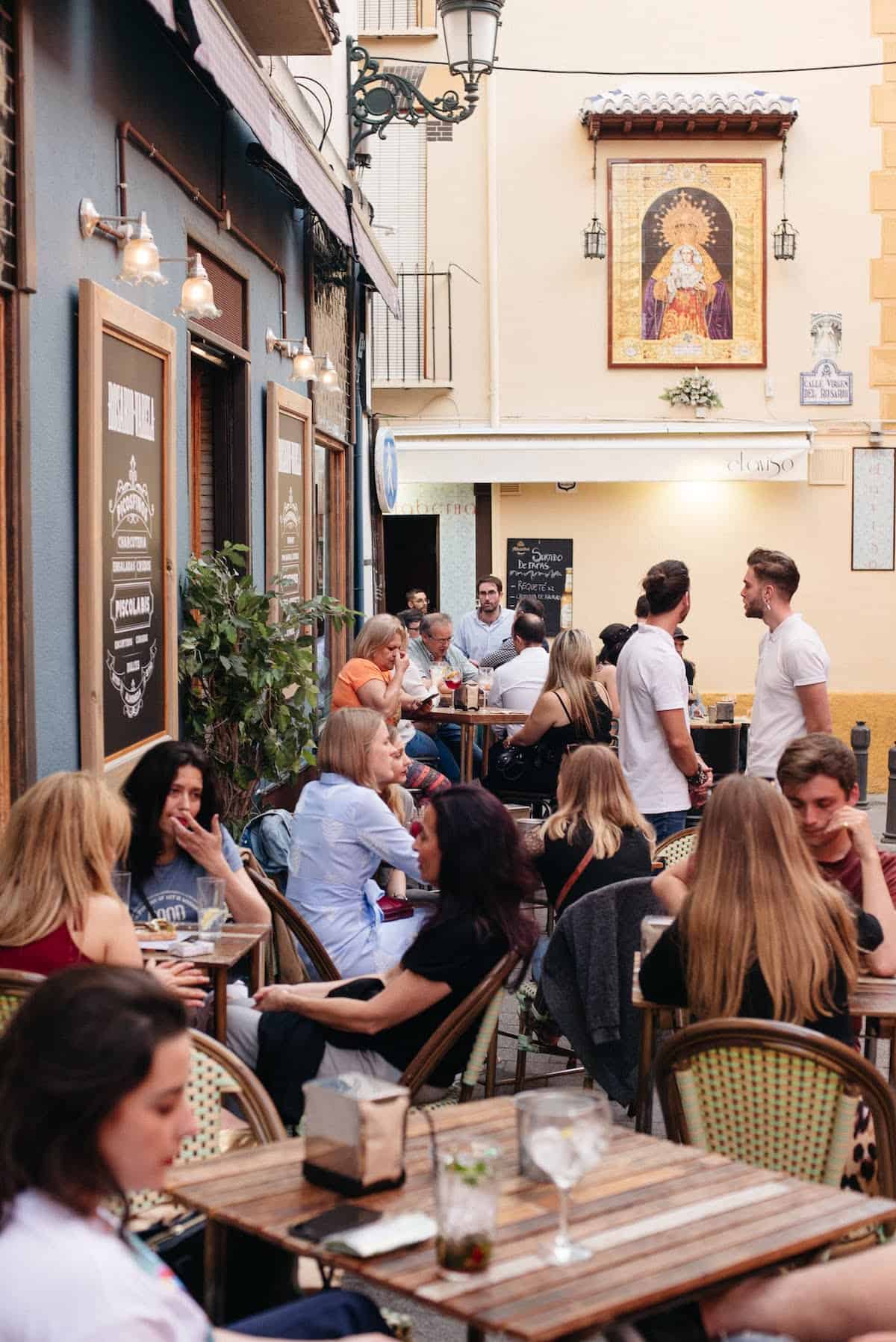 To start planning your tapas crawl, read up on the best restaurants in Granada and get some tips on how to eat like a local.
Malaga
Malaga is a quintessential beach town, and when it comes to tapas, that means one thing: seafood. Expect to encounter plenty of fried treats, from cazón en adobo to anchovies. The best place to enjoy them is at a chiringuito, or beach bar—right on the sand.
In addition to fried foods, Malaga is famous for espetos: skewers of sardines grilled over a pit of coals, then seasoned with olive oil and sea salt. The best time to eat them is from May to August, preferably as close to the ocean as possible.
Beyond the beach, there are plenty of incredible places to eat in Malaga. The city's tapas culture is similar to Seville's, as you have to order and pay for tapas instead of receiving them automatically with drinks.
Cadiz
Cadiz might just be the ultimate seaside destination in southern Spain. There's nothing like finishing a lazy day at the beach with a long evening in one of the city's charming squares, enjoying its signature tapas.
In fact, this port city is one of the country's best tapas destinations, combining Andalusian food culture with a personality all its own. Local specialties include pescaíto frito, tortillas de camarones, ortiguillas, and chicharrones de Cádiz (thin slices of garlicky pork belly, served cold).
For more advice on what to order and where to go, check out our guide to eating in Cadiz.
Andalusian Wines
There are several types of locally produced wines in Andalusia, and dozens of different D.O.s (designations of origin). For example, Malaga is famous for sweet fortified wines, while Córdoba stands out for its unique Montilla-Moriles labels.
Granada gets in on the action with whites, reds, and sparkling wines, many of which are produced at small family-run bodegas (wineries). And if you're drinking in Seville, it's obligatory to sample the famous orange wine.
Sherry Wines
There's one drink in particular that defines Andalusian viniculture: sherry, or Jerez in Spanish. Some travelers are skeptical at first, as sherry wines aren't super popular in many other countries. But if you associate this drink with a sickly sweet, old-fashioned liqueur, then Spanish sherry will pleasantly surprise you!
There are many different types of sherry, from dry fino and manzanilla to rich oloroso and Pedro Ximénez. I suggest sampling them all, but be careful; they're stronger than they seem. Fortunately, sherry wines pair well with all kinds of foods, from simple tapas to decadent desserts.
Andalusian Food FAQs
What is Andalusian food?
Andalusian food comes from the southernmost region of Spain. It features plenty of fresh seafood, cured ham, local produce, traditional tapas, sugary sweets, and unique drinks such as sherry wines. Regional specialties include salmorejo, rabo de toro, mojama, torrijas, and pescaíto frito, among many more.
How is Andalusia different from the rest of Spain?
Andalusia has a diverse cultural legacy, thanks to the coexistence of (and conflict between) Christian, Muslim, and Jewish cultures throughout its history. It was also the main gateway to the Americas for many years, resulting in an extensive exchange of ingredients and products that heavily influenced its cuisine.
Are there any Andalusian food festivals?
Yes! There's the famous festival in Lanjarón on June 23, in honor of Saint John the Baptist, which features a huge water fight followed by a jamón feast. There's the erizada during Carnival in Cadiz, when raw sea urchins take center stage. And of course, Semana Santa and Seville's Feria de Abril offer endless culinary delights.