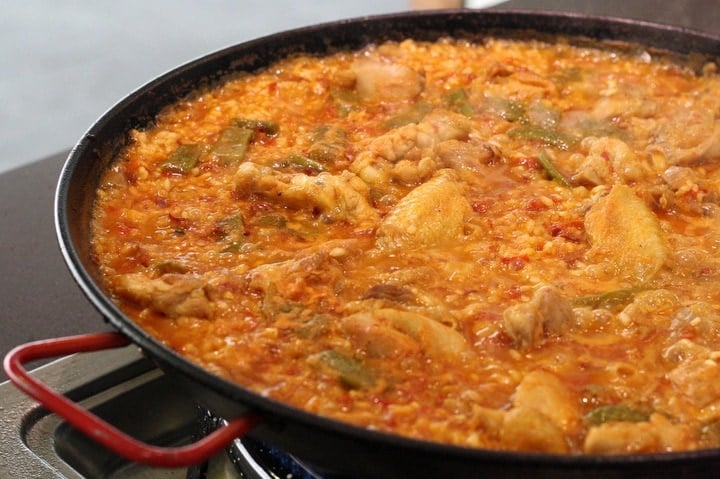 For someone who loves cooking so much, I've taken surprisingly few cooking classes while traveling. Two, to be exact! I generally opt for a food tour, leaving the cooking portion of a culture to experiment with upon my return. And while this sounds good in theory, in practice I rarely end up attempting the dishes I've fallen in love with on my trips. Though perhaps it's for the best, as I doubt they'd ever taste the same!
The first cooking class I took while traveling was in Bologna and it was an unforgettable experience. Alejandro and I had a private class with the lovely Maribel in her home, where she taught us how to make homemade pasta.
Have we attempted it since? No-- but the memory of that meal remains vivid in my mind.
Since that trip there haven't been many opportunities to take another cooking class. Despite feeling like I'm always traveling, it's almost always been work related or a family visit during the past couple of years. So when José Manuel got in touch about coming to his cooking class in Seville, I was ready to put on my apron!
José Manuel is one half of the Taller Andaluz de Cocina cooking school, a small company that has recently started offering cooking classes in Seville. He approached me as a colleague, knowing that Devour Tours had just launched Devour Seville Food Tours. I respected his friendly approach enormously-- although we might be competitors on Tripadvisor, we both see the bigger picture: attracting quality tourism to amazing Seville and offering a fun and educational product to our guests!
So Alejandro, Cyra (our Devour Seville operations manager and fellow food blogger) and I arrived at one of my favorite markets in all of Spain, the Mercado de Triana, for a brief market tour followed by the class.
We met Maria, José Manuel's wife and co-owner of Taller Andaluz de Cocina. She was lovely, and gave our group of around 10 participants a tour of the beautiful Triana market.
Visiting the Mercado de Triana
Whether you have time for a cooking class in Seville or not, you absolutely must check out the Mercado de Triana. Located just over the picturesque bridge that connects Seville's city center to the proud "city" of Triana, the market is a treasure chest of incredible meat, fish, produce and (most importantly) people.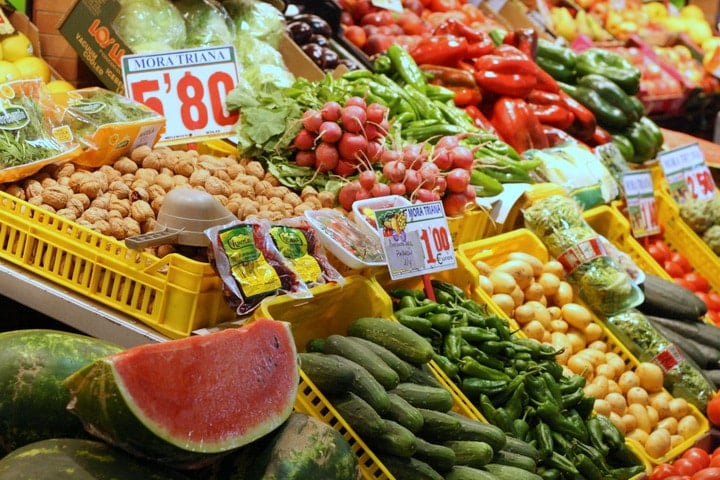 I like to take a seat at one of the market's many cafés and sip a burning hot cup of coffee (they serve coffee practically boiling in Seville-- which helps since it's generally really bad!), and people watch. I think you can see the soul of a city in its local markets, and this place is no exception.
Apart from the market's beauty and bounty, it's also a historically significant place. Underneath the market stalls you can see remains of the Castillo de San Jorge, the very place where the Spanish Inquisition was carried out in Seville since 1481. The building itself goes back much farther, to the time of Arab rule in 1171. And although the current market was remodeled in 2001, it was done with taste, allowing the stalls to keep much of their individual charm (something that many remodeling projects have gotten extremely wrong).
Cooking the Classics with Chef Victor
After the tour with Maria, we took our positions in the kitchen and had a refreshing glass of sangria as we cooked. Chef Victor cooked three local dishes, and we were able to participate in the cooking if we wished. I stuck to photos and videos, but Ale and Cyra did their part!
We started with salmorejo-- and anyone who knows me well knows that it's one of my favorite summer dishes in Spain! Victor used a classic salmorejo recipe, which turned out beautifully.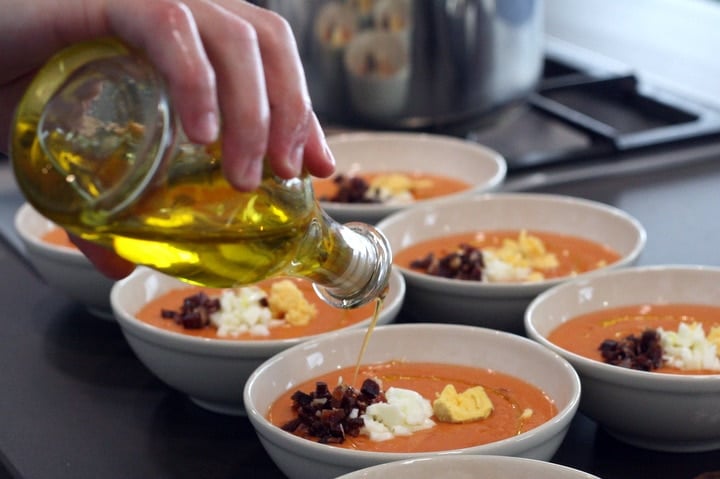 Next up was espinacas con garbanzos, spinach and chickpea stew. This Andalusian dish likely originated with the Moors, and has become one of Seville's signature tapas (it's nearly impossible to find it elsewhere). Victor made the classic version, stewing the spinach for a long time. My recipe adds a bit of a modern twist-- but I love them both!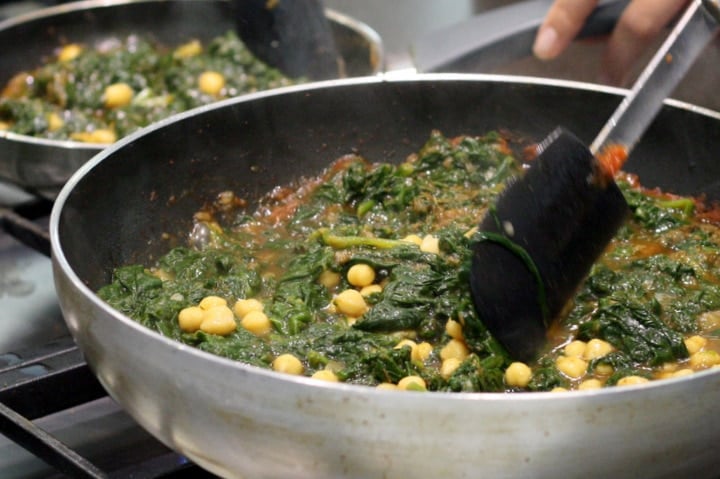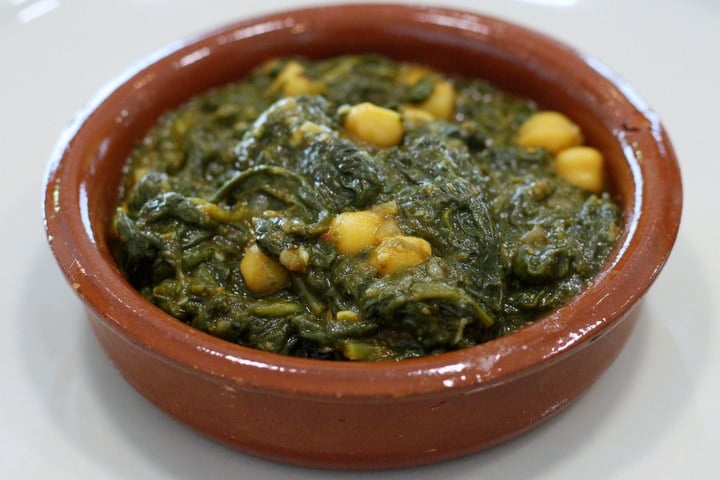 The star of the day for most guests (as expected!) was the paella. Our fellow classmates were surprised to learn that classic paellas don't include seafood (broad beans and snails were the among first paella ingredients) and were also surprised that the rice couldn't be stirred until totally finished. I think many people are used to making risotto, so making a paella seems like you're doing things wrong! Victor's version included chicken, (snails were a bit controversial) and was colored with ñora peppers instead of saffron (which I much prefer to the more common practice of adding bright yellow food coloring).
Dessert-- simple as can be-- was a cava and lemon sorbet smoothie with fresh mint. So refreshing!
The tour and class lasted about four hours and it was wonderful for me to see people's reactions to the food I know so well and love so much. Seeing someone's face the first time they try salmorejo is my favorite-- I still have such strong memories of when I first tried it!
Taking a cooking class made me realize I must definitely make more time for cooking classes when traveling. I miss the structure of a class, and since college (when part of my degree in Hospitality and Tourism Management included professional cooking classes) I have barely taken any. And to think I came to Spain to train as a chef! Oops!
Don't worry-- I already have a class lined up this summer in León. I can't wait!
Any great cooking classes you've taken when traveling?
Book this Seville cooking class here!
More Seville Resources
Recipes