This blog post was originally posted on April 16, 2016 and was updated on June 14, 2017.
Ice cream is a summertime treat and a year-round family favorite, and no trip to Malaga would be complete without trying some. However, being by the beach means that there are a lot of ice cream places, and unfortunately not all of them are good. So since life is too short for bad ice cream, here's the best of the best when it comes to ice cream in Malaga.
The Ultimate Guide to the Best Ice Cream in Malaga
1. Casa Mira
Casa Mira is, hands down, one of the best ice cream places in Malaga. It's been around since 1890, and for five generations, they've sold turrón (a kind of nougat candy) and ice cream in Malaga. The original shop is on Calle Nueva, although there's also a newer location on Calle Larios.
Their traditional ice cream is the perfect treat on a hot day, and as soon as you walk inside you'll feel refreshed by the cool marble floors, white tables and metallic counter before you even take a bite of your helado. This place really is a Malaga institution in terms of ice cream, and if you ask any local where to find good ice cream in Malaga, you can bet that Casa Mira will be at the top of their list.
What to try: The turrón flavored ice cream or the black and white (iced coffee served with ice cream).
Address: Calle Marqués de Larios, 5 & Calle Nueva, 16
2. Freskitto
This ice cream shop was founded in 2005 by Jose Antonio Romero, a Malaga native who worked for years in ice cream shops in both Malaga and around Europe making Italian style ice cream. After learning from his travels, Jose Antonio returned to Malaga ready to open his own business that shares his wonderful take on ice cream with the world. You can find it in the center of town on Calle Granada, just steps from the Plaza de la Merced. Freskitto offers flavors that are unique to Malaga such as Moscatel (sweet wine) with raisins.
What to try: The crema catalana ice cream, which won second place in the Spanish ice cream championships.
Address: Calle Granada, 55
3. Heladería Inma
Many locals will tell you that this place sells the best ice cream in Málaga. This wonderful spot is completely off the beaten path, tucked in the windy backroads between Huelín Beach and San Andrés Beach. Heladería Inma ALWAYS has a line, so squeeze yourself into a little corner of the shop and expect to wait another five to 10 minutes, killing the suspense by picking out your flavors. If you like ice cream with chunks of cookie or Ferrero Rocher mixed in, this is the place for you!
What to try: The fruit sorbets or the Ferrero Rocher ice cream
Address: Calle Moreti, 16
4. La Veneciana
This shop has been around since 1944, and with 48 different flavors, this is definitely one of the most unique ice cream places in Malaga! It's famous for unexpected flavors that you would never expect to see in an ice cream store, such as lentil, beer or boquerones en vinagre (the famous white anchovies that locals love in Malaga). It's located by the El Corte Ingles department store, so it's a short walk out of the historic center, but it's worth seeking out as this is another local institution.
What to try: Not ready to try one of the bold flavors? You can't go wrong with the lemon or pistachio ice cream
Address: Avenida de la Aura, 10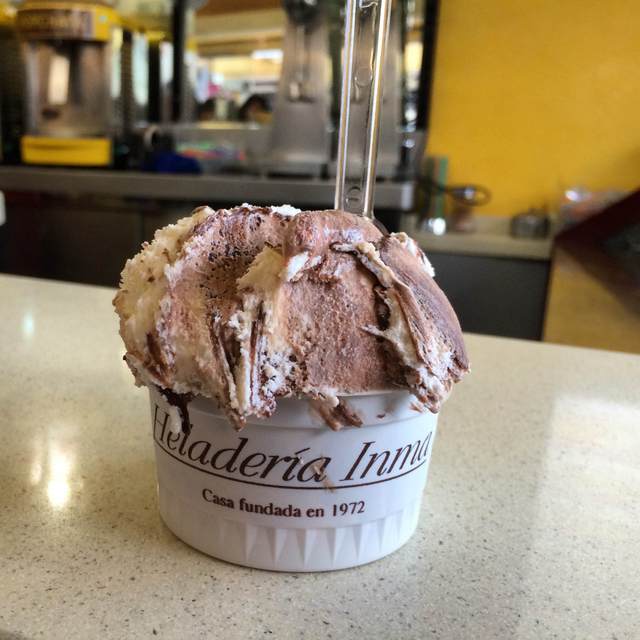 5. Heladeria Jumais
Now that Malaga's subway is open, a whole new area of town has opened up for tourists and locals alike. You can catch the train from the El Perchel stop next to the train and bus station and head to Teatinos, a university neighborhood with great tapas bars. This is where you'll find another one of Malaga's great ice cream offerings, Heladeria Jumais. With a large selection of gelato style ice creams, this ice cream shop has been here since the neighborhood became popular and is a great spot for dessert after having tapas at the nearby restaurants.
What to try: Chocolate or Tiramisu
Address: Calle Eolo, 9
Keep reading: More tips for how to stay cool in Malaga in the summer
Pin me!