Searching for ice-cream with a wow factor? It's worth the trip to Jordi Roca's Rocambolesc.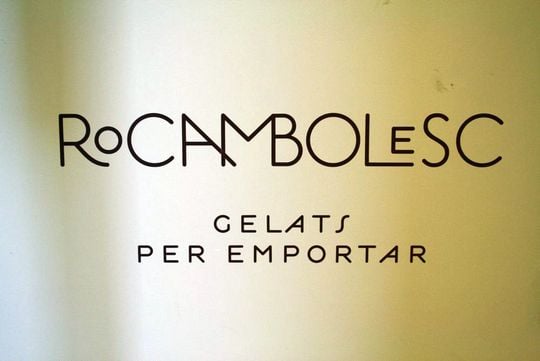 After the TBEX Castle Party I was already a huge fan of the Roca brothers. I mean, as owners of the second best restaurant in the world, it's not like they needed to cater the event. But they did, and they did it well-- after 10 years in the service industry I've never seen such an impressive catered party.
Now a full fledged Roca brother fan, I know I'll be back to Girona one day to eat at their restaurant, El Celler de Can Roca. Unfortunately, with its long waiting list, it wasn't possible to get a reservation during our stay. But we did have a pleasant Roca brother surprise when we realized that Jordi Roca, the youngest of the three brothers, had opened an ice cream parlor along Girona's main street.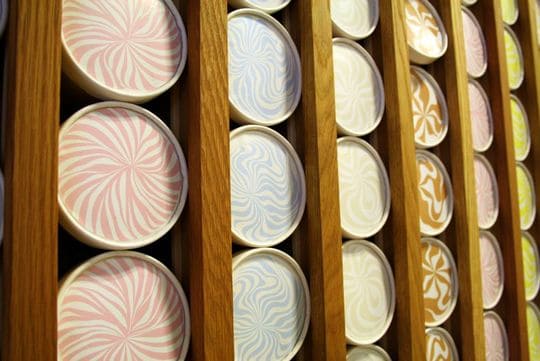 Rocambolesc was opened in April of 2012 and had lines out the door from day one. It is reminiscent of a scene from Willy Wonka and the Chocolate Factory or a Tim Burton movie, pleasing not only to the palette, but to our other senses too. Equipped with a cotton candy machine and soft-serve ice cream machines covered in pressure valves, it is a whimsical ice-cream parlor that both children and adults are sure to appreciate.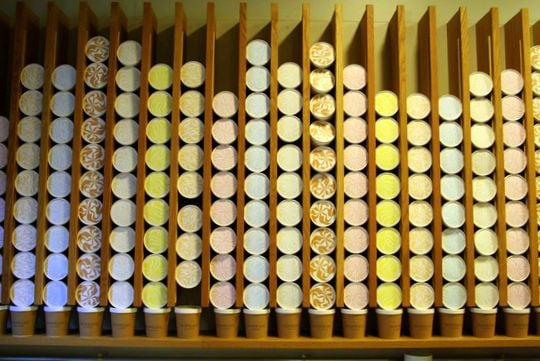 Despite some confusion among TBEX attendees, I'd just like to make clear that despite the name "gelateria" (Catalan for ice cream shop) this is not Italian style gelato. Gelato (as we know it in English) refers to the Italian style ice cream which has less air whipped in (making it denser) and less fat, due to using whole milk instead of cream.
Jordi makes his ice cream from natural ingredients and serves it like soft-serve in the US. It comes out of the machine ready to eat, wait 5 minutes and it will have melted. Offering only six flavors per day, you'd expect it to be easy to choose-- but it's definitely not. With flavors like fresh fig, Tahitian vanilla, baked apple, and tangerine sorbet (to name only a few of Jordi's rotating choices) narrowing it down can be difficult. You can also embellish your pick with tempting toppings such as sugared cocoa beans, pop rocks, chocolate cake, guava jam, and cotton candy. Think of it like a Pinkberry of Smooey-- the frozen yogurt chains that keep popping up-- but elevated to a whole other level.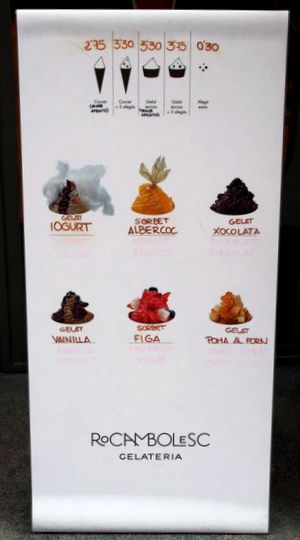 We were only able to sneak away for one Jordi Roca creation while there, but I wish we'd been able to taste the entire Rocambolesc menu. Nonetheless, what we did try was delicious and different, take a look!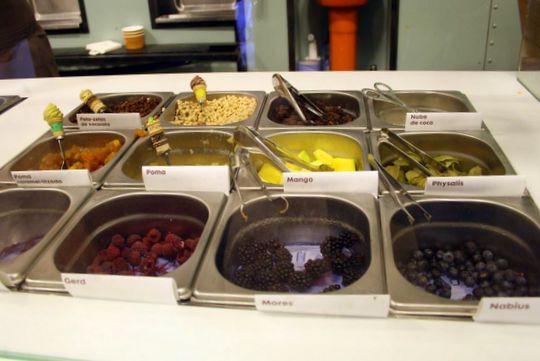 In addition to ice cream, Jordi also sells books and a line of delicious smelling perfumes, all of which you can purchase during your visit.
What do you think? Would you like to try these crazy frozen concoctions at Rocambolesc, or do you tend to stick to the basics?