Valencia in winter takes on a special kind of magic. With temperatures hovering between 10–15 degrees Celsius during the day in December, it's not quite as chilly as most of the rest of Europe. However, with Christmas markets and holiday lights decorating the streets, it's easy to get into the festive spirit. Here are some of the best ways to enjoy Valencia in winter this holiday season.
5 Things to Do in Valencia in Winter
1. Experience the magic of the Christmas markets
Can you really say you spent Christmas in Europe if you didn't visit one of the picturesque holiday markets? Luckily, Valencia in winter is full of market stalls selling beautiful decorations, yummy sweets and more. One such market sets up shop in front of the cathedral, while another takes place in the streets surrounding the city's Central Market.
2. Marvel at the festive decorations
From extravagant Nativity scenes to twinkling holiday lights, Valencia in winter looks like a fairy tale. While wandering between Christmas markets, be sure to take in the beautiful holiday decor that decks the city's halls (well, streets). Take advantage of the not-too-chilly winter weather and enjoy a stroll.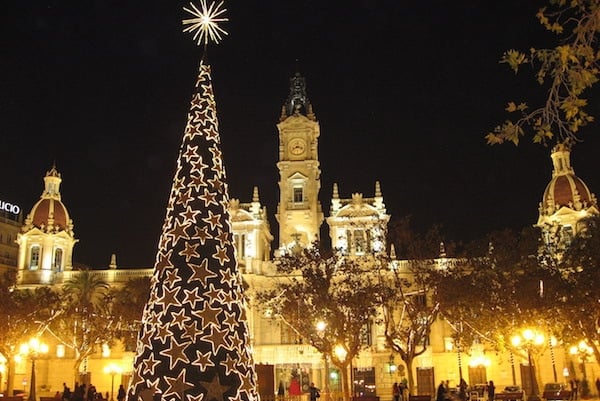 3. Chow down on yummy Christmas treats
Forget about candy canes and Christmas cookies. While we love these treats as much as the next guiri, there's a special place in our hearts (and stomachs!) for Spanish holiday sweets. Buy some traditional turrón (which has Valencian roots) in one of the Christmas markets. If you're still in town around January 6, stop into one of Valencia's best pastry shops to pick up your very own roscón de reyes.
See Also: The best typical desserts from Valencia
4. Go to the fair or the circus
Where else in the world can you go to a fun fair and a circus during the holidays? If you're in Valencia in winter, it's possible! The city hosts an annual Christmas fun fair as well as several special holiday circuses. If you're visiting with kids, it's the perfect way to get them into the holiday spirit, too.
5. Eat your way around town like a local
Winter in Valencia is the perfect time to explore the city's food scene. Since it's low season, the city's streets and bars are packed with locals, and tourists are few and far between, making it the ideal time to get a true feel for the city and its food. Whether you're enjoying tasty tapas paired with rich local wines or eating your way through Europe's most colorful market, you're sure to end your trip full and happy.
See Also: Delicious Experiences in Valencia for Foodies
Pin me!
Photo Credit: Michael Coté