The Atlantic coast of Galicia is home to many vineyards producing exceptional wines, especially of the Albariño variety. Albariño is the grape which is used to make the fruity, floral wine of the same name.
On a similar note, the Rias Baixas (Lower Estuaries) is the location of many beautiful bodegas or wineries. The Rias Baixas have a Denomination of Origin seal, which means that wines which advertise this on their bottles have been made in a more artisanal way and are from a certain area (in this case, the Rias Baixas). It's a great way to distinguish a high-quality product when faced with a range of different options.
One of the great things about being in Santiago de Compostela is that many of these excellent wineries are easily within reach! When you feel the need to explore a bit more of the lush Galician countryside, head out on one of these vineyard tours near Santiago de Compostela for a breath of fresh air!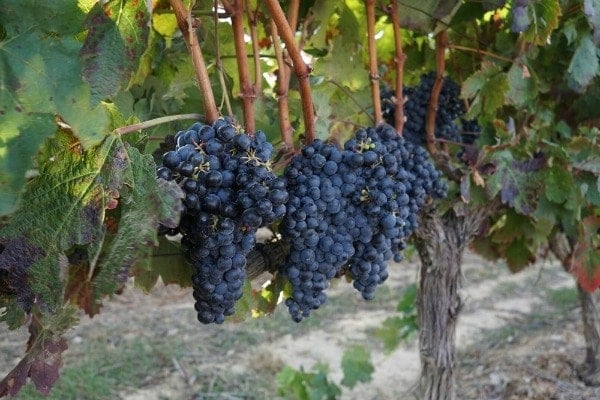 Top 5 Vineyard Tours Near Santiago de Compostela
1. Martín Codáx
A stunning winery situated on top of a hill with views out to the sea is the perfect place to produce wine! Take a tour of Martín Codáx and enjoy a tasting of their wines, along with a bonus sensory tasting! You can choose from their huge selection of tours, including visits to the winery with tastings, visits to the vineyard and winery also with tastings, and an opportunity to actually harvest the grapes when in season! There are so many other fun tour ideas at this gorgeous bodega—no wonder they offer some of the top vineyard tours near Santiago de Compostela.
Address: Burgans 91, Vilarino, Cambados, Spain
2. Marques de Vizhoja
Founded almost 50 years ago in the Galician countryside, two brothers (descendants of the original owner) keep Marqués de Vizhoja going strong today. The stunning whites from this family-run bodega can be enjoyed all over the world. If you want to see the winery in action and visit the beautiful vineyards, take a trip to the province of Pontevedra, a mere 90-minute drive from Santiago de Compostela and check this place out. Their beliefs in traditional winemaking and using manual processes instead of industrial machinery result in truly spectacular wines.
Address: Finca La Moreira, Arbo, Pontevedra
3. Palacio de Fefiñanes
Almost a century old, Palacio de Fefiñanes produces great Galician white wines from the local Albariño grape. The winery is located in the main square of Cambados, the capital of Galician Albariño wine, only 45 minutes from Santiago. The palace is a historic and interesting building in itself, and when paired with a winery visit and tasting, it's a fantastic way to spend an afternoon in Galicia!
Address: Praza Fefinans, Cambados, Spain
4. Paco & Lola
One of the best vineyard tours near Santiago de Compostela takes place at Paco & Lola, an exciting, well-known winery that's only 12 years old! It's already a famous D.O. Rias Baixas producer for its stand-out polka-dot labeling. A true wine cooperative with over 400 partners who produce the grapes that make the delicious final product, Paco & Lola is the biggest bodega of its kind in the D.O. Rias Baixas area. The winery is also part of the Life + Atlantic Vineyards Project which aims to reduce the use of chemicals in the wine-making process. With various options for visits, it's a great place to learn more about the famous Galician Albariño wine!
Address: Rua Valdamor 18, Meano, Spain
5. Mar de Frades
This amazing, modern winery set atop a hill offers great views and great wine! A short 45-minute drive from Santiago, this winery produces the fantastic Albariño white wine, but don't miss the lovely sparkling wine and liqueurs that are also on offer, either. On your tour, you'll hear all about the Mar de Frades wines make their trip from vineyard to bottle. You can even see the wines aging in an atmospheric cave-like room! This is a must-see on any list of vineyard tours near Santiago de Compostela.
Address: Finca Valiñas, Meis, Pontevedra
Staying in town? Don't miss the chance to have drinks at one of these fabulous wine bars in Santiago de Compostela.
Pin me!