Wondering what to eat in Malaga? Today's advice comes from fellow blogger (and food lover) Pedro, a Malagueño himself, currently living in New York City. Here's what he misses from home!
And if you are looking for a way to taste your way through Malaga, why not join the team at Devour Malaga Food Tours? The Tastes, Tapas & Traditions of Malaga Tour is an incredible introduction to Malaga's delicious food and wine!
Now-- here's Pedro!
Since moving to New York, I have missed Malaga for many reasons: my family, my friends, the nice weather, and the beach. However, if there is one thing that always comes to mind when I think of Malaga, it is the food. Maybe because it reminds me of when I was little, of the food my mother makes, or just because in Malaga you can eat very well. Every time I talk about the food from Malaga I remember all this and I can make anyone hungry telling them about the dishes from my hometown.
In fact, I've convinced a lot of New Yorkers that their next trip to Spain should include Malaga to try out the delicious food!
Espetos (sardine skewers)
Our espetos are definitely one of my favorite dishes. Espetos (literally translated as skewers) are made up of a few sardines that are skewered on a wooden stick and cooked over a fire pit in a small boat filled with sand. This method of cooking the sardines gives them a unique flavor, and the best place to eat them is obviously at one of the chiringuitos (beachside restaurants specializing in freshly caught fish). These restaurants are in the sand, right on the beach, and remind me of the late afternoons and evenings with my grandmother (who was also a fan of espetos) as we enjoyed our food with the sound of the water in the background.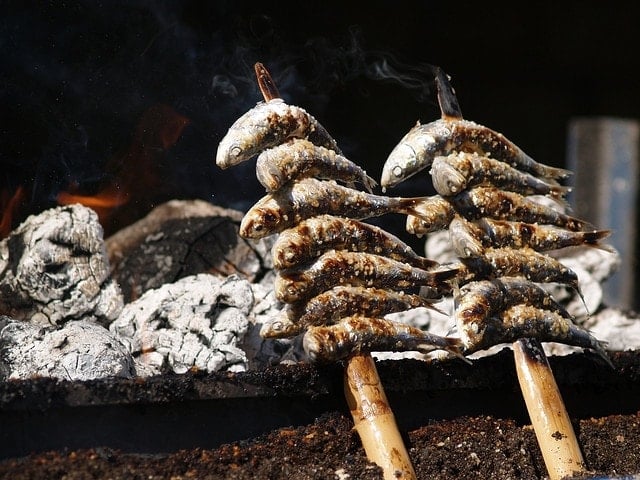 Pescaíto frito (fried fish)
I have heard a lot of people say that the typical pescaíto frito (fried fish) is not just from Malaga, and they are right. I have tried the fried fish from almost everywhere in Spain, and I have to say that nowhere else makes it the same way as they do in Malaga. It isn't enough to just have good oil and fresh fish (although that is a big step in the right direction). You also have to know how to fry it for just the right amount of time, and with the oil at just the right temperature. Every time I eat fish in New York, I end up thinking about the pescaítos fritos from home.
Try Malaga's best fried boquerones on a Malaga Food Tour!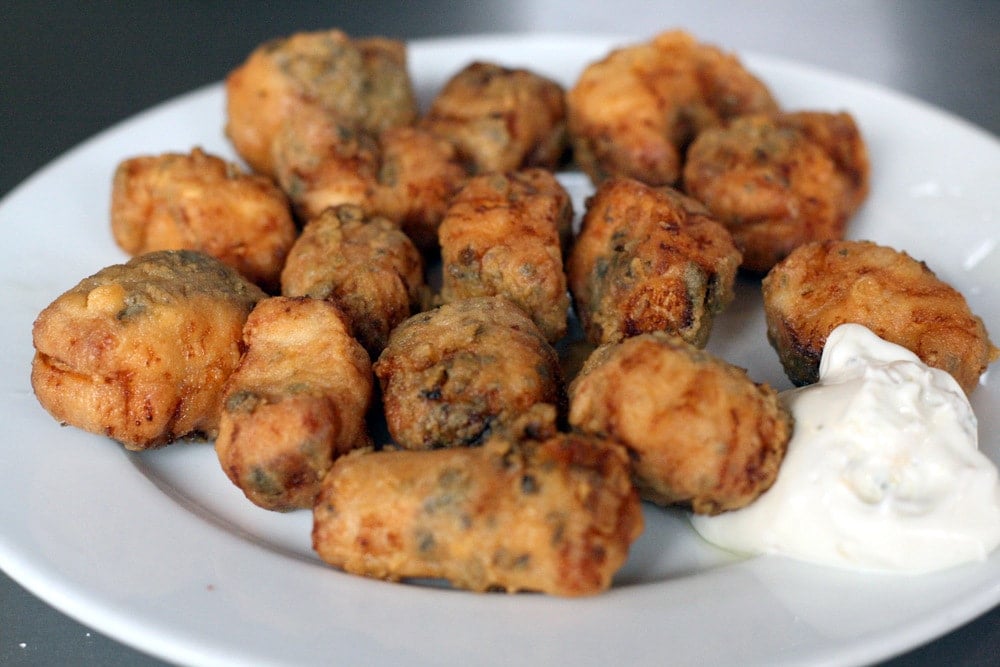 Torrijas (French toast) with Malaga wine
When Holy Week arrives in Malaga, apart from the folkloric traditions and the happiness in the air, it is also time for torrijas (a special kind of french toast). Torrijas are a simple dish (but not easy to make well) and they are delicious! My mother makes them every year and my father and I anxiously await the moment when we can sit down and enjoy them. Sliced bread, milk, sugar, honey and a little touch of Malaga wine put the cherry on this delicacy. There are many variations of this dish, but that is how my mother always made them.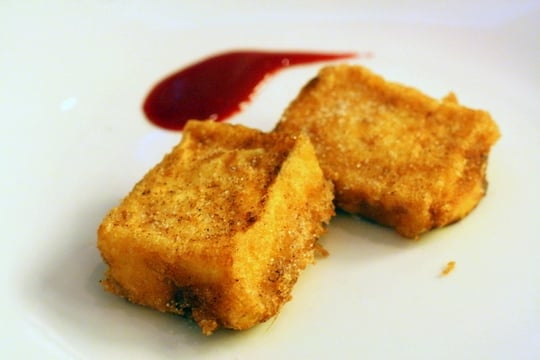 Papas a lo pobre con huevo (home fried potatoes with egg)
This is a dish eaten all over Andalusia, and also in other areas. When there wasn't much money to eat, something that was always around were potatoes, oil, and green peppers. Whoever had the idea to combine them like this deserves my respect for sure! And I think, despite the simplicity, it is one of my favorite dishes. In almost any restaurant in Malaga, and definitely in the roadside stops in the mountains, you can find papas a lo pobre. If the potatoes are soft and fried well, you can add an egg, and you have your whole meal along with a good piece of bread.
Porra (chilled tomato soup) from Antequera
This tomato based dish is always a point of controversy in Andalusia because it is very similar to salmorejo (a thicker version of gazpacho) typical of Córdoba. I am from Malaga, but part of my family comes from Córdoba, so you can imagine the fun debates we've had over this dish. Although they are similar, they are not the same. The porra has a thicker texture, is made with more bread and is paired with tuna. In any case, I'm a fan of both dishes and in any bar that you stop into, you will likely find it on the menu.
Those are my favorite dishes, the ones that, even as I wrote this article made me think about catching the next plane to Malaga to eat them all tomorrow! There are other delicious dishes that you can try if you visit Malaga including the:
Ensalada malagueña (a kind of cold potato salad with bacalao and oranges)
Boquerones en vinagre (anchovies marinated in vinegar)
Cazuela de fideos (a noodle dish)
Ajoblanco (a cold almond and garlic soup)
Boquerones Vitorianos (a smaller fried version of the anchovy)
Gachas (a dish made with fried bread)
Garbanzo stew
But overall, it is important to enjoy the ambiance, the weather and the happiness that is always present in the city!
About the Author: My name is Pedro and I'm from Malaga. My wife and I write for the travel blog El Boqueron Viajero, a bilingual travel blog where we share our experiences from around the world, from a personal and emotional point of view. I'm also travel expert writer for Homeaway. I have previously lived in Malaga, Madrid and Barcelona and, for the past year, I have been living in New York. As well as the travel blog, I have my own consultancy offering SEO in New York.
Photo credits: Espetos by Daniel Sancho
Tastes, Tapas & Traditions of Malaga Food Tour: This wonderful food tour and tapas tour in Malaga includes 5+ local food stops and offers over 12 tastings. You'll taste Malaga's best tapas, enjoy a local wine tasting, and see Malaga's top sights between bites! For 3+ hours of food and fun, join us!