Ham Croquettes: The Ultimate Spanish Recipe to Impress Your Friends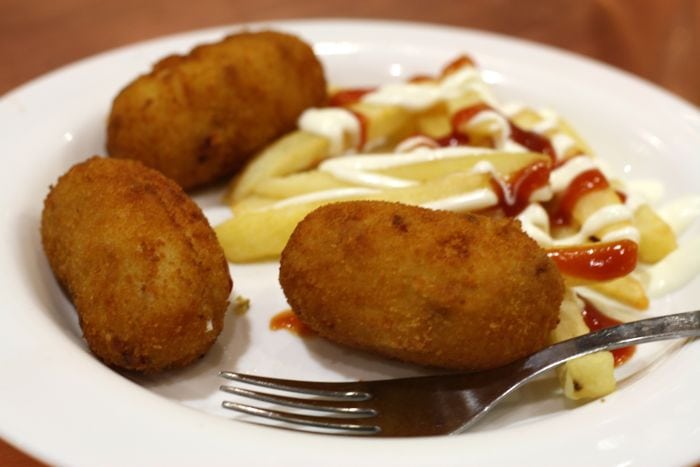 Everyone likes croquettes even if they don't know it quite yet. Wikipedia defines them as small fried food rolls and who in their right mind could find something wrong with that? There is a croquette for everyone, vegetarians included, and Spanish people love to experiment with different ingredients. But true to every Spaniard's heart are the classic Croquetas de Jamón Serrano (Serrano Ham Croquettes). Their creamy filling is bursting with flavor and leaves many wondering whether they're eating ham flavored mashed potatoes or some exotic melty cheese and ham concoction. The answer is neither. The truth is much more simple, although a little less appetizing perhaps. Being a traditional poor man's food Ham Croquettes are basically a damn good bechamel sauce enriched with leftover scraps of serrano ham and deep fried to crispy perfection.
Did you really want to know that?
Well now that you do, there is no excuse not to make these ridiculously easy and extremely tasty tidbits of Spanish goodness. The following is my favorite version of the recipe and it will not disappoint! Vegetarians, I'll take care of you soon– I have lots of amazing vegetarian croquette recipes too!
Croquetas de Jamón Serrano
Ingredients:
~ 60 grams/4 T unsalted butter
~ 60 grams/1/4 C olive oil
A bit less than 1 C of flour (120 grams)
One medium onion very finely diced
1 Liter (~1/4 gallon) whole milk at room temperature
A pinch of nutmeg
1 packet (250 grams) of jamón Serrano diced into small pieces
Flour for breading
2 beaten eggs
Bread crumbs
Instructions:
Melt the butter and warm the oil in a medium size pan over a medium high heat.
Add the onion and sauté for a few minutes until it just starts to brown.
Add a pinch of salt and the nutmeg (not too much because Serrano ham is already quite salty).
Add the diced ham and sauté for 30 seconds more.
Add the flour and stir continually, until the flour turns a light brown color.
You must not stop stirring or the flour will burn!
When the flour changes color add the milk little by little, always stirring, until you incorporate the entire liter.
It should take about 20 minutes to add it all. Turn off the heat and let the dough cool a bit.
Butter the sides of a large bowl or plastic wrap and wrap the croquette dough. Refrigerate a minimum of 4 hours but preferably overnight. To make the croquettes shape them into little logs (or use a pastry sleeve if you have one). Next, while heating a pan full of olive oil on the stove, pass the croquettes through the breading process. First, cover them in flour, then in egg, and, finally, in the breadcrumbs.
Fry the ham croquettes in the hot oil and let cool a few minutes before enjoying!
Easy, quick, cheap, and impressive… did you try them yet? What is your favorite croquette?
Are there any you would like the recipe for here?
Professional eater, writer, cook, food tour operator. Fascinated by food and its history. Loves: a gooey slice of tortilla, fish markets, homemade cocktails, train travel. Hates: Overhyped restaurants, wine snobs, long menus, mediocrity. Check out my food tours at www.devourtours.com.
Latest posts by Lauren Aloise (see all)