This blog post was originally posted on August 19th, 2015 and was updated on March 9th, 2017
Your visit to Malaga wouldn't be complete without a side trip to one of the beautiful white villages outside of the city.
While we love the capital city of Malaga, its historic center, delicious food, walks along the boardwalk as well as the many world class museum,  tucked up in the hills around the province are the famous 'pueblos blancos', white villages of the region. They are bursting with charm, flowers, and true Andalusian flavor so we wanted to share with you our top five white villages in Malaga.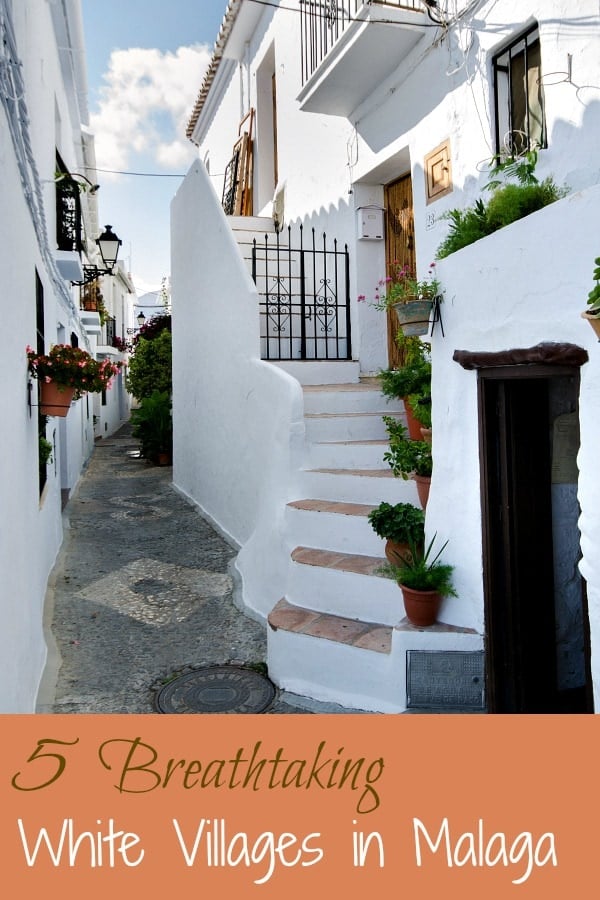 Photo Credit: Drodriva
Mijas
Mijas, located to the west of the city, is a gorgeous little white village that overlooks the sea from high above in the mountains. The town's claim to fame are the "burro taxis" which you will see as you come into the town.
Aside from being carted around town by a donkey, don't miss the balcony lookout where you get a spectacular view of the Mediterranean at sunset. We also recommend wandering around the streets with their white washed homes and narrow passageways, and just taking in the charm which has led us to say this is one of our favorite white villages in Malaga.
Foodie Tips: If you are a chocolate lover, stop by the Mayan Monkey Mijas Chocolate Factory to make your own chocolate bar. If you are looking to try some traditional foods, look for Ajo Blanco, Gazpachuelo, or fresh fish (as well as tapas, of course)!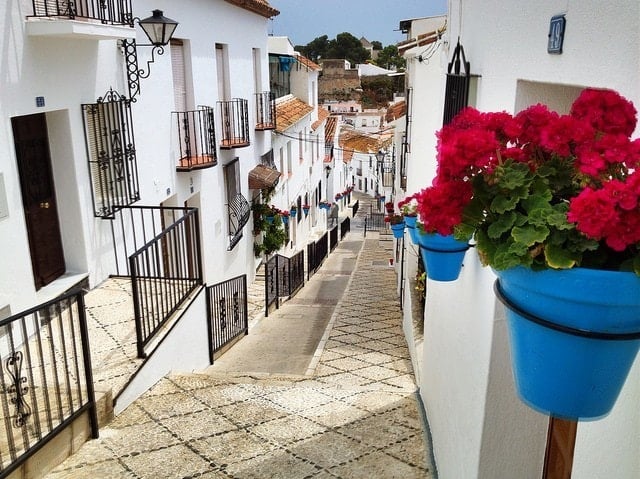 Casares
Casares is another of the white villages in Malaga that's of Moorish origin. It has been named an Historical-Artistic Site and, as if that weren't enough, it is home to the ruins of a Medieval castle – we always love a white town with a castle!
As is to be expected in this town tucked up into the mountains, the streets are steep and narrow. It has been named a "hanging village" for this reason. Casares was once upon a time home to Blas Infante (Writer, Politician and Father of Andalusian Nationalism) and you can visit his home, as well as a cultural center that bears his name.
Foodie Tips: The typical dishes from Casares are made with baby goat ("cabrito.") Try the morcilla de cabrito with onions or as part of a stew. Another option is the gazpacho casareño and the artisanal goat cheese from the region of the Sierra Crestellina.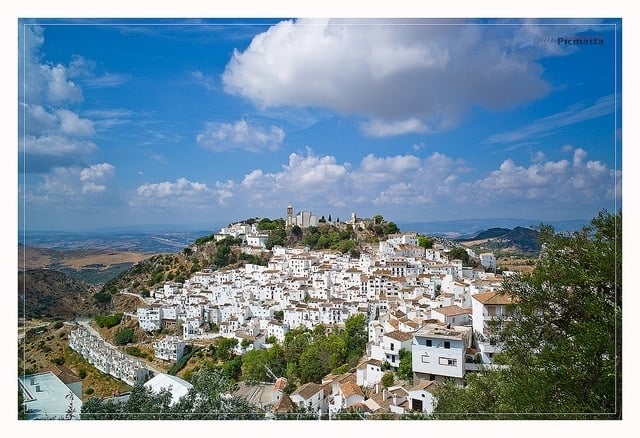 Ronda
You have probably seen pictures of Ronda with its impressive gorge and arched bridge. This beautiful town is about 100km from Malaga capital and it is the third most visited destination in Andalucia. Ronda is also known among the white villages of Malaga as one of the birthplaces for bull fighting and you can visit the small bull ring in town.
While you are there, make sure to check out the Palace of Mondragón. The palace was constructed in 1314 by King Abomelik and was later used as one of the homes for the Catholic Monarchs, Isabel and Ferdinand. You will also find the museum of the history of Ronda and some beautiful gardens.
Foodie Tips: You've probably heard all about the sweet wines from Malaga, however in the area around Ronda, there are some gorgeous red, white and rosé wines being made. You can visit a bodega, or just make sure to sample some local wines with your meal.
As for food, Ronda's location up in the mountains makes it perfect for growing vegetables and legumes. Try the broad beans with tomato, garlic and ham. Ronda is also a good place to go hunting, so another good option is the rabbit or partridge. For dessert try the pestiños, yemas del Tajo or the rosquillas de Ronda.
Frigiliana
Frigiliana is one of the most beautiful white villages in Malaga. The first time we went we were impressed with the winding road as we got farther away from the coast. The town is full of steep and narrow cobblestone streets so we suggest you explore on foot, as there are lots of little bars and shops hidden in this maze of streets.
Foodie Tips: The famous cane syrup (miel de caña) is produced right here in Frigiliana. It's delicious drizzled over fried eggplant slices. Other delicious dishes to try include migas (delicious bread crumbs adorned with chorizo, fried green peppers, and sometimes even grapes or oranges), or Ajo Blanco (a cold garlic and almond soup).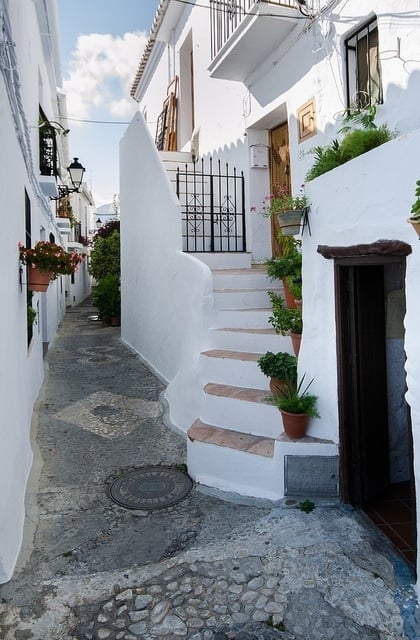 Comares
Comares is a small white village found in the mountains of the Axarquia. The town, of Moorish origin, is often called the "balcony of the Costa del Sol with it's gorgeous views. It's full of narrow streets, white washed homes and potted geraniums making it a perfect place to walk around and enjoy the Andalusian small town beauty.
Make sure to look at the remains of the fortress, the underground reservoir that dates back to the 13th century and the Monument to the "fiestero," since Comares is one of the places famous for verdiales (a typical folk music from Malaga).
Foodie Tips: Comares is known for their olive oils, wines and almonds, so those are all great foods to taste test. If you are looking for a meal, make sure to try the gazpachuelo or the sopa de puchero (a kind of home made soup).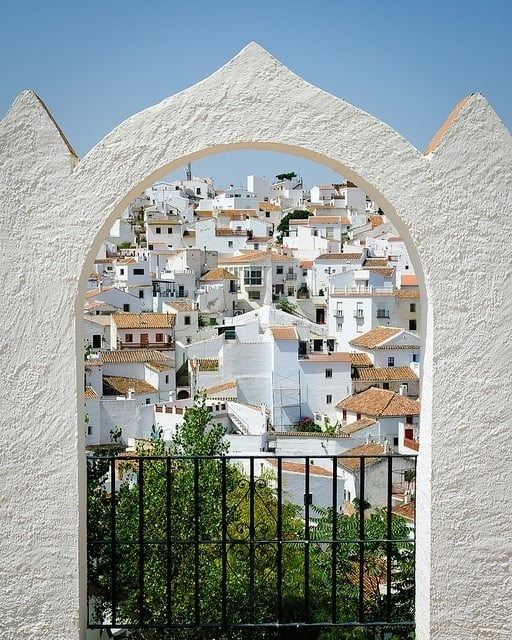 We hope you have time to visit one (or several) of these beautiful white villages in Malaga during your trip! We're sure you will fall in love with the towns, and their delicious gastronomy!
Before you leave the city and go off exploring, make sure you join us on a food tour to learn all about Malaga's fabulous gastronomy!
Latest posts by DevourTour (see all)