If you've spent any significant amount of time in Spanish tapas bars, you've probably experienced the joy of patatas bravas. This classic, cheap tapa is a simple combination of fried potatoes and salsa brava: a bright red, slightly spicy condiment that elevates it to the next level.
Learn how to make it at home with this Spanish bravas sauce recipe!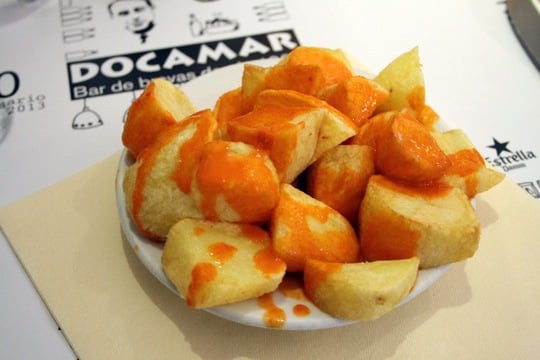 What is bravas sauce made of?
Like many classic Spanish dishes, an authentic bravas sauce recipe is based on just a few essential ingredients. Olive oil, seasonings, flour, and broth are combined to achieve the right flavor and consistency. Some modern recipes suggest tomatoes or tomato paste, but the truly traditional bravas sauce gets its color—and its spiciness—from a different key ingredient…
What makes bravas sauce spicy?
The not-so-secret ingredient in bravas sauce is pimentón, or smoked paprika. This seasoning is featured in a wide variety of Spanish dishes, from pulpo a la gallega to chorizo.
There are two main varieties of Spanish paprika: pimentón dulce (sweet) and pimentón picante (hot). For this bravas sauce recipe, you'll want a combination of both, if possible. The amount of pimentón picante you use can be adjusted to taste, although most bravas sauce is relatively mild.
See also: A Short History of Spanish Paprika
If you can't find pimentón picante where you are, you can also use a combination of pimentón dulce and cayenne pepper. If there's no pimentón available at all, use regular paprika with cayenne or chili powder. Even if your local supermarket doesn't stock the real thing, however, you're likely to find it at a specialty food or spice shop.
What's the history of bravas sauce?
It's widely accepted that patatas bravas originated in Madrid, and they continue to enjoy great popularity both within and beyond the Spanish capital. Bravas sauce, by extension, was almost certainly born in Madrid as well; the sauce and the dish go hand in hand.
See also: An Easy Homemade Patatas Bravas Recipe
In fact, you'll rarely find bravas sauce drizzled over any other snack or entrée. You don't spread it on sandwiches or add it into recipes. Or rather, traditional Spanish chefs don't—what you do in your own kitchen is up to you. If you want to slather bravas sauce over anything and everything, I support that.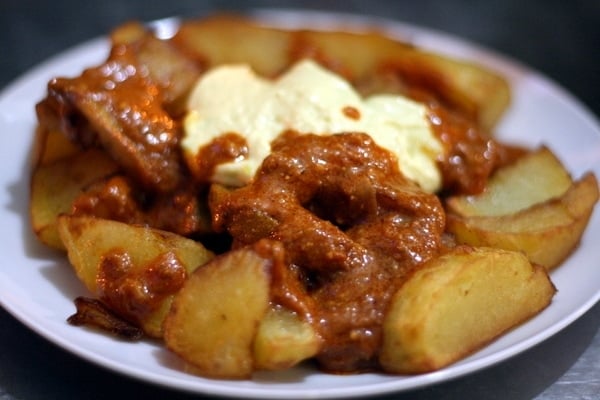 Anyway, it's said that patatas bravas and their signature sauce were created at either Casa Pellico or La Casona, two Madrid bars that have since closed down. Others claim that their origins lie on Calle Álvarez del Gato, where a modern bar called Las Bravas proudly advertises its legendary bravas sauce recipe.
Regardless of the true birthplace, Madrileños agree that this dish is one of the most iconic symbols of the city's culinary identity.
Try all of Madrid's local specialties on a Madrid food tour!
The best bravas sauce recipe
Try this quick and easy bravas sauce recipe to make your own patatas bravas. They're perfect as an appetizer or party snack, or the main attraction of a homemade tapas feast!

Bravas Sauce Recipe
This sauce is an essential element of Spanish patatas bravas. Adjust it to your taste by varying the level of spiciness!
Ingredients
⅓ cup of olive oil
1 tsp of pimentón picante (hot smoked paprika)
2 tsp of pimentón dulce (sweet smoked paprika)
1 Tbs flour
1 cup of chicken broth
Salt to taste
Instructions
Heat the olive oil in a small saucepan over medium heat.
Remove the pan from the burner before it starts to smoke.
Add the pimentón dulce and pimentón picante, and stir until they form a paste.
Stir in the flour until combined.
Add the broth little by little, stirring constantly, until the sauce reaches the desired consistency.
Season with salt to taste.
Pour over some fried potatoes and enjoy!
Notes
The finished product should be bright orange and neither thin nor creamy. You can adjust the level of spiciness by increasing the ratio of pimentón picante, or by adding a bit of hot sauce!
More Spanish sauce recipes:
What's your favorite Spanish sauce? What did you think of this bravas sauce recipe?