Today David shares a delicious and simple pintxo that I've made for countless gatherings at home: bacon wrapped dates stuffed with cheese. Always a hit with guests, I encourage you to give these a try!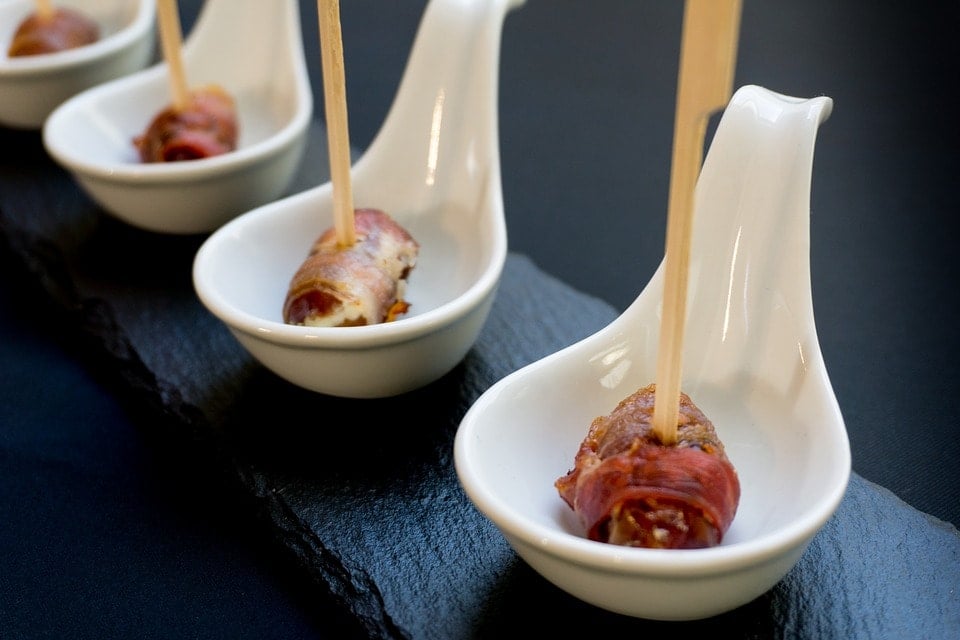 Do you have a go-to appetizer? I sure do. It's a recipe I always use whenever I have people coming over for dinner; no matter how many guests there might be.
It's a delicious recipe that never fails to impress, but even better: it's so easy to make! What is this magic dish, you ask? It's my recipe for stuffed dates wrapped in bacon (or serrano ham). And if that sentence alone isn't enough to get your mouth watering, then I don't know what will.
I first ate these beautiful sweet and salty bites on a trip to the Basque Country in the north of Spain. At an old-school tavern in Bilbao, where the wine ran freely and the pintxos were delicious, I decided to order the bacon wrapped dates.
In the País Vasco, every tapas bar has a counter covered with these wonderful morsels, the Basque version of tapas. Generally, pintxos are slices of crusty toasted baguette topped with something savory, but they can also be small plates or skewers, too.
And often the best are the most simple, like my favorite dates and bacon, a magnificent and creative work of food art.
How to Make this Pintxo
To make my Basque-inspired bacon wrapped dates recipe, all you'll need are three ingredients: dates, bacon, and cheese. That's it!
The cheese you choose is up to you, but I always go for goat cheese. Alternatively, you can use Manchego or even a blue cheese for a snack with bite. But I find that goat cheese gives you the gooeyness we all crave, as well as a bit of acidity to cut through the fattiness of the bacon. And when it comes to the bacon, the thinner the better. That will help you get the crispiness you want when they come out of the oven.
You can also optionally add a Spanish Marcona almond inside (it adds a delicious crunch!).
Tip: You could also use thinly sliced jamón serrano or prosciutto!
Speaking of the oven, make sure to use a baking dish with a raised rim (and one you can clean easily). The bacon is going to give off a bit of grease as it bakes, so be prepared for a bit of leftover mess.
My recipe makes 12 pintxos, but you can easily change the quantities to make as many (or as few) as you need for your guests (or just for you). Alternatively, why not combine them with some of my other authentic Basque pintxos recipes for a night of Spanish food or a grazing plate of appetizers?!
Basque Bacon Wrapped Dates Recipe
Basque Bacon Wrapped Dates Recipe
This bacon wrapped dates recipe is my go-to appetizer for dinner parties - of any size! You just need three ingredients, and 20 minutes, to make this delicious dish.
Ingredients
6

strips of thinly sliced bacon

you can substitute serrano ham or prosciutto

12

large dates

3

ounces

of goat cheese

12

toothpicks

12

Marcona almonds

(optional)
Instructions
Preheat your oven to 350°F (175°C).

To prepare the dates, use a sharp knife to slice lengthways into each date from the edge to the pit. Carefully remove the pit, and replace it with a small amount of goat cheese (and the almond if using). Press the edges of the dates together to seal.

Cut the strips of bacon in half, and wrap each date in one piece of bacon. Pierce the bacon, dates, and cheese all together with a toothpick so that the cheese is sealed inside.

Arrange the dates evenly across a baking dish with raised lips, leaving space between each date. Bake for about 15 minutes, turning halfway through, until the bacon is brown and crispy.
Did You Make This Recipe?
Tag @spanishsabores on Instagram and share your results!
What's your go-to appetizer for guests? Let me know in the comments below, and have fun with this recipe!
Pin me!