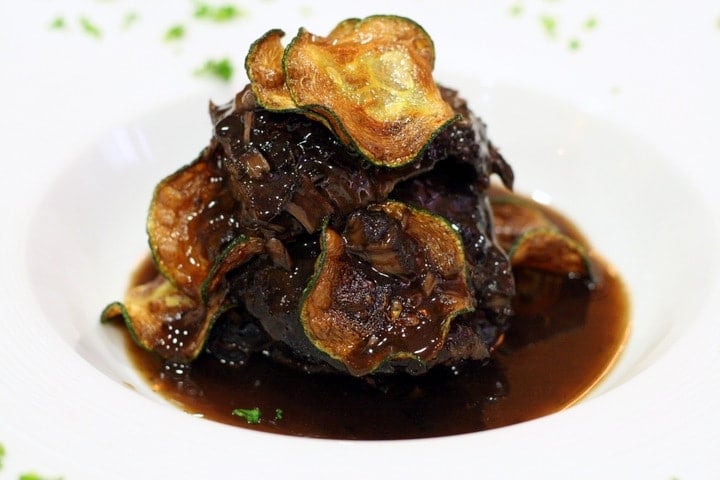 The sizzling temperatures of summer have finally lifted from the Spanish peninsula, taking my favorite cold soups and light salads with them. As the chilly winds of fall start sweeping across the country, Spanish stoves begin to simmer with the robust smells of warming stews and sweet jams.
While I'm sad to see the disappearance of cool tomato gazpacho (and my summer vacation!), the hearty flavors of fall make the return to work and the chilly weather worth it.  Here are the seven fall foods in Spain that I most look forward to each year!
1. Rabo de Toro (Bull Tail Stew)
There are few foods that make me more excited about cold weather in Spain than rabo de toro. The meaty medallions of succulent meat surrounding a bull's tail are stewed for hours on end with red wine and black pepper until the tough meat literally falls away from the fatty tail.
A large glass of Spanish tempranillo and a racíon of stewed Spanish bull tail and I am 100% ready to face those chilling fall winds!
Try the recipe: Spanish Bull Tail Stew (Rabo de Toro)
2. Mariscos (Shellfish)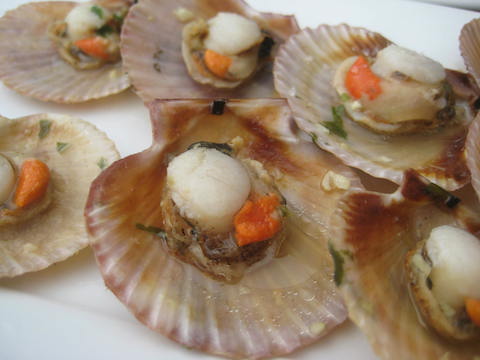 Seafood is best in months that end in "r." This saying rings just as true in Spain as it does back home in the U.S. Spain's spectacular mussels, scallops, cockles, red prawns, lobster and octopus are all at their best in September, October and November.
Try our recipe: Alemjas a la Marinera (Spanish Style Clams) 
3. Judias Verdes (Green Beans)
I always know fall is on the way when my freezer starts to fill up with green beans. The gardens of Spain's northern villages are bursting with bright green beans right now. The long, flat pods are abundant in regions like León and Galicia, where you'll find them popping up on menus and at family Sunday lunches starting in early September.
One of the most popular (and most delicious!) ways to eat these hearty beans is boiled in a richly flavorful broth or caldo with fresh-from-the-garden potatoes. This soul-warming dish is often spiced with smokey Spanish paprika and plenty of garlic.
4. Paella Valenciana (Valencian Paella)
What better way to celebrate the Day of the Community of Valencia than with the region's most famous dish, paella? Every October 9th the eastern Spanish province of Valencia celebrates its independence from Moorish rule in the year 1238 with parades, parties and plenty of food.
Despite common beliefs that paella is a seafood rice dish, Valencians know that a true paella is made with snails and broad beans (later versions went on to include rabbit and chicken), and not seafood.
Valencia Day falls on the same day as the patron saint of lovers, Saint Dionisio. Per tradition, Valencian men wrap delicate marzipan cookies in silk scarfs, a bundle known as a mocaorá, and give them to the special women in their lives. Romantic, huh?
Here are some top spots to eat paella in Madrid and in Barcelona.
5. Castañas Asadas (Roasted Chestnuts)
Being from the hot deserts of Arizona, I'd never tasted those famous "chestnuts roasted on an open fire" until I moved to Spain. Now I can't get enough of them. There are few more marvelous ways to welcome the colder months than with a paper cone filled with fresh-off-the-fire chestnuts.
Sidewalk stands selling this abundant nut (whose season begins with the start of fall) fill Spain's streets and plazas with the intoxicating smell of autumn.
Between November 1st and November 11th, many northern villages throw a chestnut party to celebrate the nut that was once a staple of the Spanish diet. While this chestnut celebration goes by many names (Magosto in Galicia, Castanyada in Catalonia and Aragon), the idea is similar: a big fire, a giant pile of chestnuts and plenty of wine and hot chocolate.
6. Huesos de santos (Saints' Bones)
While American-style Halloween candy is becoming increasingly popular in Spain, the industrialized treats take the back burner to Spain's traditional All Saints' Day treats. During the last two weeks or so of October the display cases of Madrid's pastry shops fill with neat piles of "Saint's Bones" to celebrate the November 1st All Saints Day holiday.
These sugary treats are made from an almond marzipan paste which is formed into a hollow roll representing a bone. The bone is then filled with super sweet "marrow" made of egg yolk and sugar. In modern days pastry chefs have deviated from the traditional recipe, adding chocolate, jam and yogurt flavors into the mix.
In Catalonia, Aragon, Valencia and the Balearic Islands, the holiday is celebrated with small almond cookies called panellets. The traditional panellet is coated with egg yolk and sprinkled with pine nuts. Nowadays you can find various flavors of panellets including chocolate, coffee and, pistachios or coconut.
7. Membrillo (Quince Paste)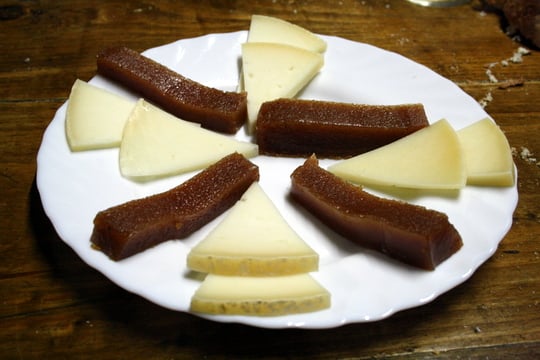 While you can find pale pinkish-yellow imitations of the goodness that is Spanish membrillo in grocery stores year round, you have to wait until the fall to get the good stuff. The quince trees in Spain droop with the bright yellow fruits from September through about February.
While quince is too rock hard (and bitter) to eat raw, when stewed with sugar it forms into a sweet, tangy sliceable jam. The Spanish spread this tasty treat on cheese and/or bread as a scrumptious snack or dessert.
Looking for some stellar spots to try these Fall foods? Devour Spain's food tours in Madrid, Barcelona, Seville and Malaga do an awesome job making sure each tour features the best of the season in each region!
Which foods do you most look forward to each fall?
Photo credits: Dario Alvarez (huesos de santo)