Don't just buy the same exact t-shirt or magnet millions of other people have! Valencia is a beautiful, unique city that deserves to be remembered in style. While it's easy to pop into one of the city's many souvenir shops, don't fall into the tourist trap. Consider a unique, locally made souvenir to remember your trip. Not only will you get something truly authentic, but you'll support a local small business or artist as well. Need help narrowing it down? These beautiful souvenirs from Valencia serve as great personal memories and unique gifts as well.
5 Perfect Souvenirs from Valencia
1. Artisanal ceramics and tiles
Give your home a uniquely Valencian touch! Valencia's famous ceramics have been a beloved artistic tradition for centuries. What better way to keep the Spanish spirit alive long after your return home than by serving olives and other tasty tapas in a beautiful ceramic dish from Valencia?
Similarly, socarrat tiles also make unique souvenirs from Valencia. These hand-painted clay tiles have adorned Valencian buildings since medieval times and would add a beautiful touch to any home.
Many ceramics shops are located in Plaza Redonda and the surrounding streets. In addition, Socarrat Artesanía (Carrer de Guillem Sorolla, 26) is one of the best places in town to buy authentic socarrats.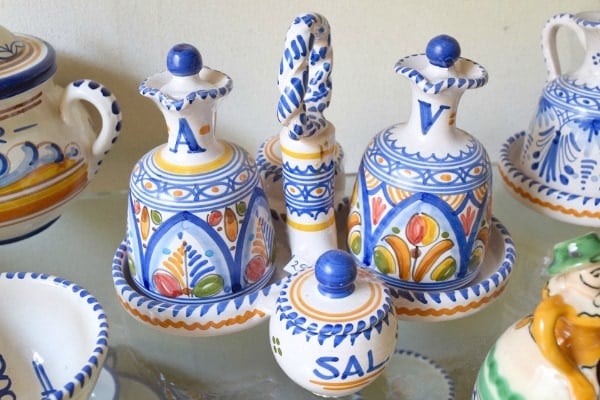 2. Embroidery, lace and fabrics
While you're in Plaza Redonda, consider popping into one of the tiny, locally owned textile shops. There, you'll find beautiful, handmade Valencian lace, embroidery and fabrics. These will give any craft or sewing project an undoubtedly-Spanish flair.
Want to get hands-on? Take it one step further and join the knitting circle! A group of local women sit in the plaza most mornings to knit and teach others how to do so. Don't be shy—grab your knitting needles and join the women to create your very own handmade souvenirs from Valencia!
3. Handpainted fans
Valencia's Mediterranean climate means that come springtime, the abanicos will be out in full force. Join the club and take home a gorgeous handmade souvenir by purchasing your very own fan. The family behind local favorite Abanicos Vibenca has been hard at work creating beautiful fans for three generations. You can even watch the artists paint them by hand—you'll be amazed to see their jaw-dropping attention to detail!
Address: Plaza Lope de Vega, 5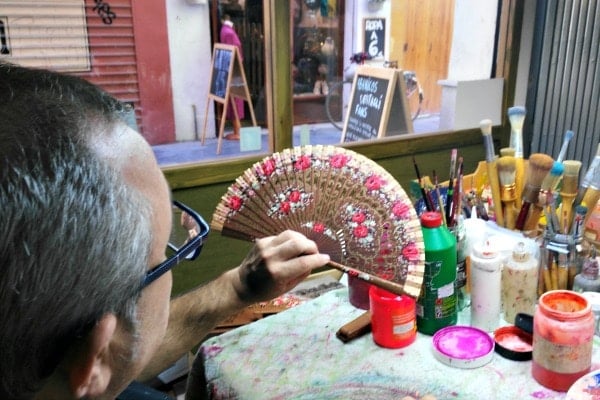 4. Wicker baskets and furniture
Calle de las Cestas, or "Basket Street," certainly lives up to its unofficial name. That's what locals call Calle Músico Peydró due to the abundance of artisan basket shops. Take a walk down the street, and pick up a handwoven wicker basket (which you can then use to store other souvenirs from Valencia!) In addition, stores along this street also sell wicker furniture and products made from wood and cork.
5. Local food products and wines
Leave room in your suitcase for some of the most delicious souvenirs from Valencia! Pop into a locally owned gourmet shop, like Vegamar (Carrer Joaquín Costa, 14), to choose from a wide variety of Valencian olive oils, wines, cheeses, crackers and more. And if you've got a sweet tooth, don't miss the scrumptious selection of turrón at Turrones Ramos (Calle Sombrerería, 11). A traditional Valencian Christmas treat, turrón makes an especially great souvenir around the holidays!
Read More: Top Gourmet Food Gifts from Valencia
Pin me!