There are dozens of souvenir shops lining the streets near the cathedral or the Alhambra, but Granada deserves to be remembered by more than a cheap trinket that wasn't even made in Spain. The city's ancient cobblestone streets are home to countless hidden artisanal treasures made by granadinos themselves, so it's worth skipping the kitschy tourist traps in order to find a beautiful local treasure that's just as precious as the city it came from. Not sure where to start? Here are five souvenirs in Granada that will do justice to your time in Spain's stunning Moorish treasure.
5 Gorgeous Souvenirs from Granada
1. Fajalauza ceramics
These beautiful handmade ceramics can serve many purposes: they're great for use in the kitchen, and also make incredible decorations that add a uniquely Spanish touch to your home. With pots, dishes, mugs and other ceramics available at shops like Antonio García Fabre, there's something for every traveler.
Typically designed in blues and greens with touches of white, fajalauza ceramics are favorite home decorations among Andalusians, adorning the walls of homes across southern Spain. In addition to being visually stunning, their versatility makes them one of the most useful souvenirs in Granada.
Local's tip: Many ceramics in Granada feature a painting of a pomegranate, which is actually the city's namesake—granada means "pomegranate" in Spanish.
Address: Plaza Pescadería s/n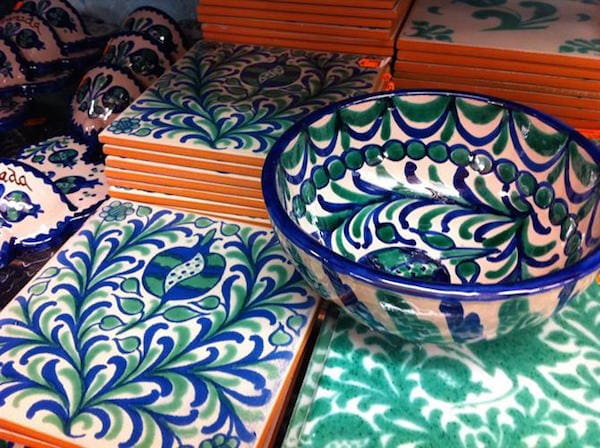 2. Jarapas
In the beautiful Sierra Nevada mountain villages known as Las Alpujarras, artisans have preserved the tradition of weaving jarapas. If you want to escape the busy capital, come and pick up one of these lovely woven rugs. Most noteworthy is the village of Pampaneira, where you can watch how they're made at the local telar (sewing factory).
Don't have time to make it out to Las Alpujarras? No problem. While it's great to see them come to life in person, jarapas are also available for purchase in the city center.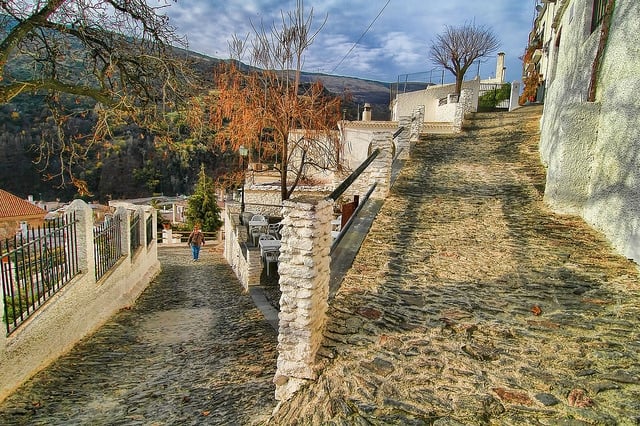 Ready to go? Read up on the top day trips from Granada.
3. Local food products
Spanish food is amazing, and Granada is one of the best places to get it. The city's weather, altitude and tropical conditions make it an ideal location to try Spanish cuisine with an additional distinction: the granadino stamp.
One local favorite is Comestibles Cristóbal, a food lover's heaven selling serrano ham from Granada, cured sheep and goat cheeses, sausages, sweets and pastries. The best part is that everything is either homemade or handpicked by the owners.
Address: Plaza Pescadería s/n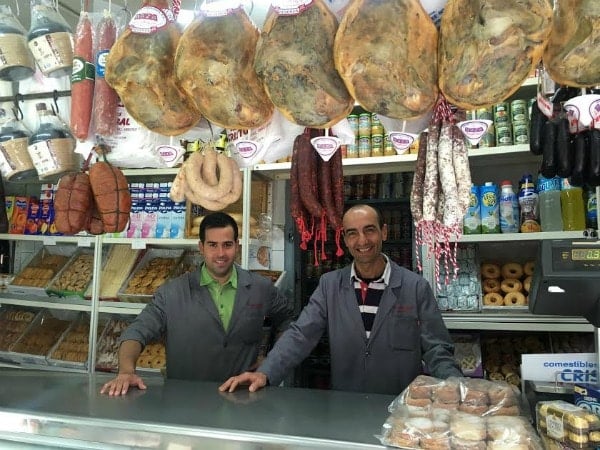 4. A granada
That's right, a pomegranate! This yummy fruit gives the city its name, and as a result, it's one of the most emblematic souvenirs in Granada. Granadas are all over the city, in all shapes and sizes—from pieces of jewelry, fridge magnets, ceramics and even candy. The possibilities are endless—what unique granada-themed souvenirs in Granada can you find?
5. Straw baskets
Dating from the beginning of the 20th century, this art form is newer than some of the others, but a cherished tradition nonetheless. The Roma community has preserved the art of weaving baskets, and pieces made by master canasteros can be found at shops such as Espartería San José.
It doesn't just stop at baskets—straw carpets and other decorative items are also available.
Address: Calle Jáudenes, 22 bajo
Shopping for a fellow foodie? Consider one of these great gourmet food gifts from Granada.
Pin me!