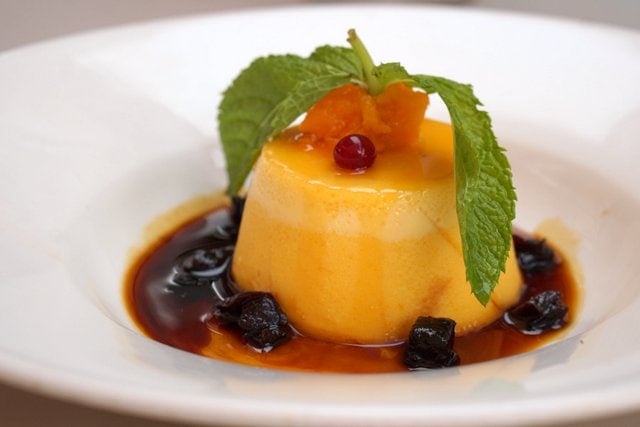 Hunting down the all-American ingredients to my family's traditional Thanksgiving recipes is all but impossible in Spain. Karo syrup? French fried onions? Pecans? Some ingredients don't even have translations in Spanish! Spanish Thanksgiving recipes to the rescue…
So after years of scouring and substituting I have decided to embrace the bounty of excellent ingredients Spain has to offer.
Goodbye, cream of mushroom soup. Hello, smoked paprika! Here are some ideas of how to add a Spanish flair to your Thanksgiving table, with this Spanish Thanksgiving menu. Give these Spanish Thanksgiving recipes a try for a twist on the traditional!
My Top Tips for Thanksgiving in Spain
1. Instead of roasted, stuffed turkey, try roasted, stuffed fish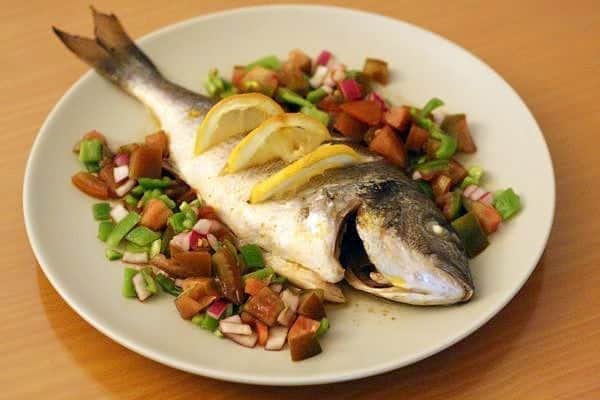 Fleshy fish like sea bass, hake, bream, and cod are the festive foods of choice for many Spanish holidays. This fish-heavy cuisine pulls out all the stops for Christmas and New Year when the best of the sea is on display.
While the typical bready Thanksgiving stuffing may not work well with the fish, Spanish tradition offers a host of scrumptious alternatives. Gilt-head bream (or dorada in Spanish) are stuffed with thinly sliced lemon or shrimp and leeks and baked whole. Hake is stuffed with spinach and topped with a creamy mussel sauce, or prepared with cider and apples. And cod is often roasted on a bed of potatoes and onions.
2. Instead of traditional stuffing, try migas with chorizo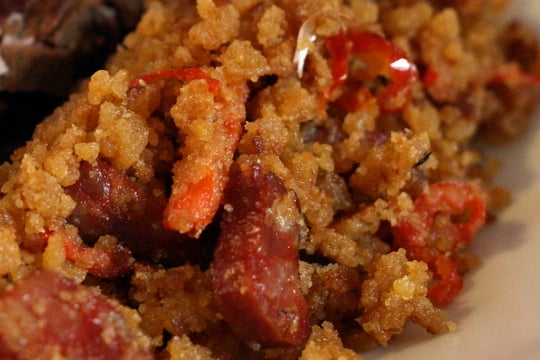 American Thanksgiving stuffing and Spanish migas are like long lost brothers. Both are usually made from day-old bread ripped into small pieces. Meaty juices are the secret to both dishes' deliciousness. And I am incapable of stopping myself from scarfing down two helpings when I find either on my dinner table!
Spanish migas vary widely from region to region, but are usually made from frying small cubes of bread in either olive oil or pork fat. In Extremadura, the bread is often soaked in oil, garlic and paprika and served with a fried egg on top. In La Mancha migas are often topped with grapes. And in Aragon migas are most often fried with paprika-spiced chorizo sausage.
Get the recipe: Spanish style Thanksgiving Stuffing: Migas con Chorizo
3. Instead of green bean casserole, try green beans with anchovy sauce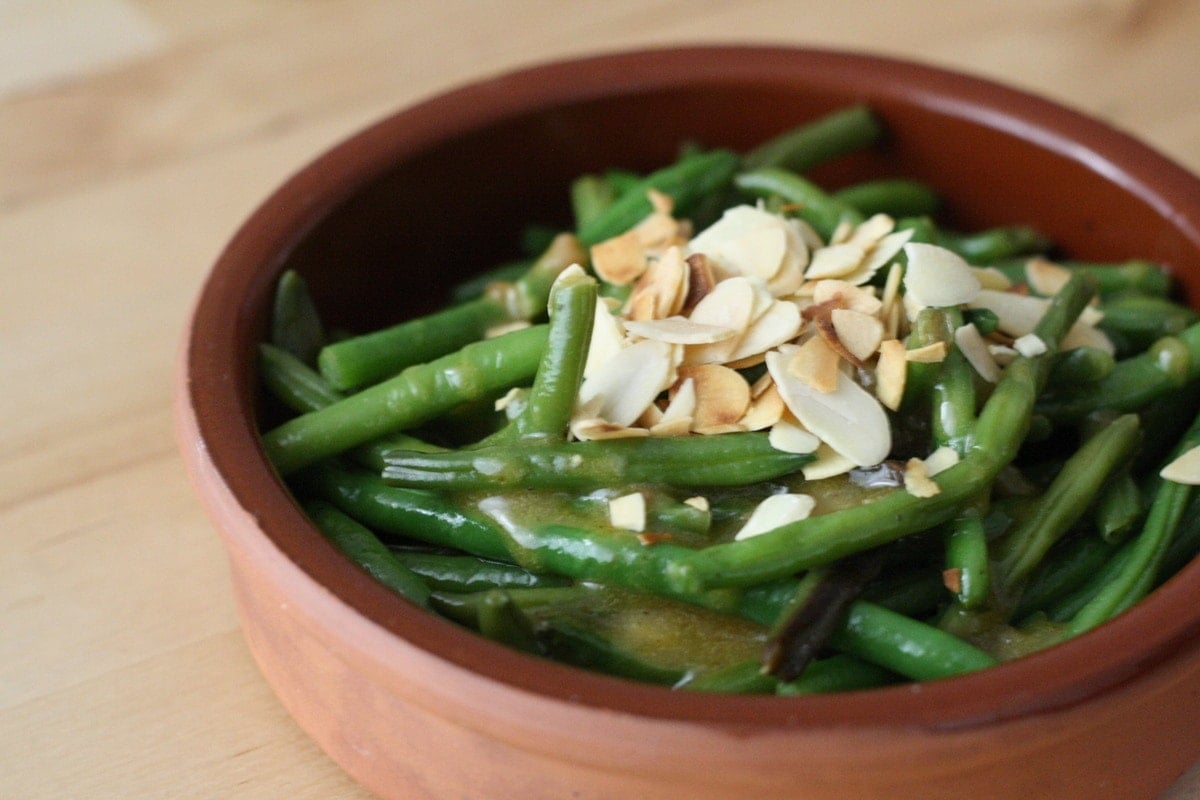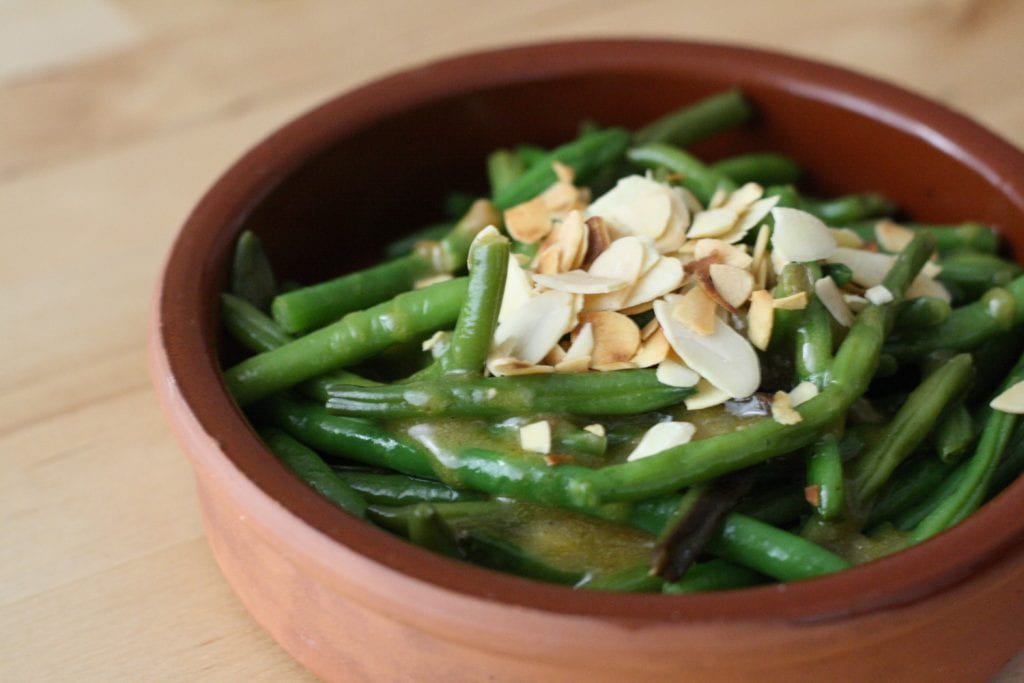 Ditch the cans and head to the farmer's market for this dish. Spanish green beans are cooked al dente with plenty of garlic and olive oil in this delicious dish. The bright green beans and umami-rich anchovy sauce make a fantastic addition to any Thanksgiving spread.
I like adding in a few extra spoonfuls of sweet paprika to make these green beans smokey. Some people add a handful of cured Serrano ham or bacon as well!
See recipe: Spanish style green beans with almonds and anchovy dressing
4. Instead of classic mashed potatoes, why not add Manchego?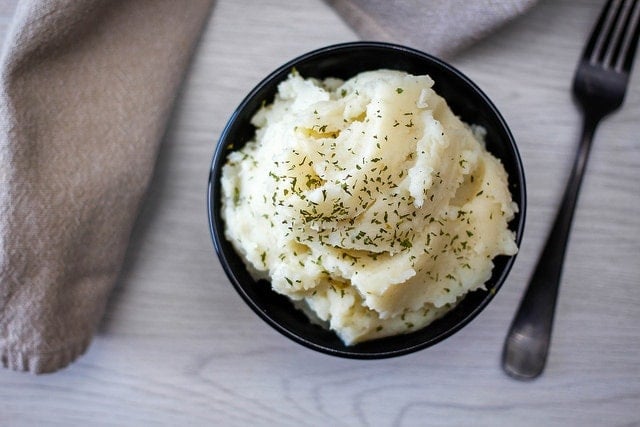 Mashed potatoes may very well be the perfect food, but could they get better? I dare say it's possible, by adding a healthy cup or two of shredded Manchego cheese.
Get the recipe: Manchego mashed potatoes
5. And if you're still not satisfied, try patatas revolconas
And if you can't live without your mashed potatoes, don't. Just try them the Spanish way, patatas revolconas, mashed with smokey Spanish paprika and topped with crispy pork rinds!
6. Instead of gravy, try mojo picón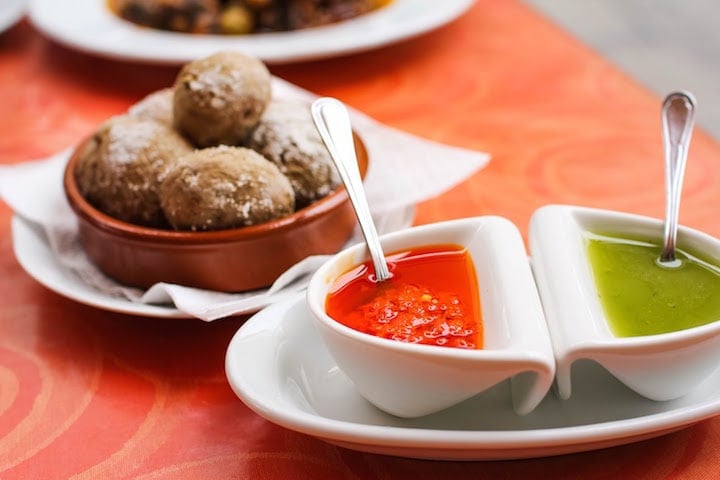 While gravy is hands-down one of my favorite parts of Thanksgiving, Canary Island-style mojo picón gives it a run for its money. Packed with smokey peppers, this slightly spicy red sauce definitely jazzes up the traditional Thanksgiving meal.
Usually served year-round with salty wrinkled potatoes, mojo picón is equally tasty on panadera potatoes and would go marvelously with roasted holiday turkey.
Get our mojo picón recipe here!
7. Instead of cranberry sauce try sweet Sherry sauce
For a sweeter turkey topper, I turn to southern Spain, the land of smokey, sweet Pedro Ximénez Sherry. This syrupy fortified wine provides the perfect base for a flavor-rich sauce. While this sauce is most often served with pork chops in Spain, it may just be my new go-to for my Thanksgiving turkey.
8. Instead of pumpkin pie, try pumpkin flan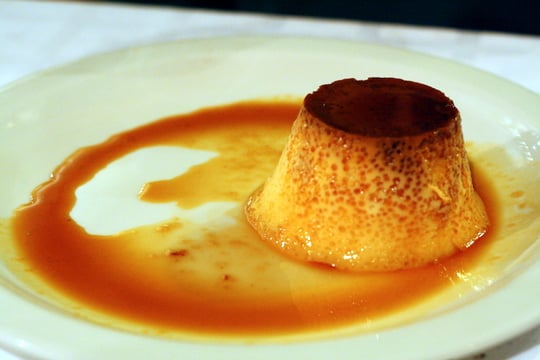 If there were a national dessert of Spain, it would be flan. This creamy, eggy dessert is a staple of dessert menus across the country. And what better to give this go-to Spanish dessert a Thanksgiving flare than roasted pumpkin?!
Get Lauren's pumpkin flan recipe here!
9. Instead of red wine, try warm spiced sangria
Spanish red wine is good, but Spanish red wine heated with apple cider, cinnamon and a splash of Amaretto is just so much more festive! Sangria no longer has to be relegated to the summer months. In fact, this spiced sangria sounds to me like the perfect accompaniment to my all-day Thanksgiving preparations…
Get the Spanish Sabores warm spiced sangria recipe here!
What are your favorite non-traditional Thanksgiving dishes? Will any of these Spanish Thanksgiving recipes grace your table this year?