With so many great things to see in Valencia, it's important to start your day off right. Whether you prefer a traditional Spanish desayuno or a trendy, modern brunch, there's no shortage of options in this cosmopolitan city. No matter what your tastes, there's sure to be a place serving the perfect breakfast in Valencia for you. Here are some options to get you started.
Top Spots for Breakfast in Valencia
1. Dulce de Leche
Start your day with something sweet! Dulce de Leche's owner Ana comes from an Argentinian-German family with a love of baking. She and her husband, Javier, have faithfully continued the family tradition at this cozy spot in Valencia's hip Ruzafa neighborhood. The wide selection of breakfast pastries are simply delicious and pair wonderfully with a cup of freshly brewed coffee.
Address: Calle Pintor Gisbert, 2
2. La Petite Brioche
La Petite Brioche is the charming European café of many travelers' dreams. Don't worry, though—this quirky little bakery is far from touristy. It's one of the best spots to have a relaxing breakfast in Valencia before heading out to explore the city. Be sure to try one of their fantastic croissants, which are perfect with a glass of freshly squeezed orange juice!
Address: Calle Sorni, 28
3. Brunch Corner
Tucked away in a corner of Plaça de San Bult, Brunch Corner's calm and relaxing interior is a nice escape from the hustle and bustle of the central plaza outside. American and British guests who are feeling a bit homesick will adore the pancakes and full English, but the extensive menu has many other delightful options. Although it's not your typical Spanish desayuno, locals love Brunch Corner as well for trying something outside their comfort zones.
Address: Plaça de Sant Bult, 3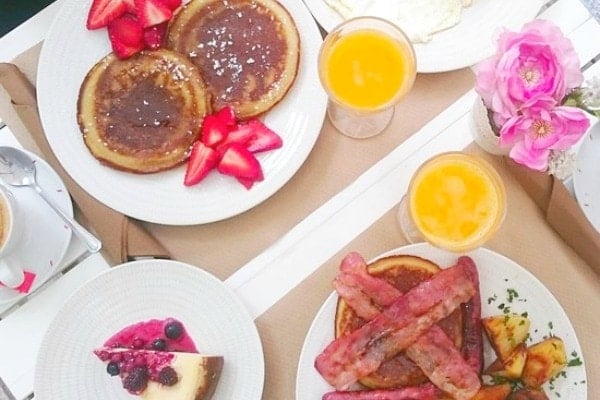 4. Horchatería Fabián
This local favorite is the perfect place to try Valencia's favorite breakfast: horchata y fartons! Horchatería Fabián is hugely popular among Spanish families enjoying breakfast together. The churros con chocolate are also some of the best in town, and the selection of pastries is unbeatable.
Address: Carrer de Ciscar, 5
Read More: Top Picks for Churros in Valencia
Pin me!