Another year has come and gone, and 2014 already seems well underway. 2013 was an exciting year for me, as I turned my business venture to a full time job, complete with partners, employees, and interns. Despite my fears of the contrary, I still managed to travel quite a bit, attending conferences in The Netherlands and Toronto, and visiting the US, Navarra, Fuerteventura, Malaga, Cadiz, Seville, Cordoba, Jerez, Murcia, San Sebastian, and Poland.
I had many fantastic meals, snacks, pastries, and cocktails, but 14 bites truly stood out as being something special. Here they are, in no particular order. Don't read if hungry!
My best bites of 2013
After reading, let me know your best bites of 2013 in the comments!
1. Rare steaks at a Navarran cider house
We arrived to the Navarran cider house at the early hour of 9:15 p.m. It was empty, and made me wonder-- would this experience really live up to all the hype? Thirty minutes later the place was packed, and shouts of txotx! echoed throughout the dining room.
Visiting a Basque style (though in this case technically Navarran) cider house was one of my favorite food experiences of the year. It was as good as I'd been hoping-- simple food and ambiance done right. One of my favorite indulgences has always been a bloody rare steak and I was thrilled to discover firsthand that Spain is indeed more than its (delicious) pork dishes. I also fell head over heels for the musty Basque style cider, straight from the barrel. I'll be back this season for sure, who wants to come?
2. Pork and sundried tomato at Maskarada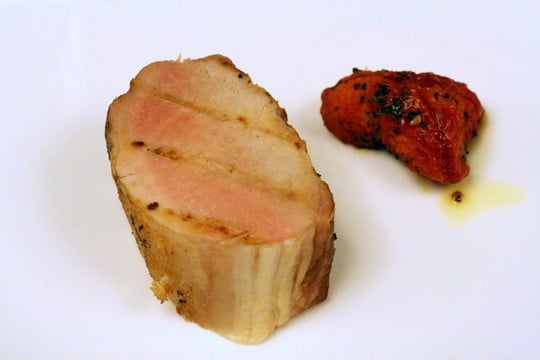 It's a rare occasion that something arrives to the table perfectly cooked. And in this case the chef mastered two components, as both the pork and the tomato were to die for.
Another highlight of our Navarra trip was a stop at the restaurant Maskarada. Owned and operated by a husband and wife team, Maskarada was a delight to the senses. The couple raise their own animals and produce, and do all of the butchery, curing, and cooking themselves. It was a fantastic meal, and this perfectly cooked piece of pork has stuck in my mind ever since. But it wouldn't have made the list without its side component. What looked like a puny sundried tomato ended up being the most flavorful bite of the dish. Perfectly sweet and sour, a tiny piece with each bite of pork was amazingly good.
3. Surinamese Plate in Rotterdam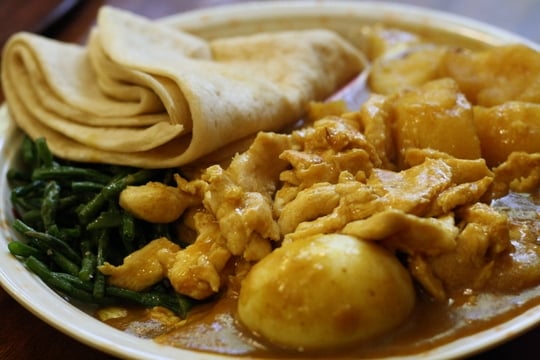 Rotterdam is known for its ethnic diversity and we were out searching for good and cheap meals. We had almost given up hope when we saw people packing in to "Fast Food Center". It didn't sound like my type of place, but I had a feeling that something good had to be going on. I'd never tried Surinamese food, and I couldn't even read the Dutch descriptions. But a quick conversation with the waitress in broken English brought about a heaping plate of comfort food. Crepes, chicken, potato, and egg in a savory curry sauce with green beans, it really hit the spot that day and I wish I knew what it was called to look up the recipe!
4. French toast with homemade creme fraiche in Kingston, Canada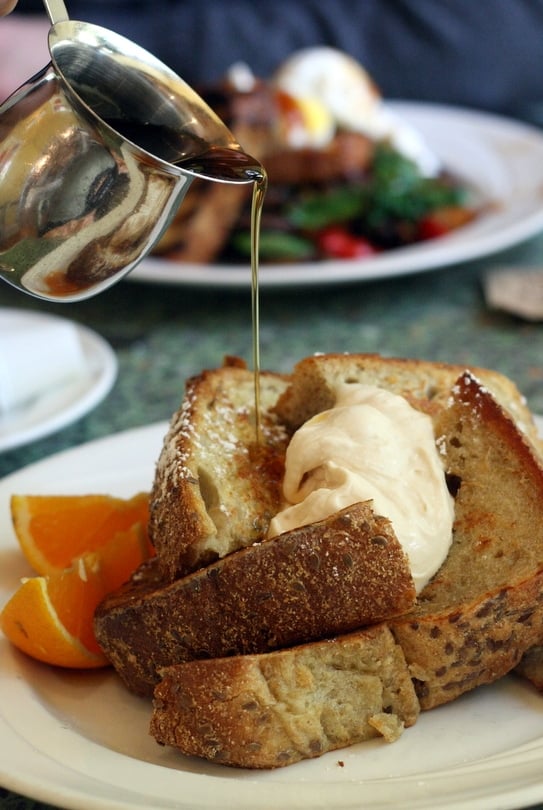 Following the TBEX conference in Toronto, we headed to Kingston, Canada on a blogtrip. The town itself was a bit quiet for my taste, but this breakfast made it all worthwhile. Perfectly cooked french toast with 100% pure maple syrup and homemade creme fraiche. The perfect sweet breakfast!
5. Arroz con conejo (Rice with rabbit) in Murcia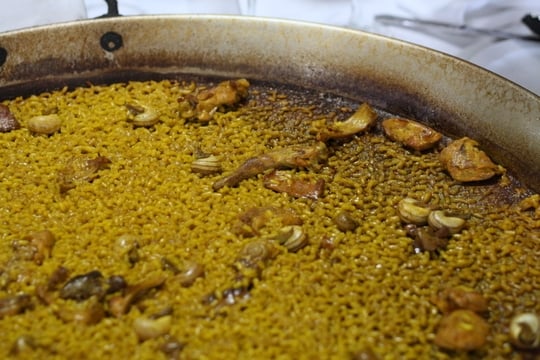 I never understood the huge appeal of Spanish rice dishes until this defining moment. This rice was inexplicably good. I watched the owner of Casa Herminio restaurant (Herminio himself!) make it step by step over dried grape vines and a nearly open fire. When it came out, it looked huge-- until I realized that there was only about one rice kernel touching each part of the pan. As we scraped off the slightly burnt bottom, I finally understood how this dish could be someone's favorite.
6. Oysters in Cadiz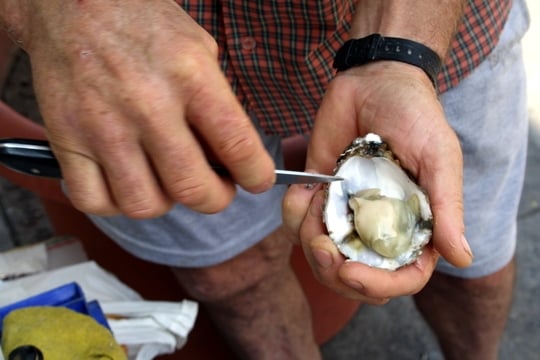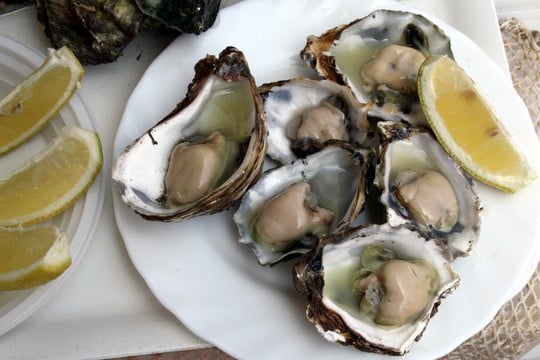 I am still quite the oyster novice, after only starting to eat them on any regular basis about a year ago. When I saw these on sale outside of the Cadiz fish market I couldn't resist trying them-- despite my doubts about buying oysters from an unlicensed street vendor. Luckily, they were worth the risk. An explosion of flavor, I am also beginning to understand the world's oyster obsession and look forward to trying many more!
7. Carpaccio of Presa Ibérica in Madrid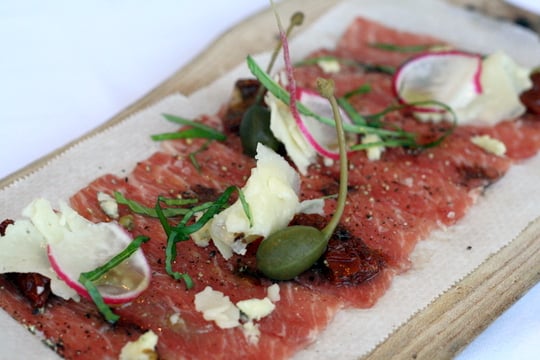 Our meal at Bahia Taberna was enjoyable from start to finish, but the stand out dish for me was this gorgeous, delicious carpaccio. I'd never tried a pork carpaccio before, and this was definitely the way to start.
8. Tortillas de Camarones (Shrimp fritters) in Sanlúcar de Barrameda
Said to be among the best in the Cadiz province, these shrimp fritters are worth the trip to the small, sherry based town of Sanlúcar de Barrameda (where you can also tour bodegas and go to the beach!). They are served hot and crispy at the famous Casa Balbino, right in the town's main square. The fritters are literally stuffed chock full of tiny camarones, whole shrimps with the shell, head, and eyes still on. They are the perfect summer tapa with a cold glass of the bar's house manzanilla sherry.
9. Pastela in Granada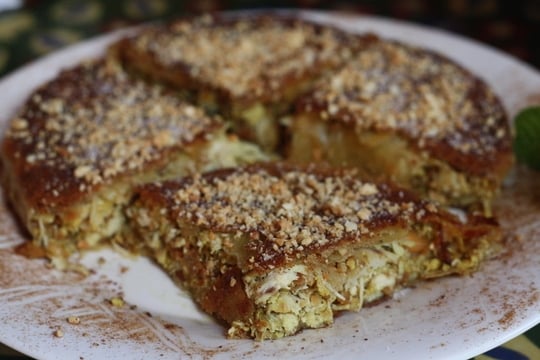 Pastela is one of my favorite Moorish inspired dishes. A sweet and savory combination of chicken, cinnamon, and flaky pastry-- when made well it can be delightful. At Tagine Elvira they do it right, and you don't even have to cross the border into Morocco. A memorable meal with great company (my little sister was visiting), I look forward to stopping by on future visits to enchanting Granada.
10. Judiones de la Granja in Segovia
We were in Segovia to eat suckling pig (and we ate a great one), but what perhaps stood out even more were the famous Judiones de la Granja. These enormous and creamy white beans are absolutely delicious, and make for a hearty first course on a cold winter day. We even purchased some to take home, and tried to recreate our stew back in the US-- which didn't quite work, as pig ear and pork knuckle were hard to come by! It was delicious nonetheless, and now Judiones de la Granja are on my "what to bring the family from Spain" list.
11. Seafood platter in Saint-Jean-de-Luz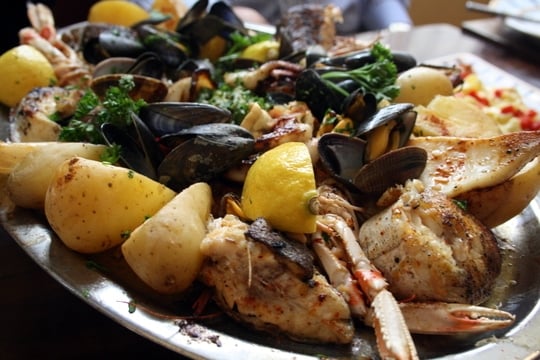 While the cold service we received wasn't a highlight of our trip to Saint-Jean-de-Luz, the food was. We went to the small and simple PilPil-Enea for lunch, and indulged in the local specialty, a heaping platter of fresh seafood. Everything was cooked to perfection, the herbs and spices used were perfect, and so different than anything I'd ever tried in Spain.
12. Salmorejo in Jaén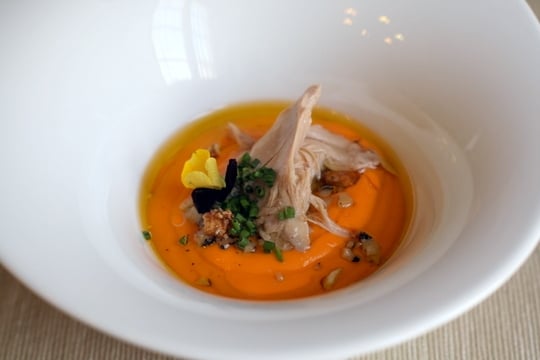 Our lunch at Canela en Rama goes down as one of the best road trip lunch breaks we've ever had. The famous restaurant in Linares, Jaén was wonderful, and Chef Juan Carlos Trujillo was a lovely person to meet and talk to. He can certainly cook, and his salmorejo (a creamy cold soup made of tomato and olive oil) was one of the best I've tried. Topped with quail and sugared pine nuts, it was a version worth returning to eat again and again.
13. Green beans and hake in San Sebastian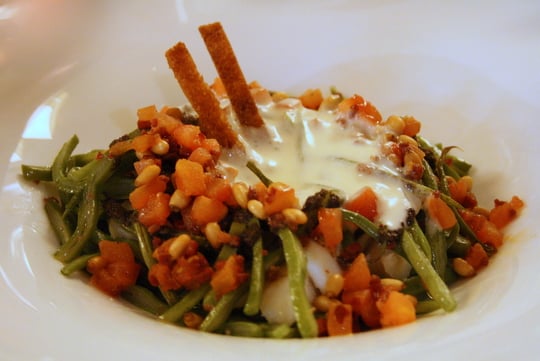 I never would have thought that this dish would have been my favorite part of a steak dinner, but it was. We were dining at Casa Urola, a small restaurant known for their txuletas, enormous Basque T-bone steaks, in San Sebastian. My txuleta was delicious, but these beans were what I went home thinking about. Topped with flaky hake and a creamy sauce, they were an incredibly perfect dish where somehow the beans remained the protagonist, despite the fish. I want the recipe!
14. Pierogi in Poland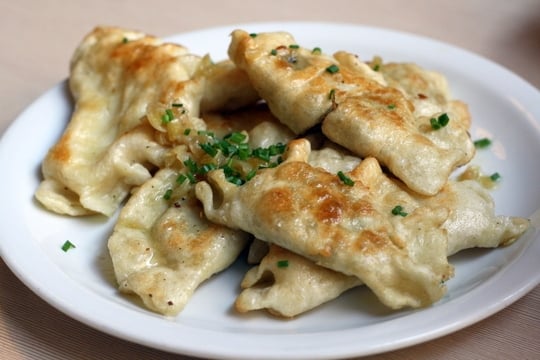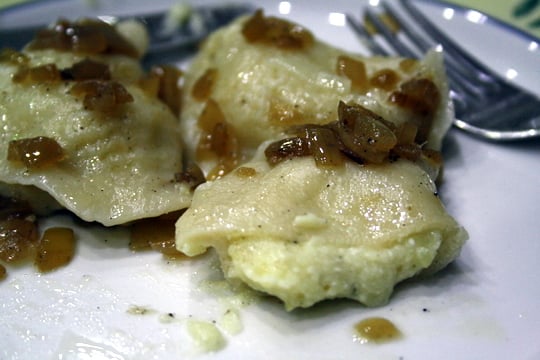 My Poland trip was filled with wonderful food day in and day out, thanks to discovering that our long lost family members were fantastic cooks! As we consumed plate after plate of homemade Polish and Belorussian food, I was sure to ask for plenty of recipes. My favorite dish, however, had to be the perfectly cooked pierogis we ate many times throughout our trip. Each version was delicious-- boiled with blueberries, fried with mushroom and cabbage, and stuffed with ground pork. But my favorites (the second picture) were made by my cousin. They were stuffed with potato and cheese (pierogi Ruskie), boiled, and topped with perfectly caramelized onions. I recently tried making them at home, and let's just say that getting them right will take quite a few more tries!
This year ended with plenty more delicious dishes-- lobster and clam chowder on Christmas Eve in Massachusetts and my mother's epic German chocolate cake on New Year's Eve. It was a great year-- but as always, here's to an even more delicious and adventurous 2014!
What dish is your favorite? And what was your best bite of 2013?
Don't miss: Best Bites of 2012