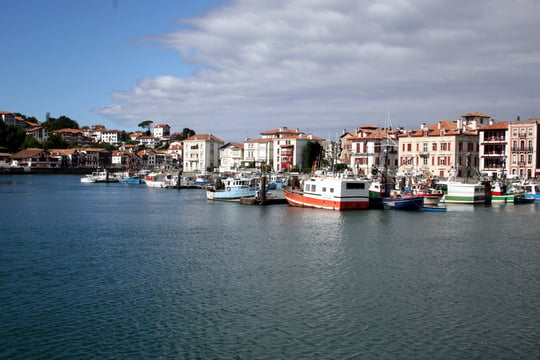 Last October we finally made our way north to discover the charms of San Sebastian, often called Spain's best city for food lovers. I don't know that I'd agree 100% with that title (it certainly has some tight competition in other parts of the country!) but we absolutely loved the trip, and everything we ate in Basque Country was absolutely delicious.
See also: San Sebastian Gastro Guide: Where to Eat in San Sebastian
Update: As of Spring 2017 my company, Devour Tours, now offers a fantastic San Sebastian pintxos tour! Check us out 🙂
Despite only having a few days, we wanted to spend some time outside of San Sebastian and explore some of the gorgeous Basque villages our friends were raving about. Our research came up with various options for an enticing day trip from San Sebastian (Lekeitio, Biarritz, and Getaria all looked fantastic) but we decided on spending a day between Saint Jean de Luz and Hondarribia.
Saint Jean de Luz is a picturesque village on the French side of Basque Country, located on the Bay of Biscay on France's Atlantic coast. Only about 30 minutes from San Sebastian by car, we were entranced by the area's bright green hills on the drive up. The village is quaint as can be, although it was definitely quite touristy. We wandered around for awhile, stopped in some of the shops, and had a lovely lunch. I don't know that I'd go back-- I think I'd prefer exploring some lesser known villages next time, but I'm glad we made the drive.
Stop 1: Local Market Les Halles - a gem in Saint Jean de Luz
As we looked for parking, I spotted the local market, Les Halles. It was our first stop in Saint Jean de Luz, and luckily we got to experience it for about a half an hour before it closed up around 1:00 pm! Everyone who knows me knows that I adore markets. This was no exception, and I still wish I'd stocked up on French cheeses and tried the freshly shucked oysters at the little bar nearby...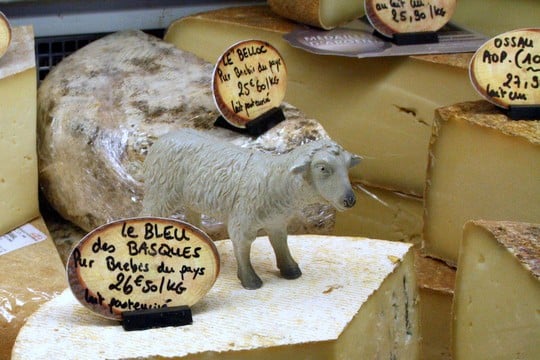 Stop 2: Lunch at Pil Pil Enea - Traditional Restaurant in Saint Jean de Luz
Soon enough we were starving and wanted to eat something local and delicious. I came without any personal recommendations, and couldn't find something that everyone agreed was good on Tripadvisor. Finally, we decided to try Pil Pil Enea, a quaint seafood restaurant that sounded delicious. The service was rather cold but, apart from that, the food was very good. We shared a fish soup, an enormous seafood platter, and some delicate homemade pasta with baby squid. For dessert we had to try their creme brûlée-- but we all agreed we've had much better. The main courses, however, were memorable, and the seafood platter even made my Best Bites of 2013 list!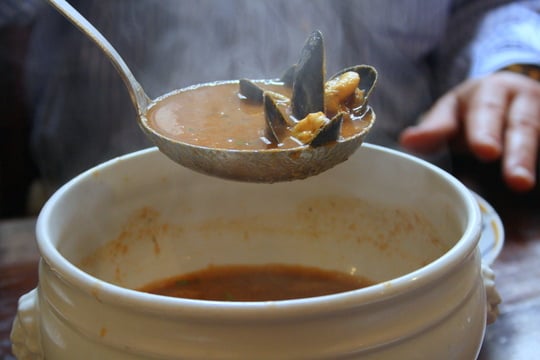 See also: My friend Jen shares the must-try foods in Saint Jean de Luz here!
Stop 3: The Saint Jean de Luz Harbor
There's not much to say here-- the harbor is gorgeous and I could have sat there in the sun with a good book for hours!
 Stop 4: Shopping and Strolling through Saint Jean de Luz
We spent the last hour of our short trip to Saint Jean de Luz strolling the village streets, and checking out the main shopping strip. We didn't end up buying anything, as most of the selection was quite touristy and overpriced compared to similar goods in Spain. It was still fun to window shop!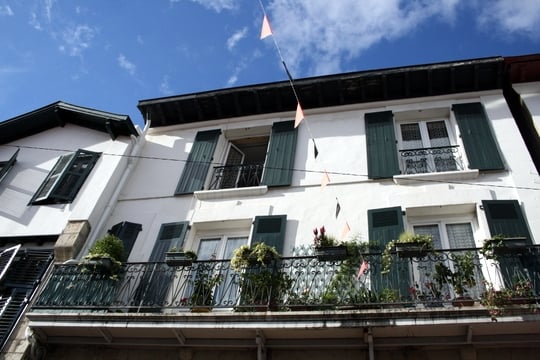 Visiting Saint Jean de Luz was an easy day trip from San Sebastian and definitely something I'd recommend. If you go mid-week or off-season, I'm sure you'll avoid some of the crowds we encountered (we happened to visit on a Spanish holiday!) and that will make it even more enjoyable.
I'm sure I'll be back to Basque Country soon, especially since San Sebastian was named the 2016 European Capital of Culture! And I've only just begun with my pintxo explorations...
Have you been to Saint Jean de Luz? Did you think it was too touristy?
Visiting San Sebastian? Don't miss a food tour with Devour San Sebastian! Our tours will take you off the beaten path and into some of the city's best and most authentic local gems. Meet the families behind the food, and enjoy Basque food and culture with a local!