This blog post was originally posted on September 7, 2015 and was updated on August 9, 2017.
With impossibly blue skies, cool nights and sunny days, Malaga is the perfect fall destination. The temperatures are mild, there's still time to sneak in one last dip at the beach, and with less visitors around, it's the perfect time to plan some weekend getaways from Malaga. But where to go? Here are five places you'll want to put on your Andalusian travel list this fall.
Best Fall Weekend Getaways from Malaga
1. Enjoy a Malaga weekend getaway in the mountains
If you have been longing to get away from the city and surround yourself with nature, rent a car and head to the Sierra de Grazalema. About two hours drive to the west, this beautiful natural park stretches between the provinces of Malaga and Cadiz and has been declared a Biosphere Reserve.
With numerous trails to hike throughout the park, you can truly disconnect in this weekend getaway. Stay overnight in the picturesque pueblo blanco (white village) of Grazalema, which has been declared an artistic historical site. Make sure to try the local gastronomy while you're here. Some of the specialties include roast lamb, asparagus soup, cured cheeses, and acorn cake—perfect dishes for a fall evening!
2. Explore the Torcal and the gastronomy of Antequera
About an hour east of Malaga, you'll come across a very unique nature reserve. The Torcal is home to fascinating natural rock formations that look like someone placed them there on purpose. You can take tours of the area through the visitors center, including a night time visit (although bundle up because the temperature dips quite a bit at night).
In town, make sure to eat one of the molletes (a type of bread originally from Antequera) and try the porra (a cold tomato soup topped with tuna, ham and hard boiled egg). This is a perfect weekend getaway from Malaga that will give you a very different view than the coast.
3. Enjoy the fall foliage in the Sierra Nevada
While the south of Spain is not known for its impressive fall foliage, just a three-hour drive from Malaga you will find the Sierra Nevada Mountains. Here, you can stay at a rural hotel and hike trails through the wooded areas, enjoying the yellows, oranges and browns of autumn.
There are also delicious dishes typical of this area including a chestnut stew, garlic soup with ham and migas served along with a fried egg and papas a lo pobre—all things that will warm you up if the air happens to be cool and crisp!
4. Get lost in the white villages of Axarquia
Fall is the perfect time to explore some of the white villages of Malaga. For a uniquely Andalusian weekend getaway, plan a route that takes you through the white villages of Axarquia, to the east of the city.
Start your route in Comares with its impressive castle, then continue on to Cútar, El Borge, Almáchar (where they celebrate the festival of ajoblanco the first Saturday in September). These are just a few of the stops you might consider, although there are plenty of small towns each with their own charm. And of course, don't forget to devour all the typical dishes from this area, such as ajo blanco, sopa de maimones, migas and ropa vieja.
5. Go vineyard hopping in Malaga and Ronda
Malaga is known for its sweet wines, but you'll also find some delicious reds and whites. Start your route in Ojen, which is about 7 kilometers outside Marbella. The wine museum there is in the old anise distillery. Continue on to Ronda where you can enjoy both the town (one of the oldest in Spain!) and the surrounding vineyards—just make sure to plan ahead so you can visit a few.
Spend the night in Ronda and enjoy a nice meal with the typical foods from the area. Then, on your way back to Malaga you can stop in Arriate with its smaller family-run bodegas. This really is the perfect weekend getaway for wine lovers!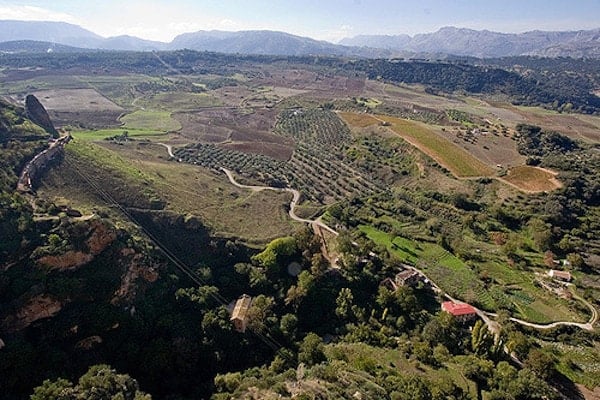 More travel inspiration: Top day trips from Malaga
Pin me!