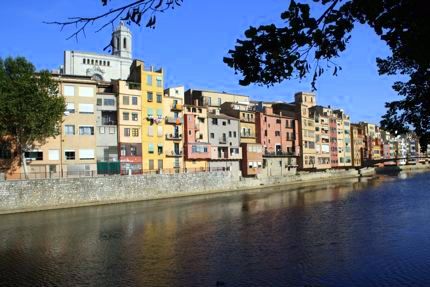 To be perfectly honest, the first time I heard of Girona I thought people were talking about a city in Italy. This was a few years ago and, despite having explored much of Spain since then, I knew very little about Catalonia, Spain's northeasternmost province, until I had the opportunity to visit Girona and Costa Brava with TBEX (the Travel Blog Exchange) at their annual European conference.
When I first heard that TBEX was being hosted in Girona, I was thrilled-- first and foremost because the short voyage meant I would be able to go no matter what. But I was also excited because I knew nothing about the area, my prior knowledge of Catalonia consisting of a couple of weekend visits to Barcelona many years ago. I'd never been to the famous Costa Brava, one of the only parts in Spain with a history of working with travel bloggers. I was ready to explore the area with an open mind.
Like many other Spanish cities we've visited this year, Girona wowed us with its beauty, culture, and food. But unlike some other places we recently visited (Burgos or Trujillo, for example) Girona had the intriguing feel of a border city (it's only an hour drive to the French border) and also had something unique that you don't find everywhere in Spain-- its own language, Catalan. Seeing all of the signage, menus, television etc. in Catalan was both difficult and interesting for Ale and I. Everything felt completely familiar yet strangely different, but despite the complicated political atmosphere at the time (many people in the area want independence from the rest of Spain) we were able to forget about politics and enjoy the things that are globally loved and appreciated-- great food, new friendships, warm smiles, long conversations, and, of course, traveling. Girona made the perfect backdrop for TBEX Europe, and would also be the perfect place to visit with family or friends. It is likely somewhere I will take my family in the future when they come visit.
Here are some of the things I really loved about Girona...
Its River
The Onyar River flows through Girona, and the locals have adapted as the backdrop to their daily life. It is strikingly beautiful and lined with multicolored houses, which you can often see reflected in the river when you pass by. These homes make for gorgeous scenery and the city knows it-- painting the facade is only allowed with permission.
Its Restaurants
From typical and hearty Catalan fare to incredible crepes inspired by their French neighbors and the exciting cuisine of the second best restaurant in the world (El Cellar de Can Roca) it is obvious that Girona has plenty to offer its guests and residents. We didn't have too many chances to dine out (TBEX provided us with some excellent lunches) but what we tried, we loved. I was crushed to not have the time to stay and try our luck at a reservation at El Cellar de Can Roca, but at least I experienced their talent at the opening night party (likely the best catering I will ever have) and later at their downtown ice cream shop, Rocambolesc. If one thing is certain, I'll be back to Girona to eat!
Its History
With one of the best preserved Jewish Quarters in Europe, Girona is seeping in history. Just enter its old town and you are sure to have plenty of questions about the different historical marvels that surround you. From Girona's impressive city wall and towers to its beautiful Baroque Cathedral, hiring a guide in Girona is probably worth the price. We went on a city tour with a guide from the tourism office, which was the perfect way to see everything and ask questions along the way.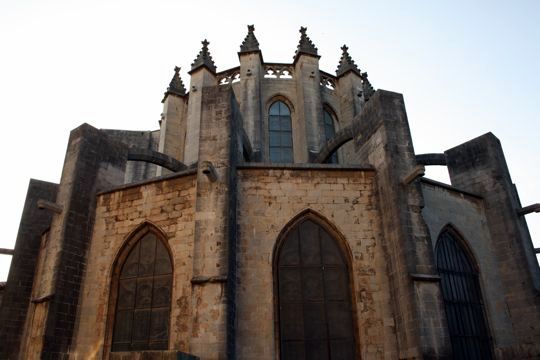 Its Location
For me especially, Girona has an ideal location and makes the perfect weekend getaway from Madrid. Ryanair currently offers an inexpensive direct flight, and buses from the airport to the city center take under a half an hour and cost only about 3 euro per person. In addition to being accessible by airport, Girona has a central train station with multiple daily trains to and from Barcelona and other parts of the region. Once in Girona you will find that it makes a wonderful base for exploring the rest o the Costa Brava region. Everything is located close by, and by renting a car you will be able to see city, mountains, and sea in only a few days time.
Its "Wanderability"
Girona is a city to get lost in. I would recommend exploring its historic center filled with narrow cobblestone streets by foot-- no map necessary. Walk along the old city wall, take in the view from a tower, and then make your way back down, stopping at a sidewalk café for a glass of wine or a bite to eat. You'll want to bring your camera, as just about every corner is picture perfect.
We tried our best to see and experience Girona in the two days that the conference lasted, but we weren't able to see nearly enough. Girona would be an incredible place to spend a few weeks, and to use as a base for slow tourism in the region. I know we'll be back one day to eat at El Cellar de Can Roca, and to see the incredible Temps de Flors exhibition (an incredible May flower festival). I feel so lucky to be only a short flight away.
Is a visit to Girona or Costa Brava on your travel list?