Sometimes in our travels we are lucky enough to go somewhere without having digitally "been there" first. Don't get me wrong, I enjoy my favorite bloggers' detailed descriptions of the exciting destinations I've yet to explore and could spend hours watching the videos on Matador, but, occasionally, it's worth it to forget about Twitter recommendations and Tripadvisor reviews and simply experience a place without digital interference.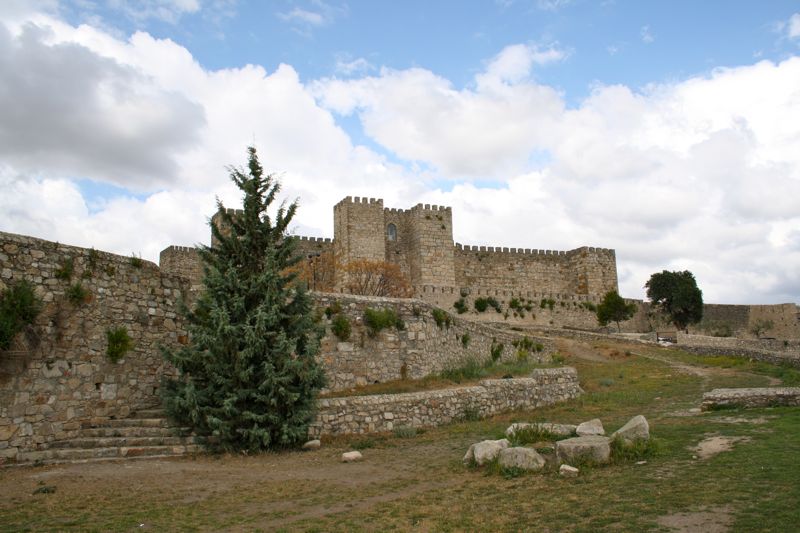 I arrived in Trujillo with my camera and an open mind, knowing only one thing for sure—there was a castle on a hill. I trusted that my brother-in-law and his wife would be able to show us around the small village they had already visited various times since moving to the area.
Trujillo was proof that when you go somewhere without expectations magic happens. I enjoyed every minute of our day in Trujillo and would even venture to say that it is a strong contender for Spain's most romantic village.
Trujillo is a small town in the Cáceres province of Extremadura. Its official population is just under 10,000 inhabitants, but when walking around the walled off casco antiguo (old town) it feels like there can't be more than 500 people living there. We arrived early and left our car on a side street right outside of the historic center. As we made our way up the hill there was nothing special to see, just a typical town hall and some small shops. As we arrived to the church at the top of the hill I remembered that it was Palm Sunday. Mass had just let out and villagers were dressed in their Sunday best, many holding beautifully woven dried palm leaves and others clutching symbolic olive branches. 
As if we had planned our arrival to the minute, we walked straight into a beautiful Semana Santa procession in Trujillo's historic Plaza Mayor. I'm not the biggest fan of Semana Santa (sorry, but the statue of the Virgin just doesn't bring out the tears!) but this procession was truly beautiful. As the old and the young watched the figure pass by, I did my best to capture the moment. Yet while the pictures are pretty, they're missing the powerful sound of the trumpets and the smell of incense burning. It's something you have to experience for yourself.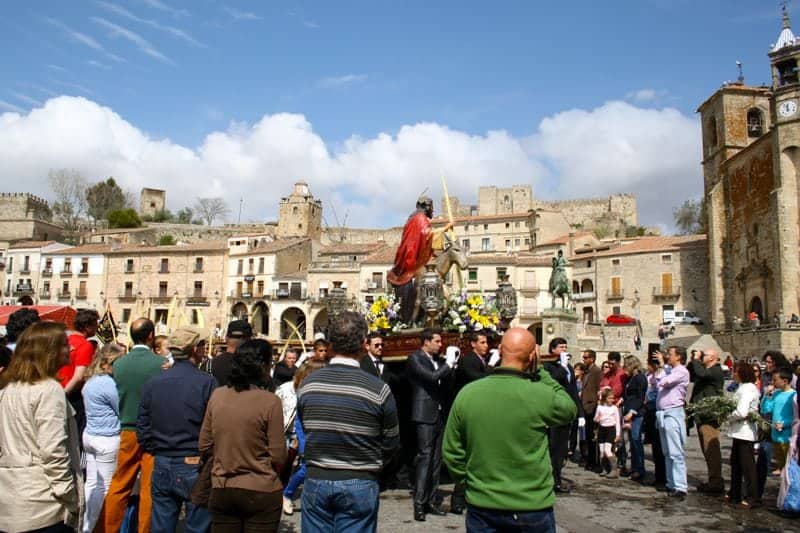 After watching the processions we walked around Trujillo's Plaza Mayor. It is by far one of the prettiest main squares I've seen in any Spanish village. Keep an eye out for the huge statue of Spanish conquistador Francisco Pizarro, and if it looks familiar maybe you've seen one of the other two that currently stand in Lima, Peru and Buffalo, New York.
Hungry, we decided on lunch at a popular restaurant in the Plaza Mayor. At Meson La Troya you won't ever go hungry—at a fixed 15€ per person you can basically eat and drink all you want, and can choose from a variety of typical regional Spanish plates. We started with one the best tortillas de patata I've ever had, a big plate of Extremadura's famous chorizo, and salad. Then came the first course, Migas, another typical dish from the region. As a second course we shared a lamb stew and venison. We topped it all off with delicious homemade flan. While Meson La Troya is not five star dining, it was certainly delicious and well worth the price. I'd recommend it in a heartbeat!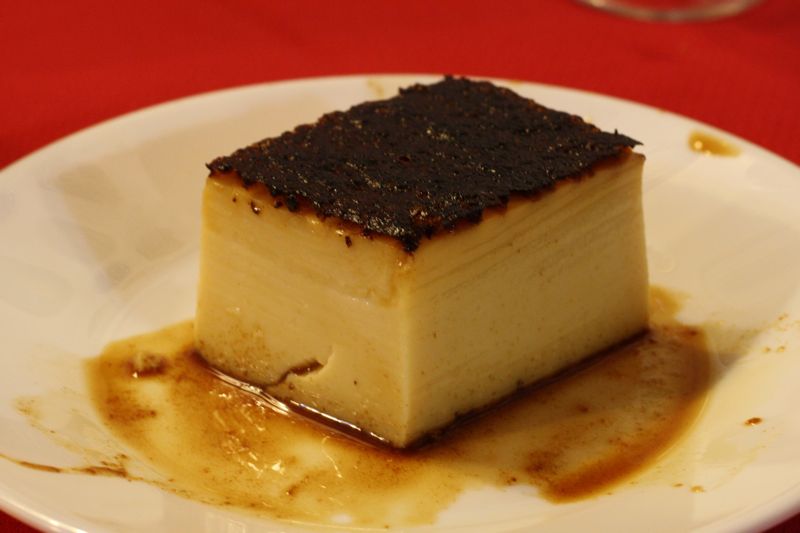 Stuffed to the brim, we stumbled up another hill, making our way to the famous Trujillo Castle. This part of the old town has been beautifully maintained and is one of those places where everywhere you turn is picture worthy. A leisurely twenty-minute walk led us to the gorgeous castle, Trujillo's pride and joy. The castle used to be an Arab fortress and is amazingly well preserved. You can even go inside and climb up the tower if you wish. But almost more impressive than the castle itself, are the beautiful views of the village and the Extremaduran countryside from the castle's grounds. 
What was remarkable about Trujillo was the lack of tourism there—we literally had the village to ourselves. We didn't have to worry about anyone's head in our photos! It was really surprising that such a beautiful town in a well-connected area— 2.5 hours from Madrid, 45 minutes from Cáceres, and 30 minutes from Monfrague National Park—was virtually empty. I think Extremadura as a province needs to make some changes in its tourism strategy!  
If reading this post has at all sparked your interest in traveling to Trujillo, may I recommend you wait for the last weekend in April (April 28-May 1) when the town hosts the Feria Nacional del Queso (National Cheese Fair). I've heard it is very well done and, obviously, delicious!
Trujillo is by far on the top of my list for small Spanish towns and would be absolutely perfect for a romantic getaway. I'd love to go back for summer holidays and stay in one of the gorgeous hotels or pensions we passed by on our walk around the charming old town. For a longer trip I would recommend doing what we did and combining your visit with Cáceres and Monfrague Park.
Have you ever traveled to a place with no previous expectations? Do you think this helped or hindered your experience there?