If you visit the Basque Country, one thing becomes especially clear. The Basque people really know how to eat!
From San Sebastian to Bilbao, Basques pride themselves on their love of food, and their ability to cook it well. As a result, even the rest of Spain has to grudgingly acknowledge that the north of the country has a special way with food—and it's all thanks to pintxos recipes like these.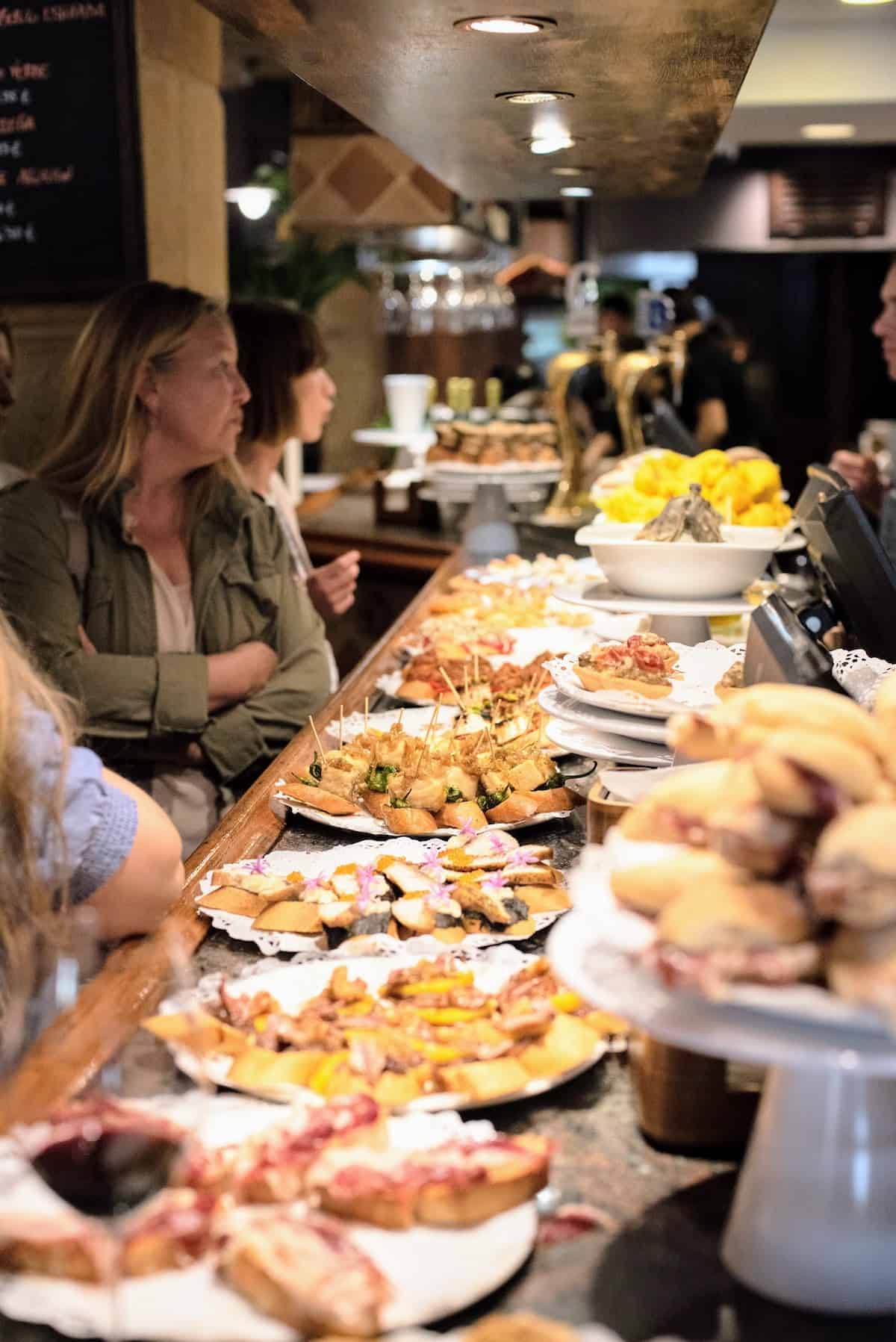 For the most part, it's not tapas that you'll be eating up north! Instead, Basque food is all about pintxos.
Every tavern and bar in the region has a counter covered in a bounty of colorful and savory snacks, usually skewered to a piece of crusty baguette with a long toothpick. These are known as pintxos (in Basque) or pinchos (in Spanish).
Some pintxos are super simple, like a wedge of tortilla, while others can be artistic creations verging on haute cuisine. 
They're also a great excuse to socialize! So if you can't visit the Basque Country and go on a pintxos crawl, why not recreate the experience at home? Here are some easy, impressive, and delicious Basque pintxos recipes to help bring the taste of northern Spain into your kitchen.
Making & Serving Pintxos Recipes
The great thing about pintxos is that they're super easy to put together, but taste absolutely amazing. Each one is an appetizer by itself, but put together a spread of them and you've got your own at-home pintxos crawl. Serve them on platters on a countertop for that authentic Basque tavern touch!
In general, pintxos fall into one of two main categories: cold or hot. Traditionally in the Basque Country, cold pintxos are the ones you see out on the bar, while hot pintxos are not displayed publicly. Instead, they're made to order in the moment.
However, if you're making these pintxos recipes to enjoy at home, you can simply set out both the cold and hot options at the same time. We're willing to bet that the hot ones won't even have time to get cold!
Cold Pintxos Recipes
1. Gilda
Why make things more complicated than they need to be? The gilda is one of the simplest pintxo dishes in Spain, but also one of the most classic. In fact, legend has it that this was the first pintxo ever invented!
Whenever you get to the Basque Country, your first stop should involve a glass of cold vermouth and this simple appetizer. But in the meantime, it's one of the easiest pintxos recipes to throw together at home.
To make this tasty treat, just skewer an olive with a salted anchovy fillet and some pickled green peppers. Although it's not traditional, you can also add a small pickle for a slightly sweet touch. It's the perfect cocktail-hour snack!
2. Piquillo Peppers Stuffed with Tuna
Step aside, Padrón peppers! When it comes to pintxos, it's all about the piquillos. These little red peppers pack some serious flavor. They're roasted to intensify their sweetness, and no one could ever tell they come out of a jar!
The Spanish are masters at putting delicious things in cans and jars. In fact, this tuna-stuffed piquillo peppers pintxo is made almost entirely from canned delights.
Canned Spanish or Portuguese tuna isn't the stuff you remember from bad-smelling high school sandwiches. Some of the Iberian Peninsula's best seafood winds up in cans, be it tuna, mussels, mackerel, or anything else!
To complete the dish, mix the tuna with mayonnaise or garlic alioli, stuff it inside a roasted piquillo pepper, and serve on bread.
3. Smoked Salmon & Cream Cheese Pintxo
This smoked salmon and cream cheese pintxo is a Basque classic. All you need is a handful of simple ingredients—a hearty baguette, cream cheese, and smoked salmon—and you've got one delicious appetizer!
Use cold-smoked salmon (also called Nova lox) for best results. Finished off with just a bit of black pepper and lemon juice, this pintxo is a guaranteed crowd-pleaser.
4. Classic Spanish Tortilla Pintxo
The good news about pintxos is that many typical Spanish tapas recipes can easily be turned into them—just add a skewer and some bread!
That's the case with the classic Spanish omelet, or tortilla de patatas. In almost every tavern in the Basque Country, you can get a tasty wedge of tortilla (always prepared nice and runny in the north of Spain) skewered atop a piece of bread. If you're lucky, you might even get some alioli!
To prepare this recipe, just make a classic Spanish potato omelet (the gooier the better). Cut it into small pieces, put each piece on top of a baguette slice, stick a toothpick into the whole thing, and enjoy!
Note that many people in Spain eat tortilla de patatas at room temperature, but if you'd like to serve this as a hot pintxo, you're welcome to do so as well!
Or try a twist on the classic:
5. Marinated Anchovies
Forget everything you thought you knew about anchovies. In the Basque Country, these little fish are done right: caught fresh from the Cantabrian Sea and cured to perfection in salt or vinegar. Our recipe for marinated anchovies uses the latter.
For the anchovies to turn out especially perfect, they'll need to marinate for several hours. But the prep work is simple enough, and once they've had the time to soak up plenty of flavor, all that's left to do is stick them on top of some slices of crusty bread!
6. Goat Cheese & Caramelized Onion Pintxo
Goat cheese and caramelized onion really is a match made in heaven. The sweetness of the onion is the perfect complement to the tanginess of the goat cheese. Put it all on top of a piece of bread and you've got pintxos perfection (plus a great choice for vegetarians).
While this recipe is pretty simple, it's important to leave yourself enough time to caramelize the onions properly. Other than that, it's just a matter of putting it all together! This is one of the easiest pintxos recipes to make in advance—in fact, most Basque bars serve it at room temperature.
Hot Pintxos Recipes
7. Gambas al Ajillo Pintxo
Gambas al ajillo is among the most iconic tapas dishes in Spain. It's one of the few recipes you'll see all across the country, usually served in small clay pots filled with sizzling garlic oil.
It's hard not to fall in love at first bite with these addictive garlicky shrimp. And how can you make a good thing even better? Serve it in pintxo form!
These garlic shrimp skewers are a total crowd-pleaser. The shrimp are wonderfully sweet, and the garlic aroma will make you salivate as soon as you smell it! With a bit of lemon and sea salt to finish it off, this dish will have everyone coming back for seconds.
8. Bacon-Wrapped Dates Pintxo
Everyone needs an easy go-to appetizer recipe in their back pocket for when guests come around. Whether it's a dinner party or a pintxos feast, these bacon-wrapped dates are the perfect party dish!
You only need three or four ingredients to recreate this classic Basque pintxos bar snack. Stuff dates with tangy goat cheese, wrap them in bacon, and bake them in the oven for a bite with a perfect balance of salt, umami, sweetness, and acidity!
9. Pinchos Morunos
These juicy and flavorful Spanish pork skewers aren't actually a Basque dish—they have their roots in the south of Spain. But they've since made their way up north, and are now a common fixture on pintxos bar menus throughout the region.
The blend of spices used in this pintxos recipe comes from Moorish Spain, but the Moors would have made early versions of this dish with lamb due to their Muslim faith.
The pork version became popular during the Christian Reconquest and is the most common version of this pintxo in modern Spain. However, if you don't eat pork or just want to try something different, these are also delicious with lamb or chicken!
10. Roasted Asparagus with Ham
Bright green asparagus takes an even more delicious turn in this guaranteed crowd-pleaser. Wrap each stalk in top-quality cured Spanish ham, sprinkle with Manchego cheese, and pop them in the oven for a few minutes to roast—pintxos recipes don't get any easier than this!
Pintxos Recipes FAQs
Hungry for more? Sign up for my free weekly newsletter and receive a new Spanish recipe once a week! Join today and get my FREE Spanish ingredient essentials guide!