Today David rounds up seven of the best pintxos recipes, perfect for a party or event!
If you visit the Basque Country, one thing becomes pretty clear. The Basque people really know how to eat!
From San Sebastian to Bilbao, locals in the País Vasco pride themselves on their love of food, and their ability to cook it well. Even the rest of Spain has to grudgingly acknowledge that the north of the country has a special way with food.
But it's not exactly tapas. In the Basque Country, you'll be eating pintxos! Every tavern and bar in the region has a counter covered in a bounty of colorful and savory snacks, usually skewered to a piece of crusty baguette with a long toothpick (or a pincho/pintxo). Some of them are super simple, like a wedge of tortilla, while some can be artistic creations verging on haute cuisine.
They're also a great excuse to socialize! So if you can't visit the Basque Country and go on a pintxos crawl, why not recreate the experience at home? Throwing a pintxos party is a great way to impress guests and feed them something delicious (and super easy to prepare!). It also brings the taste of Spain into your kitchen.
Below, I've put together a list of my go-to recipes for producing pintxos.
How to Throw a Pintxos Party
The great thing about pintxos is that they are super easy to put together, but taste absolutely amazing! Each one is effectively an appetizer by itself, but put together a spread of them and you've got your own at-home pintxos crawl. Serve them out on platters on a countertop for that authentic Basque tavern touch!
Here are my 7 go-to recipes for when you've got guests coming over and want to impress them (without much effort!).
Why make things more complicated than they need to be? The gilda is one of the simplest pintxo dishes in Spain, but one of the most classic. Whenever I get up to the Basque Country, my first stop always involves a glass of cold vermut and this simple appetizer.
To make this tasty treat, just skewer an olive with a salted anchovy fillet, two pickled green peppers, and a small gherkin. It's the perfect cocktail hour snack!
You can get my classic gilda recipe right here.
Padron peppers aren't the only game in town!
These red piquillo peppers pack some serious flavor. They're roasted to intensify their sweetness, and no one could ever tell they come out of a jar! The Spanish are masters at putting delicious things in cans and jars, and this tuna-stuffed piquillo peppers pintxo is almost made entirely from canned delights.
Canned Spanish tuna (or Portuguese if you're in a pinch) isn't the stuff you remember from bad-smelling high school sandwiches. Some of Spain's best seafood winds up in cans, be it tuna, mussels, mackerel, or anything else! To complete the dish, mix tuna with garlic alioli (see Lauren's recipe here), then stuff it inside a roasted piquillo pepper, and serve on bread.
Gambas al ajillo is one of the most iconic tapas dishes in Spain! It's one of the few recipes you'll see all across the country, served in small clay pots filled with sizzling garlic oil. I've never met anyone who didn't fall in love with their first taste of garlicky gambas.
So, serve this garlic shrimp skewer to your guests and you're sure to see happy faces. The shrimp are wonderfully sweet, and the garlic aroma will make you salivate as soon as you smell it! With a bit of lemon and sea salt, this dish is a surefire hit.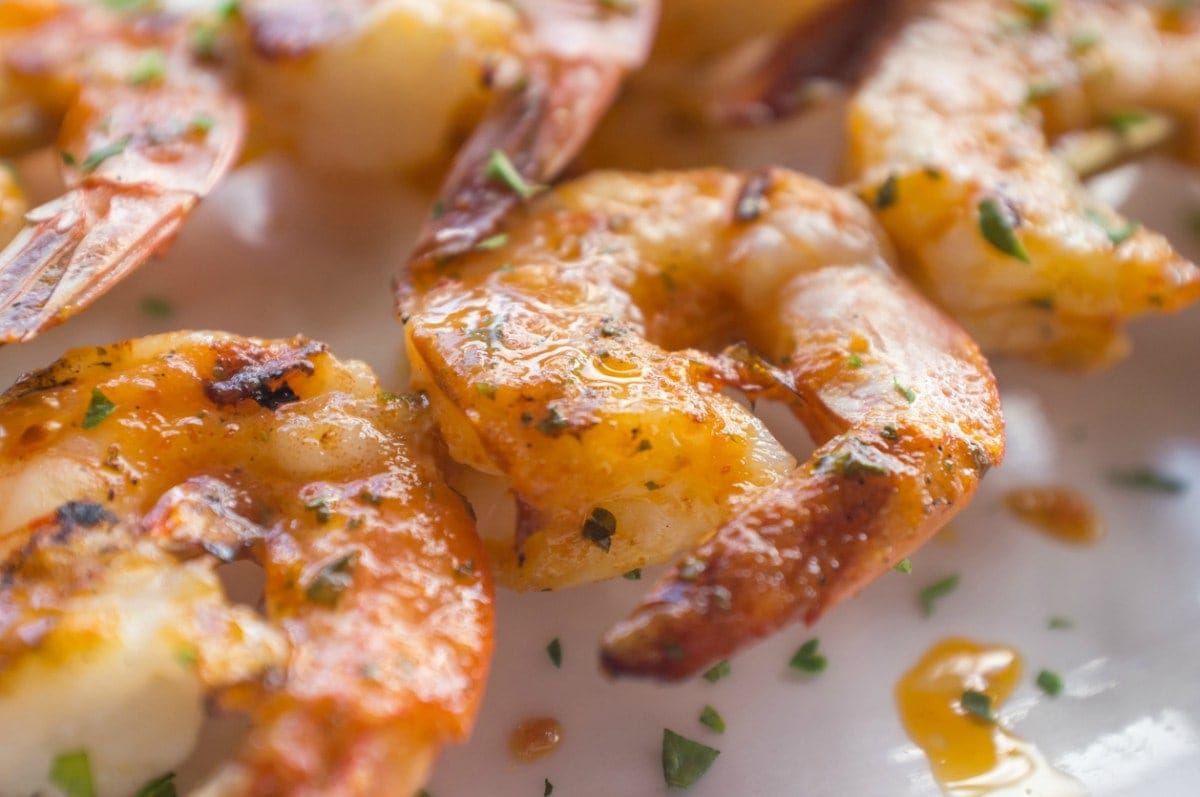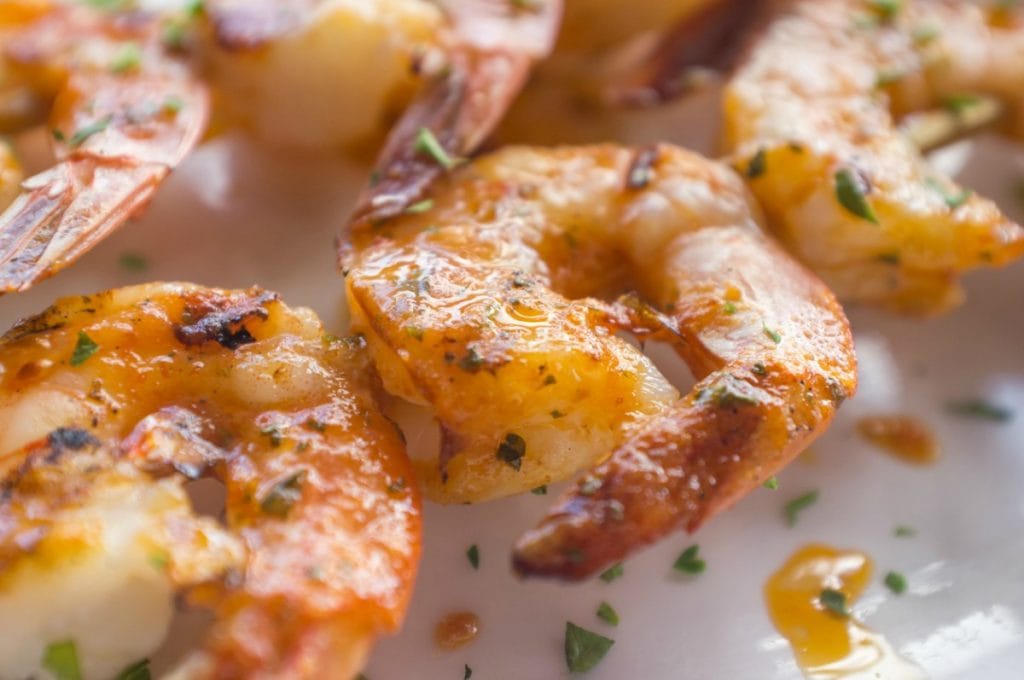 It turns out you can turn most of your favorite tapas recipes into pintxos. In almost every tavern in the Basque Country, you can get a tasty wedge of tortilla (always runny in the north of Spain) on top of bread. If you're lucky, you might even get some alioli!
To make this recipe, just make a classic Spanish potato omelet; the gooier the better. Cut it into bread sliced pieces and enjoy! You can see Lauren's tortilla recipe right here.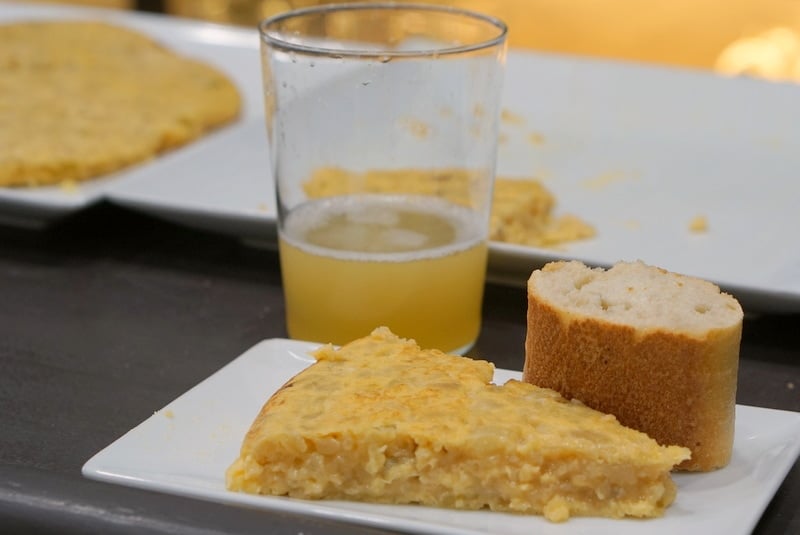 This is my go-to appetizer recipe when I have friends round for dinner. Whether it's a pintxos party or just a regular dinner, these bacon-wrapped dates are the perfect party pleaser!
With just three ingredients you can recreate this classic Bilbao pintxos bar snack. Stuff dates with tangy goat's cheese, wrap in bacon, and bake in the oven for a mouthful with a perfect balance of salt, umami, sweetness, and acidity!
Goat cheese and caramelized onion is one of those made-in-heaven flavor combos. The sweetness of the onion is the perfect complement to the tanginess of the goat cheese, and a great choice for vegetarians. While this recipe is pretty simple, it's important to leave yourself enough time to caramelize the onions properly.
Luckily, it's easy to do this while ducking out to chat with guests or prepare other dishes! Just leave a splash of water in the pan so that the onions don't burn. Get your goat cheese and caramelized onion pintxo recipe here!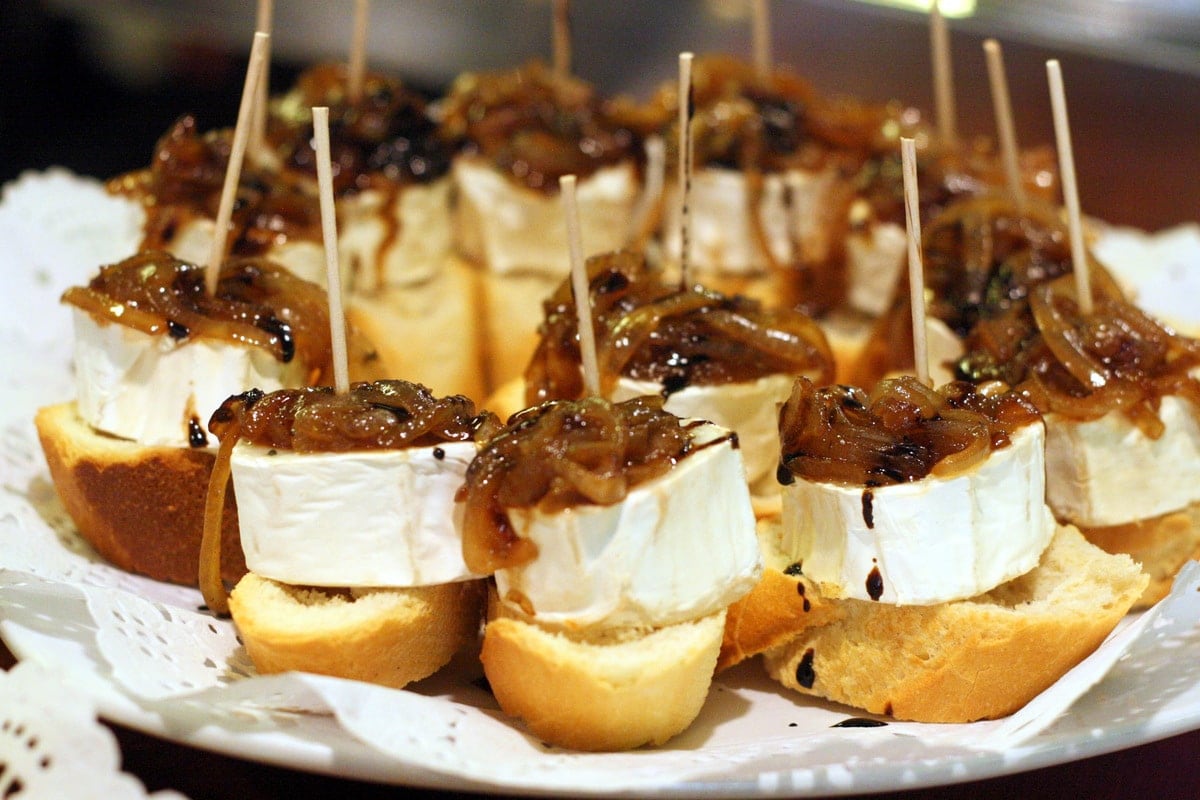 This smoked salmon and cream cheese pintxo is a Basque classic. All you need is a handful of simple ingredients: a hearty baguette, cream cheese, and smoked salmon, and you've got one delicious appetizer! Use old-smoked salmon (also called Nova lox) for best results. With a bit of black pepper and lemon juice, this pintxo is sure to go down well.
You can see my smoked salmon pintxo recipe right here!
Are you planning on throwing your own at-home pintxos party? Let me know how it goes, and what recipes you use!