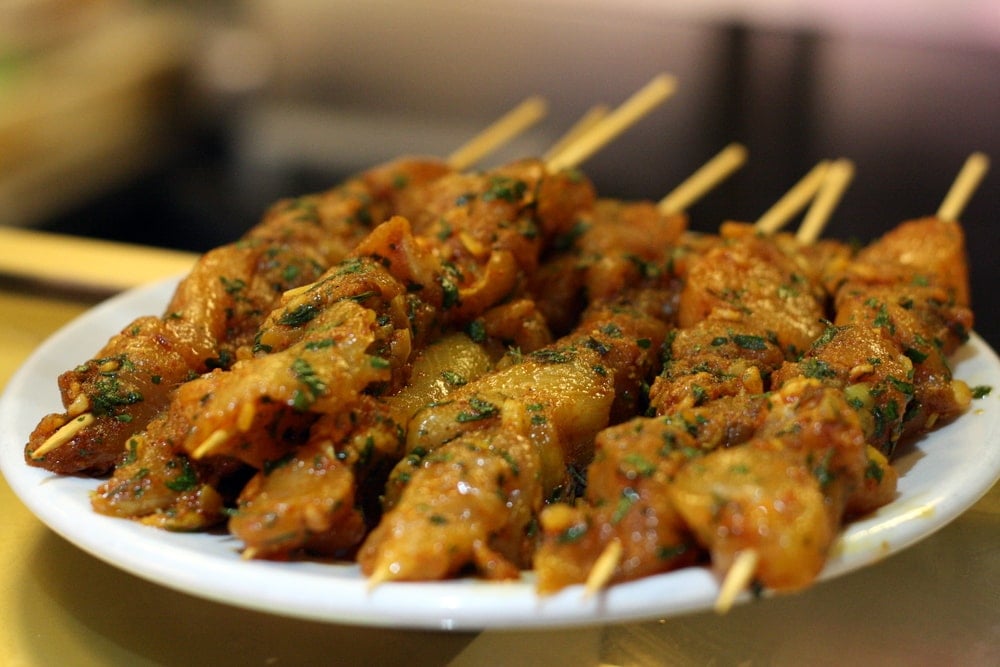 Pinchos morunos are a welcome addition of spice and excitement to tapas menus all around Spain. These savory kebabs break the general rules of Spanish simplicity by soaking in a marinade of up to 20 different spices! The story behind this popular Spanish pincho is fascinating, and my recipe for these skewers is perfect any time of year.
Moorish pork kebabs might be a more literal translation of this typical Spanish pincho, but I believe Spanish pork skewers to be a better fit. The Moors didn't actually eat pork, as it went against their Muslim beliefs. It was most likely the Christian Spaniards who invented the pork version, using similar spices to the ones found in traditional Moorish kebabs (usually made of lamb) and gave them their name.
History Lesson: The Moors were the Northern African Muslims who were of mixed Berber and Arab descent and conquered the Iberian Peninsula in the 8th century, sticking around until the end of the 15th. Their influence on Spanish culture is everywhere!
A true pincho Moruno is marinated in the spice blend known as ras el hanout, Arabic for "head of the shop". The basic blend is often made up of cumin, oregano, coriander, turmeric, paprika, nutmeg, cayenne, peppercorn and cinnamon, but each shopkeeper adds their secret ingredients and make the blend their own.
This pincho Moruno recipe is the best I've found, resulting in juicy Spanish pork skewers that will have your mind wandering to southern Spain and Morocco.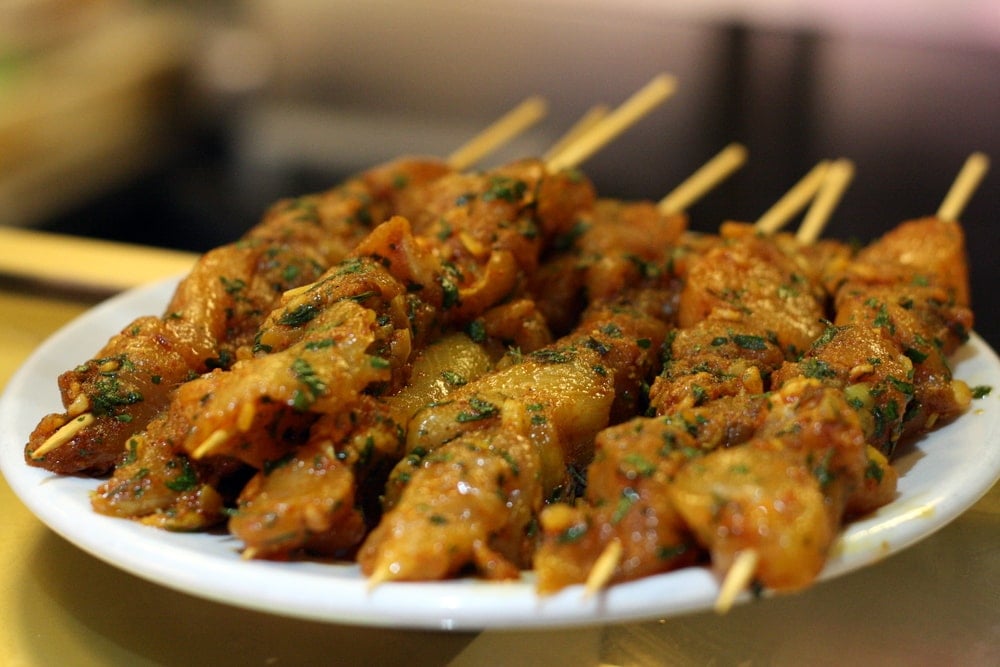 Pinchos Morunos (Spanish Pork Skewers)
These addictive Spanish pork skewers are called pincho morunos because of their fascinating history. The marinade is a delicious blend of spices and they make the perfect tapa!
Print (images optional)
Pin
Rate
Ingredients
2

pounds

of pork tenderloin

cleaned of excess fat/veins

1

tablespoon

ground cumin

1

teaspoon

ground coriander

1

tablespoon

sweet Spanish paprika

1

teaspoon

ground turmeric

1

teaspoon

oregano

1/2

teaspoon

freshly ground black pepper

1/4

teaspoon

ground cinnamon

1

teaspoon

salt

5

minced garlic cloves

1/4

cup

extra virgin olive oil

Juice of 1/2 a lemon

for marinade

Lemon wedges

for serving
Instructions
Trim the pork loin of excess fat and then cut into 1.5 inch cubes and put into a large freezer bag

Mix all spices, olive oil and lemon juice in a bowl and then pour over the pork cubes

Seal the bag and toss the spice mixture with the pork, then marinate in the fridge overnight (or a minimum of 2 hours)

Remove the marinated pork cubes and place on metal skewers with a little bit of space between each cube

Grill on a high heat until browned on the outside but just cooked through (don't overcook or they'll be dry!)

Rest the skewers for five minutes and serve with lemon wedges
Nutrition
Calories:
417.42
kcal
|
Carbohydrates:
5.41
g
|
Protein:
47.89
g
|
Fat:
22.3
g
|
Saturated Fat:
4.64
g
|
Cholesterol:
147.42
mg
|
Sodium:
704.73
mg
|
Potassium:
998.11
mg
|
Fiber:
1.76
g
|
Sugar:
0.71
g
|
Vitamin A:
881
IU
|
Vitamin C:
8.84
mg
|
Calcium:
49.9
mg
|
Iron:
4.24
mg
This simple Spanish pork skewers recipe is a great addition to a summer barbecue or a Spanish style tapas party. If you make extra ras el hanout spice blend, you can use it in other dishes too!
Have you tried pinchos morunos in Spain? Where?
Pin me!