Malaga may be best known for its amazing beaches and many days of sun, but the city can also get incredibly cold. You'll see locals wrapped up and taking to the streets as normal, but their go-to tapas do change with the weather. Warm, wholesome, and hearty dishes take center stage as we leave the typical light Malaga foods aside. Check out these delicious soups and stews in Malaga and ensure you don't catch a chill during your visit.
Cozy Soups & Stews in Malaga
1. Gazpachuelo
Gazpachuelo is a delicious, hearty stew that actually originated right here along the Costa del Sol. Traditionally a staple dish for local fisherman, it is the king of all the delicious soups and stews in Malaga. Typically, the fish sits in a broth with garlic, olive oil, and egg yolk. If you're in the city in winter, you can't miss out on it!
2. Puchero Malagueño
You can find a puchero in every traditional bar across Andalusia, but it varies from region to region. Typically made from a base of chickpeas, it also includes meat, vegetables and salty bones with delicious results. The Malaga version also has a dash of rice, which gives it a unique consistency. Versatile and delicious, the leftovers often go into croquettes or other rice dishes.
3. Fabada
Beans are an essential in every Spanish kitchen, and the stews locals make from them are exceptional. Perhaps the most famous fabada is from Asturias in the north of Spain, but the Malaga one certainly gives it a run for its money. Made with pinto beans, this is up there with the best delicious soups and stews in Malaga and is not to be missed if you're planning a winter vacation to the city.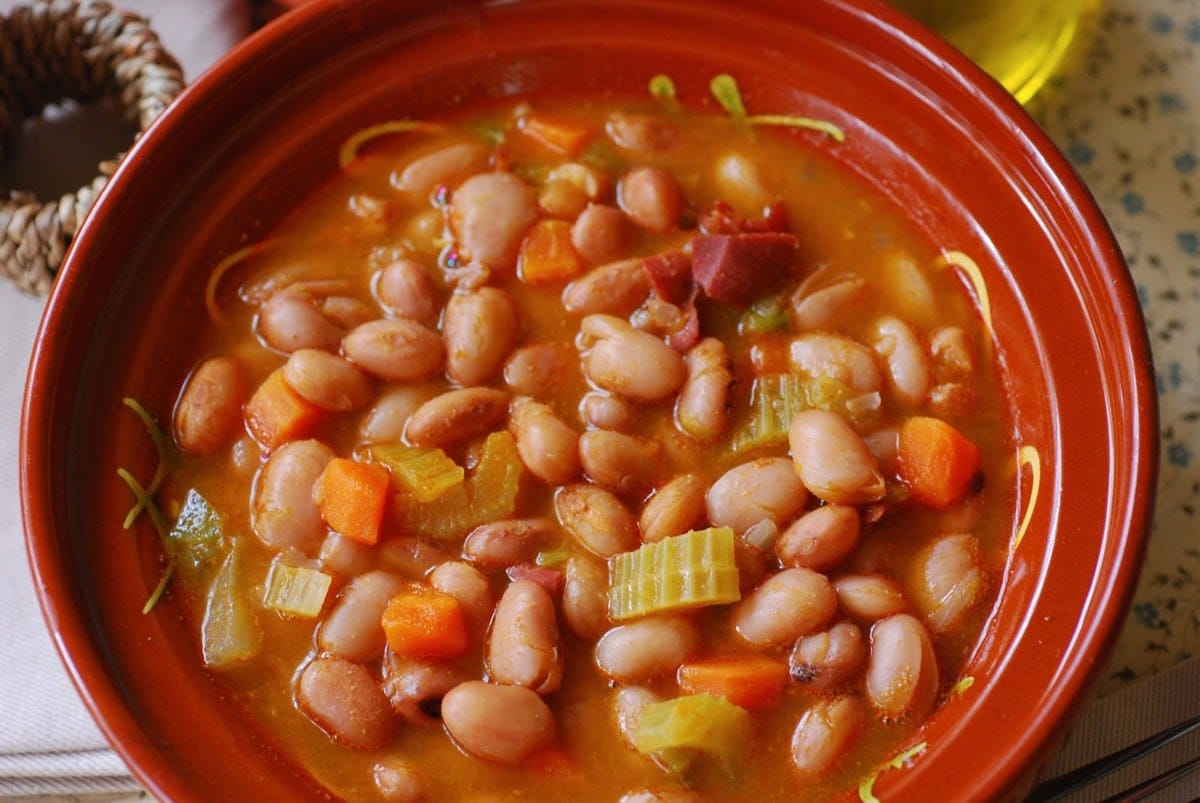 4. Picadillo
Chicken soup just screams winter comfort food—flavorful, warm, easy to prepare and incredibly delicious. That's exactly what you get with picadillo. The chicken is finely chopped, along with a hard-boiled egg, some jamón and some small, thin noodles. Perfect for those cold winter nights!
5. Guisaillo de Papas
What hearty meal is without its dose of potatoes, the ultimate comfort food ingredient? Guisaillo de papas translates to stewed potatoes, which makes it pretty obvious what the star ingredient in this dish will be. Potatoes are a common ingredient in Spanish food, but not so common in stews—normally, locals add veal or beef along with healthy doses of paprika and black pepper. When it comes to delicious soups and stews in Malaga, guisaillo is a must try.
See Also: The complete guide to comfort food in Malaga
Pin Me!
Photo Credit: Jules