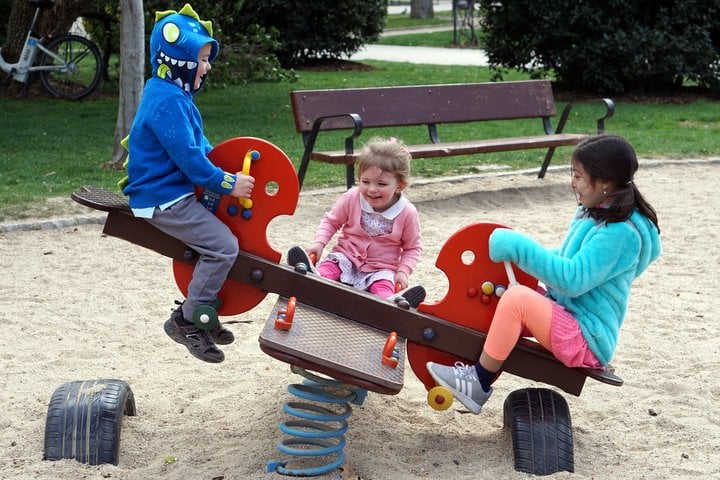 Just about one year ago, my sister called to tell me she was coming to visit me here in Madrid-- with her husband and four small children in tow! I was overjoyed, yet apprehensive-- would it be too much for the kids? Luckily, I've now learned that Madrid is a pretty awesome city for children, and my sister claims that their 10-day trip was the best vacation they've ever had.
Why Visit Madrid with Kids?
Everyone will have their own opinion, but for my sister it was a combination of wanting to come to Europe, to visit me, and to expose her young kids (ages 1, 3, 4, and 8) to another language and culture. She had actually been thinking about going to Walt Disney World in Florida, but after running the numbers saw that a trip to Madrid would actually be significantly cheaper! They got a great deal on flights with Aer Lingus, and stayed in a lovely rental apartment on the Paseo del Prado, and cooked market fresh food daily (with some meals out too, of course!).
What to do in Madrid with Kids
Here's where I was super surprised-- I searched for things to do in Madrid with kids and got loads of articles as a result. I can tell you that 99% of them were written by people who do NOT have kids, and have never actually done the activities they proposed. This article is by no means meant to be an extensive guide, but I guarantee you I've actually done each and every thing on this list!
Also, these suggestions worked well for my sister's kids (ages 1, 3, 4, and 8). I'm sure with a slightly older bunch you'd have even more options, so I've included some additional recommendations towards the end.
1. Take it slow
Madrid is a big city, with lots to see and do. My nieces and nephews enjoyed our slow pace (usually one attraction per day). This way we didn't make them wake up early, they could take a nap in the afternoon (Spanish style!), and stop at as many playgrounds as necessary.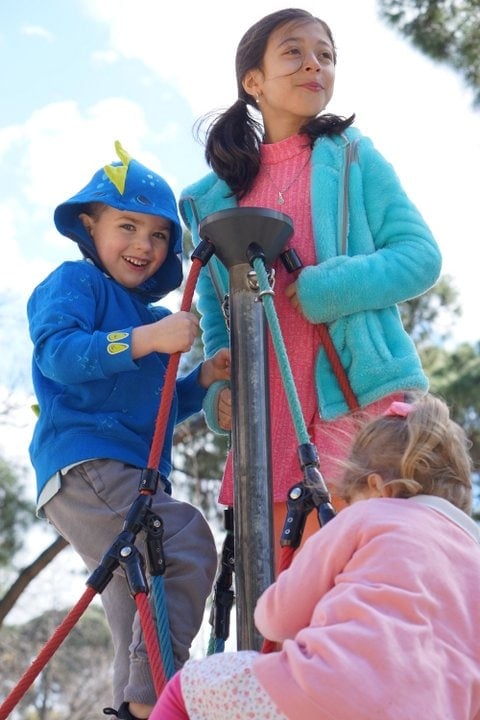 2. Stay in a rental apartment
There is no better way for a family to stay in Madrid. We were lucky to find a great place on the Paseo del Prado, a 10-minute walk from the Atocha train station, the Puerta del Sol, and only minutes away from Madrid's most famous museums and the Literary Quarter. I think this area is super family friendly and would definitely recommend looking here!
3. Eat breakfast in
We saved time, money and stress by making sure the kids ate breakfast at home, before heading out. That way they were nourished for the morning! Sometimes we'd stop for a second breakfast (common here in Spain!) of churros or a tostada, but we never had to stress if they would eat or not.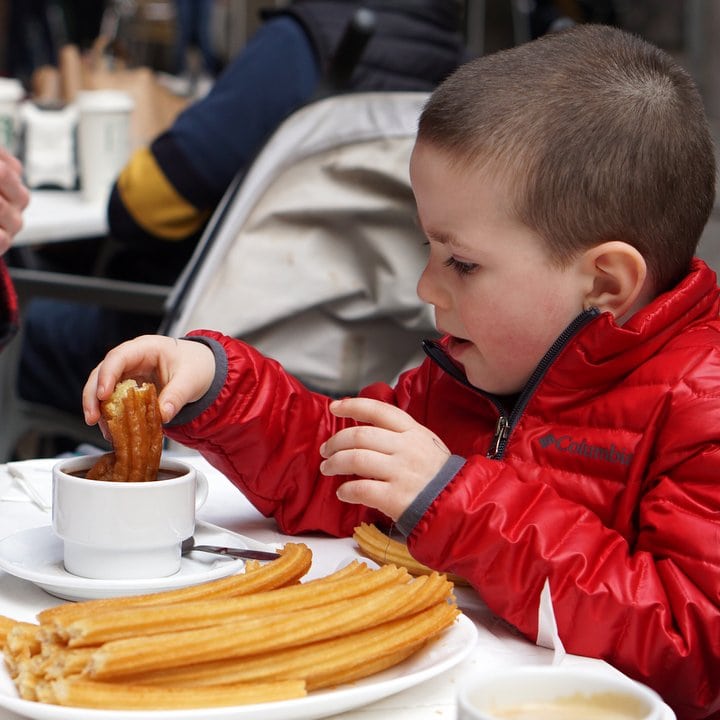 4. Visit these places
Royal Palace: The kids loved seeing the palace and learning that Spain has a king, queen, and princesses! We didn't go inside, although the eight-year-old would have liked to.
Plaza Mayor: The square is impressive and we enjoyed slowly making our way around the perimeter. We visited as a part of my kid's tour of Madrid, which meant the kids got to learn a fascinating story about the horse statue in the square!
Retiro Park: We visited twice and the kids LOVED it. Retiro has about 15 (or more!) playgrounds inside, so we combined a "playground tour" with a real tour of the park for the adults. The only part that they didn't enjoy was the crystal palace (my 3-year-old niece found the loud sound exhibition really scary).
Casa de Campo: We all loved visiting Casa de Campo! I often forget how gorgeous (and enormous) this park is.
Madrid Zoo: As a part of our Casa de Campo day, we went to the zoo. I'd never been before (zoos make me a little sad) but I really enjoyed it and the kids LOVED it. We went mid-week which meant it was empty-- even the concession stands were closed, so bring your own snacks!
Churrería: There are plenty of places for chocolate con churros in Madrid, and I guarantee my family would love them all. But my personal favorites (and the ones we feature on our food tours in Madrid) are Chocolat (Literary Quarter) and San Ginés (Center). Try our Madrid for Kids Tour for churros and chocolate with the whole family!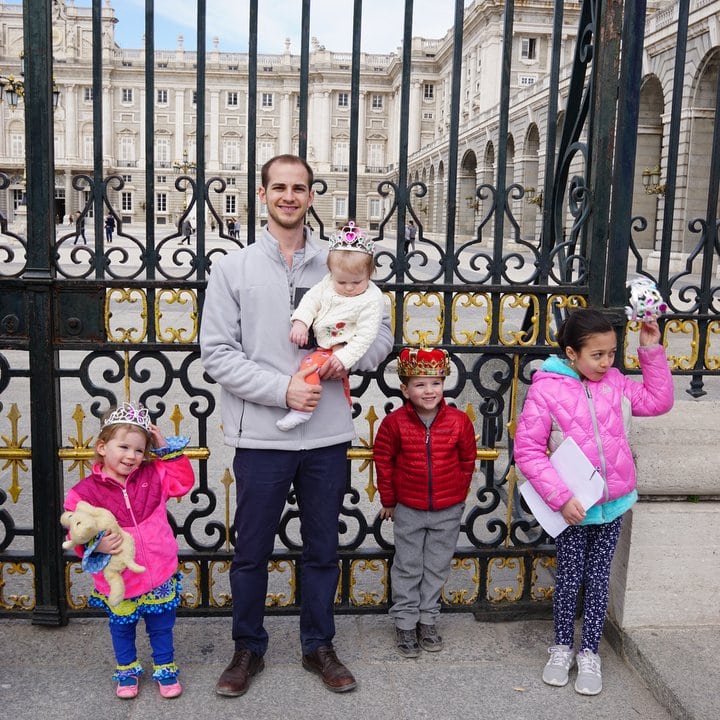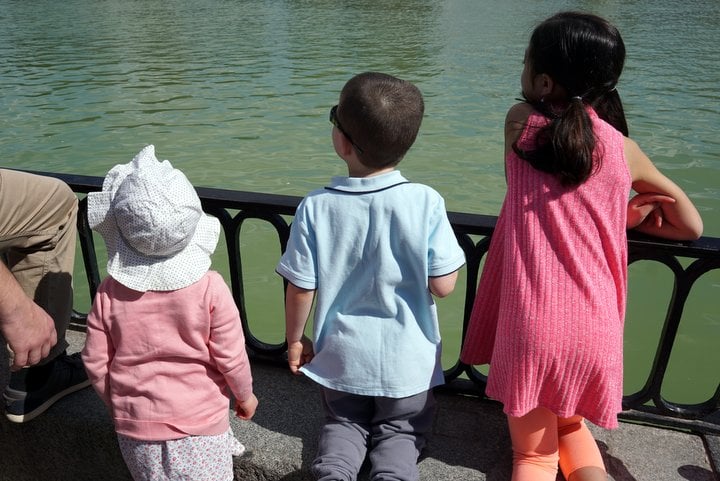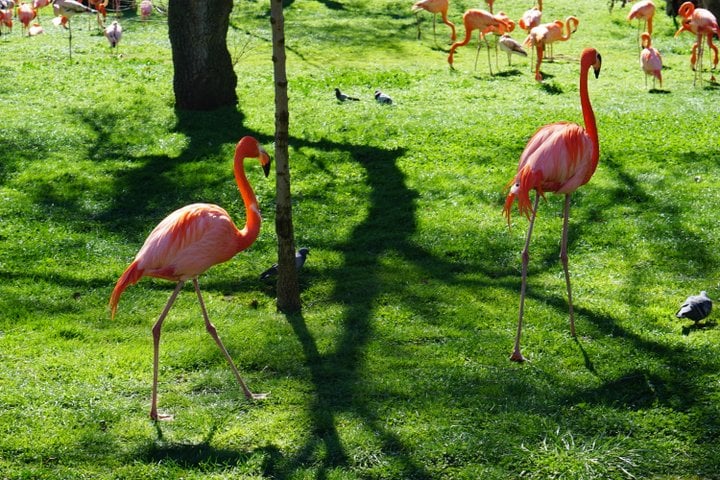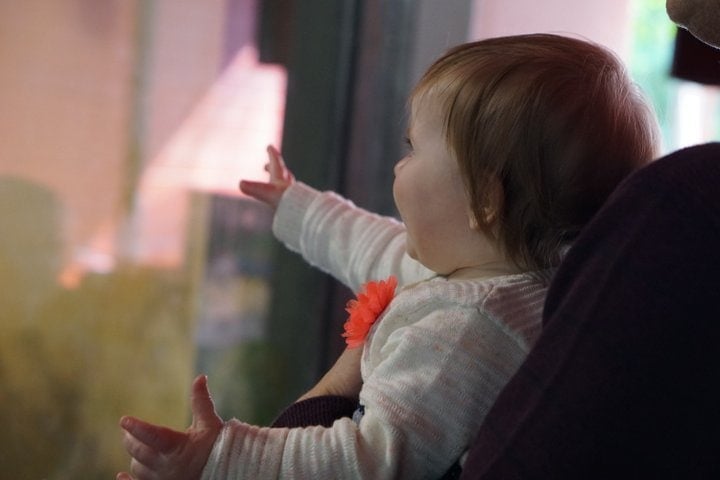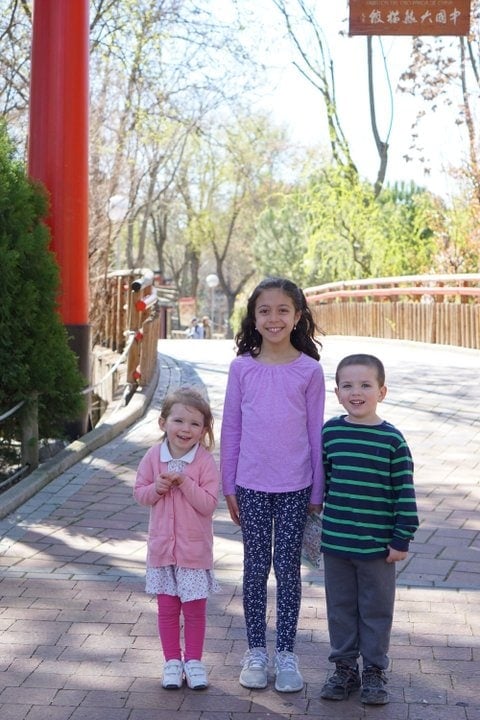 5. For older kids
Bernabeu Stadium: We did visit the stadium with my family (my brother-in-law used to play soccer) but I don't recommend it for young kids for a few reasons. First of all, it is AWFUL for strollers. There are tons of staircases and no place to store the strollers during the visit. Two people were needed per stroller to take them up and down countless staircases (no elevators). Also, the kids were very bored. Now-- they had no idea who these players were (so if your kids do follow football and know about Real Madrid, this might be different), but my family had no idea. The adults enjoyed it (the tour is self-guided and lasts at least two hours), but I definitely see this as something for older kids (who ideally follow football), and adults. Also-- it's pricey!
Railway Museum: We almost went to this museum but ran out of time. I've been before, however, and know that the kids would have enjoyed it. Some guides mention bringing kids to the Naval Museum-- but I don't agree. The Madrid Naval Museum is dark and has lots of reading, I think my nieces and nephew would have been very bored.
Teleférico: We skipped the cable car this time because the kids were too young (I think they would've been scared). My sister also isn't the biggest fan of heights... But last year we did this with Ale's family, including our 9-year-old niece and 12-year-old nephew, and they loved it.
Flamenco Show: Flamenco shows are very loud and passionate performances-- in my opinion not really appropriate for young kids. My sister and I took my 8-year-old niece (the others stayed home with Dad) for her birthday and she loved it. We went on a private Devour Madrid Flamenco and Tapas Tour (with the show nice and early at 6pm) and had great front row seats. I wasn't sure what my niece would think, and she was silent (her eyes glued to the stage) throughout. Turns out she was very impressed and would love to go again!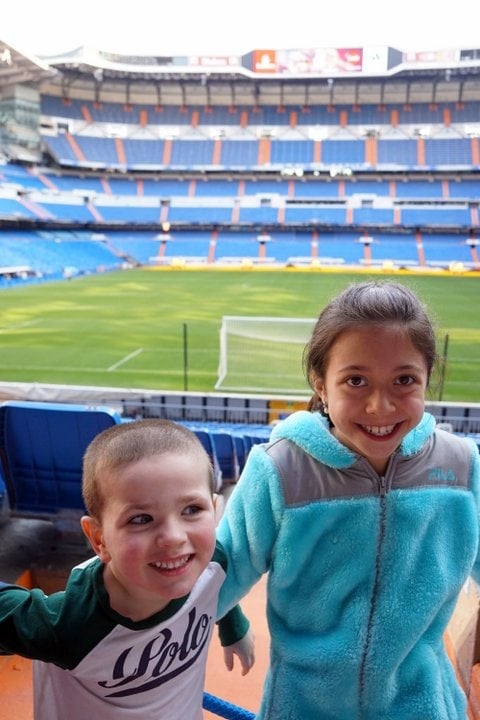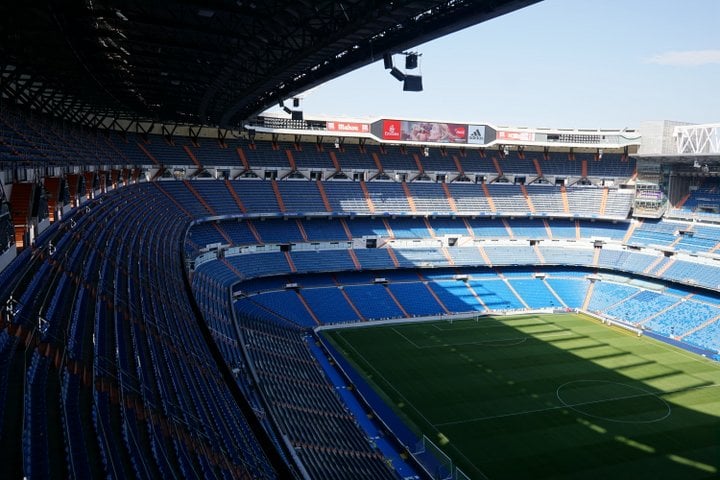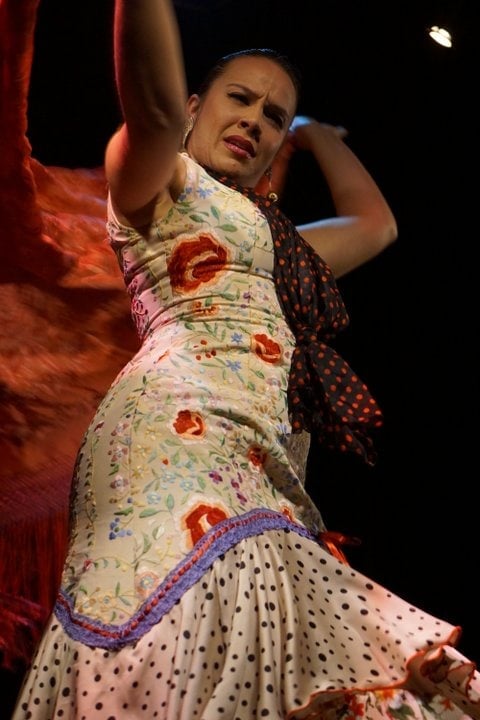 6. Take a Madrid for Kids Tour
My sister was lucky, as Devour Madrid is in the testing stages for a new tour-- a Madrid for Kids Tour that we will be launching soon! ***Update**** It's launched! See all the details about our Madrid for Kids Tour here! This tour was perfect for them because it allowed both adults and kids to explore the city center at the perfect pace.
We visited the main sights (the Royal Palace, Almudena Cathedral, Plaza de la Villa, Plaza Mayor, Puerta del Sol, etc.) but kept the kids interested with stories, legends and a fun workbook with different activities. The tour also includes a stop at an authentic Spanish deli (where adults sip cava or wine and enjoy the best ham in Spain, and kids make delicious Spanish sandwiches with meats and cheeses). Kids also get to learn about the fine art of ham slicing, and meet the professional ham slicer! And a kids tour in Madrid would never be complete without a stop for churros and chocolate, at San Ginés of course! Everyone was so happy to have a pick-me-up (whether coffee or chocolate) along with sugar-coated churros.
You can contact us about a private family tour of Madrid here: Contact Us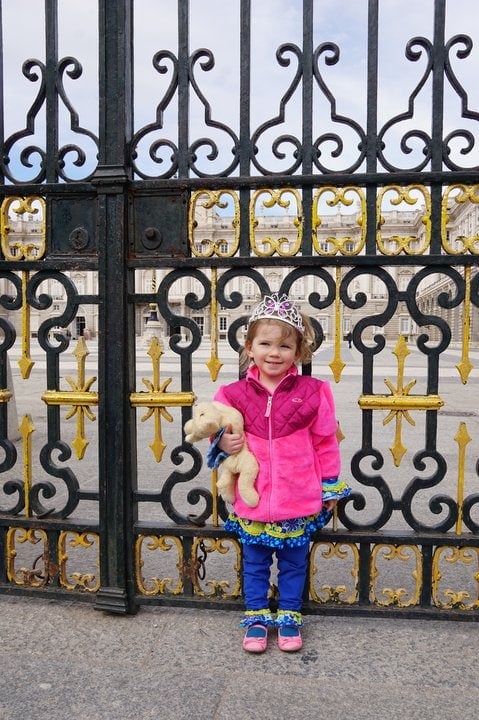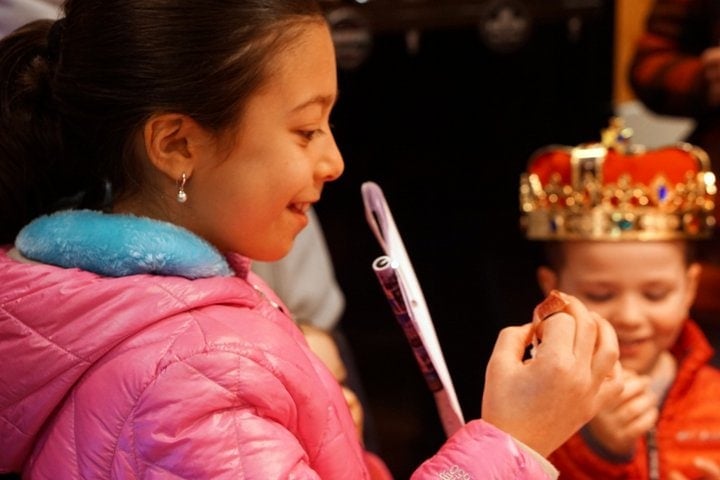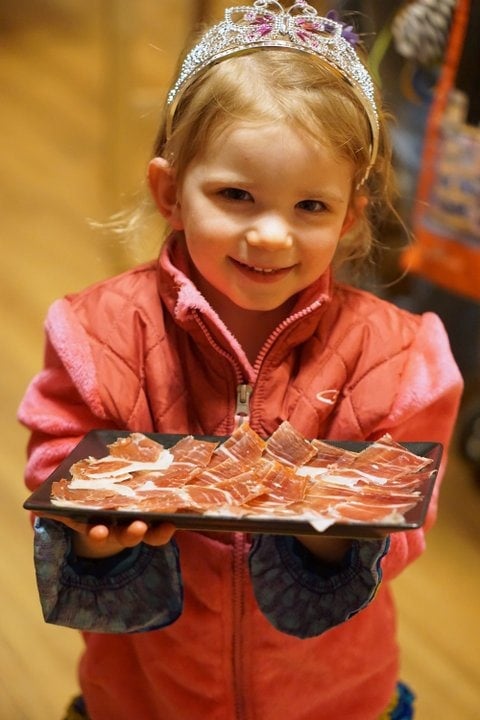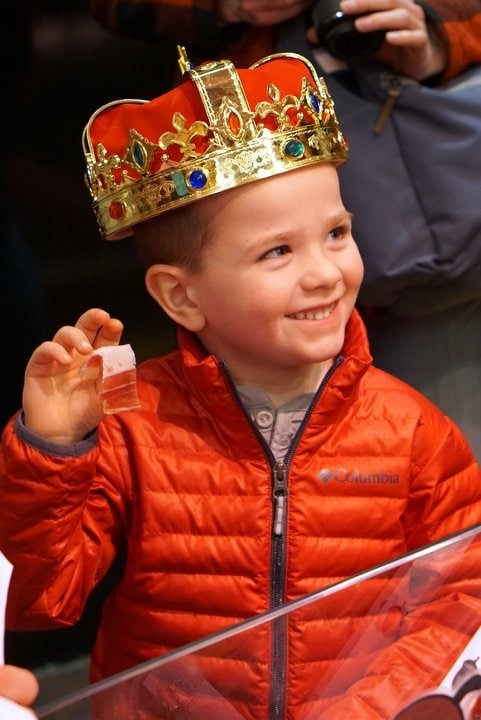 7. Don't dine too late
Everyone will tell you that in Spain you need to adapt to the local timetable-- which means dinner at 9pm or later. While I believe this to be true if traveling alone, I don't recommend it with kids. There are plenty of places that open earlier and dining earlier will make your kids' experience of eating in Spain much better.
See Also: What Do Kids Eat in Spain?
8. Do try the merienda
I loved teaching my nieces and nephew about "Spain's 4th Meal" the afternoon snack, or merienda. This was a time for something (churros, sandwiches, pastries...) between lunch and dinner.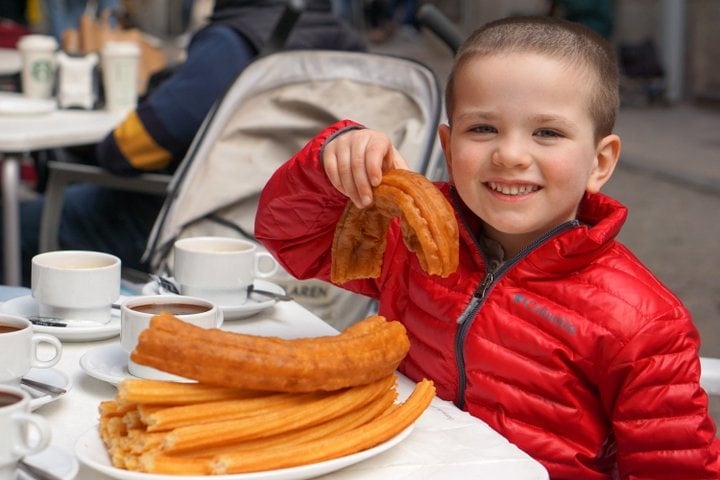 9. Take the Rastro Slow
We were unsure about visiting Madrid's most famous flea market, the Rastro. It's often crowded and hot, and the main streets are filled with a lot of crap-- the side streets with expensive antiques. But we decided to brave it anyway. The key to enjoying it was taking it slow. We meandered down the main street (barely moving because it was so packed), before making a left on the much calmer "art street" (not sure the actual name!). Here my sister bought a painting and some T-shirts for the kids. We turned the corner and ate delicious popsicles and coffee from Tulup (Calle Embajadores, 6), while listening to a live band. We then made our way back through the crowds to pick up a couple of souvenirs we'd spotted earlier. We didn't try to see it all, which meant we had a great morning!
10. Stay in Madrid!
This may be obvious, but in order to love Madrid, you have to stay put! So many people spend one or two days in Madrid and then hop around the rest of Spain. While I LOVE other Spanish cities as well, I believe that slow travel is the best way to truly connect with a place, and especially recommend taking it slow when traveling with kids. Of our 10-day trip, we only left the city once (for a day trip to Toledo).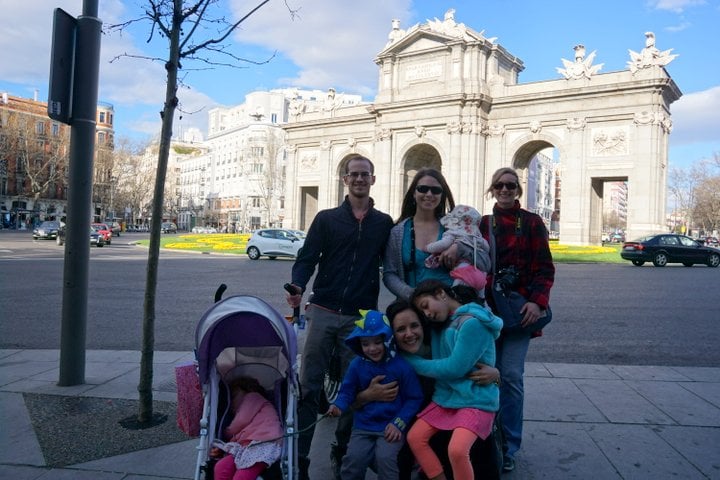 I loved my family's visit (though by the end I admit I was exhausted!). I realized that Madrid with kids is not only doable-- it's great! My family had a very special experience and the kids are already asking to come back. "I love Spain!" is what they're telling everyone back home 🙂
Have you traveled abroad with kids? Any tips for Madrid with kids that I missed? Leave me a comment!
Pin me!