Check out the top twelve ideas for Spanish Christmas gifts for food lovers!
The gifts laid out for Christmas in Spain are an odd-shaped bunch. Strategically wrapped prongs of ham holders poke out among feebly disguised necks of wine and olive oil bottles. Nearly an entire roll of wrapping paper can barely cover the surface of the family-sized paella pan and no holiday paper, box or bag can contain the smoky smell coming from the paprika tins.
For foodies, Spain holds the mega load of awesome Christmas presents. The traditional cooking, carving and serving items I've found here have been huge hits with my family back in the States and friends around the world. The best part about these gifts for me is the little slice of Spanish culture they bring with them. Each food item and kitchen gadget has a storied history that makes opening presents on Christmas morning even more interesting.
Like to cook? Top Spanish Christmas recipes
Whether you are doing your Christmas shopping in Spain or online, these 12 items are pretty easy to find, easy to mail and sure to add a little taste of Spain to your holidays.
1. Jamonero
Think of eating Iberian Spanish ham-like drinking really good wine. If you gulp down a giant swig, you lose the flavor of the wine. Same with jamón. If you slice off a thick chunk, most of the magic is lost.
Enter jamoneros. A jamonero is a specially designed stand that holds cured ham legs in the perfect position to be expertly sliced into those nearly see-through shavings of pure Iberian ham goodness. This thin slicing allows the flavors of the ham to really shine as the small pieces nearly dissolve on the tongue. Without a jamonero it is nearly impossible to properly slice a ham leg (trust me, I've tried and failed miserably!).
Learn more about Spanish ham (and how to spot the good stuff!) here.
2. Olive Oil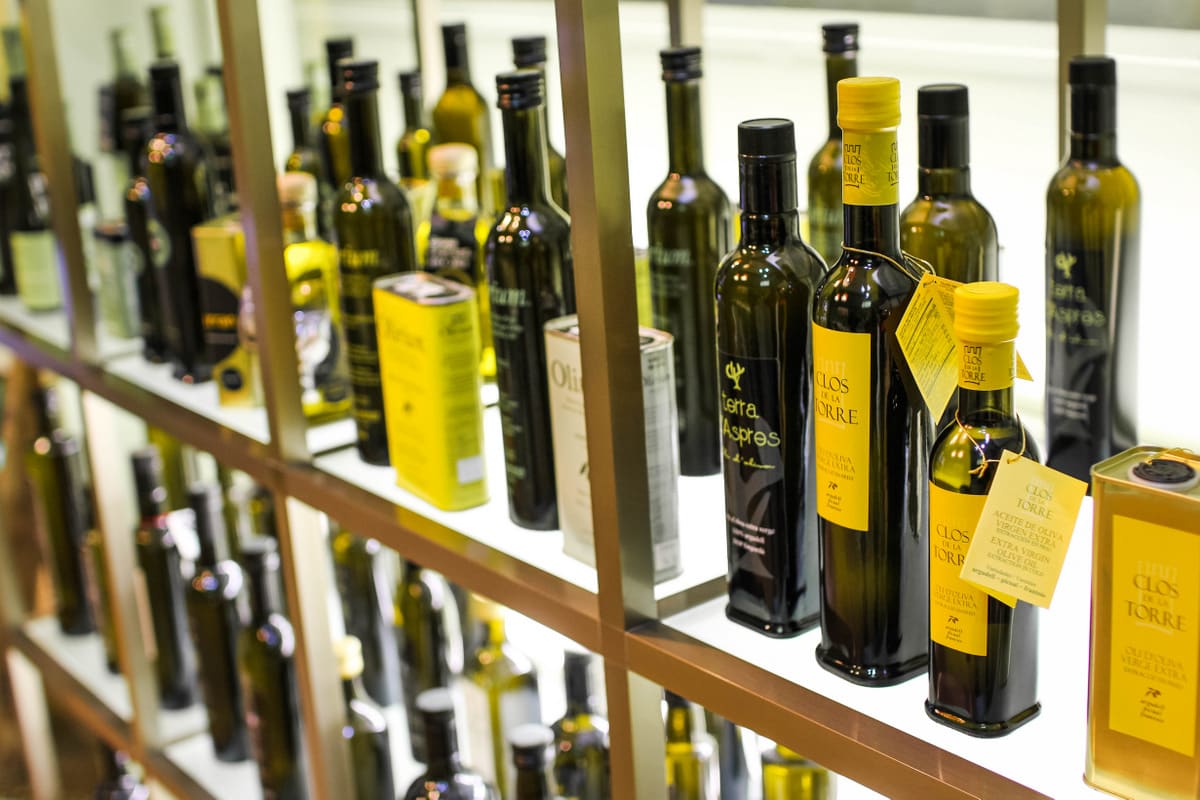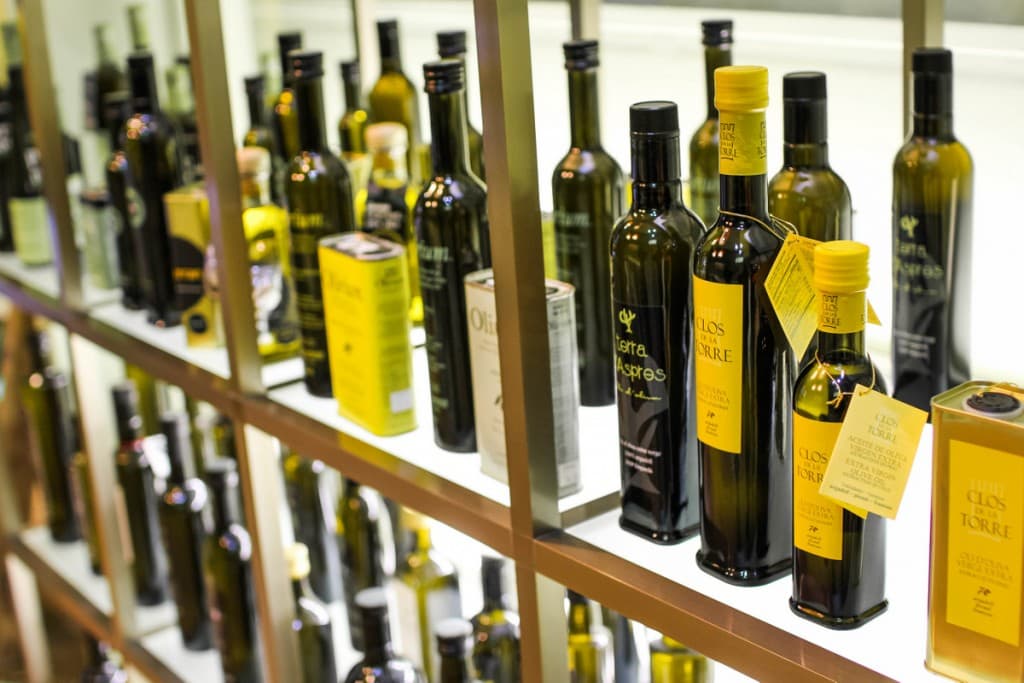 They call it liquid gold for a reason. Spain produces 40 percent of the world's olive oil, cranking out more than 1 million tons per year. Here people pour olive oil over everything. From salads and shrimp to fried croquettes and bull tail stew, almost every Spanish dish starts with a drizzle of olive oil.
If you're planning to mail or carry olive oil in a suitcase, be sure to buy it in a tin can rather than a glass or plastic bottle. With the changes in pressure during flights the oil expands and contracts which could lead to broken bottles and ruptured seals leaking oil. The tin and its stronger seal is flexible enough to withstand these pressures without bursting or leaking.
Check out our Spanish olive oil buy guide here.
3. Cazuelas de Barro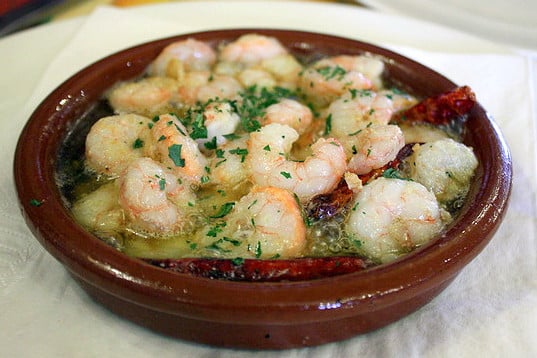 Garlic shrimp, baked chorizo and eggs, Spanish style creme brûlée…. none of these dishes would be possible without these clay dishes. Cazuelas, or cazuelitas if they are small, are the key to many Spanish meals.
This thick clay warms slowly and stays boiling hot much longer than conventional bowls and pans, keeping your gambas al ajillo sizzling until it reaches the table! They can be used in the oven, on the stove, over the fire or even in the microwave.
4. Tins of Paprika
I am quickly discovering that everything is more delicious with smoky Spanish paprika sprinkled over it. Mashed potatoes? I add paprika. Scrambled eggs? Definitely need paprika. Green beans? Pork Chops? Spaghetti Sauce? Paprika! Paprika! Paprika!
This fundamental Spanish spice is sold in intricately decorated tins that need nothing but a bow! Can you say stocking stuffer?
Find out more than you ever wanted to know about Spanish paprika here.
5. Oil and Vinegar Ceramics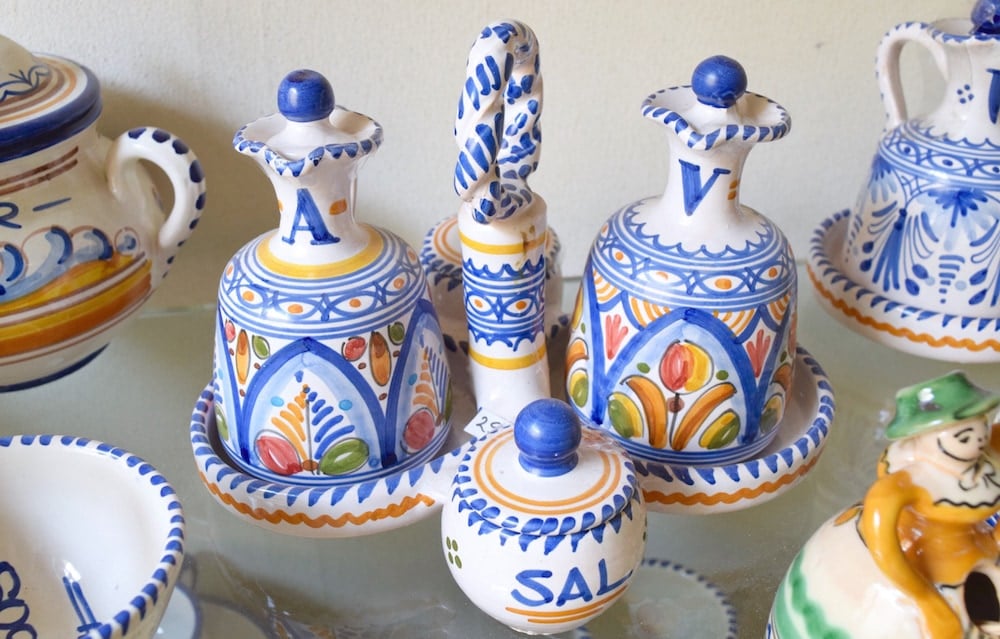 In homes across Spain, it is a rare sight to see a bottle of olive oil straight from the producer on the dinner table. Usually, those bulky bottles are left in the kitchen and a daintier bottle that is easier to pour from is brought to the table.
While many of these olive oil dispensers are made of glass, my favorites are the elaborately decorate ceramic containers. The bright yellow and blue designs of ceramics from Talavera de la Reina are, in my humble opinion, the rightful homes something so wonderful as olive oil. These sets of oil, vinegar and salt holders are all the makings of the classic Spanish salad dressing.
6. Paella Pan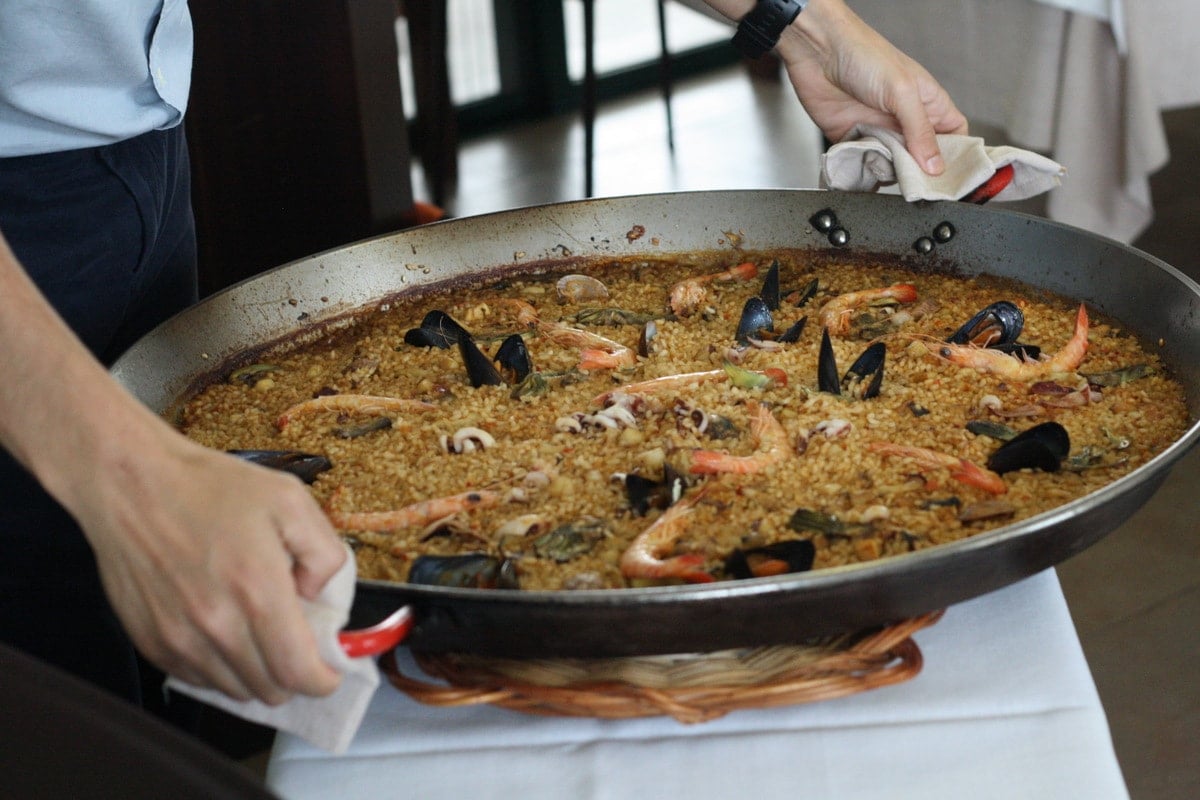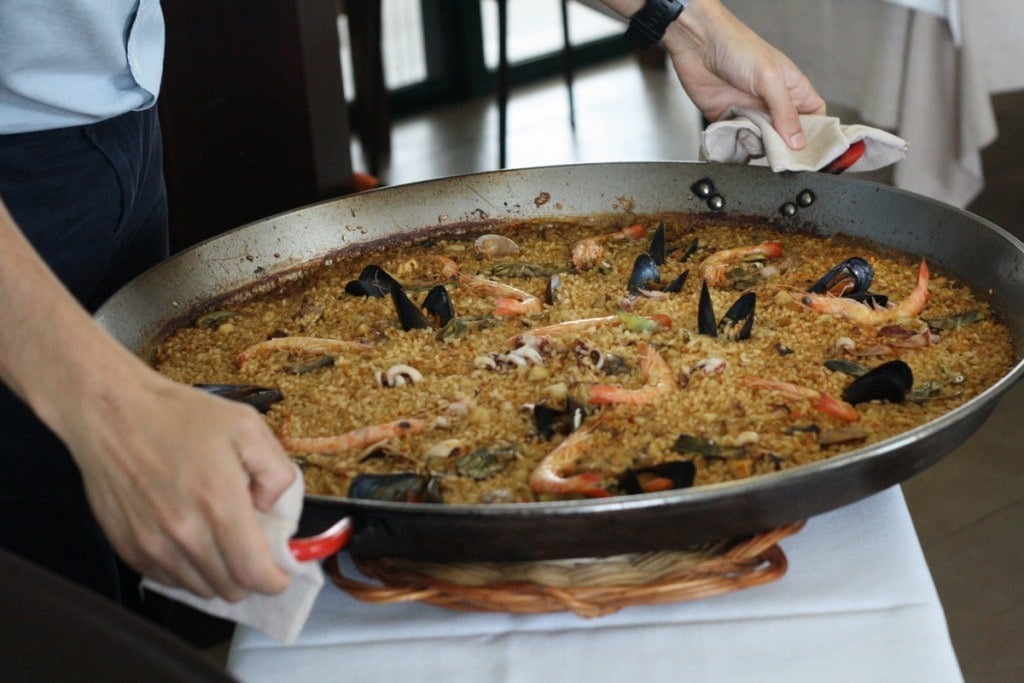 It's not a true paella unless you have the pan. In fact, the name paella belonged to the pan before it was used for the now-famous rice dish that it contains.
These wide shallow metal pans are made of carbon steel or stainless steel and are specially designed to evenly distribute heat across the entire bubbling layer of rice. An authentic paella is traditionally cooked over a fire or over a ringed gas burner, meaning the pan has to be extra sturdy to withstand the heat!
7. Chocolate Covered Figs
The Christmas holidays are perfectly timed. Not for the fireplace weather or the long nights to fill with decorative lights. December is the ideal month for the holidays because it is smack dab after fig season.
The thousands of tons of Spanish figs that fall from the trees in October are dried in the sun, dunked in rich dark chocolate and ready to eat by the bagful by Christmas! They are, without question, my absolute favorite Christmas sweet in Spain!
8. Spanish Cookbooks
Spanish cooking is shockingly simple, at least according to the ingredient lists. With just three or four items used in most recipes, homemade tapas are extremely feasible. While every Spaniard will tell you the best recipe for whatever dish you want to make is their mother's recipe, there are quite a few cookbooks that give those Spanish moms a run for their money! One of the best is Claudia Roden's The Food of Spain
.
9. Saffron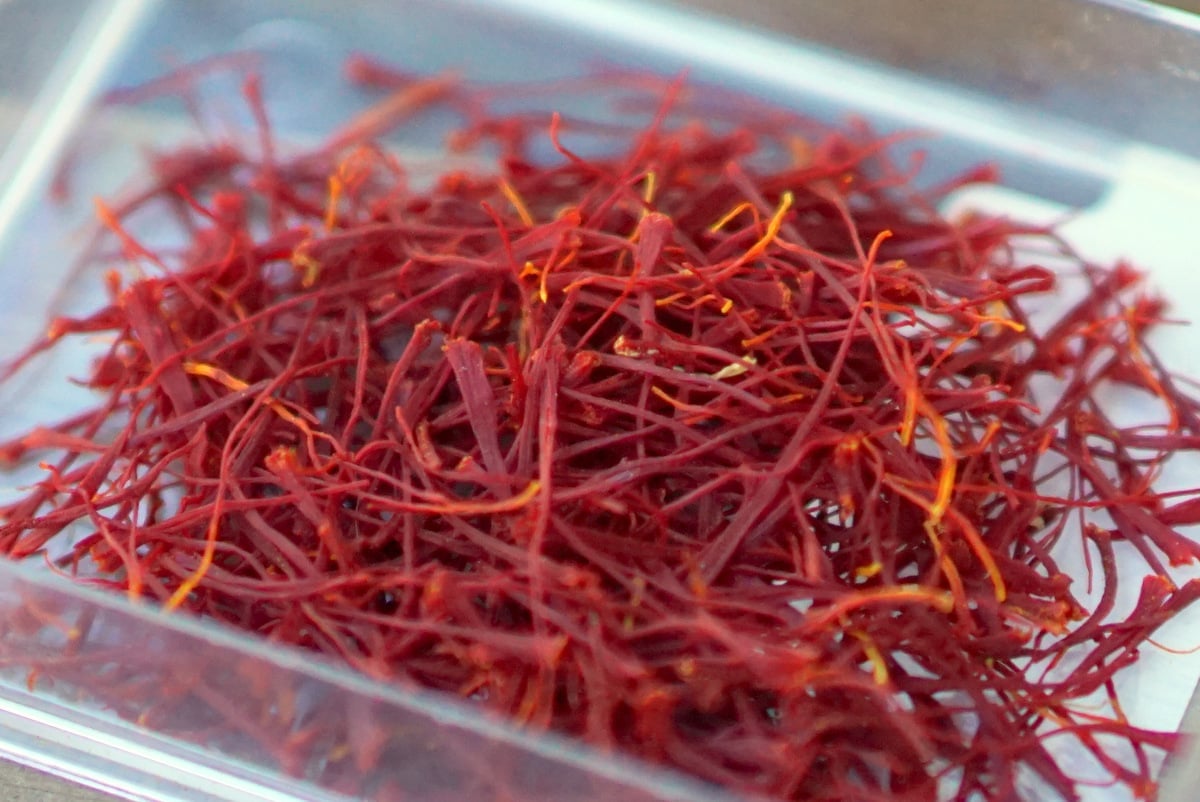 At €3,000 per kilo (more than $1,500 per pound) saffron is the most expensive spice in the world. And Spanish saffron, many will argue is some of the best. The red threads of saffron are the stigmas of the crocus flower, a finicky flower that must be harvested on the same day that it blooms.
The spindly stigmas are whisked from the flower petals by hand and then lightly dried over gas burners or charcoal fires. Saffron adds deep flavors and bright colors to dishes like paella, chicken, fish and even cakes!
10. Cafetera
The thing my mom tells me she misses most about Spain is the coffee. One part espresso, two parts milk and foam, a Spanish café con leche is coffee as it should be. And thanks to the ridiculously simple cafetera, they are now global.
This coffee making contraption is genius in its simplicity. Pour water into the bottom, fill the center ring with finely ground coffee and screw the top on. Five minutes on the stove and a pot of rich, creamy espresso awaits!
11. Porrón
There are few ways to drink wine that are more fun than using a porrón. These funky funnel-fused-to-a-vase gadgets were originally created centuries ago as a utilitarian way to share wine during Spanish lunches. Porróns are still used in Spain as a hygienic way to share vino among friends.
12. Olive Wood Everything
From cutting boards and wine holders to stirring spoons and salad bowls, just about every kitchen utensil used in Spain can be found carved from olive trees. The grain of this durable wood makes these useful utensils gorgeous. And as many of these products are sold in tiny craftsman shops, they come with the added benefit of being able to say "I watched the 75-year-old craftsman carve this spoon out of a 90-year-old olive tree branch just for you, Dad!"
Read more: Top Spanish Christmas traditions
What's on your Christmas list this year? Will one of these Spanish Christmas gifts make the cut?