Today Lindsey shares some of the best Spanish rice dishes that (surprise!) are NOT paella! And I have to say, my favorite (arroz con bogavante) is worth the trip to Galicia alone!
When most people outside of Spain think of Spanish rice, paella usually comes to mind. And not just any paella—preferably one piled high with fresh seafood.
But while you can find authentic versions of said paella here in Spain, it's not the end-all-be-all of Spanish rice dishes. In fact, throughout the country, you can find scores of equally tasty recipes that highlight Spain's famous rice by pairing it with local ingredients and cooking techniques.
If you do insist on paella, read about what to look for here!
Many visitors to Spain can claim to have tried paella, but if you're looking for a truly authentic experience, consider ordering one of these alternative Spanish rice dishes instead. As a bonus, some of these are difficult to find outside their home region, so you can rest assured that they're the real deal.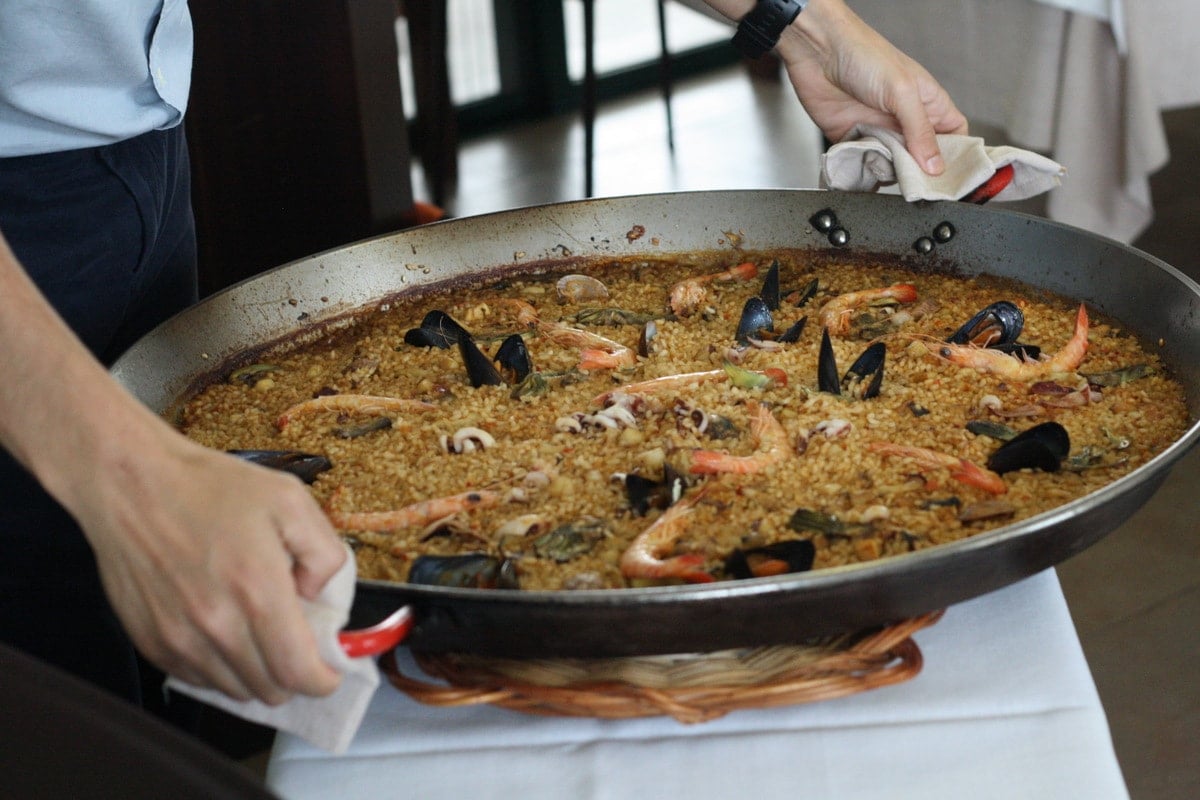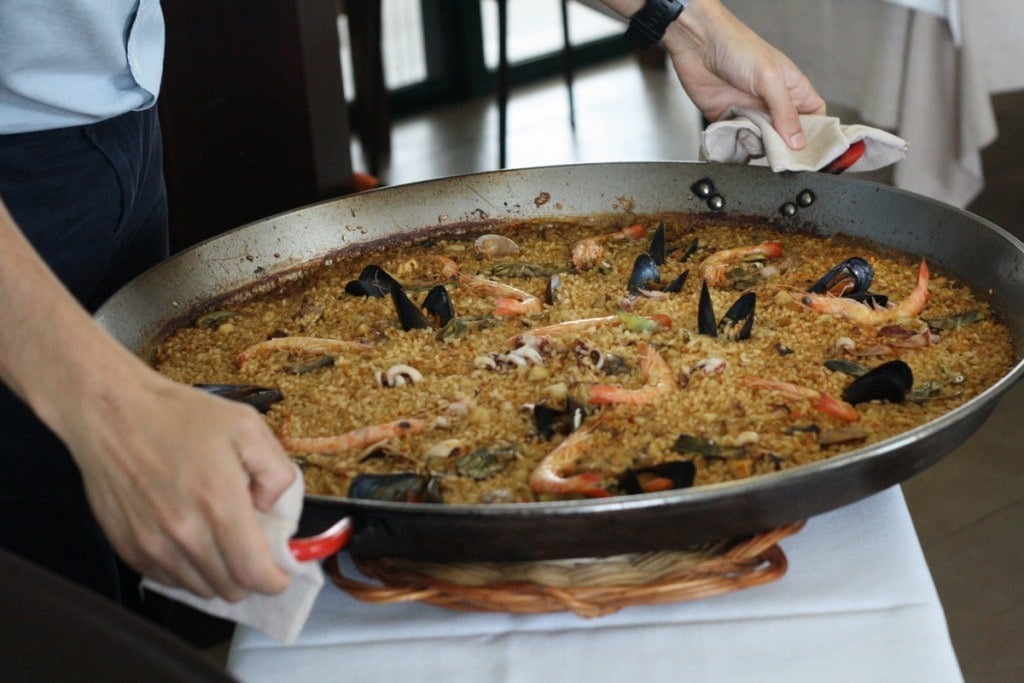 7 Must-Try Spanish Rice Dishes That Aren't Paella
1. Arroz Caldero (Murcia)
Tucked in between the Valencian Community and Andalusia on southeastern Spain's Mediterranean coast is a sun-drenched gem of a region that's often not on most tourists' radar. But don't count Murcia out simply because you haven't heard of it. This often-overlooked corner of Spain has a lot to offer, including lovely beaches, a warm and welcoming local culture, and a gastronomic scene that gives its better-known neighbors a run for their money.
Arroz caldero is one standout of Murcia's culinary repertoire. Particularly popular in the coastal areas of the region, it masterfully combines ñora peppers and freshly caught seafood into a flavorful stock, where local rice simmers to perfection. The result: a soupy Spanish rice dish that's the epitome of coastal comfort food—and which is especially delicious when topped with a dollop of alioli (homemade garlic mayonnaise).
See Also: Discover more about Murcia's largely undiscovered rice dishes!
2. Arroz con bogavante (Galicia)
Let's head up to the opposite end of the country for a moment. Another less explored region, Galicia swaps out Murcia's sunny shores for the lush greenery so typical of northern Spain. While it may look vastly different than its southern counterpart, Galicia does have one major thing in common with Murcia: fabulous cuisine, particularly seafood.
It's no surprise, then, that one of the most exquisite Spanish rice dishes in the region puts the pride and joy of local gastronomy on full display. Arroz con bogavante, or lobster rice, is usually cooked in the same kind of pan as a typical paella, but is creamier than its more famous cousin. The shell is usually left on the lobster, so you might have to dig in with your hands to peel it more easily.
There's even more to the delicious world of Galician rice. You'll also find it made with zamburiñas and carabineros (scallops and jumbo shrimp), pulpo (octopus), and more.
See Also: Even more delicious seafood options in Galicia!
3. Fideuà (Valencia)
Yes, this one is a little bit of a stretch, considering there's no rice at all in fideuà. But if you're looking for an equally tasty and authentic alternative to paella, you can't go wrong with its noodle-based cousin, which also has its roots in the region of Valencia.
In addition to the tiny, buckwheat noodles that set it apart from paella, fideuà also contains plenty of flavorful seafood. Recipes can vary, but shrimp, cuttlefish, calamari, and monkfish are common additions. Just don't forget the alioli—it truly takes this hearty dish from "good" to "fabulous!"
4. Arroz negro con alioli (Catalonia)
Arroz negro—literally, "black rice"—starts with white rice. So how does it get its signature dark color? The answer: squid ink. Not only does it contribute to the aesthetic quality of the dish, but it also serves to enhance the flavor of the seafood. While recipes can vary, the rest of the ingredients are all quite simple (think fresh produce and seafood), and reflect the beautiful and humble roots of Spanish cuisine.
Like many of the other Spanish rice dishes highlighted here, arroz con negro isn't complete until you've topped it with some homemade alioli! (Are you noticing a theme here?)
5. Arroz con pato (Seville province)
Seville and its surrounding province may not be the first place that comes to mind when you think of Spanish rice, but if you're looking for a tasty local alternative to paella, you may be pleasantly surprised. Its location, which hugs both the Guadalquivir river and the pocket of natural beauty that is Doñana National Park, is ideal for cultivating rice—which then ends up in so many local dishes that the regional government has even published its own rice-based guide for visitors to the area.
While it's tempting to want to spend as much time as possible eating your way around the province of Seville in the form of rice dishes, one standout it the duck rice (arroz de pato) typically enjoyed in Isla Mayor and Puebla del Río. Wild duck is sautéed with garlic, simmered into a sofrito made with local vegetables, and finally cooked with rice over low heat.
6. Arroz al horno (Valencia)
Valencia, as you might have noticed, does some pretty spectacular things with rice. In addition to being the homeland of paella, many other noteworthy Spanish rice dishes have their roots here, including arroz al horno, or baked rice.
Originally developed as a way to use up the leftovers of the previous day's cocido, or stew, arroz al horno is one of those "everything but the kitchen sink" type of dishes, combining a variety of ingredients in a way that just somehow works. Common additions include garbanzos, morcilla (blood sausage) and bacalao (salt cod)—but really, there's no right or wrong way to make this one!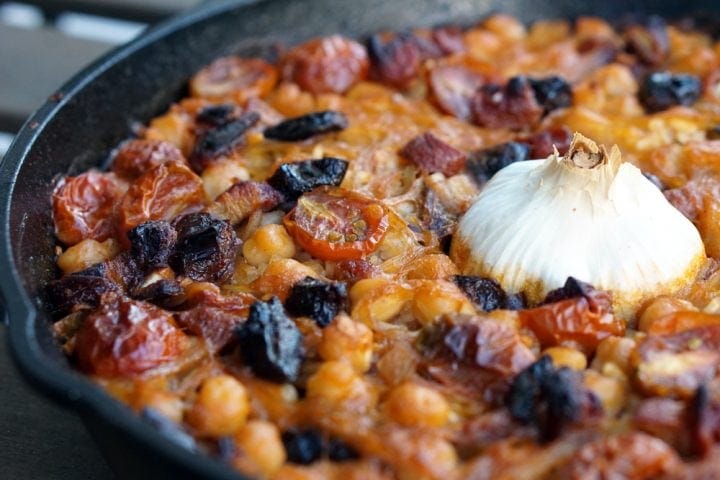 Try It: Lauren's baked rice with garbanzos and dates is a tasty vegetarian twist on this classic dish.
7. Arroz brut (Mallorca)
No matter how many times you visit Mallorca, it's unlikely that you'll ever have the same arroz brut twice. This soupy rice dish is one of the island's most typical foods, and what makes it stand out is the deliberate selection of seasonal products. The only stipulation: everything must come fresh from the countryside or the sea.
The name of this humble dish literally translates from Catalan as "dirty rice" due to its dark color. This comes as a result of the diverse mixture of ingredients, which often includes game meat such as duck or rabbit, seasonal veggies and mushrooms, and even a touch of sobrasada (this is Mallorca, after all!). But don't judge a book by its color—or a Spanish rice dish by its name. The mixture of textures and flavors in this humble, rustic dish is nothing less than unbelievable.
Ready to take an even deeper dive into Spanish cuisine?
If you're looking to expand your horizons beyond paella, you're already off to a good start. Continue your foodie adventures with Devour Tours by joining one of their gastronomic experiences throughout Europe—including four delicious destinations in Spain!
Pin me!