Despite Spain's never-ending obsession with jamón and every other pork product you could possibly imagine, eating vegetarian in Madrid can be surprisingly easy. Not only are many of Spain's classic dishes naturally meat-free, but an increasingly open-minded attitude towards veganism and vegetarianism throughout Spain means that restaurants catering specifically to these diners are popping up just about everywhere.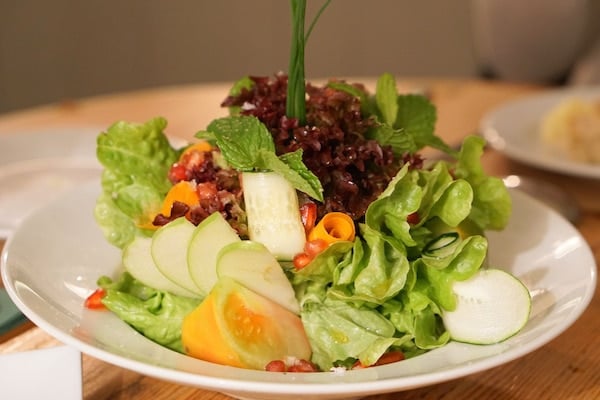 Is it possible to enjoy Spain without meat? Absolutely—and if you're still not convinced, this guide to eating vegetarian in Madrid will show you exactly what I mean.
The Complete Madrid Vegetarian Guide
Ordering Vegan & Vegetarian Food in Madrid: Useful Spanish Vocabulary
Part of what complicates things when eating out in a new country is communicating your dietary needs to your server in the local language. Here are a few words and phrases to get you started.
Soy vegano/a. I am vegan.
Soy vegetariano/a. I am vegetarian.
No como ni carne, ni pescado, ni huevos, ni productos lacteos. I don't eat meat, fish, eggs or dairy products.
¿Me recomiendas algo rico por favor? Can you recommend me something tasty please?
Yo no puedo comer… I can't eat…
Carne: Meat
Cerdo: Pork
Jamón: Ham
Pollo: Chicken
Pescado: Fish
Atún: Tuna
Marisco: Seafood
Leche: Milk
Queso: Cheese
Mantequilla: Butter
Nata: Cream
Huevo: Egg
Miel: Honey
Yo puedo comer… I can eat…
Verduras: Vegetables
Ensalada: Salad
Judías/Habichuelas/Alubias: Beans
Lentejas: Lentils
Soja: Soy
Leche de soja: Soy milk
Almendras: Almonds
Nueces: Nuts
Arroz: Rice
Aceite: Oil
Pan: Bread
Champiñones/Setas: Mushrooms
Espinacas: Spinach
Fruta: Fruit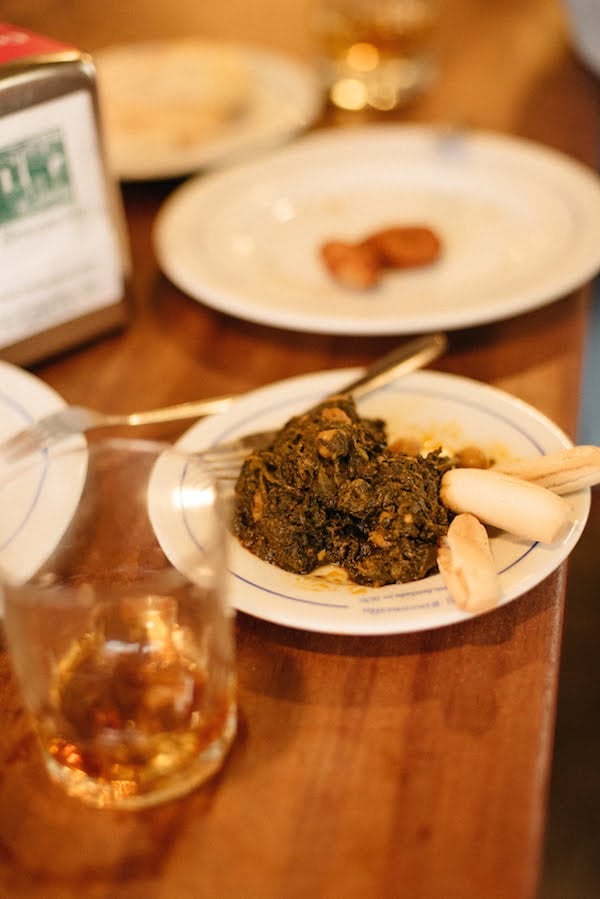 Vegetarian & Vegetarian-Friendly Restaurants in Madrid
Spain's capital has seen more and more vegetarian restaurants open in recent years. Additionally, many eateries that are not specifically vegetarian have expanded their menus to include more meat-free options than ever before.
1. Yerbabuena
Who ever said that vegetarian food always has to be light and unsubstantial? That's certainly not the case at Yerbabuena, where hearty helpings of meatless comfort food are the star of the show. Here, everything is handmade from scratch—right down to the delicious desserts and fresh-pressed juices—and the menu includes multiple vegan and gluten-free options as well.
Address: Calle Bordadores, 3 and Calle Hileras, 2
2. VEGA
You don't have to be strictly vegan to enjoy the artisanal dishes whipped up by the talented team at VEGA. In fact, much of their clientele are self-proclaimed carnivores who have discovered that plant-based food doesn't have to be boring. Locally sourced, organic ingredients make each and every dish shine, and the cozy space will make you feel right at home.
Address: Calle Luna, 9
3. Reineta Vegetariano
A charming and colorful spot in the Literary Quarter, Reineta Vegetariano operates under the philosophy that eating your veggies can be fun. And when said veggies come in the form of their tasty homemade dishes like spinach and lentil lasagna, stuffed eggplants, and spicy green Thai-style curry, it's easy to see why. Finish off your experience by treating yourself to their rich chocolate cake with orange marmalade.
Address: Calle Infante, 5
4. Shi-Shang
Out of all the cities in Spain, Madrid is perhaps rivaled only by Barcelona when it comes to an international food scene. And not only does Shi-Shang serve up one of the best Asian all-you-can-eat buffets in town at an unbeatable price, but their entire menu is comprised of vegan and vegetarian dishes. If that's not enough to convince you, consider their unbeatable location down an unassuming side street right off of Gran Via—close to the action, but inconspicuous enough that most tourists will walk right on by, cementing its status as a hidden gem.
Address: Calle Concepción Arenal, 3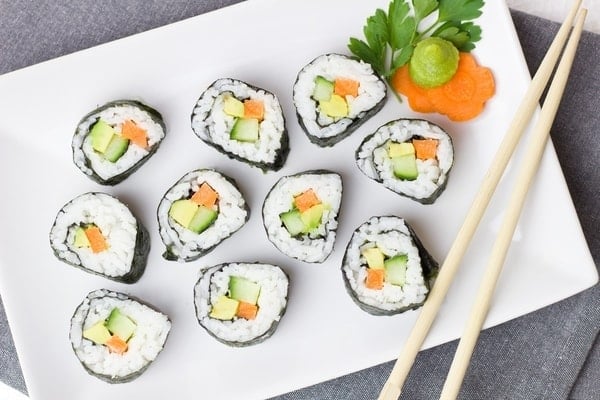 Know before you go: Keep an eye out for any of these delicious Spanish vegetarian foods as you eat your way around Madrid!
5. Bacoa
This eco fast-food burger place isn't the first place a vegetarian might consider, but Bacoa's veggie burgers are some of the best in the city! They have three vegetarian-friendly options on the main menu, and often another as a special. The standards include their black bean burger with roasted red pepper and goat cheese, a delicious vegan chickpea and spinach burger with tomato chutney and whipped avocado, and a new roasted beet and quinoa burger with grilled beet and homemade bbq sauce -- my personal favorite! With their delicious patatas rústicas and homemade sauces, this is a super central vegetarian friendly restaurant in Madrid that you shouldn't miss!
Address: Carrera San Jeronimo, 3
6. Honest Greens
Another amazing vegetarian friendly option in central Madrid is the Honest Greens in Chueca. This is a casual restaurant specialized in options for vegetarians, and also plant-based, gluten-free, and paleo diners. Everything is ethically sourced and delicious! You start by choosing between a garden bowl or a market plate and highlights include (these are just a few!) lemon tahini roasted eggplant, hummus of the week, homemade falafel, and Szechuan pepper beans.
Address: Calle de Hortaleza, 100
Vegetarian & Vegetarian-Friendly Bars in Madrid
Yes, you read that right—it's completely possible to enjoy the authentic Spanish bar experience without the meat! Here are a few classic spots serving up some of the best vegetarian-friendly tapas in town.
1. B13
Tortilla de patata without onion is one thing, but what about without egg? Believe it or not, it does exist, and it's delicious. That's just one of the 100-percent vegan tapas just waiting to be enjoyed at B13, which offers all the comforts of your favorite neighborhood Spanish bar with a completely plant-based menu. With a great location, large portions, and welcoming atmosphere to boot, this place is a must.
Address: Calle de la Ballesta, 13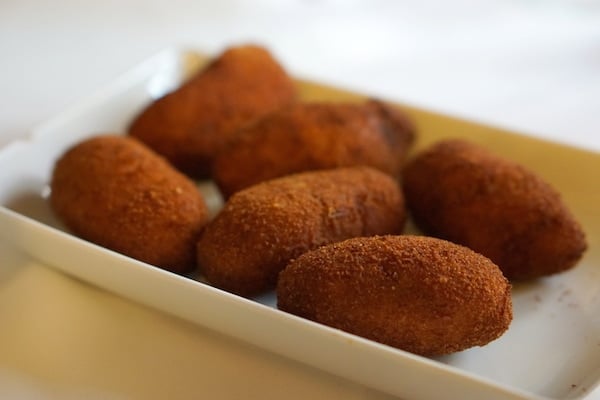 2. La Chilostra
Few things are as typically Spanish as the tosta—the ubiquitous open-faced sandwich piled high with any number of ingredients, preferably eaten standing up at the bar and washed down with a caña. That's exactly what La Chilostra is best-known for, and their extensive menu includes plenty of vegetarian options as well. Come for the tostas; stay for the music and good vibes.
Address: Calle de la Cabeza, 1
3. El Triángulo de las Verduras
Another cozy spot that brilliantly combines the classic Spanish tavern ambiance with a meatless menu, El Triángulo de las Verduras is the kind of spot that feels effortlessly timeless. The majority of their menu items can be made vegan if need be, and they still carry out the age-old practice of giving customers a free tapa with every drink order (a custom that's sadly getting rarer and rarer in Spain!).
Address: Calle de Antillón, 1
4. El Atrakón
A vegan- and vegetarian-friendly menú del día? It's real, and you'll find it at El Atrakón, an always-happening spot in the Palos de la Frontera neighborhood. Hipsters and abuelos alike pack this place regularly to enjoy their fabulous food, well-poured cañas, and great ambiance.
Address: Calle Sebastián Elcano, 7
Vegetarian & Vegetarian-Friendly Bakeries & Cafes in Madrid
Even breakfast, coffee, and sweet pick-me-ups can take the meat-free route here in Madrid.
1. La Colectiva Café
Good food, good coffee, and good vibes: these are the three pillars that have kept La Colectiva Café going strong since 2017. A labor of love started by two Argentinian expat friends living in Madrid, this cozy cafe boasts a 100-percent vegan menu, so everything from their fabulous homemade cakes to their freshly brewed coffee drinks is guaranteed cruelty-free. If you don't have a sweet tooth, they're currently in the process of expanding their savory offerings in the form of a small but respectable lunch menu.
Address: Calle Francisco de Rojas, 9
2. Abonavida
A veggie-friendly oasis of calm just steps away from bustling Callao, Abonavida offers an extensive menu and a friendly, welcoming atmosphere you won't want to leave. Come back in the evening for expertly mixed cocktails or a glass of natural wine.
Address: Calle Navas de Tolosa, 3
3. Tiyoweh
"Tiyoweh" is a Native American word meaning "quietness of the heart," and it's this same serenity that permeates the cafe of the same name. Cooking up healthy, homemade dishes, they believe in wellness of mind, body, and soul—a concept that they share with guests in a hospitable, unpretentious way.
Address: Calle San Pedro, 22
Craving more? Dig into one of these fabulous options for vegan and vegetarian brunch in Madrid!
Vegan & Vegetarian Paella in Madrid
It's the one dish many tourists seek out when in Spain—but you don't have to get the kind with all the seafood piled on top that you may have seen in pictures. Head to one of these spots for delicious, meat-free Spanish rice dishes.
1. El Caldero
El Caldero is an authentic Murcian restaurant, so their rice dishes may not be the same as the traditional Valencian paella you may be expecting. However, they're still absolutely worth trying, and their hearty vegetable rice will have any vegan or vegetarian craving more no matter how full you feel after eating.
Address: Calle de las Huertas, 15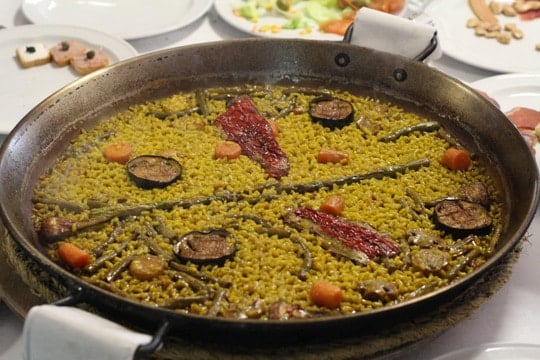 2. Restaurante Samm
Made-to-order paellas, including a pretty spectacular vegetarian variety, are the star of the show at Restaurante Samm. Everything is made with seasonal ingredients to ensure maximum freshness and quality. This family-run spot also offers a respectable variety of gluten-free options, so all guests can enjoy the flavors of Valencia regardless of dietary needs.
Address: Calle de Carlos Caamaño, 3
Try it yourself: Lauren's traditional vegetable paella recipe couldn't be easier to whip up at home!
Vegetarian Shops & Markets in Madrid
Maybe you've fallen in love with the flavors of vegetarian Spanish food (it tends to happen), or maybe you're looking to save money by cooking a few meals in the kitchen of your Airbnb. Whatever the case, these vegetarian-friendly shops in Madrid will have everything you need.
1. Planeta Vegano
As the name implies, Planeta Vegano ("Vegan Planet") is your one-stop-shop for all your plant-based dietary needs. They even sell vegan "cheeses" and cured "meats," so you can take all the wonders of Spanish cuisine home with you (and not run the risk of having your food confiscated by customs officials, as can happen with real cured meats in some countries!).
Address: Calle Ave María, 34
2. Nanyea Market
Looking for something a bit more exotic? Nanyea Market specializes in Asian ingredients and products, with an ever-improving selection of vegan, vegetarian, and celiac-friendly fare. Stock up on vegan ice cream or grab a case of craft beer.
Address: Calle Estudios, 7
Want to taste traditional Spanish foods that are vegetarian friendly?
Join Devour Tours for a vegetarian friendly food tour in Madrid! Our pick is a night out exploring two of the Spanish capital's trendiest neighborhoods. The Evening Tapas & Wine Tasting Tour doesn't just include vegetarian tastes at every stop (although that's certainly a plus). You'll also drink your way around the country without leaving Malasaña and Chueca as you sample seven fabulous Spanish wines including classic vermouth on tap, unique sherries from the sun-drenched south, and even a glass of Madrid's very own bold red. Come hungry!
Pin me!