How Vegetarians Can Pass on the Ham…
(and Still Eat Amazing Food in Spain)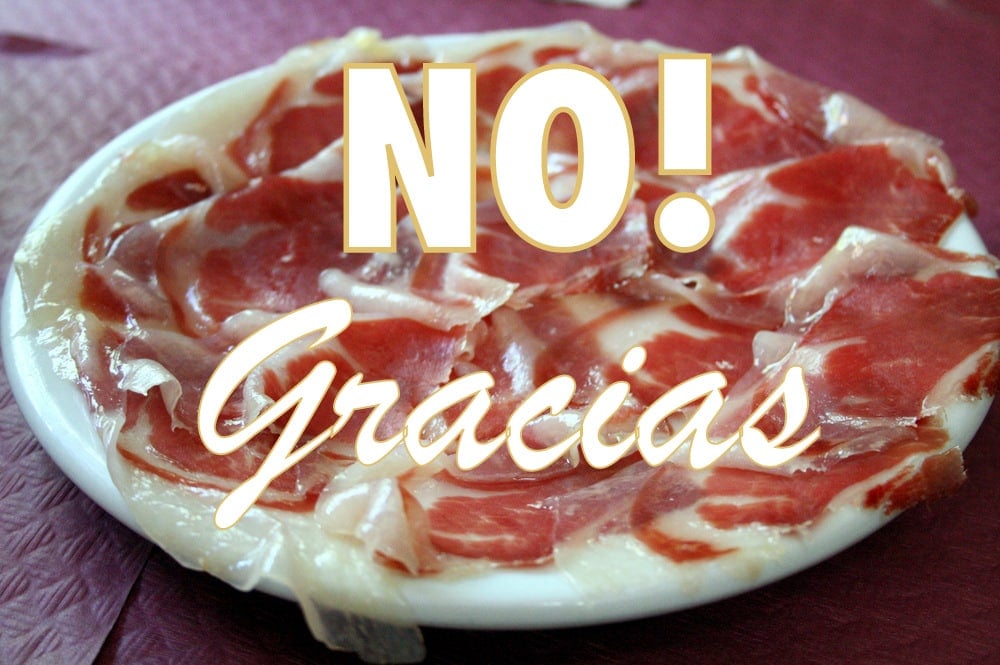 I always get asked: what do vegetarians eat in Spain?
And it's true, Spain is a porky paradise. Tapas menus are full of pork and seafood dishes, but vegetarians traveling in Spain needn't worry!
There are plenty of meatless options for vegetarians if you only know what to order. The following 20 Spanish foods are some of my favorite vegetarian dishes and most are easily found in bars and restaurants throughout Spain. Vegetarian food in Spain is more common than people think– so read on!
Note: Traditionally, most vegetarians in Spain are ovo-lacto-vegetarians. That means that many vegetarian dishes contain dairy products as well as eggs. If you don't eat eggs or dairy, your best bet is to look for dishes marked as vegan (vegano). I've labelled the vegan dishes included below so you know what to ask for!
Vegetarian Food in Spain: 20 Common Spanish Dishes
1. Zanahorias Aliñadas (Marinated Carrots, Vegan-Friendly)
This has to be one of my favorite vegetarian tapas in all of Spain. The trick is to parboil the carrots so that they are just tender, but not at all mushy. Then it's just a high-quality extra virgin olive oil, vinegar, garlic, cumin, and other herbs and spices. A day or two in the fridge only adds to their flavor. And if you want to try it at home, check out this delicious marinated carrots recipe!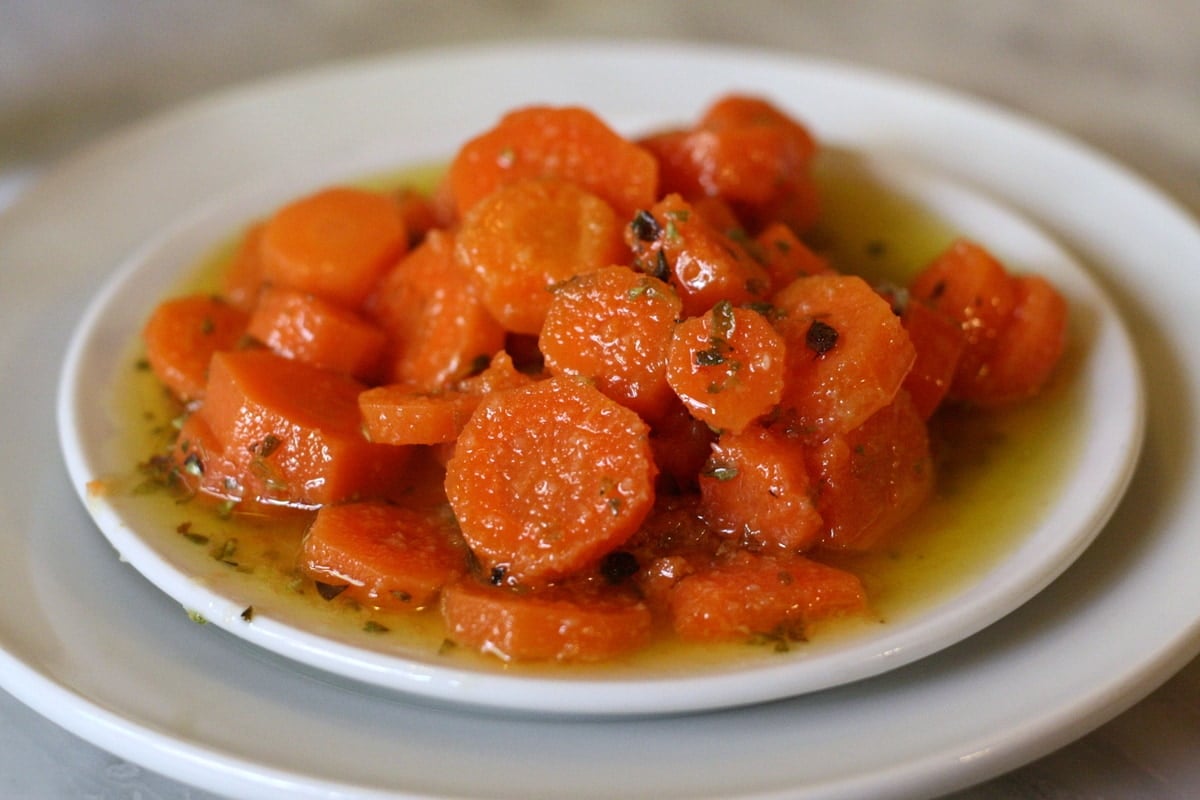 2. Tortilla de Patatas (Spanish Potato Omelette)
This potato omelette is one of the most popular dishes in Spain and it also happens to be vegetarian! With olive oil, eggs, potatoes, and (often debated) onions, this is a Spanish food that all Spaniards knows how to make and love to eat. Whether for lunch, snack-time, or dinner, served hot, cold, between bread, or with ketchup and mayonnaise, a slice of tortilla is always a safe choice!
Get the best tortilla de patatas recipe here.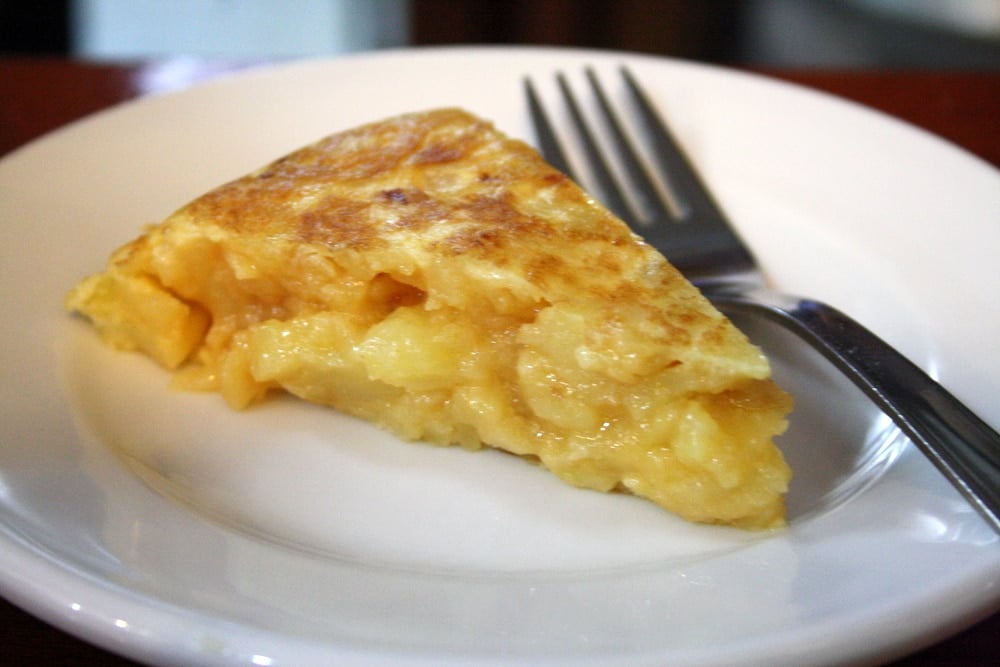 3. Calamares del Campo (Country Style Calamari/Fried Vegetables)
Don't get scared by the word calamares in the title. Made from onions and peppers cut into circles (like calamari rings) and then deep fried, calamares del campo are simply fried veggies and definitely vegetarian-friendly.
4. Espárragos con Huevos (Asparagus with Eggs)
This popular plate around Spain is a great combination of local asparagus and eggs prepared a variety of ways. I personally like it with a poached egg and some jamón… but for the vegetarians out there the poached egg alone will be delicious!
5. Gazpacho (Cold Tomato and Vegetable Puree, Vegan-Friendly)
Gazpacho is originally from Andalusia, although Spaniards throughout the country enjoy it year round (ask anyone and they'll tell you it's the BEST hangover cure on the market!). Whether eaten in a bowl as a cold soup or sipped from a glass like vegetable juice, gazpacho is a super healthy and refreshing vegetarian Spanish food. Take a look at my favorite gazpacho recipe.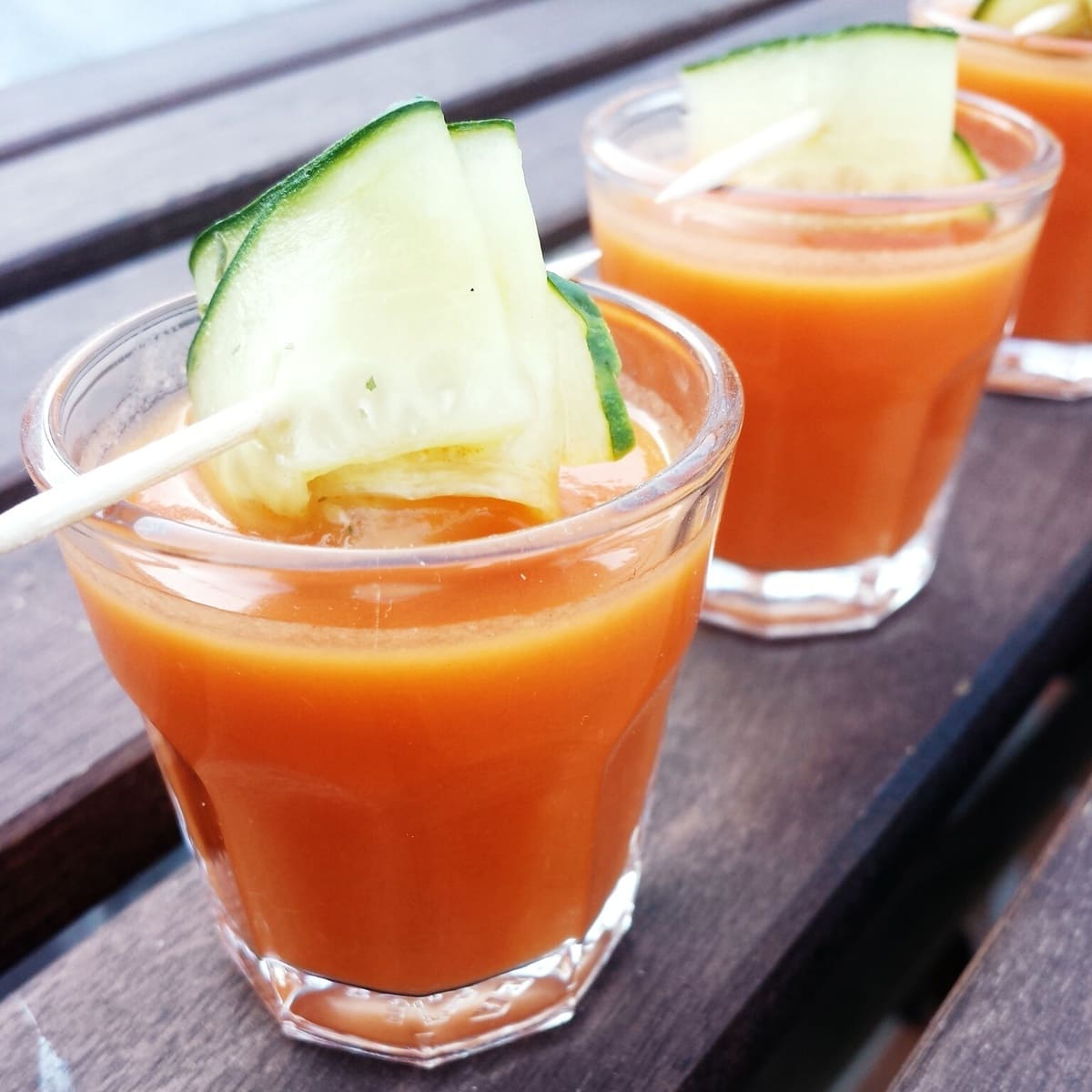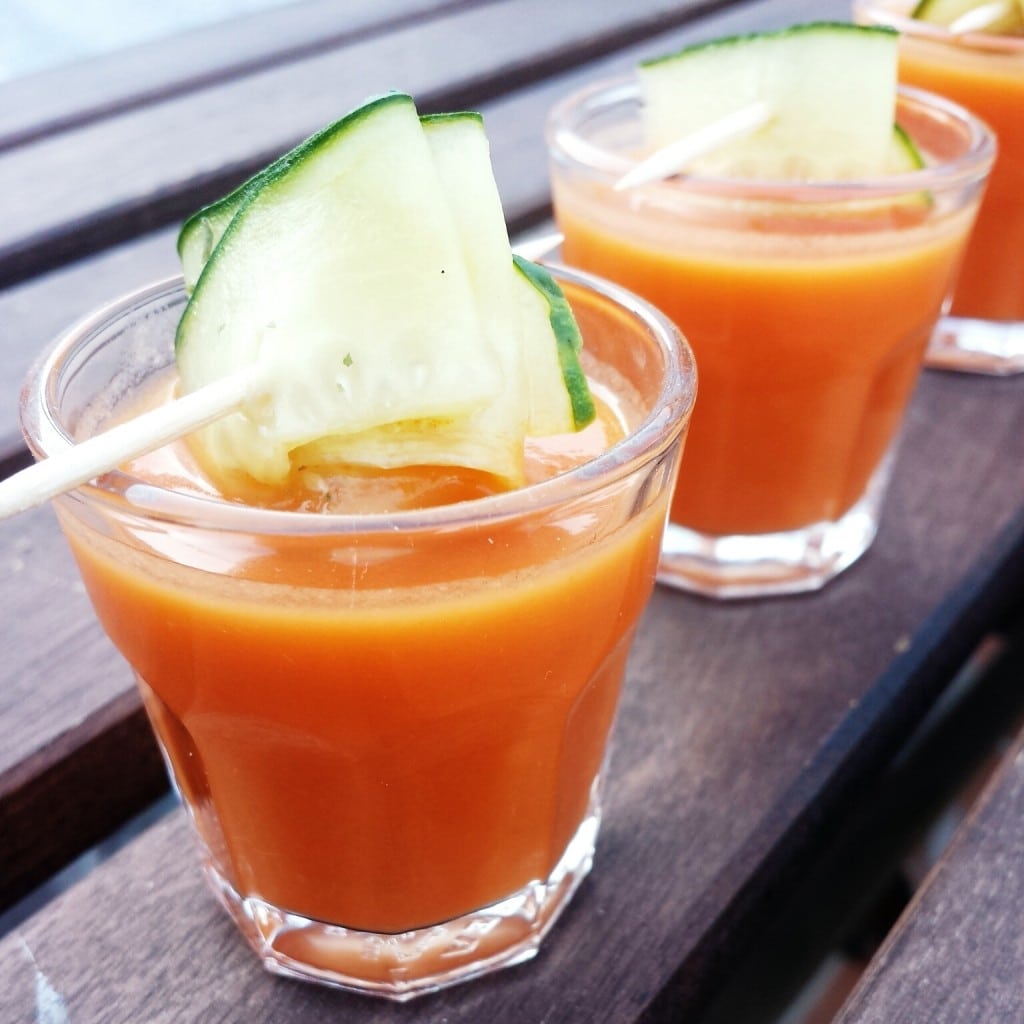 6. Espinacas con Garbanzos (Spinach and Chickpeas, Vegan-Friendly)
This wonderful combination is one of my favorite Spanish dishes. I don't make it nearly enough but it is actually really easy and super healthy. Check out this amazing version that made my Spanish husband nearly cry tears of joy!
7. Croquetas (Croquettes)
A croquette is hard to define– it's basically a small mish-mash of food fried together in some sort of ball. Spain is famous for its Serrano ham croquettes, which are a wonderfully creamy mix of béchamel sauce and cured ham… but obviously not quite vegetarian! Luckily, you can usually find vegetarian croquettes in most restaurants. Among my meatless favorites:
Wild mushroom croquettes (croquetas de setas)
Made with a strong blue cheese (croquetas de cabrales)
Roquefort cheese and walnut (croquetas de Roquefort y nuez)
Spinach and pine nuts (croquetas de espinacas y pinones)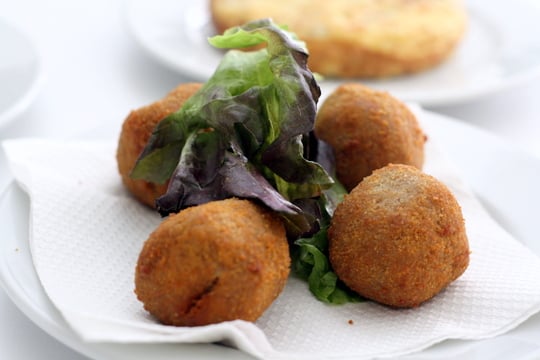 8. Berenjenas Fritas (Fried Eggplant)
Just writing about this dish makes me hungry! Imagine an eggplant, cut super thin and fried until perfectly crispy. Then, it's usually covered in a drizzle of local honey or served on top of salmorejo— a thick tomato soup. This recipe is fantastic– one of the best vegetarian tapas recipes hands down!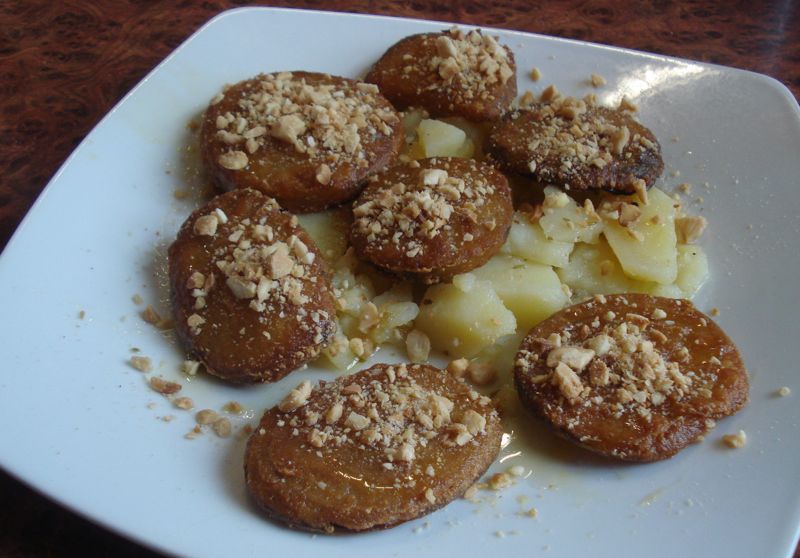 9. Pisto con Huevo (Ratatouille with Fried Egg)
Pisto is basically roasted vegetables (onion, pepper, eggplant, and tomato) that are then lightly pureed into a chunky sauce. Spaniards fry an egg to their liking and plop it on top. Visually stunning? No! But delicious, healthy, and vegetarian? Yes!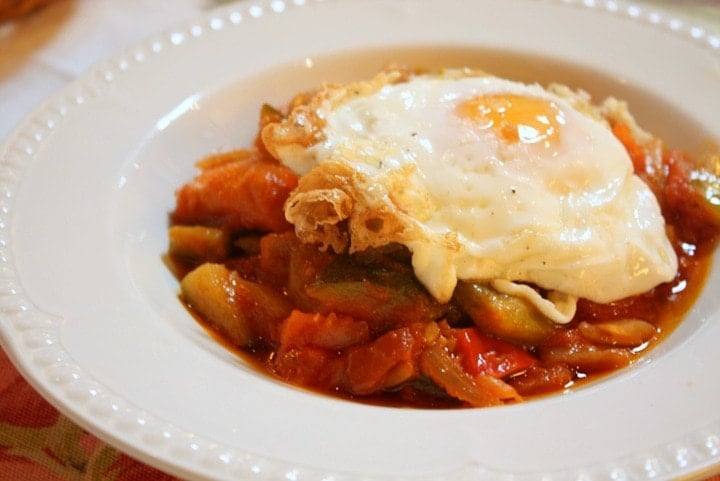 10. Ajoblanco (Chilled Almond Soup, Vegan-Friendly)
Ajo blanco is another cold soup originating in Andalusia (go there in the summer and you'll realize why they have so many cold soups!). It is a creamy and delicious blend of almonds, bread, EVOO, garlic, salt, and water. It's usually served with grapes or melon cubes on top. It's completely different than anything I can think of, but it's really delicious and worth a try while you're in Spain. And, if you're wondering, the garlic flavor is not too strong!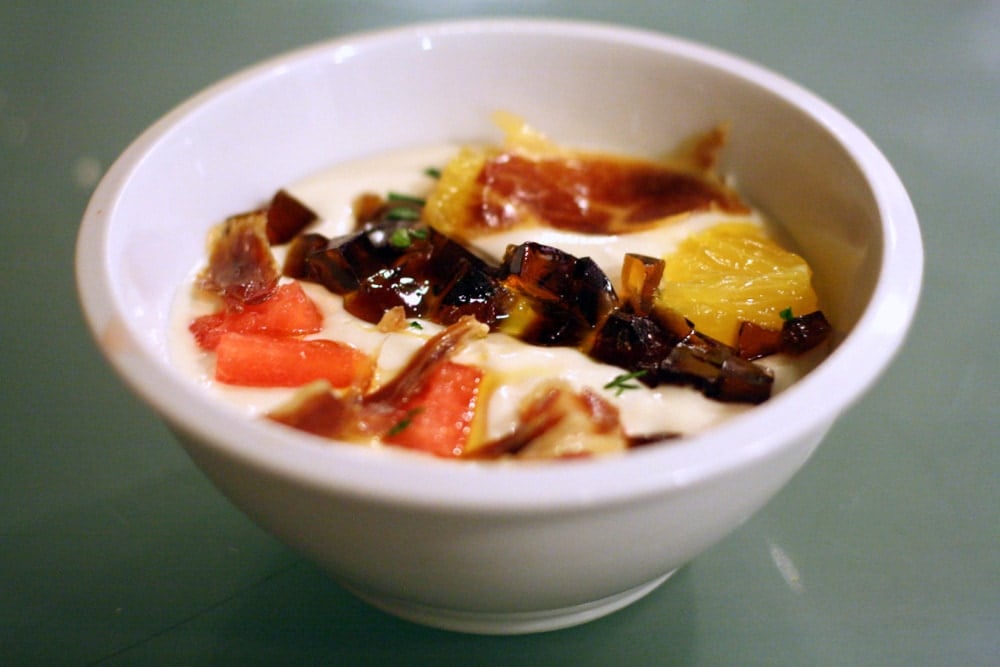 11. Tombet (Mallorquin Ratatouille, Vegan-Friendly)
If you're a fan of pisto, you'll love tombet. This Mallorquin take on the Spanish classic involves thinly sliced eggplant, red peppers, and potatoes, stacked and roasted to perfection. Top it with a garlicky tomato sauce and you have a veggie delight!
Note: if you're not an ovo-lacto-vegetarian, double-check that the tombet you ordered doesn't come with a topping of eggs or cheese.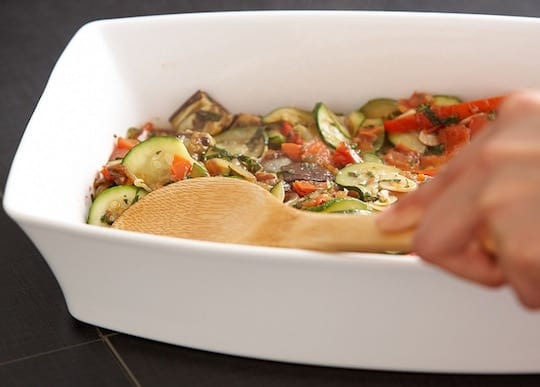 12. Salmorejo (Andalusian tomato soup, Vegan-Friendly)
Something that surprises a lot of visitors to Spain is that gazpacho is usually drunk, not eaten. If the idea of drinking cold tomato soup sounds too weird for you, go for salmorejo! This Andalusian classic is a summer staple, as it doesn't need any cook-time at all! Just blend together fresh tomatoes with garlic, olive oil, vinegar, and day-old bread for a refreshing vegetarian tapas dish.
Make sure to tell the waiter not to serve it with eggs or ham!
13. Setas a la Plancha (Grilled Wild Mushrooms, Vegan-Friendly)
This is without a doubt my favorite veggie dish in Spain. Gigantic wild mushrooms are tossed onto a hot grill and served sizzling in garlicky olive oil and parsley. It's the perfect accompaniment to a glass of bold Rioja red wine!
14. Patatas Bravas (Potatoes in "Brava" Sauce)
Patatas bravas is a dish you'll see on every tapas menu in Spain! Unfortunately, most of the time it's not done well. All too often you get served soggy potatoes with bad ketchup and mayo.
That's not patatas bravas.
When done well, patatas bravas are crispy, with a brava sauce full of spice and umami and fresh garlic alioli. Make sure to research where the good ones are before you order them!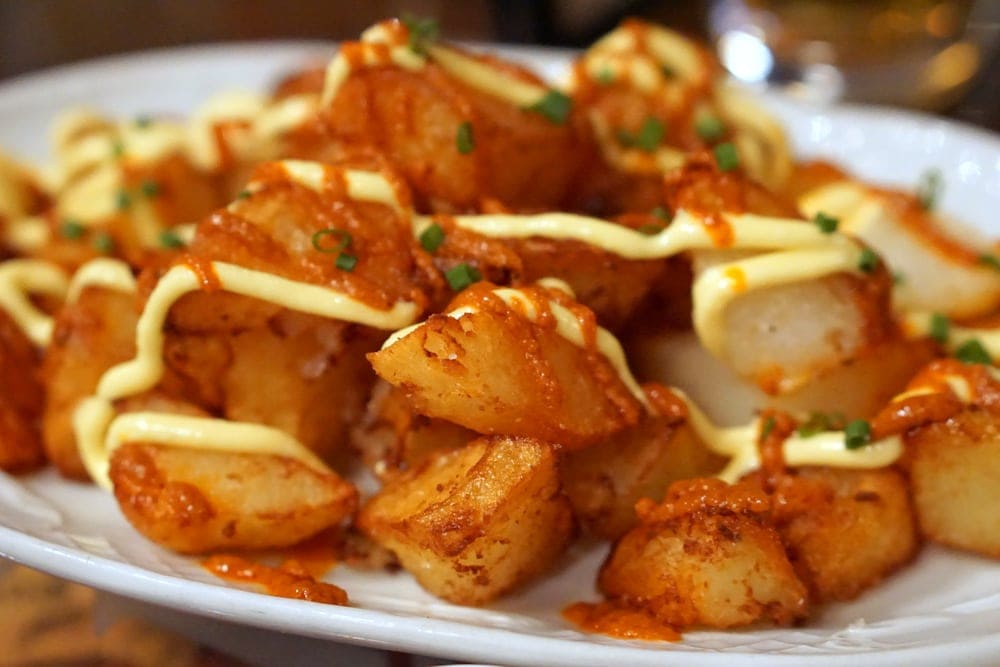 15. Tomate Aliñado (Fresh Tomatoes, Vegan-Friendly)
It might sound simple, but this dish is hard to beat. During the right season, bars throughout Spain serve this classic dish of sliced fresh tomatoes drizzled with extra virgin olive oil, salt, and oregano. Eat it and enjoy!
16. Pimientos de Padrón (Padrón Peppers, Vegan-Friendly)
In the north of Spain, a humble pepper reigns supreme. Pimientos de Padrón are small, bittersweet peppers. But be careful! One in a hundred is super spicy, making every dish a game of Russian roulette.
The peppers are deep-fried in olive oil and served hot and whole with big flakes of rock salt.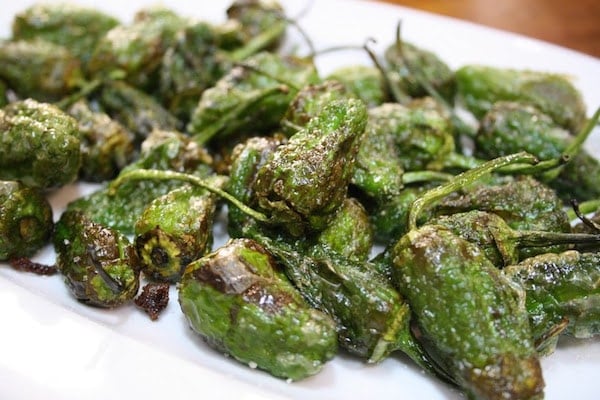 17. Paella de Verduras (Vegetable Paella)
Thinking you couldn't try the most Spanish dish of all? Think again!
While traditional paella is cooked with rabbit and chicken (not seafood!), vegetarians go for a paella de verduras. You'll find it cooked with peppers, onions, and anything else in season.
18. Calçots (Catalonian Spring Onions, Vegan-Friendly)
So, what are calçots? Visit Catalonia in early spring and you'll see locals gobbling up spring onions like they were… Well, like they were anything other than onions!
Calçots are a type of local onion grown specially to be extra sweet and fleshy, perfect for a barbecue. You'll get them served whole alongside nutty romesco sauce by the bucket.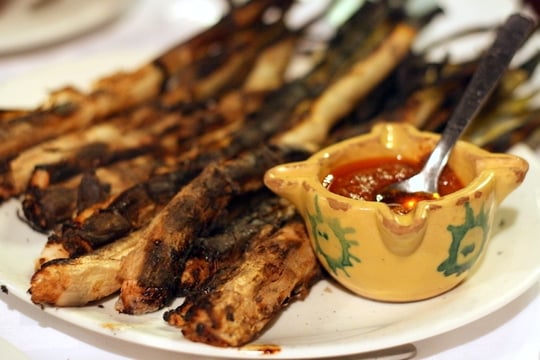 19. Mel i mató (Cheese and Honey)
On the subject of Catalan vegetarian dishes, you can't go past mel i mató. Fresh, unsalted cheese (normally cow or sheep milk) is drizzled with local honey and… that's it! This is one of the earliest recorded recipes in Spanish cooking, first appearing in a cookbook in the 15th century.
20. Fruta Fresca (Fresh Fruit, Vegan-Friendly)
Ok, so this isn't only Spanish and you're probably asking yourself why I would include it. Well, here in Spain many restaurants have fresh fruit on their printed menu as a dessert option. Depending on the season I've seen mandarin oranges, watermelon, green melon, peach slices, strawberries and cream, and grapes. You might think you'd prefer a slice of cake until you try the fruit! I'm always shocked at how delicious seasonal fruit is here. It (almost) deserves to be called a dessert!
If these 20 vegetarian options aren't enough for you here in Spain, don't worry! There are plenty more vegetarian dishes like these that I've tried recently: revuelto de calabacín (scrambled eggs and zucchini), tostas con queso brie y mermelada de frambuesa (toasts with brie and raspberry jam), or torre de berenjenas con queso mozzarella (tower of grilled eggplant and mozzarella cheese).
UPDATE! See our list of Vegetarian Tapas in Madrid. If visiting Madrid, join a vegetarian Madrid Food Tour and in Barcelona check out the vegetarian food tour in Barcelona –in the lovely Gràcia neighborhood. In Seville, check out the Ultimate Vegetarian Guide to Seville, and in San Sebastián, the Ultimate Vegetarian Guide to San Sebastian!
And if looking for the best quality Spanish olive oils read my in-depth guide to Spanish olive oils)!
So despite being famous for its ham and chorizo, Spain has a lot to offer vegetarian diners. And if you happen to eat fish and shellfish– well don't even worry as your options are endless!
What is your favorite vegetarian food in Spain? Do any of the vegetarians reading this find it difficult to find options here in Spain?