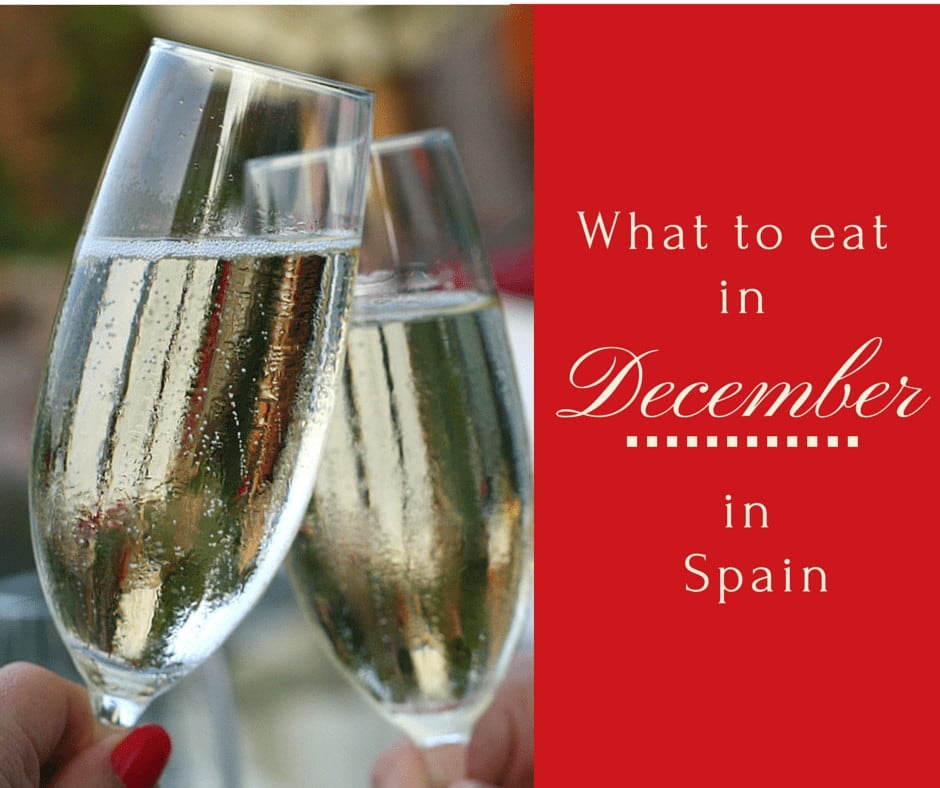 December in Spain is a month for foodies. With no less than FIVE holiday feasts on the docket before season's end, there is hardly time for anything but cooking, eating and frolicking under the Christmas lights this month.
Winter vegetables, warming roasts and oodles of seafood are the specialties of the season. Delicious (and never-ending) family meals followed by mountains of Spanish Christmas candies make December in Spain nothing short of delicious.
Here are the foods you won't want to miss this month.
Shellfish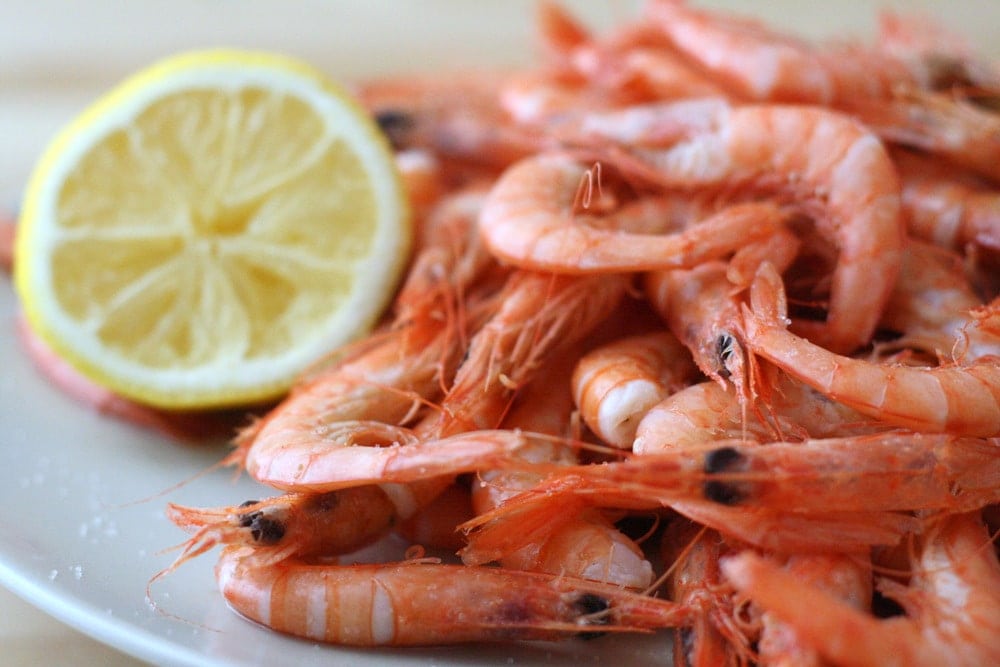 Shrimp, oysters, crab, lobster... it wouldn't be Christmas dinner in Spain without them! Shellfish are a classic holiday food here, usually starring in many holiday appetizer spreads and making up the first course of the important meals on Christmas Eve, Christmas Day or New Year's Eve.
During the month of December, Spaniards eat twice as much shellfish as any other month of the year! Whether it is steamed, pan fried, mixed into paella or served in soup, seafood is sure to find its way into just about every Spanish holiday meal.
Tasty ways to eat seafood like a Spaniard:
Seabass
I still haven't quite gotten used to ordering seabass in Spain. Every time I do I get a charred whole fish balancing atop my plate. Once I get over the initial shell shock of eyes, mouth and scales, the soft fleshy fish is nothing short of scrumptious.
Seabass, or lubina in Spanish, is a hugely popular Christmas lunch food. After grazing on appetizers of cured ham and seafood, this flavorful fish adds a definite awe-factor to the mail course. Compared to most other fish, seabass has the added benefit of being high in B vitamins, which are mood boosters and thus might make your Christmas just a tad bit happier. Seabass is in season from November through March when the fish are driven south to warmer waters off the Spanish coast.
Polvorón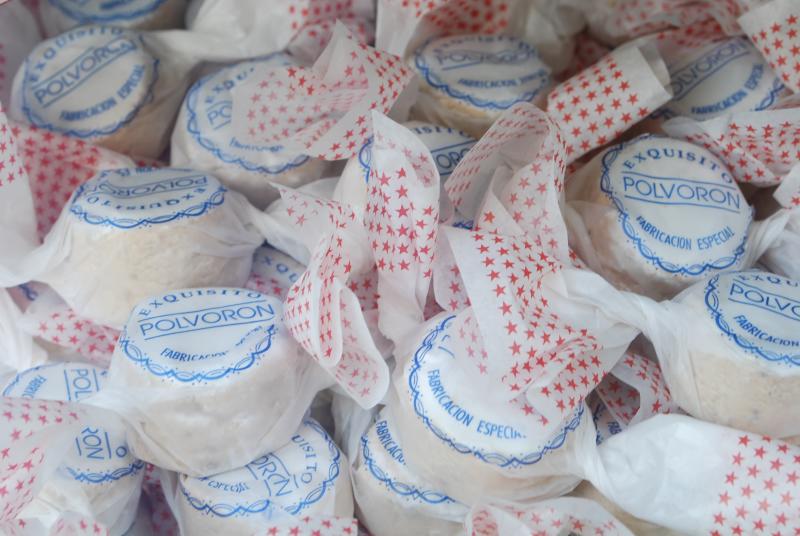 You know you're in Spain in December when mountainous displays of individually wrapped matchbox sized cookies start taking over every open inch of supermarket floor space. These festive goodies are polvorones, powdery almond Christmas cookies.
Polvorones get their name from the Spanish word for dust: polvo. These powdery cookies have a tendency to disintegrate into dust after the first bite! In Estepa, a village in Andalusia that is most famous for making polvoron, the unemployment rate is cut in half each Christmas as thousands of people here work to make more than 17,000 tons of polvorones.
Turrón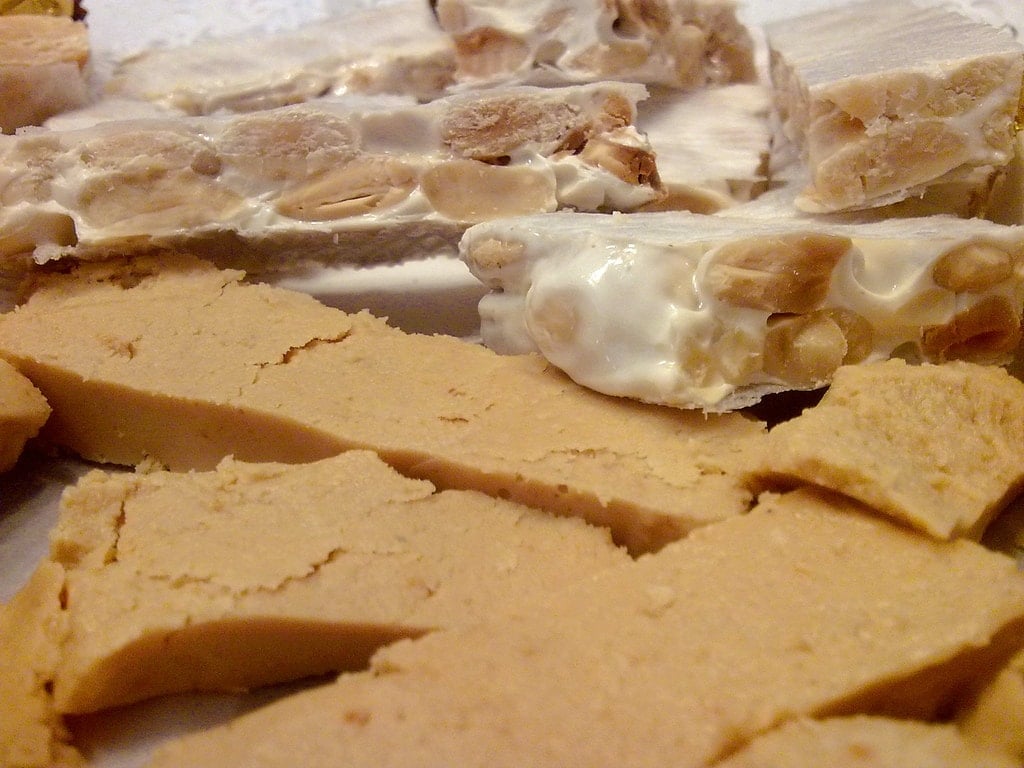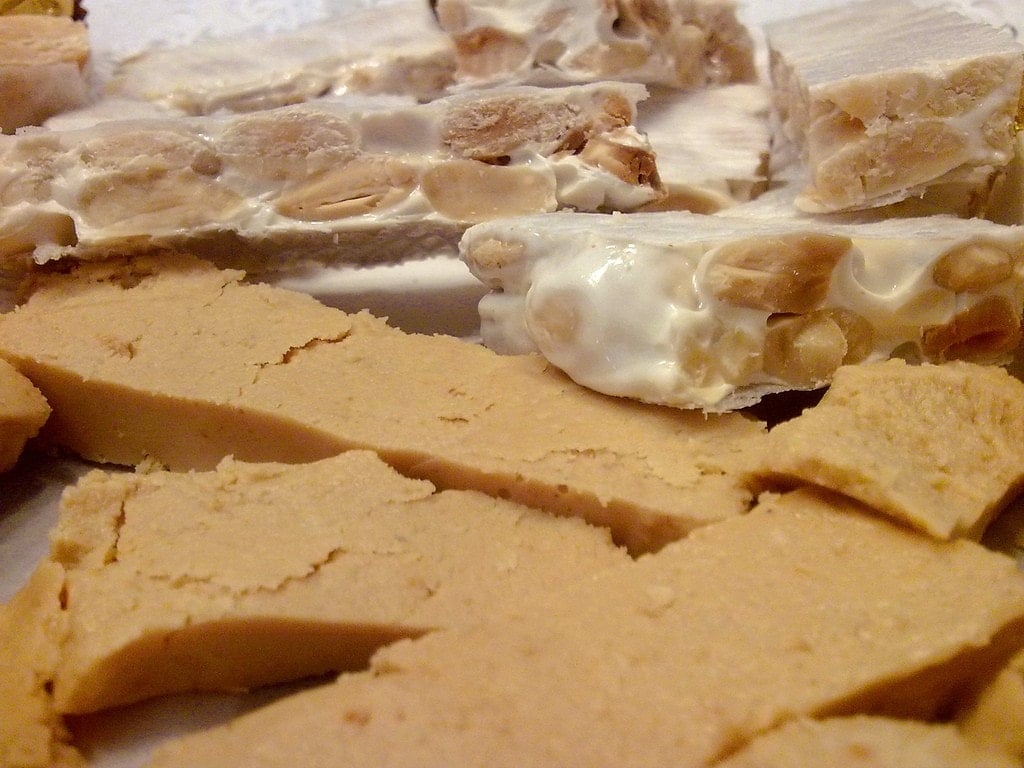 Turrón, perhaps Spain's most popular Christmas treat, is all about variety. Purists claim there are only two true types of turrón: crunchy toffee-like turrón duro from Alicante and soft almond-buttery turrón blando from Jijona.
But for turrón enthusiasts like myself, this Christmas candy bar is a world of possibilities. From dark chocolate and walnut turrón to marzipan and candied fruit turrón, this traditional Christmas candy has broken the norm in recent years. Spain produces 11 million kilos of turrón each Christmas, leaving plenty of room for experimentation!
While it can be found just about everywhere (including my neighborhood fruit stand!) during December, turrón virtually disappears as soon as the holidays are over. I stock up while I can.
Tip: In Madrid, you can taste turrón on a daytime food tour of Madrid!
Persimmon
Originally from Japan, persimmons didn't make their way to Spain until about 1870. Since then they have become a staple of Spain's winter fruit offering. These fist-sized fruits are face puckeringly tannic when unripe but turn marvelously sweet as they ripen.
Their Spanish name, caqui is the Spanishized version of the Japanese name "kaki." In Latin, persimmon is "diospyros," which means "divine fruit." December is the last full month of persimmon season in Spain as the three-month harvest starts to wrap up in their main production areas, Valenica and Andalusia.
Cured Ham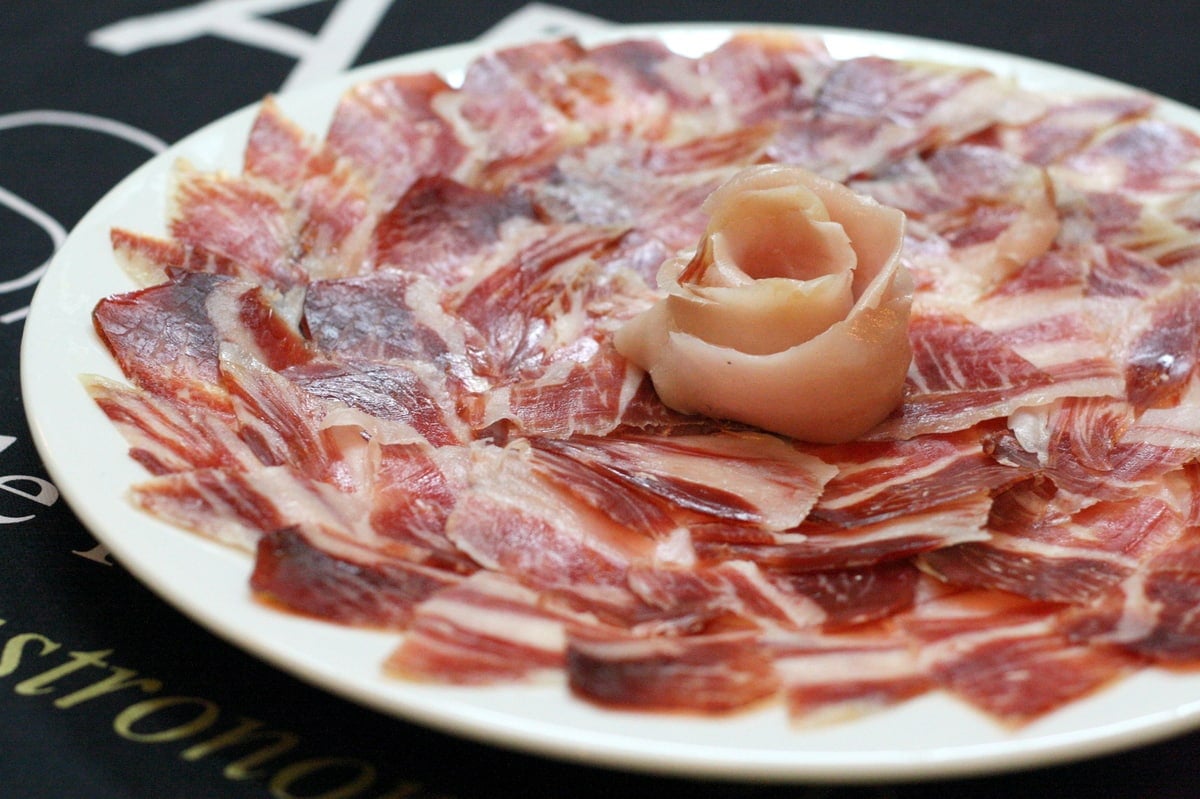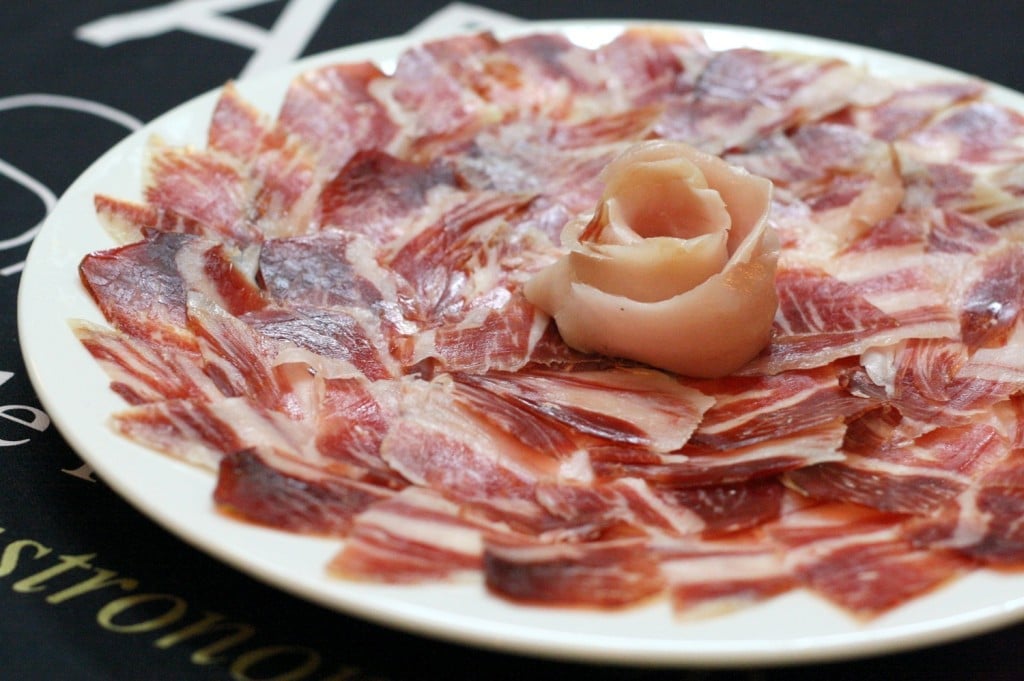 While cured Iberian ham is served year round in Spain, never is it as popular as in December. Spaniards consume nearly 3 times as much Iberian cured ham in December as in any other month of the year.
Its prestige and its perfection as an appetizer make jamón one of Spain's most popular Christmas foods. But not just any old ham makes it onto the Christmas dinner table. Only the black-hoofed Iberian ham legs which come from Iberian pigs tend to make the cut for the holiday meal.
Test your Spanish ham knowledge here. 
Cabbage
Spain's soul warming soups and stews would little more than meaty broth without cabbage. This hearty vegetable is ever-present in the winter here, when it is at the peak of its season. Cabbage plays a vital supporting role in classic winter dishes like cocido (chick pea and pork stew) and botillo (paprika-spiced, cured pork stew).
Cava
As a month of celebrations, December is drenched in bottles of bubbly here in Spain. But you won't find people waiting until New Years Eve to pop the corks. Cava is the go-to beverage for each of Spain's three holiday meals in December: Christmas Eve, Christmas Day and New Years Eve. It also tends to make an appearance on New Years Day and Three Kings Day on January 6.
While cava is most commonly associated with Spain's Catalonia region, it is produced in about half a dozen different areas throughout the country. During the month of December, Spaniards drink nearly six times as much cava as they do any other month!
What's in season where you live?