Traditional winter food in Spain is comfort food at its very best! Think warm and delicious mugs of hot chocolate, piping hot stews, and soupy rice.
Read on for the best of Spanish winter dishes (and recipes!).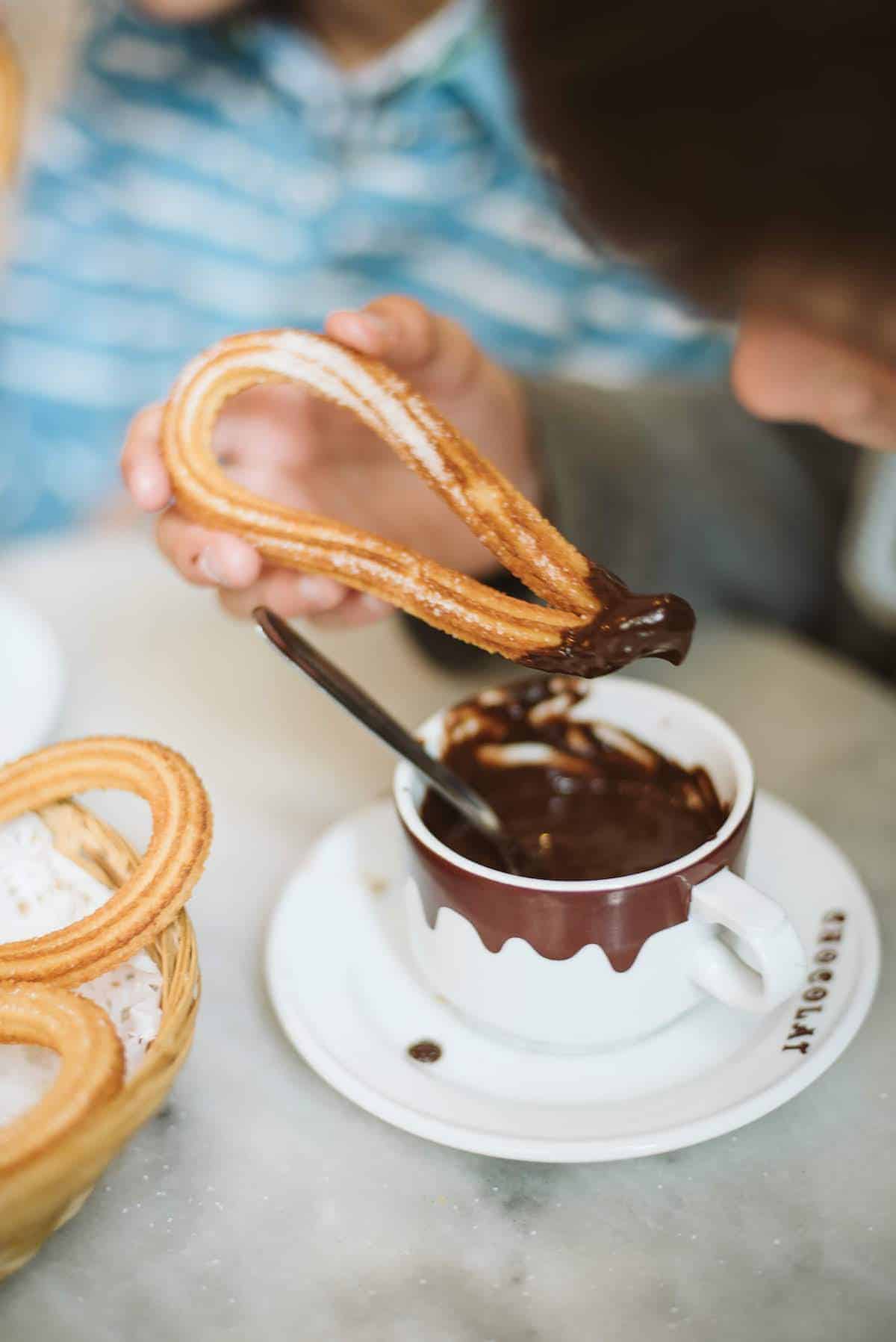 Something happens to me come cold weather. I go from craving fruit juice, cold soups, and white wines to polishing off stews, cakes, and pies and asking for seconds. My body seems to switch into some sort of hibernation mode--I must stock up on calories to make it through the winter!
Anyone else feel the same?
Luckily, traditional winter food in Spain is decadent and rich, warming my body from top to bottom. These Spanish dishes are a welcome respite from the chilly winter weather, so take advantage before the thermometer starts creeping back up!
Traditional Winter Foods in Spain
1. A Mug of Thick and Creamy Hot Chocolate
There is nothing like Spanish hot chocolate. Almost pudding-like in consistency, it's rich and decadent and usually eaten with a spoon (if you're not dipping churros or ladyfinger cookies into it!).
Some say the spoon should actually stand up in the chocolate, but I definitely don't agree (those versions tend to use too much corn starch). First-timers sometimes cringe after the first bite as they struggle to finish the heavy mug, but trust me-- it just takes a little practice. I guarantee that a hot mug of chocolate en taza will brighten up even the coldest of days.
Get the recipe: Traditional Spanish Hot Chocolate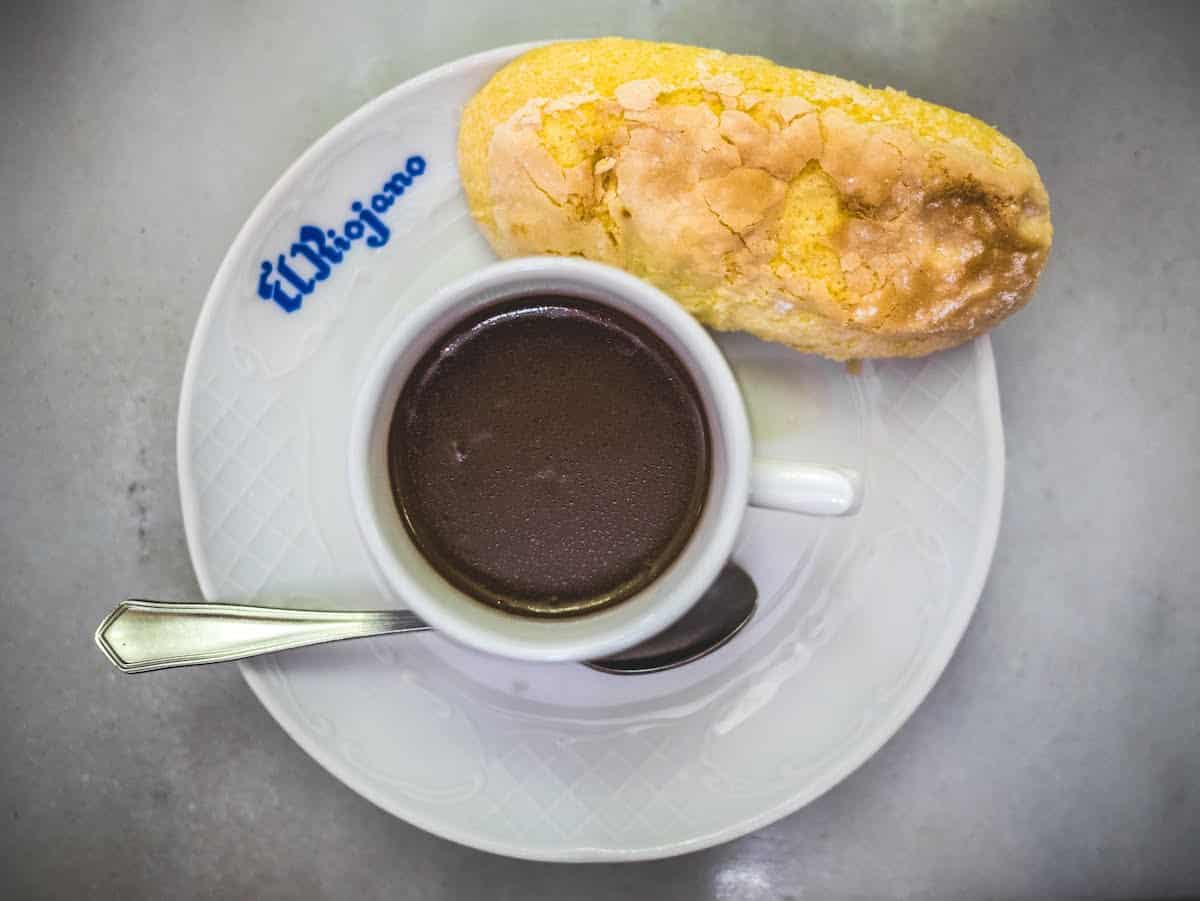 2. A Slice of Gooey Tortilla de Patatas
Bright yellow and oozing, a slice of good tortilla española can be hard to come by in an age of egg substitutes and cost-cutting.
Despite what some restaurants tell you about real eggs being banned by the health department, there are plenty of bars that still offer the real deal. Everyone has an opinion about how they like their Spanish omelet and I'm no different.
My perfect tortilla? Cooked through on the outside and the slightest bit runny on the inside, with onions, and preferably ones that are slightly caramelized (but no sugar added!). When done right and served straight from the frying pan, this is the ultimate warm-you-up winter food in Spain.
Get the recipe: Best Spanish Tortilla Recipe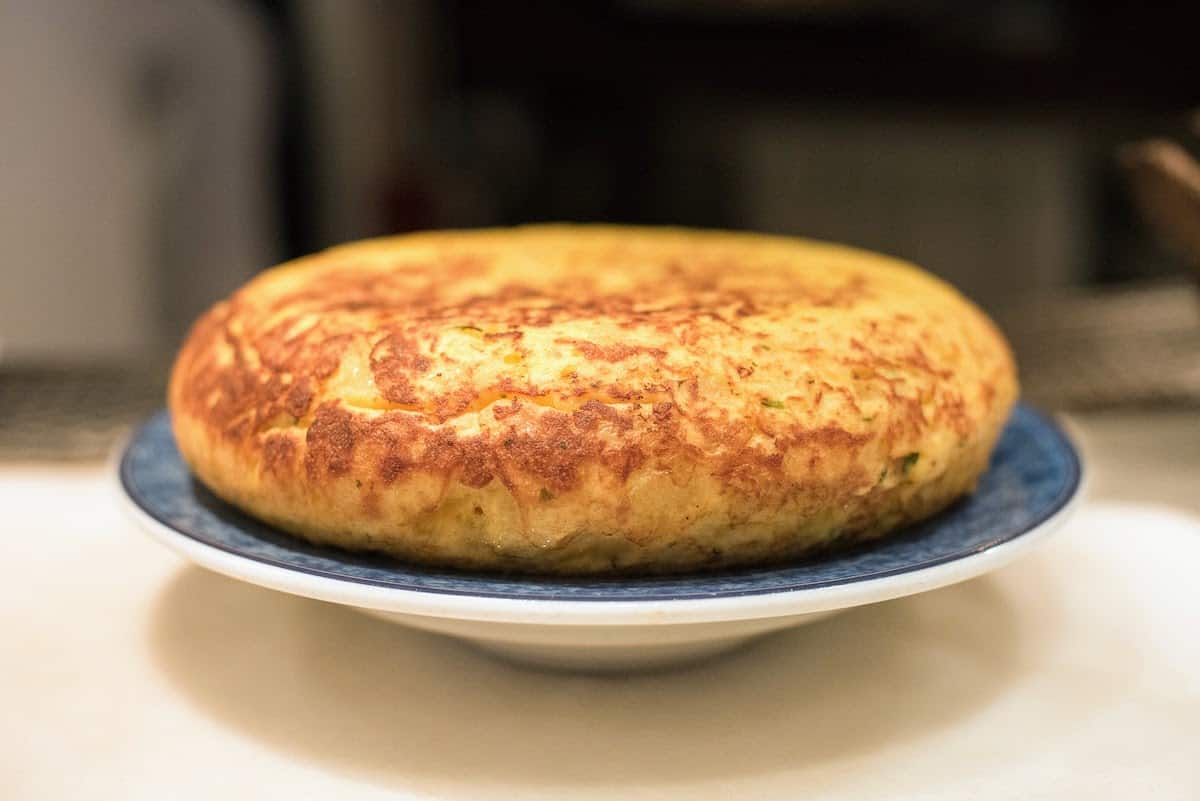 3. A Classic Cup of Old-Fashioned Caldo
Every classic bar and pastry shop in Madrid adds a warm addition to their menu come December. In addition to hot coffee, tea, and hot chocolate, you can also order a piping hot cup of broth, called caldo. It may be pork or chicken broth (or a mix of the two), but it will undoubtedly be rich with flavor and warm you right up!
Often served in a cup and drank without a spoon, this steaming broth is joy and warmth incarnate. You can drink it on its own, or enjoy it at the start of a meal. There are few things more marvelous than walking into a warm restaurant chilled to bone and being served a piping-hot mug of caldo!
Get the recipe: Caldo de Pollo Recipe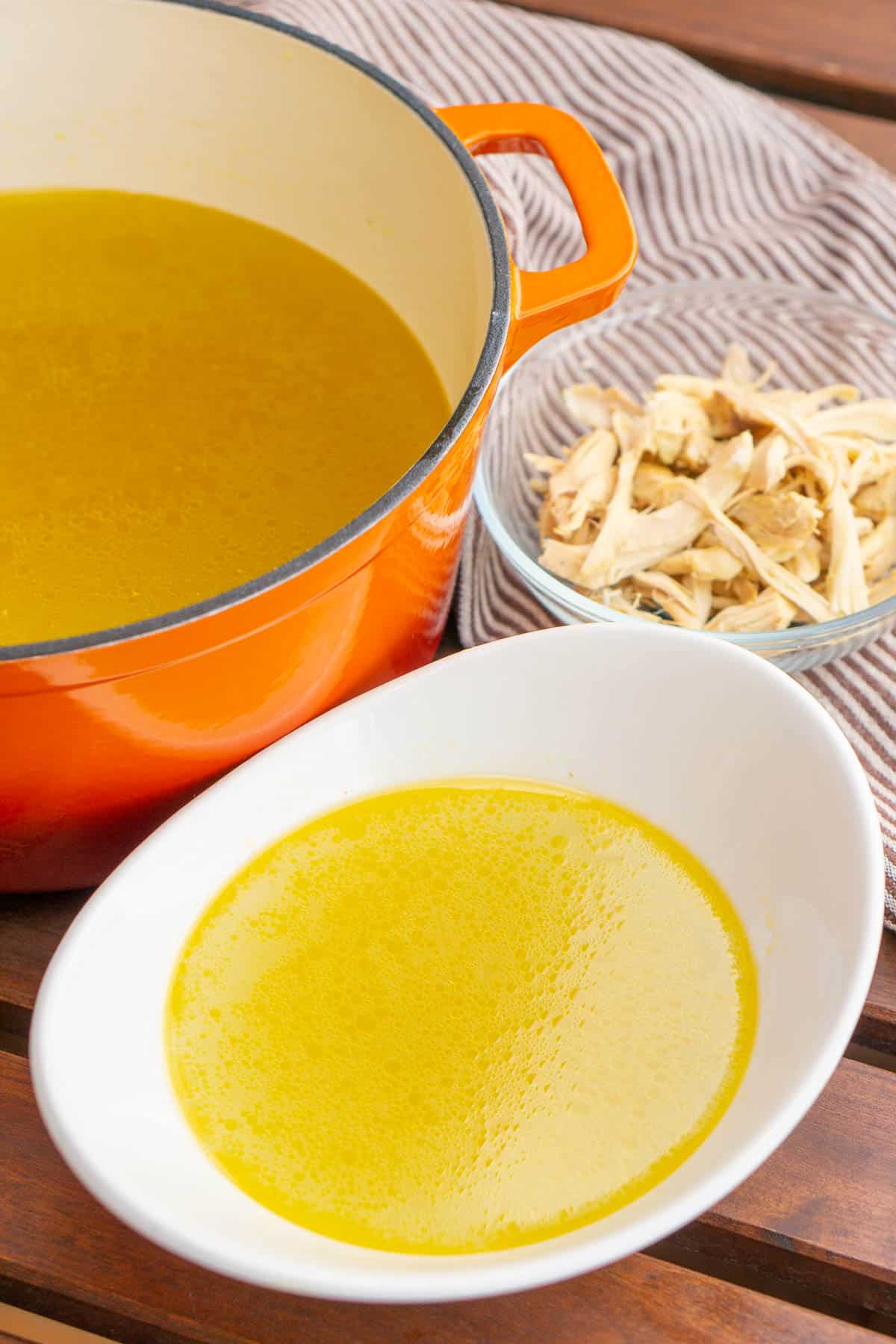 4. Crispy Churros Straight from the Fryer
There's no other way to eat churros (despite the traditions in some Spanish cities).
For me, they need to come freshly made, straight from the deep fryer. When done correctly, you get a hot and crispy wand of fried dough goodness, perfect for combating the cold--and even better with that rich cup of hot chocolate you were already thinking about.
Get the recipe: Authentic Spanish Churros Recipe
5. Steaming Hot Caldo Gallego
Not to be confused with plain caldo, caldo gallego is a Galician soup that much of northern Spain eats to fight off the winter chill.
Consisting of white beans, Galician potatoes, kale or cabbage, and Galician chorizo, it is one of those hearty winter soups that you can't help but burn your tongue eating. Waiting to take a bite would be too torturous!
Get the recipe: Warming Vegetarian Caldo Gallego
6. Soul-Warming Fabada Asturiana
Another classic Spanish winter stew is the delicious fabada asturiana. If you've never tried Asturian fabes (butter beans) before, you're in for a real treat. These delicious legumes combine with Asturian chorizo, morcilla (blood sausage), and pork belly for one of the heartiest winter stews in Spain.
Get the recipe: Quick Asturian Fabada Recipe
7. Traditional Cocido Madrileño
Madrid's signature stew isn't really what I'd call a stew at all, but it is an excellent choice for warming up this winter.
It's best when enjoyed in a traditional restaurant with a bottle of wine, good company and no rush. Definitely one of the most typical Spanish holiday foods in Madrid, many families make cocido once a week at home, or eat it out many times each winter.
Consisting of pork, beef, chicken, pork fat, chorizo, potato, cabbage, and garbanzos, it is traditionally served in three separate courses. First, you get a big bowl of the stew's broth with short noodles called fideos. Next, you'll receive all the vegetables--potatoes, carrots, cabbage, and garbanzos. Finally, the meats come out.
Needless to say, it's a never-ending meal! I prefer a shorter version where things come in only two courses.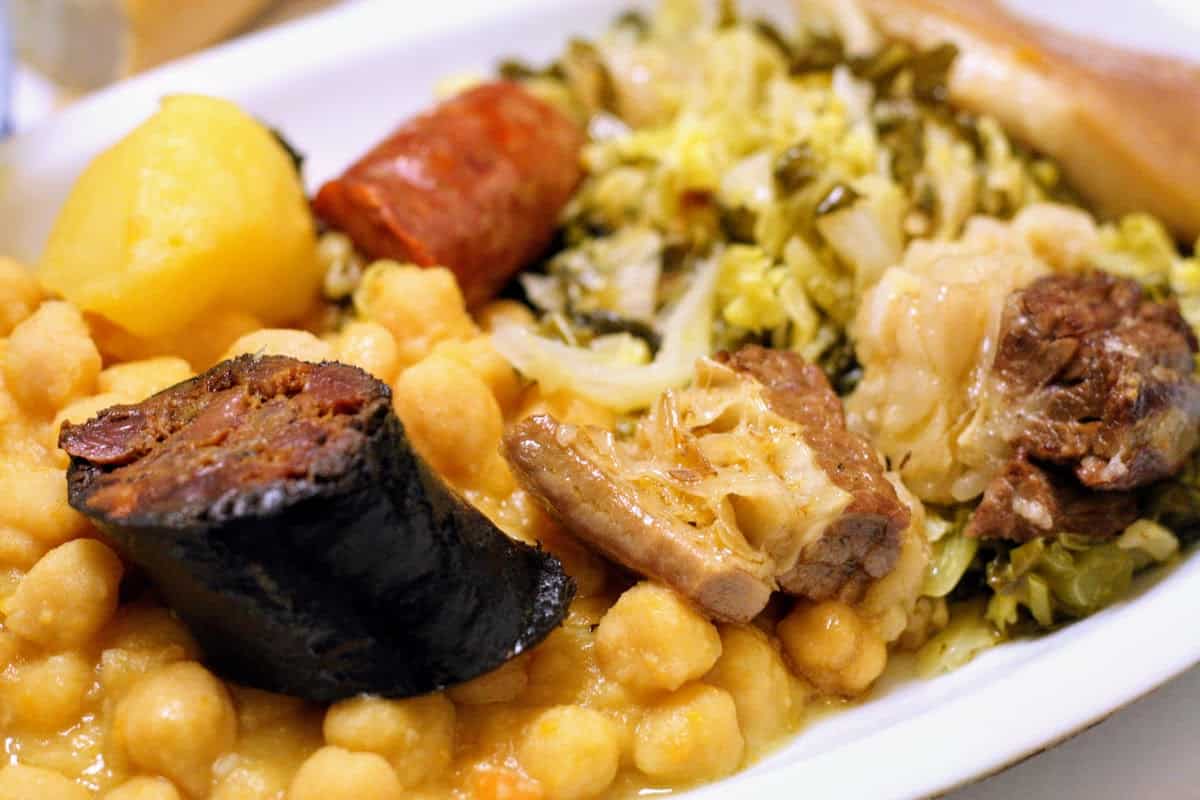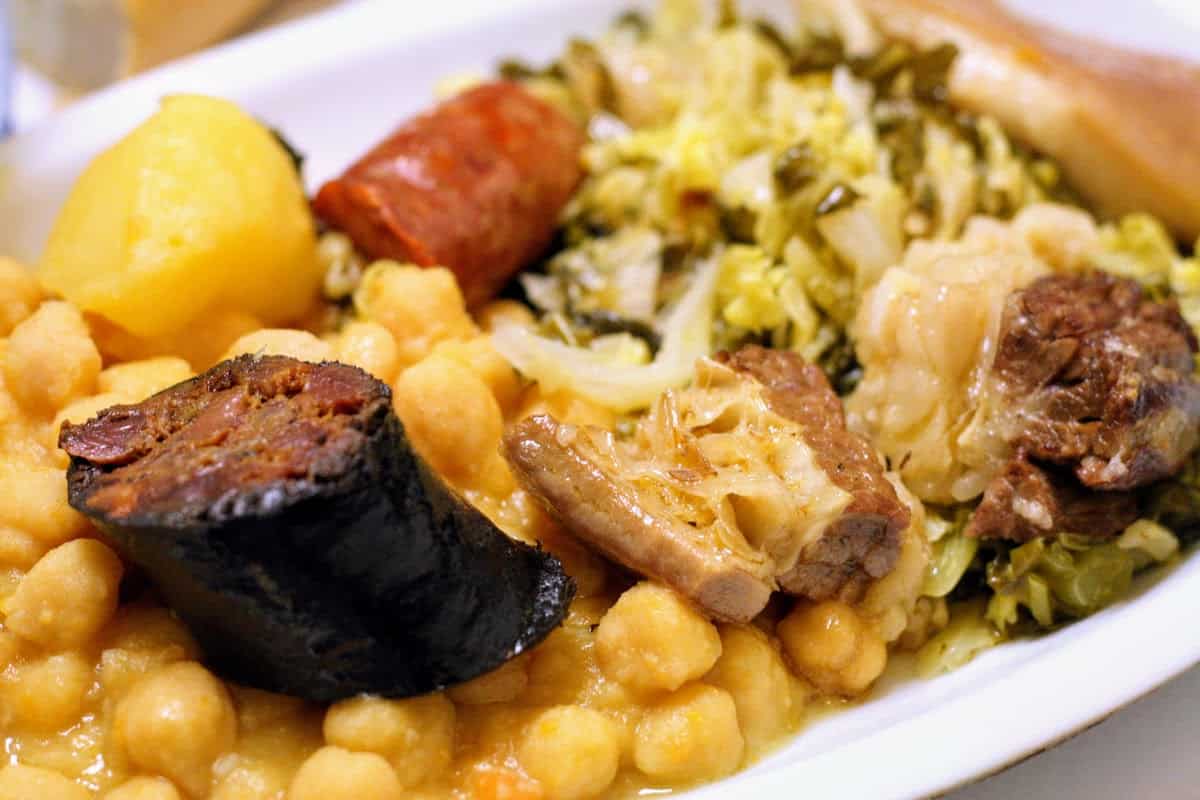 8. Catalan Canelons
Most people equate pasta and cannelloni with Italy--but that's not the only place that does both of the above extremely well! They also happen to be one of the most traditional winter foods in Spain (make that Catalonia!).
Catalan cuisine is full of traditional pasta dishes, and canelons (canelones in Spanish) are the traditional dish served on December 26, St. Stephen's Day. They're usually handmade over the course of hours, and traditionally stuffed with leftovers from the Christmas meal like beef, chicken, and pork.
9. Northern-Style Cod and Cauliflower
Another northern Spanish dish for the holidays is bacalao con coliflor, which seems to have its origins in Galicia or Basque Country. Consisting of salt cod and cauliflower, it is traditionally served steaming hot as one of the many plates that grace the dinner table on Christmas Eve. It is a great example of the simple, seasonal Spanish recipes that are still passed down today!
Get the recipe: Traditional Cod and Cauliflower Recipe (not a cauliflower fan? Try my pan-fried cod recipe instead)
10. Southern-Style Sopa de Pescado
At my in-laws' home, we always eat a rich and delicious sopa de pescado at the holidays. My mother-in-law's fish soup is a flavorful broth, garnished with chunks of white fish, prawns and clams. It's definitely one of those dishes that makes you crave the holidays year after year!
11. A Heaping Plate of Huevos Rotos
I don't think that there is any Spaniard who would disagree that the ultimate winter comfort food in Spain is huevos rotos.
When I used to teach English, I once asked a group of kids to draw their favorite dish--and without comparing among themselves, more than half the class drew huevos rotos!
Done right, this dish comes with a heaping plate of homemade french fries or roasted potatoes, topped with perfectly fried eggs and (ideally) thin slices of the best Iberian ham. There are plenty of other versions, but I'll stick to the classic one, please!
The dish's name translates to "broken eggs" because the waiter should break up the fried egg right before you dig in, unleashing the runny yolk.
Get the recipe: Spanish Huevos Rotos Recipe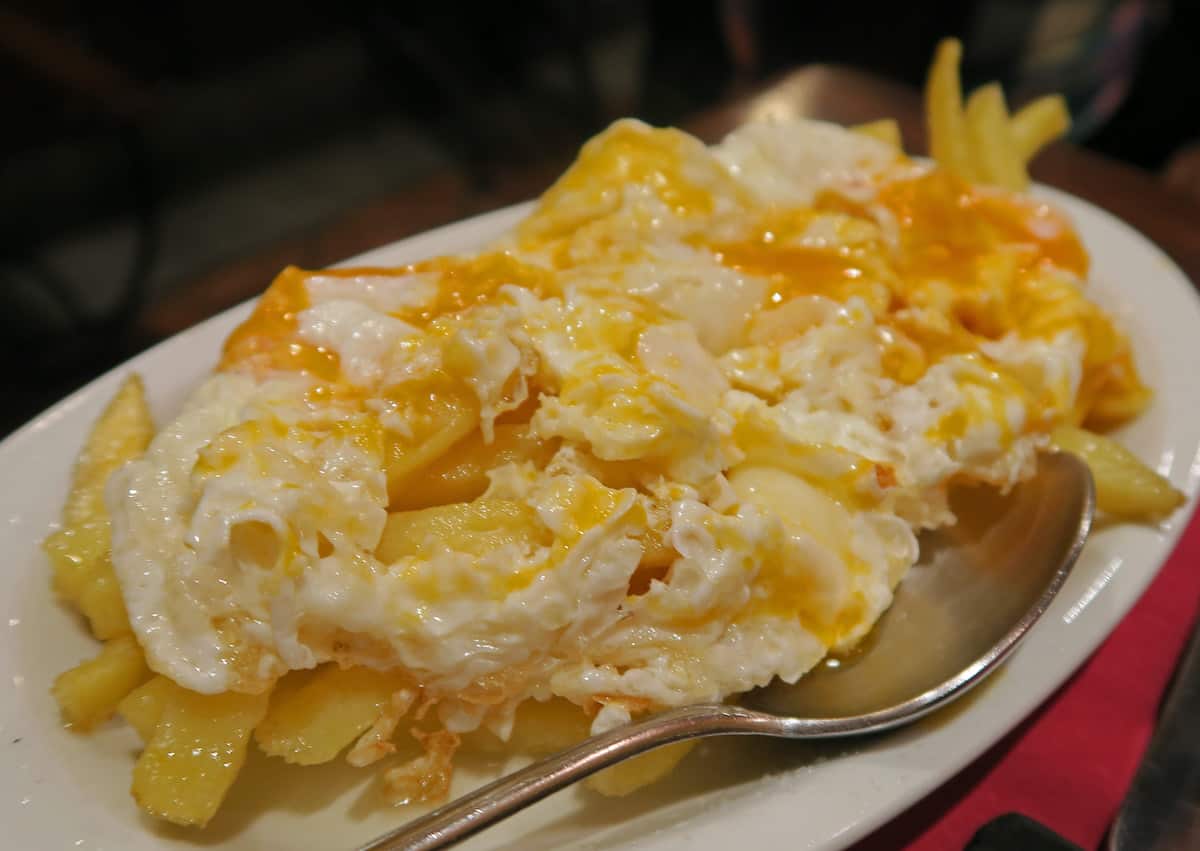 12. Melt-in-your-Mouth Braised Pork or Beef Cheek
The Irish make beef stew and the Spanish make braised beef (or pork) cheek. A simple dish of beef cheek covered in wine, broth, and herbs until falling-apart tender, this dish (known as carrillada or carrillera) has long been one of my favorite winter foods in Spain. My favorite comes served over creamy mashed potatoes and with plenty of sauce.
Get the recipe: Braised Iberian Pork Cheek with Port Wine & Honey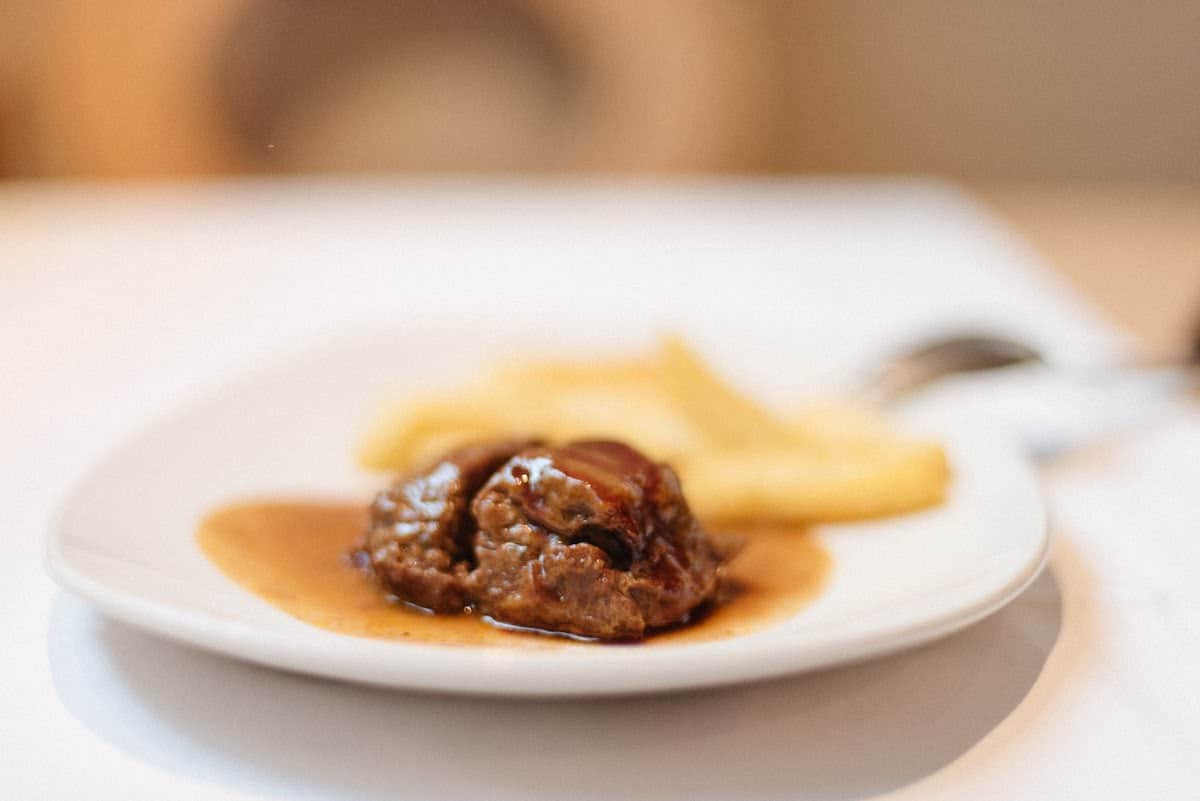 13. Soupy Arroz con Bogavante
Rice with lobster is one of the most splurge-worthy winter foods in Spain. And while it sounds pretty average to someone coming from Massachusetts or Maine, when you see the price of lobster in Spain you'll know to treasure every bite. I especially love this warming dish because the rice is usually served caldoso (soupy) and the rich lobster broth is unforgettable.
While some would argue that arroz con bogavante is a year-round food, I prefer to eat in during the chilly winter months. Lobster (bogavante in Spanish) is in season from October through December in Spain, ensuring that it is the freshest of the fresh when ordered in the winter!
14. Traditional Bull Tail Stew
Bull meat has long been prized in Spain, both because of its history of bullfighting and also because of its spectacular flavor. Nowhere is that distinctively rich flavor more perfectly exhibited than in rabo de toro.
This stewed bull tail (or oxtail, as is more common today) is cooked for hours over low heat with red wine, garlic, cloves, tomato and bay leaves. By the time it's finished, the meat melts in your mouth. The sauce is what every fried potato yearns for.
All in all, rabo de toro is, in my opinion, what all stewed meat strives to become!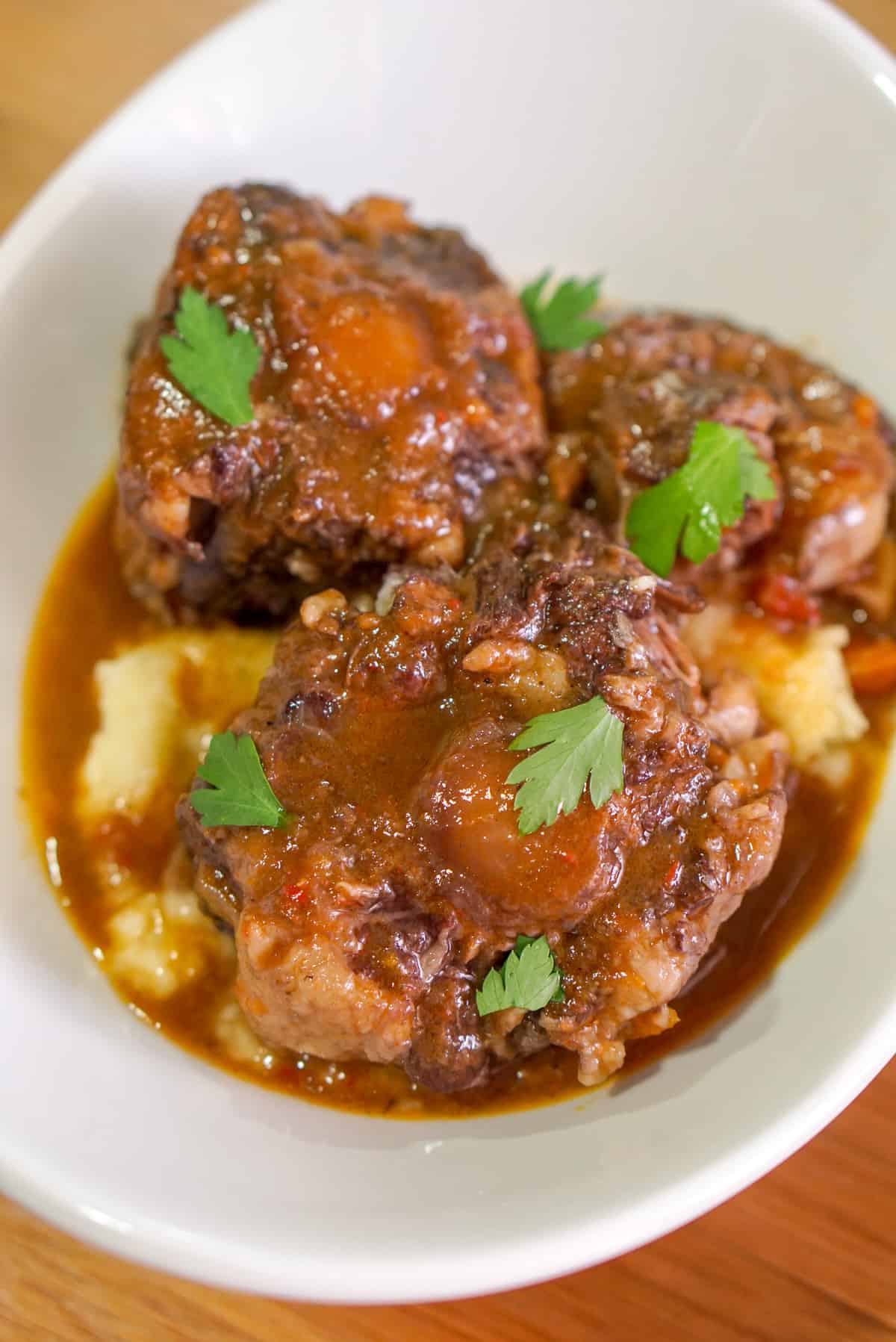 15. Cozy Garlic Soup
Sopa de ajo may sound like a recipe for eternal bad breath, but it's one of the best winter foods in Spain. It can be surprisingly subtle and scrumptious!
The recipe is rather simple, consisting of stewing a ham bone to create the broth, then adding chunks of cured ham, plenty of garlic and paprika, and chunks of day-old bread. Top it off with an egg and serve it in a heated clay bowl. The winter cold is no match for this soup!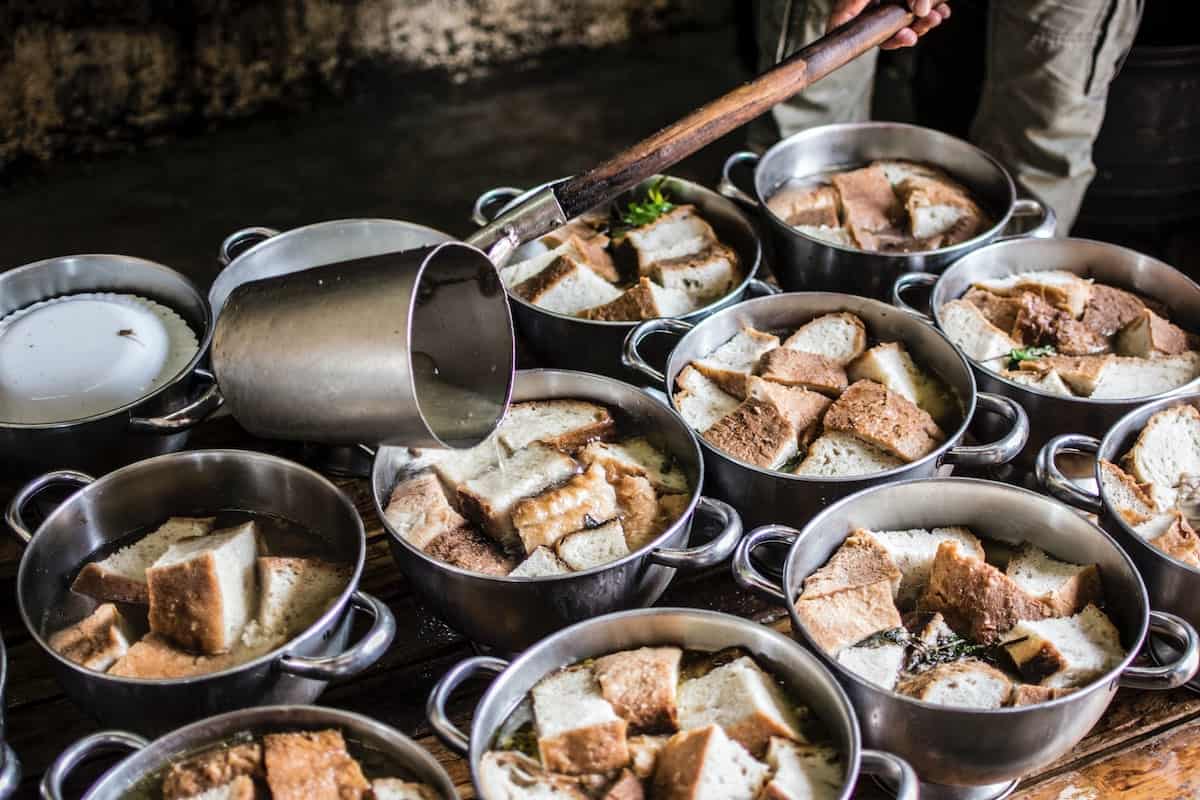 16. Flavorful Lentil Soup with Chorizo
Besides bringing good luck on New Years, Spanish lentil soup is one of my favorite winter dishes in Spain. Rich with the flavors of chorizo, garlic and bay leaves, this soup is exactly what I want on a chilly winter afternoon.
But beware! Lentils are a decidedly lunch food in Spain. Eating them at night would be a major no-no as Spaniards say they are way too intense to digest so close to bedtime!
While this is a soup, there's no need to specify in Spain. This is just about the only way that lentils are commonly served in Spain, at least in the winter.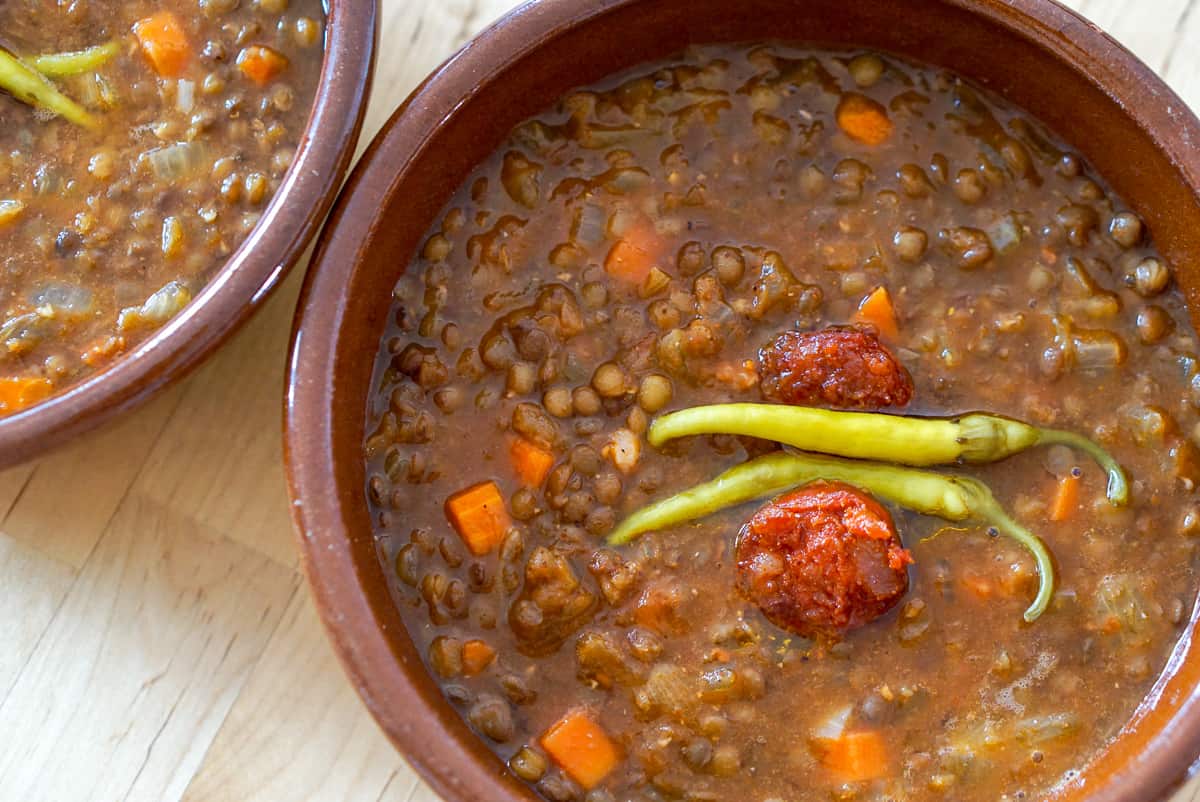 More Winter Foods & Traditions in Spain
Winter Food in Spain FAQs
What food do they eat in Spain for Christmas?
The main course at Spanish Christmas meals can vary depending on the region. In general, though, expect hearty, meaty dishes like roast chicken or lamb or whole baked fish—and that's after the initial round of tapas and appetizers!
What Spanish products are in season in the winter?
Seasonal eating is big here in Spain, so many dishes that are associated with a certain time of year rely heavily on the products that are in season then. In winter, expect lots of leafy greens, shellfish, citrus, squash, mushrooms, and even exotic fruits like persimmons and mangoes.
Update Notice: This post was originally published on December 8, 2014 and was updated with new photos and text on May 5, 2021.
Hungry for more? Sign up for my free weekly newsletter and receive a new Spanish recipe once a week! Join today and get my FREE Spanish ingredient essentials guide!