After the busy weekend, many bars and restaurants take Monday off for some much-needed R&R. That being said, figuring out where to eat in Granada on Mondays might seem difficult. It may look like all the good restaurants are closed for the day, leaving you with nothing but tacky tourist traps, but luckily, that's not the case. If you're wondering where to eat in Granada on Mondays for a delicious, authentic meal, you still have plenty of options.
Where to Eat in Granada on Mondays
1. Restaurante Paco Martín
Along the southern edge of the city center, you'll find Restaurante Paco Martín, one of the best options for where to eat in Granada on Mondays. The spacious, elegant restaurant is well lit with lovely decorative touches and serves traditional Andalusian fare, home-cooked and beautifully presented. Add a friendly, professional staff and fair prices for the incredible quality, and you've got the perfect place to enjoy a Monday meal.
Address: Carrera de la Virgen, 38
2. Restaurante Antonio Pérez
You'll feel right at home at Restaurante Antonio Pérez, a cozy and inviting restaurant that's perfect for a meal among family or friends. Their grilled meats are the star of the show, but their extensive raciones menu is worth consideration as well. As one of the best choices for where to eat in Granada on Mondays, they also offer a fantastic wine list and sinfully delicious homemade desserts.
Address:  Calle Pintor Rodríguez Acosta, 1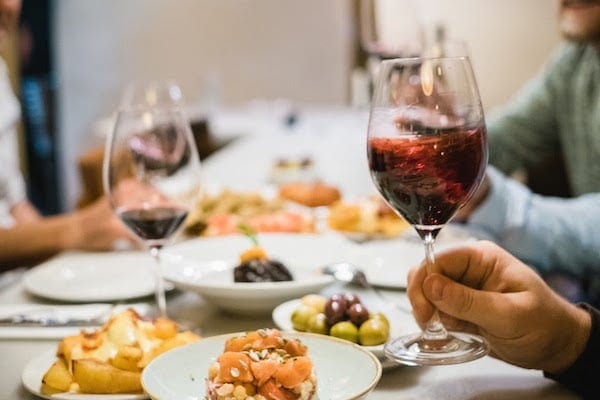 3. Botánico Café
In addition to being a great option for where to eat in Granada on Mondays, Botánico Café is also a great choice if you're not used to Spanish mealtimes yet—their kitchen is open all day! Their creative fusion menu ranges from Mediterranean to Asian to Mexican fare, so whatever you order is sure to be different and exciting. With a focus on healthy, seasonal ingredients and a variety of vegetarian options, there's something for everyone at this beautiful little spot.
Address: Calle Málaga, 3
4. Chikito
Chikito has been a favorite among granadinos since 1976. Even before that, though, the space it now occupies was somewhat legendary. Back when it was known as the Alameda Café, iconic Granada poet Federico García Lorca was a regular (there's still a statue of him in the corner). Today, this casual, friendly bar is a great option for where to eat in Granada on Mondays if you're after tasty tapas, cold beer and a lively, authentic atmosphere.
Address: Plaza del Campillo, 9
5. Jardines Alberto
Just steps away from the Alhambra in a beautiful 19th-century house lies Jardines Alberto. Its lovely setting and fantastic location are just the start of a fantastic dining experience. Home cooked, traditional food (including a fantastic, good quality menú del día) make this where to eat in Granada on Mondays, especially if you're coming straight from your Alhambra visit. The service is friendly and efficient and prices are reasonable.
Address: Paseo de la Sabica, 1
See Also: The complete guide to the absolute best restaurants in Granada.
Pin me!