Granada's food scene is undoubtedly one of the best in Andalusia, and maybe even in Spain. And with such great gastronomy, it would be a waste not to enjoy a night (or several) eating out in Granada. The city's famous tapas culture and delicious cuisine make for a one-of-a-kind experience, but to really make the most of it, you have to know how to do it the granadino way. Not sure what that means, exactly? No worries. Here are six tips that will help you eat like a local in Granada in no time.
How to Eat Like a Local in Granada: 6 Things to Know
1. The big question: Tapas or a full meal?
Which sounds better: sharing small plates with friends or savoring an entire meal of your choosing? Knowing what you're in the mood for will make it significantly easier to narrow down where, exactly, you'll eat like a local in Granada. Tapas in Granada usually come free with your drink order, and are an integral part of the city's social and dining scene. Night after night, locals crowd their way into the best tapas bars in Granada, sharing small plates, drinks and good conversation with friends. Most of the time, you can't choose the tapas—but just about everything is delicious, so trust your server.
On the other hand, a full meal in a sit-down restaurant will likely feel more familiar to some travelers. It's more expensive than going out for tapas, but in this case you can choose exactly which food you want. Locals usually save this option for special occasions.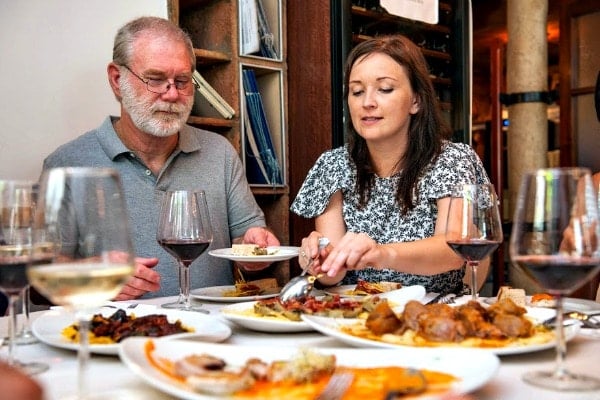 See Also: The Absolute Best Restaurants in Granada
2. Tapas it is! Decide which tapas bar is more your style
Granada's famous tapas scene caters to diners from all walks of life. First, you've got the places that appeal to the city's many university students. These tapas bars are appealing to young people who want to spend as little money as possible. They're not necessarily bad in all cases, but aren't the most representative of Granada's tapas culture. Unless you're in the mood for hot dogs, burgers or chicken wings—or are dining on a serious budget—look for something else.
A better option is a traditional tapas bar, like Los Manueles (Calle Reyes Católicos, 61). These places are usually family-run and in some cases have been around for more than a century. You usually can't choose your tapa here, and the variety isn't as wide as in more modern places, but in some cases your server will tell you what options are available. Even so, you're sure to get something made from a recipe that has been perfected at that bar for decades.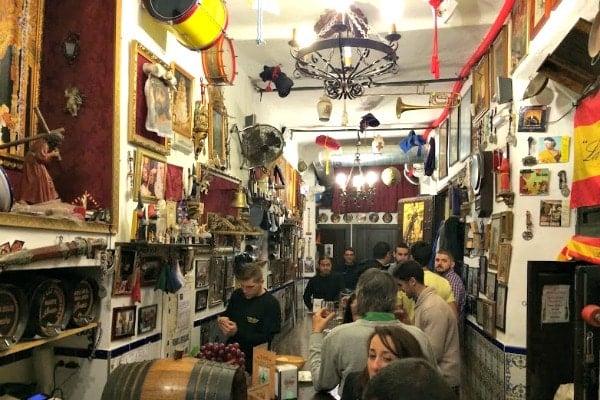 Another great way to eat like a local in Granada is to visit a modern tapas bar. These places prioritize quality over quantity, meaning that tapas tend to be on the small side, but the taste is unbeatable. They also usually offer a diverse array of wines and beers to appeal to all tastes. Some of our favorite modern tapas bars in Granada are Taberna los Pensadores (Calle Alhamar, 21) and La Botillería (Calle Varela, 10).
3. Pick a place and stick to it
While some granadinos prefer to go on tapas crawls to several different bars, you can still eat like a local in Granada while staying in one place. In fact, this is usually the best idea: as a general rule, the tapas keep getting better and better with each round. When you manage to snag a table at a really great tapas bar, why leave?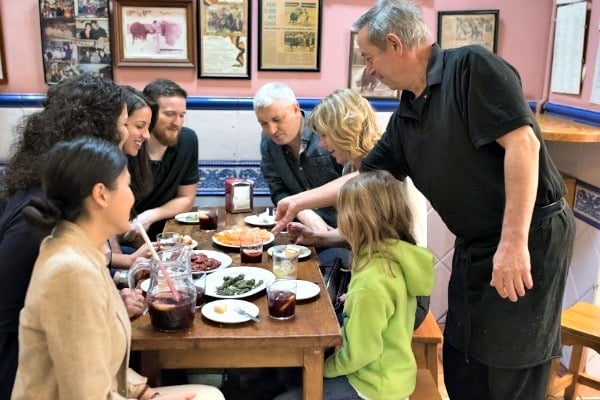 4. Not full yet? Order more tapas—or a ración!
Don't be afraid to order an extra tapa before you finish your drink. It won't be free, but at this point they'll usually let you choose.
If you're even hungrier (and really enjoyed your free tapas), go straight for the raciones. Tapas are a great way for bars to promote certain dishes, so if you had something especially delicious, order a ración of it. In general, a media ración is enough to feed two people, whereas a ración entera is great for sharing among three or four.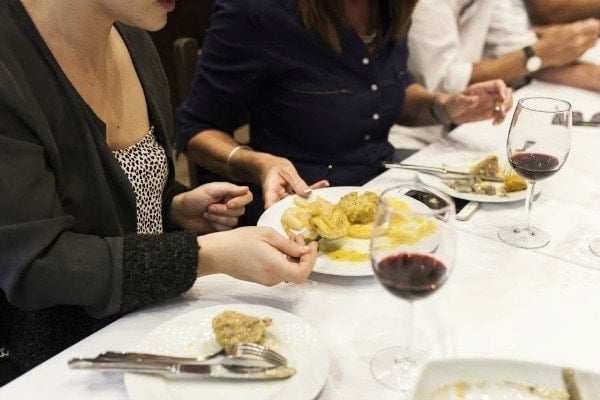 5. Keep the drinks flowing "sin tapa"
Not hungry anymore, but still want to try that delicious wine? Just tell your server "sin tapa, por favor" (no tapa, please). They won't be offended—this way, they won't have to throw away the food if you leave it on the table untouched.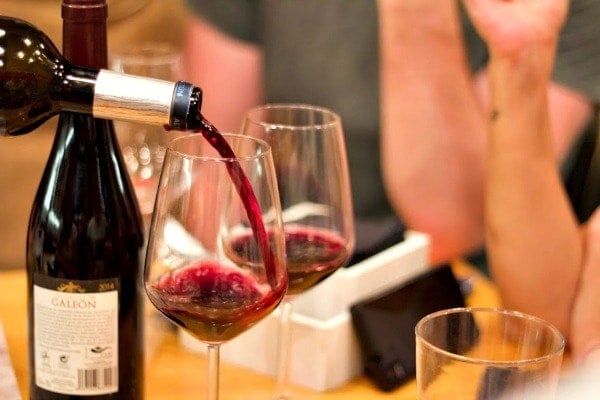 6. Enjoy a liquid "dessert"
While there are some seriously amazing typical desserts from Granada to satisfy your sweet tooth, they're not typically eaten after tapas. Instead, locals tend to finish off the night with some sweet wine, sherry or vermouth, or even a mixed drink. Take your pick!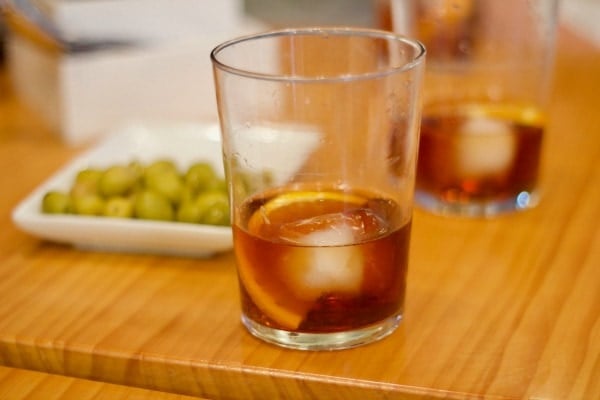 See Also: Typical Food in Granada You Have to Try
Pin me!