Seeing a flamenco show in Seville is an absolute must, along with eating tapas and drinking sherry wine! Touristy? Sure-- depending on where you go. Read on to discover the best way to experience the art of flamenco while visiting Seville!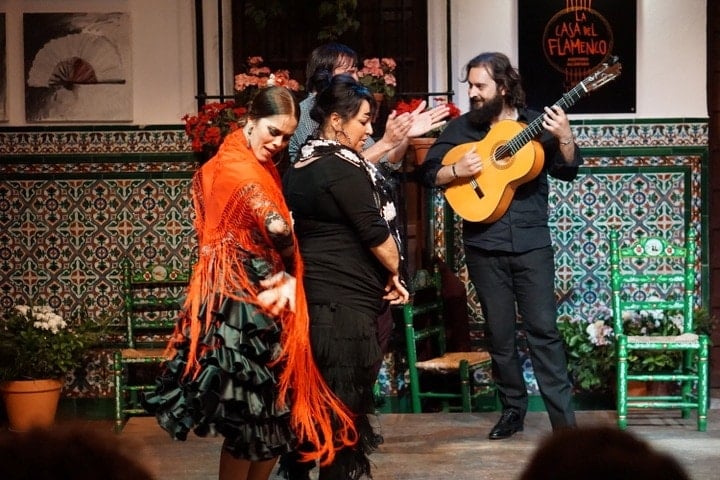 Traditional or touristy?
While the best, most professional shows are indeed put on for tourists, it is this tourism that helps keep this tradition alive. Seville is often argued to be the birthplace of flamenco (watch out if you say that to someone from Jerez, however) and you really can't go wrong watching a flamenco show in Seville-- here's where to go.
Flamenco in Seville
When someone from Seville claims that flamenco is in their blood, you'll see passion light up their eyes. People in this part of Spain are known for their love of music and dance, and their spirited way of life.
Despite flamenco's argued origins (some say Jerez, others Seville, some Granada...), Seville is the perfect place to see a show. You'll be in for a night of big personalities and lots of passion and noise!
While living in Seville I saw a few different flamenco shows, and I always left exhilarated. At the time I didn't know much about the art form, but my background in dance (I took tap class since I was two years old!) made me appreciate each and every move.
Since then I've seen a handful more of Seville's flamenco shows while researching for this Seville blog and, more recently, my Seville Tapas and Flamenco Tour. Despite having to choose just one venue for the tour (more details below) I really enjoyed each show in its own way.
Here I'll break down the differences between some of the most popular flamenco shows in Seville-- though please note that the majority of shows change performers every few days, meaning that the same venue's shows may vary greatly throughout the year.
The good thing? No two shows are ever the same at these places!
Where to See Flamenco in Seville
Seville is home to excellent flamenco tablaos, and each venue offers a different take on this beautiful art form. Here are my favorite places to see flamenco in Seville-- based on personal research.
My research was for a reason-- we were planning Devour Seville's Evening Tapas and Flamenco Tour. Based on a concept we first developed in Madrid, this tour goes far beyond eating delicious tapas and seeing a great flamenco show-- it also includes plenty of information about flamenco's fascinating history, complexity, and the essential elements that flamenco has beyond dance (which is what most people think about when they think of flamenco).
Read on to find out where we go on our Flamenco and Tapas Tour in Seville!
Casa del Flamenco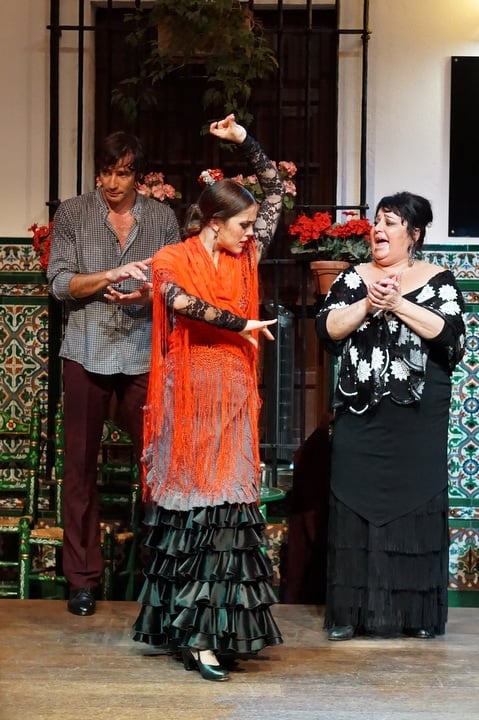 You won't find food and drink on offer here (a good sign!), as the owners think it takes away from the art.
I agree, so grab a bottle of water pre-show, shut off your cell phone, and sit back and enjoy. This venue is absolutely gorgeous, set in an Andalusian patio in the charming Santa Cruz neighborhood.
Casa del Flamenco is also famous for not using microphones or amps-- just natural acoustics and powerful musicians at their best. It's for these reasons that we chose Casa del Flamenco to be our partner on Devour Tours' Seville Tapas and Flamenco Tour.
And our guests so far agree that it's breathtaking! If you go on your own, get there about 20 minutes early to choose your seats (though the venue is small and intimate, so all seats are pretty great!).
Address: Calle Ximénez de Enciso, 28
Los Gallos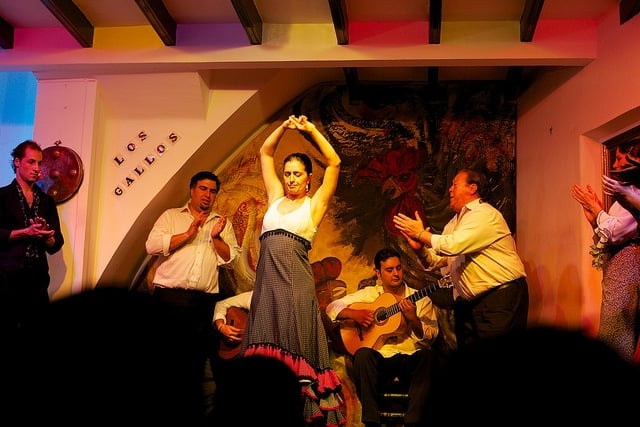 A classic Seville flamenco institution, this Seville flamenco tablao is hidden away in the Santa Cruz neighborhood. It's a more expensive show than the others, perhaps because they've been putting on quality shows here since 1966!
A word of warning-- the show is quite long at 1 hour and 45 minutes. I wouldn't recommend it for children, as I'd stick to a show that's max. 1 hour for kids. The night we went the main dancer was a portly older man, which (while good) wasn't my favorite! That said, my flamenco-loving friends swear by this place as one of the most authentic in town.
Address: Plaza Santa Cruz, 11
Casa de la Memoria
Another of my favorite venues in Seville is Casa de la Memoria. Their nightly show has a great mix of all of flamenco's important elements: dance, song, and guitar.
The venue is gorgeous (and small). People start lining up about 45 minutes before the show to get the best seats in the house. I'd recommend doing the same, as not all seats here are created equal.
Address: Calle Cuna, 6
Museo del Baile Flamenco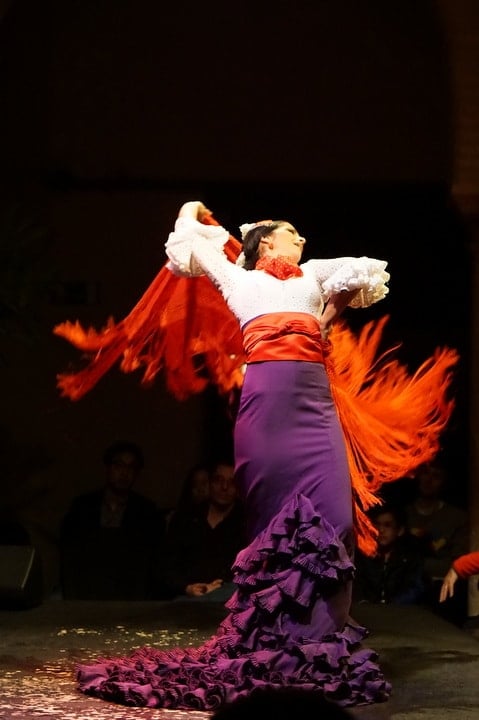 I'm torn on this one, as it has the potential to be so great, but falls short in some areas. The museum portion is poorly done, so skip that part of the admission fee.
As for the venue, it's beautiful, and the show is good-- if a bit touristy. I brought my parents one year and they really enjoyed it, but my husband and flamenco obsessed friend weren't crazy about it. Yet because they are a bit more touristy than others, they do offer shorter shows multiple times a night-- good for kids!
Address: Calle Manuel Rojas Marcos, 3
Casa de la Guitarra
This is another of my favorites! The show is smaller than others (not as many performers) but it's done with lots of passion and fun. They also own a guitar shop/museum which is worth a visit if you are interested in musical instruments. They will take reservations (which are a must since the venue is so small!).
Address: Calle Mesón del Moro, 12a
Tablao El Arenal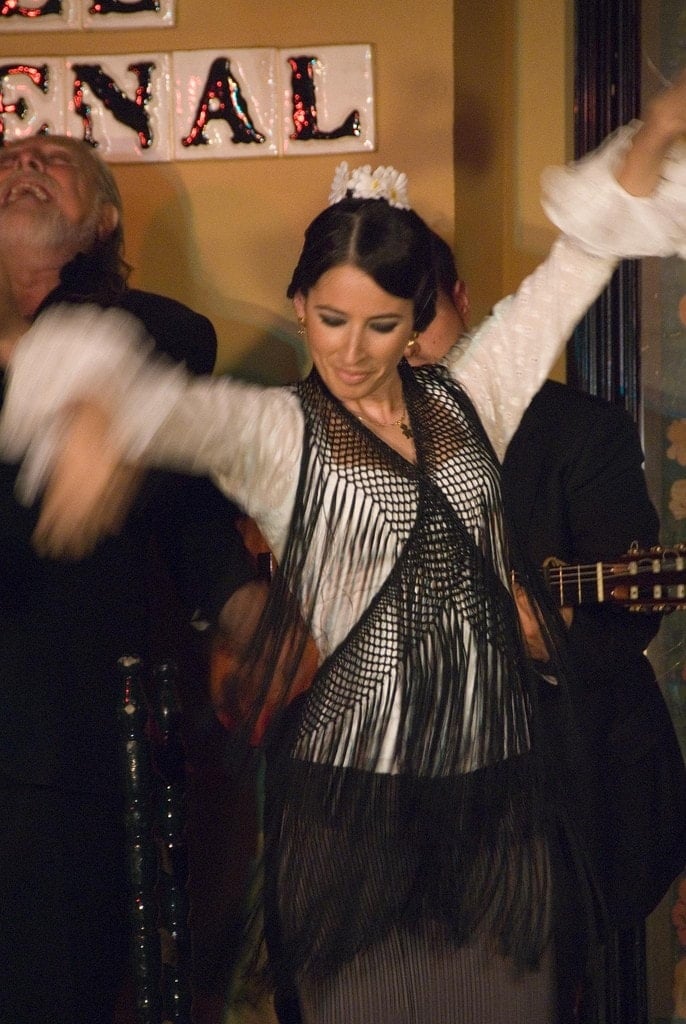 This popular Seville flamenco venue puts on a good show, with an impressive eight performers the day we went! We didn't do dinner here (and wouldn't recommend it), but it's a good option if you're staying nearby.
Address: Calle Rodo, 7
Flamenco Bars Seville
If you prefer to head to a flamenco-themed bar (where the locals will undoubtedly be dancing the local dance, a sort of folkloric version of flamenco, called Sevillanas), here are some options for flamenco bars in Seville:
T de Triana
I remember T de Triana from my time living in Seville-- it wasn't my hang out, to be honest, but plenty of my friends adored it because they loved dancing Sevillanas, the dance that every Sevillano seems to know perfectly!
I tried learning, but couldn't pick it up! This bar is located on the rowdy Calle Betis, so if you tire of Sevillanos and flamenco, you can bar hop until you find your preference. Thursday and Saturday nights are the best, with dancing starting around 10:30 pm.
Address: Calle Betis, 20
Casa Anselma
Another bar located in the flamenco obsessed Triana neighborhood, Casa Anselma is a Seville institution.
The first time I went I experienced a bit of culture shock (it was right after moving to Spain) as Anselma herself runs the show and will show anyone she doesn't like out the door! This is a place where the crowd participates, and there's dialogue throughout the night.
You know it's authentic when you see the opening hours-- doors open around midnight and local Seville artists will pop in and out throughout the night.
Address: Calle Pagés del Corro, 49
Flamenco and Tapas Tour in Seville
If you are looking to get a full flamenco and food experience, I'd personally recommend my own Devour Tours' Evening Tapas and Flamenco Tour. Of course, I am biased– I helped design it!
The tour completely immerses you in the world of Spanish flamenco from the start, meaning that by the time you get to the show you'll actually know what you're watching!
I think it's such a shame that so many people go to a flamenco show without knowing what they're listening to and looking at-- they miss so much!
During our 4.5 hour experience, you'll learn all about the fascinating history of flamenco and the different styles. And while you learn, you'll enjoy tapas and drinks across three of the city's best tapas bars. You'll start with the most traditional, gourmet local cured meats and cheeses, washed down with one of Spain's most interesting aperitif wines.
Then, it's off for a bit of a look at the Santa Cruz neighborhood, where (depending on the day of the week) you might stop to meet a flamenco guitar maker or visit one of Seville's famous flamenco dress shops!
Next, you'll head to another tapas bar, to try some of the world's best jamón (ham that sells for over $100/lb) and sip dry Spanish sherry-- the most traditional drink in Seville. As you nibble here, you'll get (my favorite part of the tour) a real explanation of what flamenco is and where it comes from (and what you're about to see at the show).
Putting flamenco in context is invaluable (and super interesting), and makes the show come alive even more.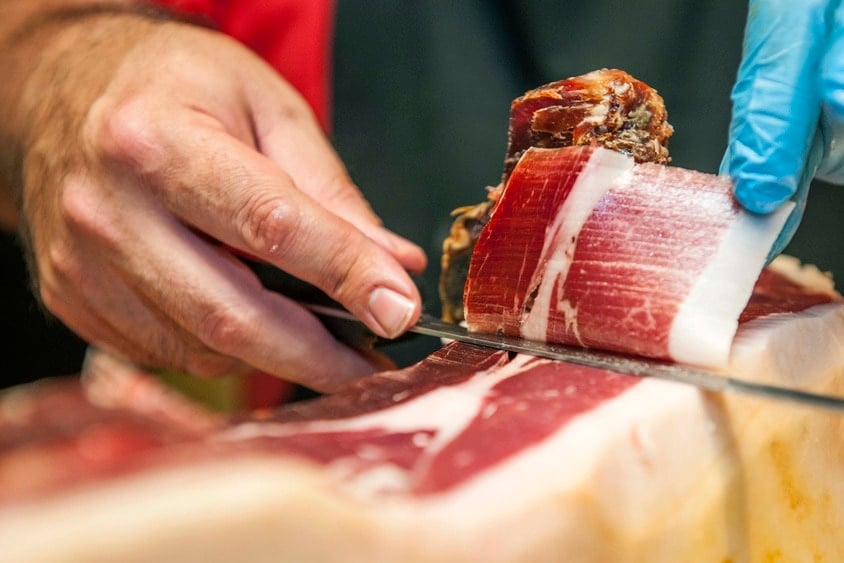 Next, you'll head over to see the show at Casa del Flamenco, one of the best places to see flamenco in Spain. The dancers, singers, and guitarists are incredible, a whirlwind of energy and passion.
When the show finishes you'll be able to ask any lingering questions (there will be plenty, I'm sure!) and then you'll head off to feast on more tapas and wine at one of the city's most popular modern tapas restaurants. You'll enjoy tapas and wine over the next hour or so, ending with a bit of dessert.
I love all of the tours I've helped plan (I say that they're my babies!), but I really love our flamenco and tapas experiences because of the academic nature of the tour (don't worry, though-- it's still super fun-- and includes lots of wine!).
You can find out more information here: Evening Tapas and Flamenco Tour
Taking Flamenco Classes in Seville
If you've already fallen in love with flamenco and are ready to learn how to dance it, you're in luck. Seville has plenty of great options for taking a flamenco class-- we can arrange it too! Just get in touch at info@devourspain.com.
Overall-- it's hard to go wrong with the places above. Some are slightly more touristy than others, but all have their merits. My advice? Just go-- and then go again and again! Each show is different, as is each city where flamenco is offered. Traveling to Madrid? See my favorite flamenco venues in Madrid here!
Where to Stay in Seville
Seville can't be all flamenco and tapas! At some point, you have to sleep. Luckily, Seville is one of my favorite city's in Spain for great hotels. I've stayed in my fair share (from budget to luxury) and a couple have really stood out.
For boutique luxury in Seville, I love the Alma Sevilla Palacio de Villapanes and also the Hotel Corral del Rey (my parents also loved the latter on a recent trip). Both are super central and are beautiful examples of renovated Andalusian palacios.
Read my full reviews of Alma Sevilla and Corral del Rey.
Other options include hotels and Airbnb rentals in the area around the Museo de Bellas Artes, or the vibrant Triana neighborhood across the Guadalquivir River.
Do make sure that your hotel in Seville has air conditioning and heating. Seville can be extremely hot most of the year, and is surprisingly cold (due to the humidity) in winter.
Here you have a full list of recommendations on where to stay in Seville. If you have a tip to share, please leave a comment below!
Have you seen flamenco before? What did you think? Do you have any other questions about seeing flamenco in Seville?
Pin me!